Free Boston Summer Concerts: Best Outdoor Music Festivals for Families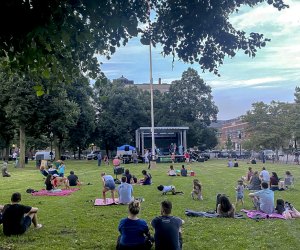 Boston takes pride in its culture, from the sophistication of world-class museums to the roaring crowd of beloved sports venues. And the music scene is a vital part of this vibrant city. Summer brings some of the best outdoor music festivals for families to Boston. These shows feature a diversity of genres and styles, but they all get you moving and shaking in a fun, community-driven atmosphere. So read on for our guide to free Boston summer concerts and the best outdoor music festivals for families.
If you're looking for more family summer fun, check out Drive-in Movie Theaters in and around Boston for Outdoor Movie Nights with Kids​. If you need to cool down rather than rock out, see our guide to the Best Sprinkler Parks and Splash Pads in Boston. And there's always our Summer Fun Guide: The Best Things to Do in Boston with Kids.
The City of Boston sponsors free concerts all summer long, filling its diverse neighborhoods with music–from rock to Reggae and more!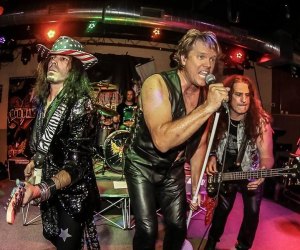 Free Boston summer concerts have your music needs covered. Photo courtesy of Living on Bad Name
Living on a Bad Name - July 11
This Bon Jovi cover band hits the stage at Dorchester's Hemenway Park at 7pm for classic 80s rock that the whole family will love.
Swingin' in the Fens - July 13
Lydia Harrell headlines an evening of Jazz and Soul in the Fenway's Ramler Park from 6:30 to 7:45 pm.
Soul City Band - July 18
South Boston's Medal of Honor Park hosts the vibrant music of Soul City Band. This all-female, all-Latina band is built to make you dance!

Conscious Reggae performs free Boston summer concerts in 2022. Photo courtesy of the Boston Department of Parks and Recreation
Conscious Reggae - July 25 & 27
On Sunday, July 25, Roxbury's Horatio Harris Park comes alive with the island magic of Reggae; the show starts at 7:00 pm. Conscious Reggae also plays Roslindale's Fallon Field on July 27.
The skylines of Boston and Cambridge make the perfect backdrop to this amazing summer concert venue.

The biggest free Boston summer concert happens July 4th. Photo courtesy of the Boston Pops
Boston Pops at the Hatch Shell - July 4
The iconic summer Boston concert returns to the banks of the Charles this Independence Day. The Boston Pops 4th of July show has become one of the most famous fireworks shows in the nation.
Longwood Symphony & Mercury Orchestra at the Hatch Shell - August 18
The LSO takes the stage at 7pm to perform Bach, Tchaikovsky, and Beethoven. Cambridge's Mercury Orchestra follows at 8:00 with performances of the works of Copland's and Rimsky-Korsakov
Free Boston Summer Concerts - CX Summer Nights
Cambridge Crossing hosts a series of free concerts accompanied by food trucks, lawn games, local brews, and more. East Cambridge comes alive from 5:30 to 8:30 on select Thursday nights.
Blue Light Bandits + Dwight and Nicole - June 23
Come hear the soulful 3-part harmonies of this local rock band.
Other Than Boston + Couch - July 21
The smooth sound of this local act blends genres for some incredible music.
The Q-Tip Bandits + Oompa - August 18
The Q-Tip Bandits combine rock, R&B, and funk for indie-pop musical magic.
The Back Bay's main branch of the Boston Public Library hosts poetry readings, classes, discussions, and wonderful summer concerts in the stunning central courtyard. Most concerts happen on Wednesday evenings at 6:oo pm and Friday afternoons at 12:30. Check the BPL website for shows and times.
Free Boston Summer Concerts - Shows around the City
The summer of 2022 brings some wonderful shows to Boston for all-age fun.
This multi-arts festival fills Boston Common with family-friendly music, dance, and theater this July.
The 7th annual Cambridge Jazz Festival comes to Danehy Park in West Cambridge. This free event features a full day of Afro-Carribean influenced jazz on Saturday.

Free Boston Summer Concerts - Outside the City
Every friday night from July 1 to August 19, Lexington provides free concerts in Emery Park. The concerts have been a town tradition for decades. Visitors can bring their own blankets, chairs, food, and refreshments in a picnic atmosphere. Shows run from 6:30 to 8:00 pm.
Salisbury Beach hosts free concerts on their oceanfront stage all summer long. Every Saturday, from June 25 to September 3, a unique act will perform before a 10:15 pm fireworks show. Most concerts begin at 7:30 pm.
From July 10 to August 14, Sunday nights mean concerts at the Bowl in Newton Centre's playground. Shows begin at 6;30 pm and include performances by rock, Latin, and bluegrass bands.