Best White Water Rafting and River Tubing Near Boston for Families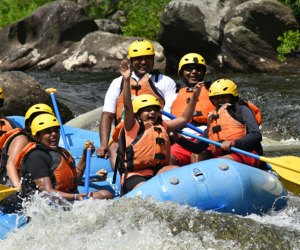 While Boston families have plenty of ways to cool down during the summer months, river tubing and white water rafting are memorable experiences. If you're ready to add a little extra adventure to a water-themed excursion, there's something for all levels—from real-life lazy rivers and wild rapids for adrenaline seekers to the not-to-be-missed Saco River tubing experience. Why not make a weekend out of river tubing and white water rafting? Head over the border to Maine or New Hampshire. Many locations have onsite campgrounds or lodging nearby.
For more fun on the water, explore our guide to the Best Swimming Lakes and Ponds Around Boston and Summer Fun Around Boston guide.
Most places offering river tubing and white water rafting strongly recommend making a reservation in advance and operational hours can change due to river conditions. Children are required to wear life jackets and many also have age and swim-level restrictions.

Deerfield River Portage takes care of everything when you are looking for family-friendly river tubing near Boston.
White Water Rafting and River Tubing Near Boston (2 hours)
1. Deerfield River Portage — Conway
This full-service river tubing company has everything you need for a ride down the lazy river. Deerfield River Portage sets you up with a tube for each person, a tube for your cooler, and even a floating case for your cellphone. After a day of floating, just give them a ring and they will pick you up and bring you back to your car. Kids need to be at least 7 and competent swimmers.
2. Saco River Tubing Center — Conway, NH
Saco River Tubing Center offers a variety of experiences, the shortest being 1.5 miles and the longest being 5 miles long. Kids as young as 3 can throw on a life vest for the shorter tubing experience, while the longer floats are recommended for kids ages 5 and up. For an extra thrill, you can pick an excursion that includes a few rapids. Pack a cooler to snack as you float along or take a break for lunch at one of the many sandy beaches along the river. A shuttle picks tubers up at the end of the trip.
3. Zoar Outdoor — Charlemont
If you want to take it up a notch from a lazy river, consider making reservations at Zoar Outdoor. Daredevils as young as 7 can hit the river for a white water rafting experience. Not sure if you're up for the real deal yet? Try their special family float option for groups of 5 to 7, including kids as young as 5. This introduction to rafting lets your family cruise the water in a calmer section. Ziplining, rock climbing, and kayaking are also available.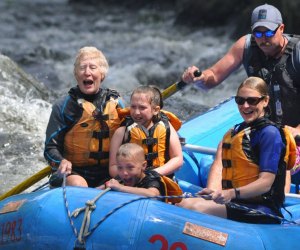 Crab Apple Whitewater is a great place for beginner white water rafting.
4.Crab Apple Whitewater — Charlemont
Many of the trips Crab Apple Whitewater offers are for older kids and adults, but thrill-seekers starting at age 8 can hit the river for a whitewater rafting experience that sticks to the mild rapids. Families with kiddos as young as 5 can opt for the Lower Deerfield River experience to dip their toes into the rafting world. Both trips include a well-earned meal back on shore.
5. Hyytinen Hollow Tubes — Charlemont
Also located on the Deerfield River, families can rent single or double tubes and float downstream. Shuttles are available on weekends for $5, but if you're visiting on a weekday, plan on having a second car to get everyone back to base. Before or after you go tubing, pop into Sue-Per Dogs at Hyytinen Hollow Tubes' for a tasty hot dog and 23 choices of toppings.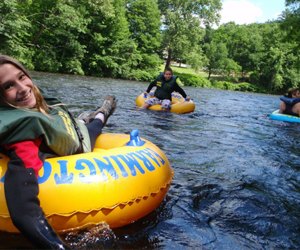 Farmington River Tubing is popular with families with children ages 10 and up.
6. Farmington River Tubing — New Hartford, CT
While this river tubing spot may be over the border in Connecticut, it's a 2-hour drive just like the other Massachusetts locations. Farmington River Tubing mixes up both lazy river cruising and rapids on this 2.5 mile journey. Because this river takes you over three rapid sections, you must be a strong swimmer and at least 10 years old to participate. A shuttle service picks riders up at the end of the trip.
7. Pemi River Campground — Thornton, NH
Head to the White Mountains for a fun day tubing down the Pemigewasset River. At Pemi River Campground, anyone that rents a tube gets a free shuttle 3 miles up the river to start their relaxing float back down to the campground. You can also use their showers and bathroom. While the campground is only a 2-hour drive from Boston, consider spending the night camping for added adventure.
8. Wake Winni — Wolfeboro, NH
Instead of heading downstream, head to the lake for a high-speed zip around the water on a tube. Wake Winni on Lake Winnipesaukee offers charter boats complete with a driver and tube so all you have to do is decide how wild you want your lake tubing ride to be. Along with tubing, you can also try out wake boarding and water skiing.
White Water Rafting and River Tubing Getaways (3-4 hours from Boston)
9. Bullfrog Adventures — Newburgh, ME
At this Maine river destination a 3-hour drive from Boston, you can choose to just rent a tube and take a self-guided tour down the Kennebec River, or sign up for a group excursion. Kids as young as 5 can join in their popular 8-mile-long "Forks Trip" experience. Beware—while little kids are allowed, there are rapids, so make sure your children are up for the challenge. Lunch on the river and a shuttle ride back to your car are included, but Bullfrog Adventures also offers an onsite campground.
10.

Penobscot River Rafting and Tubing — Millinocket, ME

Penobscot River Rafting and Tubing is a 4-hour drive from Boston, so this tubing experience surely requires an overnight stay. But the amazing Maine scenery makes it worth the trip. An hourly shuttle service brings rafters up river, and you can choose how far your river ride will be, from 2 to 8 miles. Then, hop in and float down this lazy river with beautiful views of Mt. Katahdin. Didn't get enough time on the river? Then do it again for the same price. Pitch a tent or rent a cabin for a classic Maine night under the stars.

Tips for River Tubing and White Water Rafting as a Family:
Wear a bathing suit, you will get wet.
Wear water shoes or sandals to protect your feet during rocky sections.
Bring a waterproof bag for essentials (some places rent these, too).
Pack a lunch or cooler if you are allowed to. Many places will rent you an extra tube to store it.
Pack extra clothes to change into after your adventure. Leave them in your car to stay dry.
Photo courtesy of the locations.