40 Free Things To Do in Boston With Kids This Summer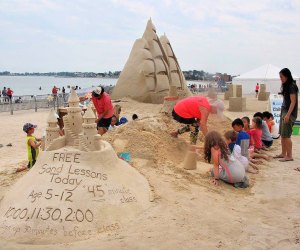 You don't have to go broke to have fun with kids in and around Boston this summer. There are lots of free things to do, whether you want to enjoy the sunshine outside or cool off indoors. Read on for a summer of free water fun, festivals, crafts, music, games, and more.
Editor's note: Some events and operating hours could change, depending on COVID-19 status. Check with businesses before heading out to events.
Free Things to Do in Boston with Kids
1. Pack a lunch and enjoy it in the magnificent Italianate courtyard at the Boston Public Library.
2. Hike Middlesex Fells, Habitat, or the closest to the city of all, Blue Hills.
3. Walk on water (or appear to, anyway) at the Christian Science Plaza reflecting pool, and splash in the fountain while you're there.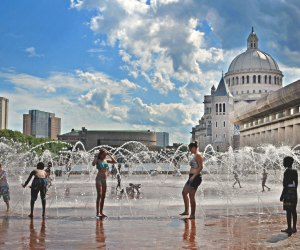 Kids cool off at the Christian Science Plaza fountain. Photo by Sarah Nichols/CC BY 2.0
4. Grab a blanket and catch some outdoor music in the garden at this Somerville concert series.
5. Take a stroll through the hustle and bustle of Quincy Market.
8. Play games and enjoy some swing time at the Lawn on D.
9. Relax and let the kids play for a while at a local park with shade.
10. Watch the street performers outside Faneuil Hall.
11. Go for a stroll, search for wildlife, and climb the tower for a spectacular view at the Mount Auburn Cemetery. You can also download the mobile tour app to your phone for a self-guided tour.

Soak up city history and some lively music at Harborfest. Photo courtesy of the Massachusetts Office of Tourism
12. Celebrate all things Boston during the city's annual Independence Day celebration, Harborfest.
13. Speaking of the 4th of July, grab a spot to watch the fireworks on the Boston Common or head to Tanglewood to catch the Boston Pops perform live.
14. Take an Evening Garden Stroll in the Kelleher Rose Garden with the Emerald Necklace Conservancy.

15. Express yourself at Artbeat, a festival of music, performance art, crafts, dance, theater, and food in Somerville. (July)
16. Wake up super early and watch the sunrise from the Weeks Footbridge.
17. Step back in time on the Freedom Trail, a 2.5 mile brick-lined route leading to several historic sites.
18. Experience a sailor's life circa 1812 at the USS Constitution Museum in Charlestown, where admission is by donation.
19. Visit the library for summer library program events: musical performances, puppet shows, book clubs, movies, workshops, etc.

20. Bring a copy of Make Way for Ducklings to the Boston Public Garden and read it on a bench facing the pond. Then go visit the mama and ducklings statues.
22. Spend some time volunteering together as a family to make a difference in the community.
24. Check out a Discovery Pack and go exploring in Arnold Arboretum.
25. Meet new furry and feathery friends on a Children's Group Farm Tour at Wilson Farm.
26. Fly a kite or search for sea glass on Spectacle Island.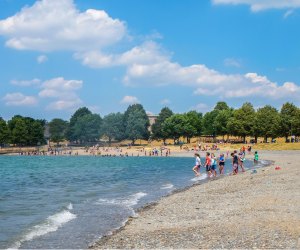 Castle Island Beach. Photo by Tom Klein courtesy of The Cultural Landscape Foundation
27. Dig your toes into the sand without leaving the city on Castle Island.
28. Take a walk around Fresh Pond and explore nature on your own or on a guided walk.
29. Bring a little one to the deCordova Sculpture Park and Museum, where kids under 12 are always admitted for free.
30. Have a water table enthusiast? Learn about all things "water"—its movement, importance, and more—with a preschooler.
31. Take a Wiffle ball set and a picnic to Jamaica Pond.
32. Grab a Frisbee and a blanket and head to the Esplanade for some R & R.
33. Register your child for a free technology camp at an Apple or Microsoft store near you.
34. Not sure what to do? You can't go wrong with hitting one of Boston's best playgrounds.
35. Check out a library book that makes your child proud to be a Bostonian.
37. Bring your budding artist to the Museum of Fine Arts on Wednesdays after 3 pm when you can pay what you choose.
38. Visit coastal Newburyport for a week-long celebration of music, food, and fun at their annual Yankee Homecoming.
39. Sign your kiddos up for a summer adventure at one of these free (or affordable) camps.
Originally published June 2012