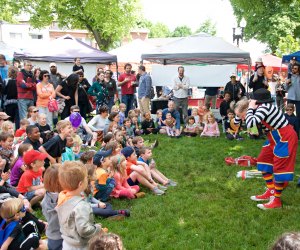 50 Free Things To Do in Boston With Kids This Summer
You don't have to go broke to have fun with kids in and around Boston this summer. There are lots of free things to do, whether you want to enjoy the sunshine outside or cool off indoors. Read on for a summer of free water fun, festivals, crafts, music, games, and more.
1. Pack a lunch and enjoy it in the magnificent Italianate courtyard at the Boston Public Library.
2. Hike Middlesex Fells, Habitat, or the closest to the city of all, Blue Hills.
3. See stars at the Museum of Science's Astronomy After Hours program on Friday evenings.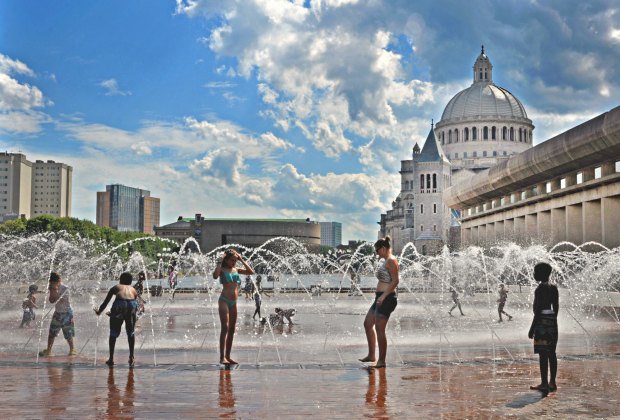 Kids cool off at the Christian Science Plaza fountain. Photo by Sarah Nichols/CC BY 2.0
4. Walk on water (or appear to, anyway) at the Christian Science Plaza reflecting pool, and splash in the fountain while you're there.
5. Check out a library book that makes your child proud to be a Bostonian.
6. Pack a lunch and take it to one of the best spots in Boston for a picnic.
7. Take a family bike ride on a kid-friendly biking trail.
8. Play games and enjoy some swing time at the Lawn on D.
9. Stroll through a local farmers market and enjoy live music and a festive atmosphere.
10. Relax and let the kids play for a while at a local park with shade.
11. Go for a stroll, search for wildlife, and climb the tower for a spectacular view at the Mount Auburn Cemetery. You can also download the mobile tour app to your phone for a self-guided tour.
12. Enjoy a creative playdate with your little one at the Museum of Fine Arts.
13. Explore local museums and attractions with Highland Street Foundation's Free Fun Fridays beginning at the end of June (search for "Free Fun Friday" on our Event Calendar to find out which places have free admission each week).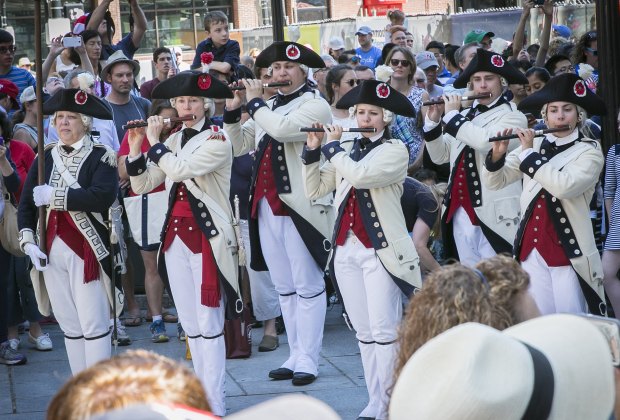 Soak up city history and some lively music at Harborfest. Photo courtesy of the Massachusetts Office of Tourism
14. Celebrate all things Boston during Harborfest.
15. Enjoy Boston's Independence Day fireworks, laugh during an animation festival, groove to jazz music, spend an evening with the Bard of Avon, or have family movie night at Skyline Park in Arlington.
16. Take an Evening Garden Stroll in the Kelleher Rose Garden with the Emerald Necklace Conservancy.
17. Celebrate the red jewels of early spring at a strawberry festival.
18. Celebrate summer solstice at the Harvard Museums. (June 21)
19. Express yourself at Artbeat, a festival of music, performance art, crafts, dance, theater, and food in Somerville. (July)
20. Wake up super early and watch the sunrise from the Weeks Footbridge.
21. Step back in time on the Freedom Trail, a 2.5 mile brick-lined route leading to several historic sites.
22. Be wowed at the Revere Beach Sand Sculpting Festival, which closes with a concert and fireworks display over Revere Bay (2018 Date TBD).
23. Experience a sailor's life circa 1812 at the USS Constitution Museum in Charlestown, where admission is by donation.
24. Visit the library for summer library program events: musical performances, puppet shows, book clubs, movies, workshops, etc.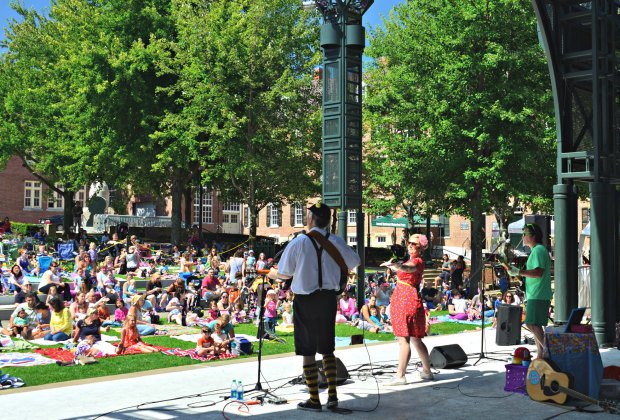 Lowell is home to some terrific summer concerts. Photo courtesy of the Massachusetts Office of Tourism
25. Play games and enjoy great music at the 2018 Lowell Folk Festival. (late July)
26. Learn about and explore the earth's natural treasures at the Harvard Museum of Natural History every Sunday morning from 9 am to noon (when MA residents get free admission).
27. Bring a copy of Make Way for Ducklings to the Boston Public Garden and read it on a bench facing the pond. Then go visit the mama and ducklings statues.
28. Get your literary fix and outdoor time during a visit from the ReadBoston Storymobile at a local park.
29. Be crafty at the Lakeshore Learning Store in Newton every Saturday.
30. Spend some time volunteering together as a family to make a difference in the community.
31. Splash around and cool off in a spray deck or wading pool.
32. Check out a Discovery Pack and go exploring in Arnold Arboretum.
33. Meet new furry and feathery friends on a Children's Group Farm Tour at Wilson Farm.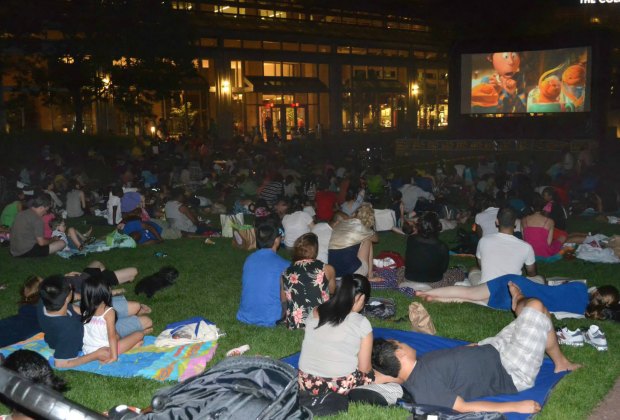 Watch a movie under the stars. Photo courtesy of Prudential Center
34. Sit back, relax, and enjoy a free family movie at one of the area's outdoor summer movie series.
35. Fly a kite or search for sea glass on Spectacle Island.
36. Dig your toes into the sand without leaving the city on Castle Island.
37. Leave your wallet at home (but don't forget the sunscreen!) at one of these free local outdoor pools.
38. Take a walk around Fresh Pond and explore nature on your own or on a guided walk.
39. Bring a little one to the deCordova Sculpture Park and Museum, where kids under 12 are always admitted for free.
40. Sit on the banks of the Charles and choose your favorite elaborately decorated vessel at the Dragon Boat Festival (June).
41. Have a water table enthusiast? Learn about all things "water"—its movement, importance, and more—with a preschooler.
42. Take a Wiffle ball set and a picnic to Jamaica Pond.
43. Save the whales! This festival focuses on the magnificent mammal who calls the New England waters home.
44. Explore your inner artist at a monthly ICA Playdate with your kiddo.
45. Soak in the sights and sounds of football with thousands of other fans during a Patriots Training Camp session at Gillette Stadium, beginning late July.
46. Stop by for storytime or to browse at one of the children's bookstores you can only find in Boston.
47. Celebrate Salem in the summertime at a martime festival.
48. Grab a Frisbee and a blanket and head to the Esplanade for some r & r.
49. Register your child for a free technology camp at an Apple or Microsoft store near you.
50. Not sure what to do? You can't go wrong with hitting one of Boston's best playgrounds.
Originally published June 2012