Visiting the Boston Harbor Islands with Kids: 15 Things to Do on Spectacle Island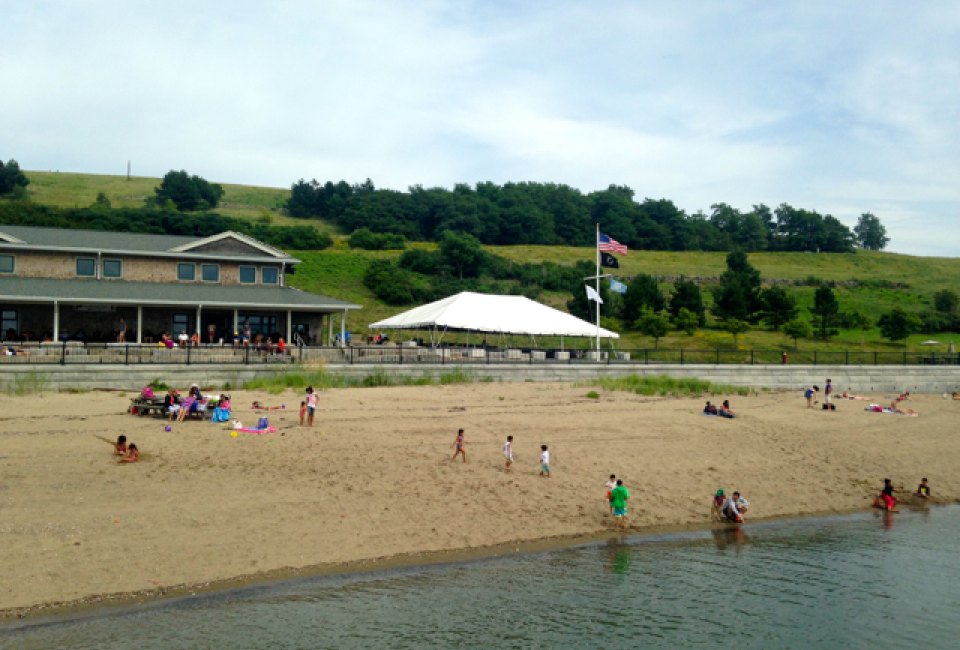 8/5/14
- By
Tara D
On a recent summer Saturday, Boston Harbor Cruises ferried us across the Boston Harbor to Georges and Spectacle Islands for a day of adventure. The ferry ride only took forty minutes, but it might as well have been hours, because we felt like we were on vacation – not just in another place, but in another time as well. It's the ultimate Boston summer staycation.
You can easily enjoy both Spectacle and Georges Islands in one day, and passage to both is included in your ferry fare. Spectacle is the quieter, more relaxed of the two and honestly, it's our favorite. There's so much good, sandy fun to be had on the former island of refuse. Here are some of the top things to do with kids on Spectacle Island, plus a few tips to make your day even more vacation-like.
1. Ride the ferry or captain your own boat and dock it at the marina. Getting there is part of the fun!
2. Read about the lives of the people who lived on Spectacle Island not so long ago, amid the city's discards.
3. Search for sea glass on the left side shore of the beach.
4. Find artifacts – pieces of bottles, teacups, plates, silverwear, etc. – and curate a collection as you make up stories about them. Note: Like all national parks, you leave nothing and you take nothing. This includes the sea glass and other treasure trash of Spectacle Island.
5. Get hands-on with the creatures of the Harbor with the New England Aquarium's drop-in Beach and Below programs.
6. Challenge your kids to a hula hooping contest (hoops are located just outside the visitor center).
7. Learn the history of Spectacle Island, from drumlin to trash heap to National Park, inside the visitor center.
8. Pretend you're in the South and rock on the porch while you enjoy the sounds of live jazz on a summer Sunday afternoon. (Sundays through late August)
9. Relax on the beach while your kids splash and play in the life-guarded swimming area (late June through Labor Day).
10. Take your toddler on a Tuesday for a short nature program with Spectacle Island's staff.
11. Build a sand castle.
12. Hike to the top of the island, stopping along the way for spectacular views and nature observation.
13. Make a kite or bring your own to fly from the highest point of the Harbor Islands. (Saturdays through August)
14. Get an artisan sandwich at the Sea Glass Café.
15. Make it a Summer of Play day with favorite backyard and field day games. Take lots of pictures and enter our contest!
---
Good to know before you go:
Get a spot on the top of the ferry for the wind-in-your-hair effect and the best views.
Bring a jacket to wear on the ferry, even if it's a warm day.
Go early and leave early, especially if you go on a weekend. The later ferries tend to fill up fast, and you may end up waiting in line at the dock an extra half hour or more if you try to get on one of the ferries leaving at 4 pm or later.
To avoid the above situation, go to Spectacle Island first, then leave from Georges. The ferries fill up at Georges and then stop at Spectacle on the way back to Long Wharf.
If you go on the weekend and are driving to Long Wharf, park at International Place. You can't get a better parking deal, and the walk through the Greenway is lovely.
Harbor Islands is a National Park: Plan to pack in and pack out (there are no trash receptacles); take only pictures and leave only footprints.
Admission is free to the Boston Harbor Islands National Park, but many of the islands can only be visited by ferry. The ferries are run by Boston Harbor Cruises and tickets can be purchased at a kiosk near the dock.
There is a restroom with outside access at the Marriott Long Wharf (good to know for before or after a 40 minute ferry ride).
Places featured in this article:
---
Boston Harbor Cruises ferry to Spectacle Island
Click Here to Sign Up!
i