Best Tot Lots and Toddler Playgrounds in Boston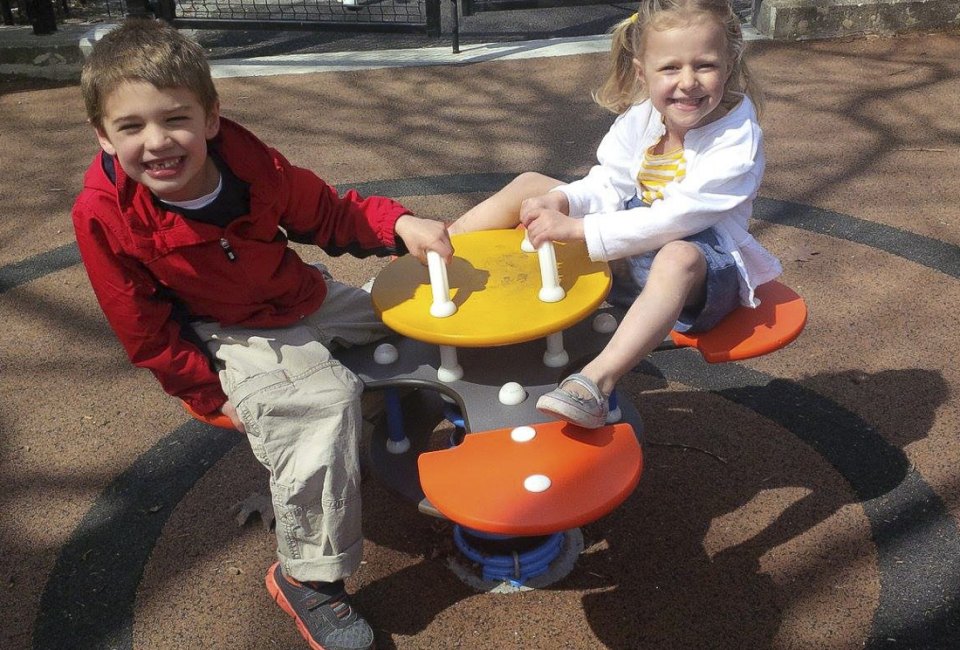 4/15/22
- By
Elyse Andrews
When the weather turns warm and sunny, it's time to get your little ones to the best tot lots and toddler playgrounds in Boston. Toddlers can't wait to get out and explore, and last fall's newborns are just about ready for a bucket swing! But not all playgrounds cater to the sub-preschool set. Luckily, there are several in and around Boston that do have sandboxes, swings, and smaller play structures built with the littlest kids in mind. Here are some of our favorite local "tot lots" with special features that are perfect for older babies and toddlers.
Explore our Guide to Playgrounds & Parks in Boston to find the right spot for kids of any age. Our list of 12 Awesome Boston Area Playgrounds Worthy of Getting in the Car is full of ideas for family excursions. And if the weather isn't helping play time, check out our guide to the Best Free Indoor Play Spaces.
Best Tot Lots and Toddler Playgrounds in Boston

There's so much for toddlers to explore at Brewer Burroughs Playground. Photo courtesy of Ed Lyons, Flickr CC BY-NC-ND 2.0
1. Brewer-Burroughs Playground—Jamaica Plain
If you have a child under five years old, you shoulfd swing by Brewer-Burroughs. This playground is designed to accommodate the littlest kids, so it's a perfect place to start your park play. There are bucket swings, a tiny slide, a sandbox and lots of donated toys (play kitchens and the like) to explore. Plus there's plenty of shade, so you can play all day.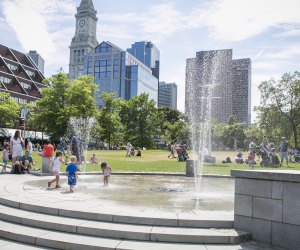 Christopher Columbus Park is fun to splash around in, too. Photo by Kyle Klein courtesy of Greater Boston Convention & Visitors Bureau
2. Christopher Columbus Park—North End
The tot lot is so beloved at Christopher Columbus Park that there's an annual event to clean it up each spring. The huge sandbox full of sand toys is the ideal spot for small children to play and explore. There's also a more traditional playground with tiny features for the youngest kids and a water feature to cool off in on hot days. This play area is right near the North End, which has plenty more things to do with kids.
3. DeFilippo Playground—North End
Tucked between residences in the North End, "The Gassy," as it's long been affectionately known by locals, was spruced up six years ago to include a tot lot area with cushioned flooring, lots of pint-sized climbing equipment, and a row of bucket swings. There is surrounding, sunlit bench space where parents can take a load off, nurse a younger sibling, and still keep an eye on their tots.

Soft foam makes climbing fun and safe at Peters Park. Photo courtesy of Mommy Poppins Boston
4. Peters Park—South End
This beloved park in the South End has a terrific playground with a separate play structure just for toddlers. Peters Park is covered in soft foam, so any tumbles from early walkers will be well cushioned. The playground features small slides and climbing features, plus the park has a beautiful garden to enjoy while you're there.
5. Ringgold Park—South End
A true community gathering space, Ringgold Park is the heart of the neighborhood. There's a great playground with baby swings and a tot lot, plus an area for big kids. A spray fountain helps kids cool down on hot summer days. And events like an Easter Egg Hunt and a Halloween costume party for little ones make this park a true gem in the city.
6. Rossmore and Stedman Street Park—Jamaica Plain
Less than a mile away from Brewster-Burroughs is another fantastic tot lot. The playground at Rossmore and Stedman Street Park is a bit smaller, but it's just as fun (and shady). The ground is covered in cushioned foam, so it breaks any falls for early walkers. Kids seem to love the open air car and xylophone. There are lots of donated toys here, too, so there's always something new to discover.
7. Stoneman Playground—Back Bay
You can't beat the setting for this next tot lot. Stoneman Playground is located on the Esplanade between Fairfield and Massachusetts Avenue and has views of the Charles River. A gated playground designed for children ages three and under has baby swings, slides and climbing structures. And if you have older kids, there's a separate playground just for them with lots of unique structures.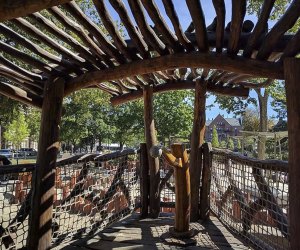 Alexander W Kemp Playground in Cambridge provides a stimulating environment for toddlers. Photo courtesy of nicelocal.com
Best Tot Lots and Toddler Playgrounds Near Boston
8. Alexander W. Kemp Playground—Cambridge
The Alexander W. Kemp Playground on the Cambridge Common has got to be one of the most unique outdoor play spaces in Boston, or anywhere, for that matter. This is not your typical park. Instead, the playground is primarily built from natural materials that form a series of hills and valleys. It's great for kids of all ages and toddlers will especially love exploring the sand, small slides, and water feature.
9. Billy Ward Playground—Brookline
There's not much that Billy Ward Playground in Brookline doesn't have. The big and little kid play areas are separated, so wee ones have a spot all to themselves. There's a big sandbox for digging, a water feature for cooling off and a lot of shade. This is truly one-stop playground shopping.
10. Chuckie Harris Park—Somerville
One of the most unique playgrounds around, Chuckie Harris Park is not to be missed. It's a completely custom play space that suits kids of all ages, and there's even a cool tot lot designed just with little ones in mind. And don't miss the huge slide (so big that mom and dad can join them), water feature and many climbing areas. The park often hosts events geared toward little ones, like puppet shows, so there's always something fun going on.
11. Victory Field—Watertown
It's worth the trip to Watertown for a chance to play on the big, beautiful playground at Victory Field. There are two play structures, with one catering specifically to children ages 2-5. A swing set with bucket and belt swings is perfect for little ones. And you can even bring a snack to enjoy in the picnic area.

Monkey around (and in and on top of) the Cabot Tot Lot tunnels in Newton. Photo courtesy of Mommy Poppins Boston
12. Cabot Park—Newton
Across from Cabot Elementary School's bustling big-kid playground sits expansive Cabot Park, which includes a sandy, sun-dappled tot lot. It features climbing tunnels, low-to-the-ground sensory walls, and an array of toys, all fenced in to allow for maximum freedom. Pack a picnic and enjoy lunch or an early dinner in the shade of surrounding maple trees after playtime.
Click Here to Sign Up!