25 Things to do in the North End with Kids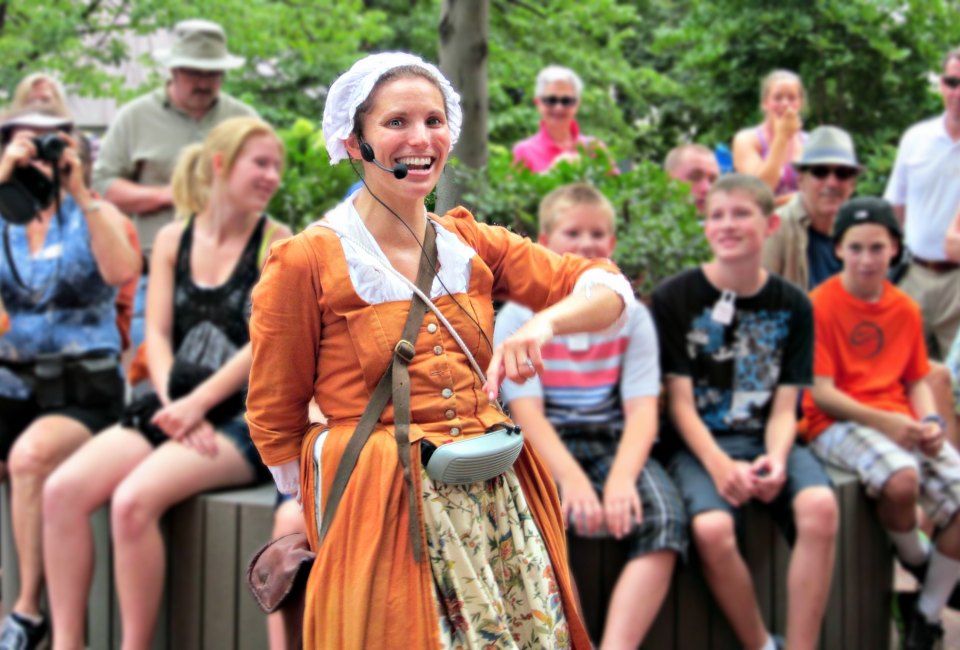 3/16/18
- By
Elyse Andrews
Boston has changed a lot in the last few decades, but one area of the city remains largely the same: the North End. Often called Boston's Little Italy, its narrow streets are brimming with old world charm, historic sites, and delicious food. Whether you live in Boston or are just visiting, the neighborhood is a must-visit stop with kids. Here are our favorite things do, see, and, yes, eat.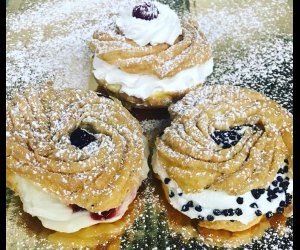 Yellow cream-filled, cherry, chocolate chip, and more...zeppole of every flavor will fill the pastry cases across town on St. Joseph's Day in March. Photo courtesy of Mike's Pastry/Facebook
1. St. Patrick's Day gets most of the attention in Boston, but celebrating St. Joseph's Day (Monday, March 19 this year) is the perfect way to experience the North End. The most delicious way to do so is by indulging in a zeppole, an Italian cream-filled pastry made just for the occasion that's sold at just about every one of the illustrious pastry shops dotting the 'hood.
2. One of the best ways to get the true flavor of the North End is to walk down its main drag, Hanover Street, and the smaller surrounding streets.
3. Go ice skating at Steriti Memorial Rink, which has free public skating at various times throughout the week. (Check out more free skating spots here!)
4. Get some fresh sea air when you stroll along the Harborwalk, which runs right along the outside edge of the North End.
5. Follow the Harborwalk all the way to the New England Aquarium, which sits in easy walking distance just outside the neighborhood.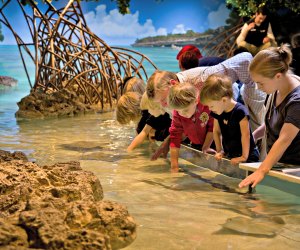 At the New England Aquarium's Shark and Ray Touch Tank, you can reach into the water to touch passing sharks and rays. Photo by S. Cheng courtesy of New England Aquarium
6. Take a stroll on the Freedom Trail, which runs right through the heart of the North End. You can do it on your own or take a guided tour.
7. One of the can't miss stops on the trail is the Old North Church, where the famous "One if by land, two if by sea," lantern lighting took place.
8. When you leave the church, stop by the beautiful gardens to take in a bit of green space amid the hustle and bustle of the city.
9. Visit the Printing Office of Edes & Gill to experience printing with an 18th century press and learn how printers helped sparks the American Revolution.
10. Take in the Paul Revere Mall, a nice shady spot to rest, and the home of the Paul Revere Statue.
11. Take a delicious trip into the past with a stop at Captain Jackson's Historic Chocolate Shop, where you can learn how colonial Americans enjoyed chocolate (and indulge in some yourself).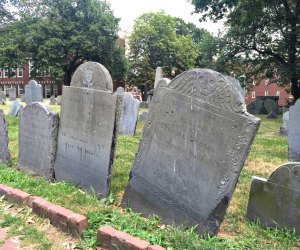 Find Cotton Mather's gravestone at Copp's Hill Burying Ground. Photo by author
12. Copp's Hill Burying Ground is the final resting place of Puritan ministers Cotton and Increase Mather, who were closely tied to the Salem Witch Trials, as well as others from the era. It also boasts expansive views of the surrounding area.
13. Step inside the 17th century Paul Revere House, where Revere lived when he took off on his famous Midnight Ride. Check out Henry Wadsworth Longfellow's Paul Revere's Ride (and these other Boston books) to provide some context before you go.11.
14. After you finish up at the Paul Revere House, stop into the Pierce/Hichborn House for a guided tour of one of the oldest remaining brick structures in Boston..
15. The North End hosts many other traditional feasts and festivals, most of which take place during the summer, so they're a great way to get outside.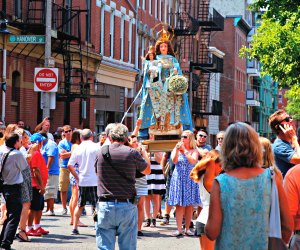 There's plenty of colorful things to see at the North End Festival. Photo courtesy of Greater Boston Convention & Visitors Bureau
16. No trip to the North End would be complete without a slice of pizza. Everyone has a favorite, but three of the most beloved are Ernesto's, Regina's and Galleria Umberto.
17. After you've had your fill of savory pizza, get your fill of sweet gelato. Try Caffe Vittoria for a classic North End experience.
18. Christopher Columbus Park has a terrific playground (it even has a sprinkler for cooling off on hot days), so it's the perfect place to take kids in the neighborhood.
19. Really need to cool down? Visit Mirabella Pool, which is open all summer long. Bonus: Kids under 5 swim for free!
20. If you've got older kids and teens at home, try a fun family bonding activity like the Room Escapers. Its escape rooms are based on actual events in Boston's past.
21. Visit the North End Branch of the Boston Public Library for story times, craft sessions, and more kid-centric fun.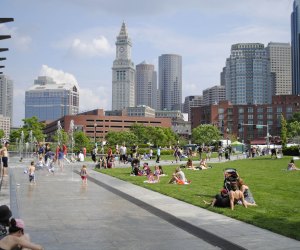 Rose Kennedy Greenway is bustling on warm days. Photo courtesy of Rose Kennedy Greenway Conservancy.
22. The Big Dig reshaped the area near the North End and now instead of a highway, there's the Rose Kennedy Greenway running alongside the neighborhood. Bring a picnic there to enjoy this beautiful green space in the heart of the city.
23. Grab a bite to eat on the water at kid-friendly restaurants like Joe's American Bar & Grill and Legal Sea Foods.
24. Have a cannoli taste test when you sample the goods from Mike's Pastry and Modern Pastry, both of which are on Hanover Street.
25. Designed by Frederick Law Olmsted, Puopolo and Langone Parks are home to baseball and softball diamonds, basketball courts, and bocce courts.
Places featured in this article:
Click Here to Sign Up!