7 of the Best Playgrounds in Boston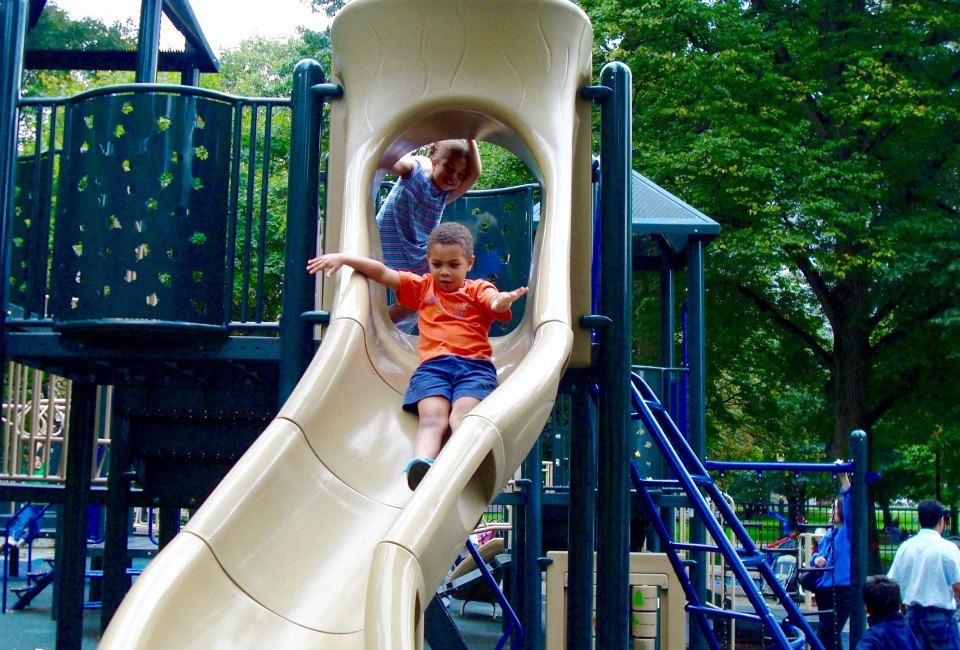 6/24/16
- By
Elyse Andrews
Going to your local playground is the perfect activity for free summer fun. But sometimes you're away from home and in need of a jungle gym for the kids to play on. Luckily there are several really special playgrounds in Boston that are just waiting for you to explore. No matter what neighborhood you're in, chances are there's a great playground nearby. Here are seven of the best in Boston.
Christopher Columbus Park
This 4.5-acre park is right on the waterfront in Boston, making it a great place to run around outside after a visit to the nearby New England Aquarium. Christopher Columbus Park has a great playground on which kids can slide and climb, a sprinkler area for cooling off on hot summer days and stunning views of the harbor. Bring a picnic to enjoy on the grassy area at the park and then walk across the street afterwards to take a spin on the Greenway Carousel. The park also hosts a lot of special events, like movie nights and music, that are perfect for the whole family.
East Boston Memorial Park
Tucked away near the airport you'll find a true hidden gem of a playground at the East Boston Memorial Park. There are swings for all ages, from infants to kids to adults, plus a jungle gym with multiple slides and places to climb. A teeter totter that seats four, a spray deck, and ball fields provide even more fun at this 17-acre park. Suffolk University's softball, baseball, and soccer teams play at the park, so you may even be able to catch a game while you're there.
Esplanade Playspace
Until 2011 the playgrounds on the Esplanade were all geared toward younger kids, but that changed when the Esplanade Playspace opened. This playground, located near the Fiedler Footbridge, is built specifically for the needs of kids ages 5-12 to help them learn, grow, and get exercise. The Playspace has structures for climbing, zip lining and swinging, plus you can access the rest of the Esplanade from it.
Frog Pond and Tadpole Playground
No list of the best playgrounds in Boston would be complete without mentioning the Frog Pond and Tadpole Playground (pictured) on the Common. The playground itself has lots of slides and climbing structures, plus several whimsical frog statues. And right next door is the Frog Pond, which is open during the warmer months for kids to cool down in. Make a day of it with a picnic on the Common and a ride on the nearby carousel.
Franklin Park
There are not one, not two, but three playgrounds in Franklin Park! In 2011, the old wooden structures at the playgrounds were replaced by modern play equipment in bright colors. El Parquesito de Hermandad has a zip line and the park's only water feature. The Tiffany Moore Tot Lot has a nice springy surface and a bridge that looks like a bear. And the American Legion Highway Play Area provides a safe place to run around near a picnic spot. Plus, there's the whole of Franklin Park to explore.
Lo Presti Park
Talk about a playground with a view! Just across the harbor from the North End is Lo Presti Park, a popular East Boston spot to play and take in some of the best views of the city you'll find anywhere. In addition to the large playground at Lo Presti, there's a spray fountain for kids to cool off in and plenty of ball fields for impromptu games. Basketball courts and a street hockey rink round out the offerings.
Mayor Thomas M. Menino Park
Planning and opening the Mayor Thomas M. Menino Park was one of the mayor's last big projects in office. The innovative playground is designed so that all children, regardless of development and ability, can play together in the same space. This brightly colored playground has unique slides, teeter totters and monkey bars that encourage creativity and inclusivity.
---
Photo of Tadpole Playground by Tara D. Jackson
Click Here to Sign Up!
i