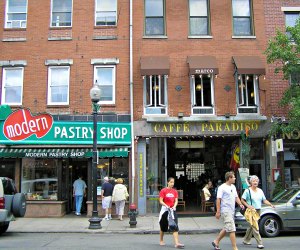 10 Reasons It's Great to be a North End Mom
This is the third post in our series about why it's great to be a mom in different towns around the Hub. Got pride in your 'hood? Let us know at boston@mommypoppins.com, and your town could be featured in a future post.
Whether they're stopping by for history, culture, or the food, most tourists put the North End on their list of places to visit in Boston. But you don't have to wander far from the hustle of Hanover Street to realize there is a lot more to the neighborhood than pasta and cannoli. The North End is a mix of residents whose families who have lived in the borough for generations, professionals of all ages who like the proximity to the financial district and downtown, and young families. On the surface, the small apartments, high rents, and limited parking options might not seem like the ideal place to raise kids, but ask just about mom and she'll tell you she wouldn't want to be anywhere else. I've lived in the neighborhood for four years and fell in love with it long before I welcomed my first child in January. But now that I'm a mom, I love the neighborhood even more. Here are a few reasons why...
1. New Moms Group
Perhaps the greatest part about raising a child in the North End is the way moms support one another. The love all stems from the New Moms Group, which meets every Thursday morning at the Nazzaro Community Center (except during the summer, when the group meets at the library). If you managed to go through your pregnancy without someone gushing about this group, the second you push a stroller outside your front door, someone is sure to invite you to the next meeting. Facilitated by a certified birth doula and open to any mom (or dad) of a new baby, it's a safe, welcoming gathering with no agenda. If you haven't slept for more than three hours or haven't showered in three days, it's not a problem—a group of moms can't wait to meet you. There's no charge to join but you are asked to pay the $10 annual family membership fee to the community center. Even though you and your little one will age out of the group after about a year, you'll have built a network of families nearby with whom you can continue to share the highs and lows of parenthood.
​2. Moms' Night Out
The support spills well beyond the weekly meetings. Neighborhood moms are invited to join a text chain. The one rule of the chain is that there's no silly question. Chances are another mom has found herself in the same situation and has some pearls of wisdom to share. Along with the day-to-day "why is my baby (fill in the blank)?" questions, the chain is used to coordinate the monthly Moms Night Out. That's right! Once a month, the group gathers at a local restaurant WITHOUT the kids. It's been such a success that the men are jumping on board and there is a fledgling Dads' Night Out that's gaining traction around the 'hood.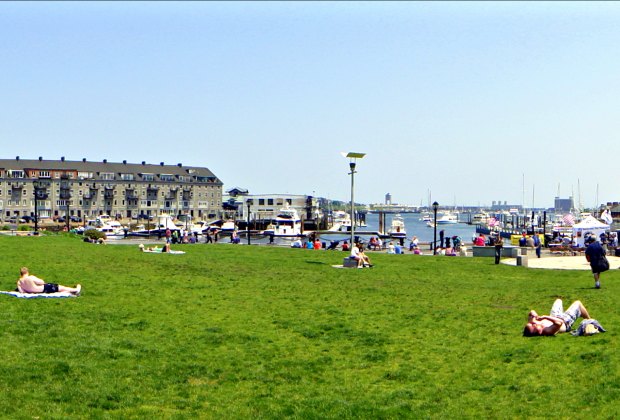 Christopher Columbus Park; Photo by Matt Kieffer/CC BY 2.0
3. Christopher Columbus Park
It's not Central Park or even the Public Gardens, but Christopher Columbus Park is the gateway to the North End and a fantastic place to enjoy some of the sights and sounds of the neighborhood. Thanks to the Friends of Christopher Columbus Park, the gardens are always lush, the grass is always green, and during the holidays the trellis is aglow in beautiful lights. Many street musicians setup along the waterfront to serenade residents and tourists alike. Whether you're just taking a break on a bench or setting up a picnic, you're sure to find peace even at one of the city's busiest crossroads.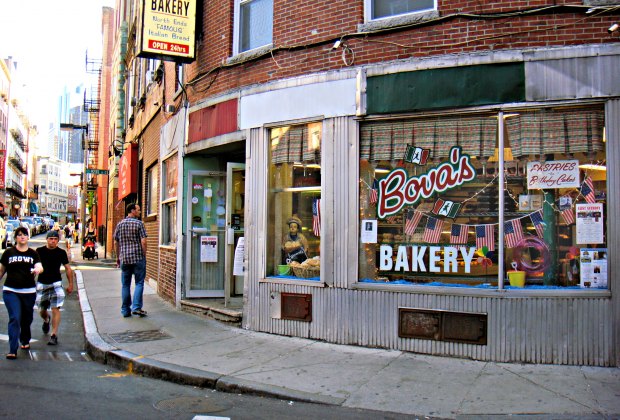 Bova's Bakery; Photo by Amy Gizienski/CC BY 2.0
4. The Food
It goes without saying the North End is known for its restaurants. And there are a lot. In fact, nearly every storefront on Hanover and Salem Streets offers different dining options, from family-friendly brunch to pizza by the slice to Italian gelato. As the neighborhood population diversifies, so do the restaurants. You can also find sushi, Mexican, and seafood among the raviolis and slices of ricotta pie. People always ask me which bakery is my favorite. While the seemingly endless lines outside Mike's and Modern Pastry on Hanover Street speak to their popularity, I am partial to Bova's on Salem Street. It's a smaller operation but the cookies, pastries, and stromboli are incredible, and it's open 24/7. So no matter when a craving hits, the lights are on and the oven is hot.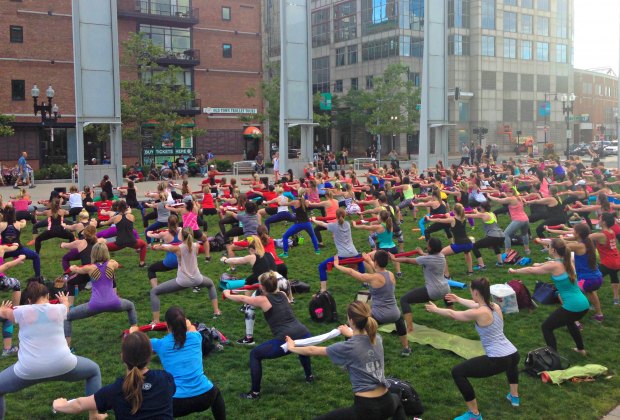 Get your yoga on at Greenway Fitness; Photo courtesy of the Rose Kennedy Greenway Conservancy
​5. Fitness Options
So how do we work off all those carbs? Fortunately, the North End has no shortage of fitness options that fit just about every schedule and budget. At all hours of the day you'll find the Harborwalk packed with walkers and joggers with and without strollers. Some examples:
There's a series of FREE fitness classes on the Rose Kennedy Greenway, including a boot camp, yoga and Pilates.
If you are mom of an infant, you can work up a sweat with your baby. North End Yoga offers a mom and baby Pilates class on Wednesday mornings. Or you can push your pram over the bridge to Charlestown for a stroller boot camp at the Bunker Hill Monument on Tuesdays.
There's also yoga, barre, spinning, CrossFit, a treadmill studio, and even a toning class that provides childcare. Many studios accept ClassPass and/or offer deals on Gilt so you can buy a pack of classes without springing for a pricey membership.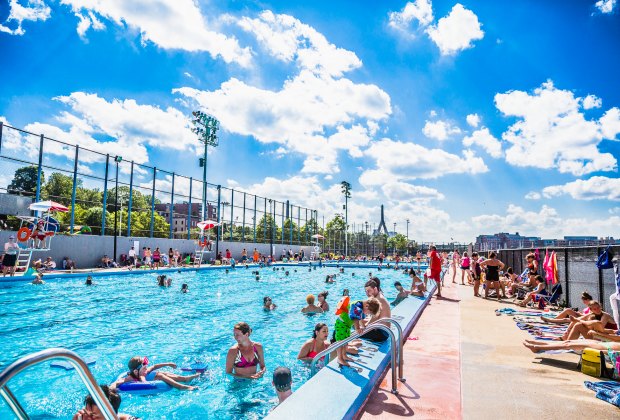 Mirabella Pool; Photo by Matthew J. Conti/www.MattConti.com
6. Mirabella Pool
In the winter, living in small North End apartments is cozy. Come summer, the coziness turns to cramped. Fortunately there are several parks and a neighborhood pool in the North End where residents can stretch out and cool off. Mirabella Pool is next to the Coast Guard Station with views across the harbor to the Charlestown Navy Yard. It's like being at the beach without having to worry about sand or sharks. With designated times for lap swimming, swimming lessons, and a spray park, there's something for all ages. A small seasonal payment is required.
7. Old-World Charm
Set in the forefront of the city's skyline, much of the new development that has transformed other Boston neighborhoods, including the nearby Seaport and West End, has bypassed the North End. Of course the Big Dig put the highway barrier that once separated the North End from the rest of the city underground, but you won't find much in the way of new construction within the neighborhood limits. What you'll find is old-world charm, cobblestone and brick sidewalks, and bocce courts. Even some of the buildings that have been converted to high-end condos have maintained an ode to the past on the exterior. Sure, that charm makes for rough terrain for your stroller but as you bob and weave through the streets you can't help but think of all the mamas of generations past who have pushed their little ones along the same routes.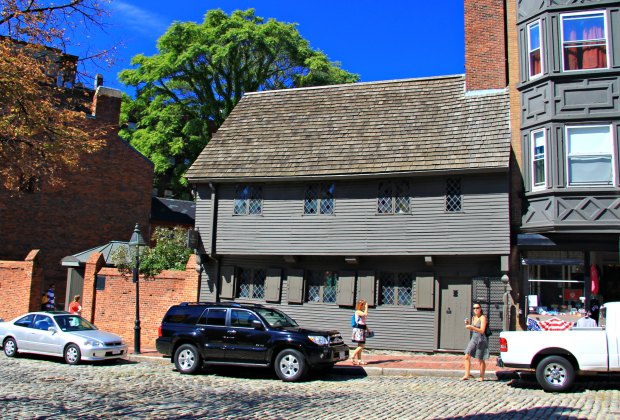 Paul Revere's House; Photo by Michael Hicks/CC BY 2.0
8. The Freedom Trail
The heart of the historic Freedom Trail goes right through the North End. From the story of Paul Revere's famous midnight ride to the legends beneath the soil in Copp's Hill Burying Ground, just about every street offers a glimpse into the neighborhood's rich past. The historic landmarks can be quite crowded during peak tourist times, but that's a benefit of living here. You can find a quiet time to visit and return as many times as it takes to soak up all the facts and stories. Whereas many visitors from outside the city feel the need to do the entire Freedom Trail in one visit, living in the North End means you are perfectly positioned to check off the highlights over the course of a few outings, which may be easier and more enjoyable for families with small kids.
At the New England Aquarium's Shark and Ray Touch Tank, you can reach into the water to touch the sharks and rays. Photo by S. Cheng courtesy of New England Aquarium
9. Family Fun
There's no reason for anyone to be bored in the North End. If the parks and playgrounds are not keeping kids occupied, fun abounds within a one mile radius. The New England Aquarium, the Boston Children's Museum, the Museum of Science, and Boston Harbor Cruises for access to the Harbor Islands are all just a short stroller ride away. That's a lot of hours of family entertainment without having to battle traffic or parking. The museums all offer annual memberships that pay for themselves over the course of just a couple visits.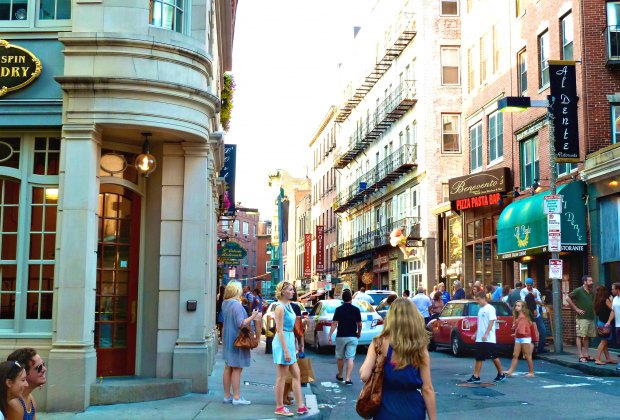 Bustling Salem Street. Photo by Tim Grafft/Massachusetts Office of Travel & Tourism
10. Small businesses
The North End is full of small businesses that make buying local and supporting your neighbors very convenient. In one trip, I can grab fresh bread, produce, meat, cheese, fish, and a latte. What mom can live without caffeine? While that involves stops at six different shops, I can pick up everything I need in less time than it would take me to fetch my car and drive to the nearest grocery store. You won't find many chain stores in our neighborhood, but you will find hardworking small business owners who value good, old-fashioned customer service.
Top photo of Hanover Street by Henry Zbyszynski/CC BY 2.0