14 Boston-Area Gyms with Childcare
Between family and career, it can be really tough for busy parents to fit in a workout. But we all know exercise is an important part of staying healthy and it can be fun to boot. With that in mind, we rounded up 14 local gyms that offer on-site childcare. At these fitness studios, you can drop your kids off in a safe, fun environment so you can hit the treadmill, lift weights, or try a group exercise class—basically, just focus on your own wellness for a small sliver of the day. You're worth it.
Barre3—Brookline and Needham (more locations coming soon)
The Zen vibe at Barre3's lovely bar-sculpting studios extend to the childcare nook, where a tidy assortment of toys and a smiling sitter are always available. There are classes multiple times a day, and you can sign up online for a spot in a class as well as in the childcare area at the same time. An hour of childcare, which is available for newborns through teenagers, is $5.
Benefitness Health Club for Women—Brookline
This independently owned, women's-only fitness facility has called Brookline home for three decades. Benefitness offers on-site childcare for up to four kids at a time on Tuesdays, Thursdays and Saturdays for $5 per child for up to two hours. One-on-one babysitting is also available and can be scheduled separately.
Beverly Athletic Club—Beverly
The Beverly Athletic Club is a large health club on the North Shore that has everything from cardio and weights to fitness classes and a pool. The facility has a Building Active Kids Zone where it offers childcare for kids ages eight weeks and up every day except Sunday for a small fee.
Blast Fitness—West Roxbury
This West Roxbury gym provides small-group training, cardio equipment and weights to its members. Blast Fitness also offers free babysitting in its Kids' Club every day except Sunday.
Bodyscapes Fitness—Brookline
Bodyscapes Fitness offers cardio equipment, free weights, circuit training, Pilates and personal training to its members. The Brookline location of the gym also provides free childcare to kids ages six months to 12 years. Reservations are required.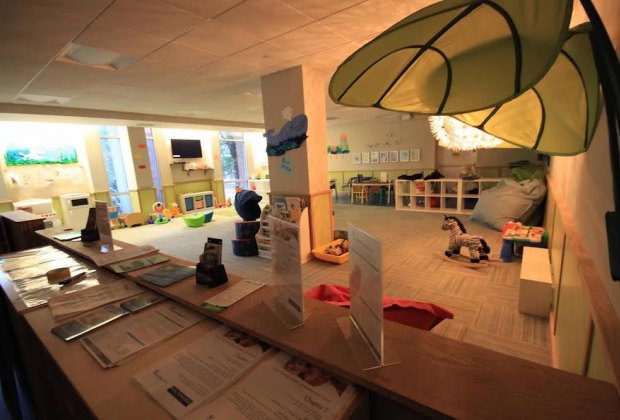 All four Healthworks locations offer on-site childcare. Image courtesy of the gym.
Boston Athletic Club—Boston
This South Boston fitness facility has a lot to offer, from a large fitness center and pool to group exercise classes and sports like tennis and basketball. Boston Athletic Club also has on-site childcare every day of the week. Children are $8 per hour for members, $10 per hour for non-members, or you can buy a prepaid package of $72 for 10 hours or $136 for 20 hours.
Boston Sports Club—Various locations
With nearly 30 clubs in or around the city, there's almost always a Boston Sports Club nearby. Each facility is a little different, but most have cardio and weights equipment and some have pools. BSC offers childcare for kids ages three months to 10 years old. You can pay per session or by the month.
Btone Fitness—Boston and Wellesley
Btone Fitness classes are all about efficiency—perfect for busy moms and dads—so you can get a great workout in less than an hour and be on with your day. The North End and Wellesley locations offer childcare during some classes, so check the schedule to see when little ones are welcome at the facility.
Equinox—Various locations
There are several Equinox gyms in Boston, so you're never far from a workout at this luxury fitness facility. The gyms offer childcare for kids ages one to four in three tiers. Prices and availability vary by age and location.
Evolve Fitness—Cambridge and Framingham
You'll find cardio equipment, circuit training, group exercise classes and much more at Evolve Fitness, which has gyms in Cambridge and Framingham. Both locations offer on-site childcare for $6 per session or $30 per month. Babysitting is available in Cambridge every day and in Framingham every day except Sunday.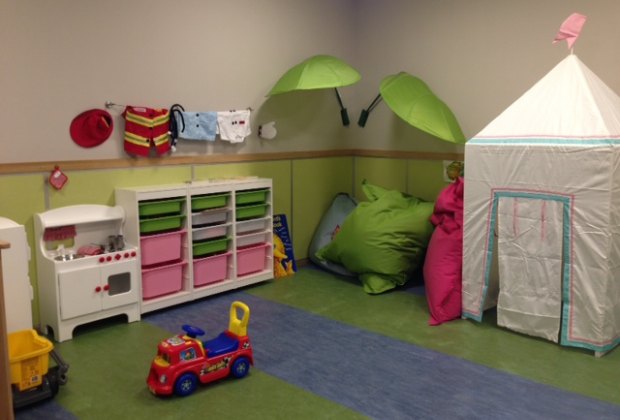 Each gym's on-site childcare has its own style. Image courtesy of Healthworks.
Flywheel/Flybarre—Boston
This Back Bay fitness studio offers both indoor cycling and barre classes. Flywheel and Flybarre provide free childcare for babies six weeks and older who are non-mobile during some of its classes.
Healthworks Fitness Centers for Women—Boston, Cambridge, Brookline, Chestnut Hill
This women's-only gym has been on the scene in Boston for decades and has everything from cardio and weights equipment to group classes and personal training. Healthworks has a Kids Club for children ages six weeks to 12 years at all four of its locations. Parents can reserve up to two hours at a time in the Kids Club and choose from various payment plans.
Recycle Studio—Boston
This boutique indoor cycling studio has two locations, one on the Boston Common and the other in the South End. Recycle offers childcare during a few classes per week at each studio and often runs promotions on holidays that offer babysitting as well.
The YMCA—Various locations
There are a plethora of YMCA locations to choose from in and around the Boston area. Each is a little different, but all have plenty of ways for busy parents to get a workout in. The YMCA offers free childcare for kids as young as six weeks old. Ages, schedules and activities vary by location.
---
Top image of on-site childcare at Boston Sports Club courtesy of the gym.