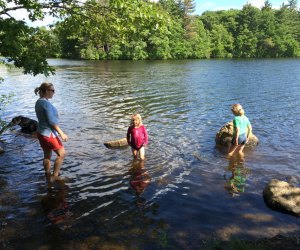 10 Reasons It's Great to Be a Wellesley Mom
This is the second post in our new series about why it's great to be a mom in different towns around the Hub. Got pride in your 'hood? Let us know at boston@mommypoppins.com and your town could be featured in a future post.
We know, we know...Swellesley has a reputation for maybe being a little too pleased with itself already. But when we moved here with two small kids (and one on the way) six years ago, we found out that this town—which celebrates its 136th birthday today!—has a lot to be proud of beyond all the manicured lawns and nails. Great green spaces and terrific local businesspeople make this community one of the warmest and friendliest places we've ever lived in. Here's just a sampling of what we're grateful for—with what's worth checking out when you swing through the 'burb.
Warren Park
More than a few parents say that driving past this bucolic park and playground on the east side of town helped convince them that this was the place where they wanted to put down roots. Huge shade trees, ball fields, a sledding hill, and separate playsets for big kids and little ones make this a four-season hangout. 90 Washington Street
Great college babysitters
Between Babson and Wellesley College, we're blessed with a treasure trove of bright, responsible, affordable student sitters who are all too happy to shuttle kids to soccer practice or hang with tots on date night. Just ask a local mom with a child or two beyond the nursing stage—she's bound to have some digits to pass on to you.
The Wellesley Mothers' Forum
Just when you suspect the last grown-up you really talked to is the hairdresser you haven't had time to see since you were pregnant, someone passes along a link to the Wellesley Mothers' Forum. More than just playgroups and social hours, it offers volunteer ops and a monthly speaker series where you can hear leading thinkers' take on newsy parenting topics. membership@wellesleymothersforum.com
Morses Pond
Spacious, clean, and relatively empty on many summer weekdays, this lifeguard-staffed swimming hole features a wide beach, a playground, kayaks, and—best or worst of all, depending on how you look at it—a water slide. Bring lunch or dinner supplies for cooking on their public grills, and you can take care of a meal here, too. 1-3 Turner Road
Wine—finally
It's hard to bring up as we're still trying to block out the bad memories, but 'twas a time when you couldn't purchase a bottle of wine outside of an overpriced restaurant or two in Wellesley. Now, places like Wasik's Cheese Shop, Roche Brothers' grocery store, and Fells Market (see below) sell vino and beer along with other provisions.
Fells Market's prepared meat
Got the basketball team coming over for dinner? Last-minute BBQ plans? An inability to consider a menu before 5 pm? Fells sells perfectly trimmed and pre-seasoned steak tips, chicken and more that can go directly from container to grill—and make you seem like a much better cook than you are. 326 Weston Road
The loop around Lake Waban
The three-plus-mile distance around this pretty Wellesley College pond makes it somewhat inhospitable to little kids—which is just fine by the moms who disproportionately populate it. It's the perfect length for listening to an episode of Dear Sugar Radio or catching up with the preschool mom-friend you haven't seen in years. Parking at 727 Washington Street
Green's Hardware
Whether you don't know the difference between a Phillips and a flat head or are caulking your own bathroom, Tom Green and his crew are magically able to help you find anything you need while giving you space to roam the wares (from wingnuts to Le Creuset crockery). They insist on carrying your stuff out to your car, too. 308 Washington Street
The dump
When you're tempted to swing out-of-town visitors through your town's recycling facility, you know this is no ordinary dump. More organized than most of our garages, it also features a give-and-take section and a free used book kiosk where, for real, one man found more than $25,000 in a hollowed out scrapbook a few years back. 169 Great Plain Avenue
The Swellesley Report
Frequently updated by in-the-know locals Bob and Deborah Brown, this newsy blog unapologetically serves up "more than you really want to know about Wellesley, MA." It's the place to not only get the scoop on local happenings, but also debate whether the arrival of Panera would be the worst thing to happen to the town since Subway with the only other people who really care.
Top photo at Lake Waban courtesy of ann-dabney at Flickr.