The Best Places for a Family-Friendly Breakfast or Brunch in Boston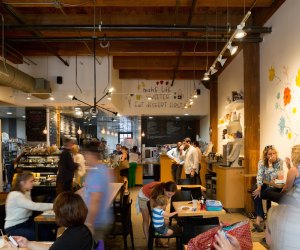 Dining out with kids isn't always a fun proposition, but breakfast or brunch can be a great time to go to a restaurant with the whole family. Kids tend to be less cranky earlier in the day, and morning menu offerings suit even picky palates. That's fine with us, because we love breakfast—french toast! omelets! coffee!—best of all.
Last year, I wrote about some of the best breakfast places in Cambridge and Somerville to go with little ones. And now, I'll run down my top-ten favorite spots to eat breakfast or brunch with kids inside city limits.
Cafe Fleuri—Financial District
If you're looking for a more upscale brunch option where kids are still welcome, look no further than Cafe Fleuri. Located inside The Langham hotel, Cafe Fleuri offers a "City Brunch" on Sundays with a seemingly endless buffet. There's an omelet bar, carving station, dessert table, and even a kids' station featuring foods just for little ones. Perhaps best of all: children under 5 eat free.
Flour Bakery—Back Bay, Fort Point, South End
I love Flour Bakery so much that I featured it in my Cambridge breakfasts post, too. The three Boston locations are must-visit spots for any family with sweet tooths. The sticky buns are legendary, but that's just the tip of the pastry case. There are also scones, sweet breads, cakes, and more. Plus, there are plenty of savory choices, like a terrific breakfast sandwich.
Thinking Cup—Back Bay, Boston Common, North End
There are three Thinking Cup locations in Boston, so you're never far away from a tasty breakfast. We're partial to the oatmeal bowls that come with toppings like fresh fruit and nuts. But we also love the fresh-baked scones and muffins and the breakfast sandwiches. Parents will love that Thinking Cup has some of the best coffee in town.
Thornton's Restaurant & Cafe—Back Bay
Located in the shadow of the Prudential Center on Huntington Avenue, Thornton's Restaurant & Cafe is a great place to breakfast downtown with kids. It's a no-frills spot that even has coveted outdoor seating when the weather's nice. The extensive breakfast menu has everything from crepes to huevos rancheros to waffles.
Trident Booksellers & Cafe—Back Bay
If your family is anything like mine, there are few things they love more than breakfast and books. So eating at Trident Booksellers & Cafe on Newbury Street is like a dream come true. The casual cafe's filling breakfasts are the perfect fuel for all the book browsing you can do after your meal.
Home.Stead Bakery and Cafe—Dorchester
Home.Stead Bakery and Cafe's name couldn't be more spot-on. You'll feel like you're eating in a close friend's kitchen when you breakfast at this charming coffee shop and cafe. Home.Stead makes a mean breakfast burrito, or you could opt for the fluffy Belgian waffle (served on weekends). There's even a kids' menu with an almond butter and jam sandwich.
North Street Grille—North End
The cozy, slighty off-the-beaten path North Street Grille has an extensive menu that's perfect for the whole family. Egg lovers can try special omelets like the Loaded Mashed Potato. Kids will get excited by the sweet pancake options like Cookie Dough, Cinnamon Roll, and Chunky Monkey.
Tatte Bakery and Cafe—Beacon Hill
Like Flour, Tatte Bakery and Cafe also appeared in my Cambridge breakfasts post. I love the Charles Street location of Tatte, especially if you can snag one of the coveted window seats. You can't go wrong at Tatte with anything from the pastry case—the croissants are the best I've had outside of France. And Tatte's egg dishes are super-hearty, with most big enough to share.
The Paramount—Beacon Hill, South Boston
Just down Charles Street from Tatte, you'll find The Paramount. While a line often forms early at this Boston brunch hotspot, it's worth the wait. The fluffy pancakes, waffles and French toast aren't to be missed. Savory breakfast lovers will relish in the delicious egg sandwiches and omelets. And if you find yourself in South Boston, check out The Paramount's new location in that neighborhood.
Victoria's Diner—South Boston
The weekend hours at Victoria's Diner, located near the South Bay Center, are a godsend for tired parents. They're open 24 hours, which means you don't have to wait until mid-morning to get your fill of eggs and pancakes. Victoria's even serves grits, a dish we love that's hard to find in New England.
---
Flour Bakery has three Boston locations where you can find their terrific pastries. Top image courtesy of Flour Bakery/Kristin Teig.