12 Books that Make Kids Proud to be Bostonians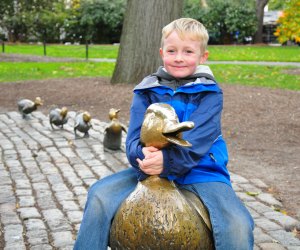 2/19/18
- By
Elyse Andrews
Boston is a city steeped in history, and one of the best ways to learn about all of its famous landmarks and residents is through books. Next time you head to one of our city's great libraries or bookstores, look for one or more of these 12 great children's books, including a brand-new, beautifully illustrated story about the first woman to run the Boston Marathon. From landmark lore to rich biographies, these great reads will inspire hometown pride in Boston kids in different, age-appropriate ways.
1. 123 Boston by Puck
Ages 0+
This counting board book is the perfect way to introduce even the littlest children to some of Boston's most important landmarks. 123 Boston combines engaging illustrations with an educational message to keep babies and toddlers entertained. It even has a bilingual component.
2. Make Way for Ducklings by Robert McCloskey
Ages 3-7
No list of books related to Boston would be complete without mentioning Make Way for Ducklings. This children's classic is an essential part of every child's bookshelf. With charming illustrations, a sweet story and landmarks that are still easy to recognize, it's a quintessential read for Boston kids.
3. Windows by Julia Denos
Ages 3-7
Published just last fall, Windows pairs gorgeous illustrations with a sweet story of belonging amid the hustle and bustle of urban life. Set in Somerville, Windows will inspire pride among city kids that may not see their environment represented in many children's books. My little boy already loves looking at the pictures of his hometown when we read it to him!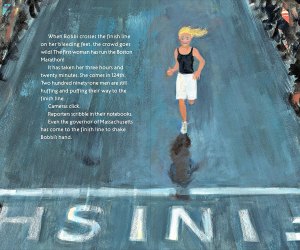 Girl Running is about the first woman to run the Boston Marathon. Image courtesy of Nancy Paulsen Books
4. Girl Running by Annette Bay Pimentel
Ages 5-8
This just-released book is all about girl power! Girl Running tells the tale of Bobbi Gibb, the first woman to run the Boston Marathon, way back in 1966. It's an empowering story for boys and girls alike, one about following your dreams and not letting arbitrary rules stand in your way. As a bonus, the pages are filled with beautifully colored illustrations.
5. Paul Revere's Ride by Henry Wadsworth Longfellow
Ages 5-8
This book highlights two important Bostonians: Paul Revere and Henry Wadsworth Longfellow. Children will delight in hearing Longfellow's classic poem about Paul Revere's Ride paired with vivid illustrations. It provides great context to an important historical event that happened right in our backyards.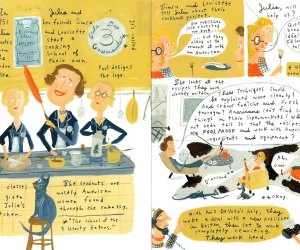 Bon Appetit! tells the story about Cambridge's most famous chef. Courtesy of Jessie Hartland/Random House
6. Bon Appetit! The Delicious Life of Julia Child by Jessie Hartland
Ages 6+
The charming illustrations in this book will captivate readers young and old. Bon Appetit! tells the story of Julia Child, former Cambridge resident, who followed her passion for cooking all the way to a starring spot on a TV show. She was a revolutionary in her industry, courageously breaking down barriers while maintaining her wonderful sense of humor.
7. Patrick and the President by Ryan Tubridy
Ages 6-9
You can't grow up in Boston without knowing a lot about the Kennedys, especially the family's most famous member, our country's 35th president. Patrick and the President takes a unique look at JFK, telling the story of his visit to his family's homeland in Ireland. Told through the eyes of a young boy, it's a sweet read that lends a new dimension to the life of this towering figure.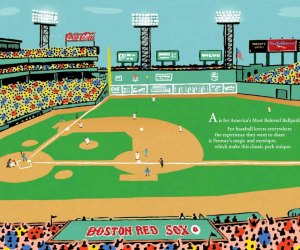 F is for Fenway was written in honor of the park's centennial. Image courtesy of Sleeping Bear Press
8. F is for Fenway by Jerry Pallotta
Ages 6-9
There are few things more beloved to Bostonians than their sports teams and venues. And the Red Sox and Fenway Park might be the most cherished of all. F is for Fenway was written in honor of the ball park's 100th anniversary in 2012 and is a great book for both early readers and older kids who just love baseball. The book's rich illustrations and detailed history of the park are sure to inspire pride in kids of all ages.
9. The Boston Tea Party by Freedman Russell
Ages 8-11
This well-written and beautifully illustrated book is a great way for kids to learn the details of one of Boston's most famous historic events. The Boston Tea Party is the story of brave actions that inspired a revolution. Read this book before you head to the Boston Tea Party Museum!
10. Johnny Tremain by Esther Hoskins Forbes
Ages 10-12
Celebrate the 75th anniversary of Esther Hoskins Forbes' classic Johnny Tremain with this special edition of the book with a new illustrated cover and foreword by Nathan Hale. This historical fiction won the Newbery Medal in 1944 and remains a must-read young adult novel. Kids will be absorbed by Johnny's adventures leading up to and during the American Revolution. (Note: The special edition is available for purchase in September.)
11. Little Women (Volumes I and II) by Louisa May Alcott
Ages 10+
These captivating books have remained classics since their publication 150 years ago and continue to delight young readers today. Author Louisa May Alcott lived in Concord and the stories in Little Women take place in New England. But it is Alcott's work as an abolitionist and suffragist that remains relevant and inspiring to this day.
12. Walden by Henry David Thoreau
Ages 14+
Perhaps one of the best-known books written in our area is the classic Walden by Henry David Thoreau. While much has changed since the publication of the book more than 150 years ago, many of Thoreau's ideas continue to resonate today. Reading Walden will provide older kids with so much context before a visit to the famous pond.