The deCordova: An Art Museum That's Just Right for Families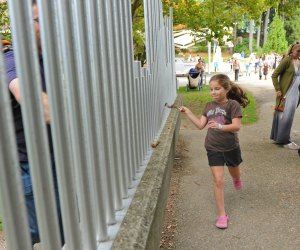 Art museums and kids aren't always a natural pairing. But here in Boston, cultural institutions like the Museum of Fine Arts and the Institute of Contemporary Art go out of their way to be welcoming to children, providing them with special guides at the door and recurring educational programs. But our family's favorite is one that remains relatively under the radar, tucked away as it is in the farmland of Lincoln: The deCordova Sculpture Park and Museum, which reopened on October 6 after a month-long closure as new exhibits were installed. Here are some tips for making a perfect day of it–and helping children appreciate the art and nature that surrounds them.
Getting There (and Getting In)
The deCordova is in Lincoln, which is just 20 miles west of Boston (though it feels like "country"). Built on the former estate of an art collector, the sculpture park and museum encompasses 30 acres of rolling hills and woodlands. You can take the Fitchburg/Acton line of the MBTA Commuter Rail and stop at Lincoln, less than a two mile walk or Uber ride from the grounds, or drive yourself. If it's a decent day, pack a picnic lunch or early dinner and a blanket: The grounds are perfect for picnicking, and the property encourages it.
A pretty notable bonus for families about the deCordova: Children 12 or under are admitted for free. (Adult admission is $14.) If you come by bike, anyone—grown-ups included—can tour the sculpture park at no cost.
What to See
There are two parts to the deCordova: The outdoor sculpture park and the indoor museum. As long as the weather isn't too inclement, I'd recommend that you start in the sculpture park, as it tends to be kids' favorite. Not only does it allow them to run around; some of the works (some 60, total) are interactive, and many have imagery or themes that are appealing to kids. Here are highlights not to be missed: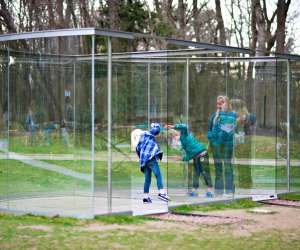 Crazy Spheroid—Two Entrances
Outside
The Musical Fence: Just inside the grounds from the parking lot, this is a fun first stop. Kids can make a pleasant tune by striking the aluminum bars gently with sticks.
Rain Gates: This sculpture, made of stone steps and arches, is built into a small hillside that's meant for scrambling up.
Two Big Black Hearts: These giant, bronze symbols of love make for a great photo op.
Crazy Spheroid—Two Entrances: Visitors standing in or outside the half-circle-shaped glass sculpture see contorted views of themselves and the park grounds.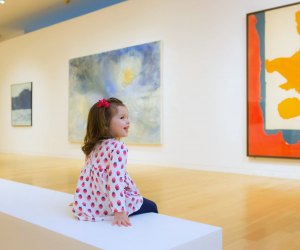 Inside the gallery
Inside
Screens: Virtual Material: This new exhibit explores the screens that saturate every part of our (and our kids') lives.
Process Gallery: This third-floor interactive space has manipulatives and other activities for kids that relate to the current exhibits.
The Rappaport Roof Terrace: On the sixth floor, it offers amazing views of the grounds.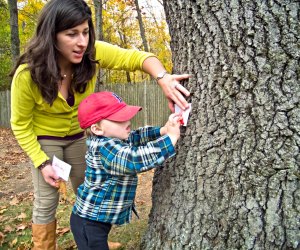 Hands on activities at ARTfull Play
Cool Programs
-ARTfull Play: Select Wednesdays at 10:30, preschoolers (with a caregiver) are invited to engage with the curent artworks through stories, materials, and multi-sensory activities. (free)
-ARTfull Explorations: On Sunday afternoons about once a month, kids ages 5 to 12 can drop in and investigate ideas and materials in the sculpture park. (free)
-Art + Nature Afterschool: In this drop-off program, kids ages 7 to 11 use a variety of materials to create artworks inspired by what they see on the grounds and in the museum. ($100-$115 for five-week class sessions)
Good to Know...
-You can grab a family activity kit at the gate or museum desk to help guide you through the museum with kids.
-The museum has a cafe that's open for breakfast and lunch during weekdays and on Saturdays and Sundays through December. They sell sandwiches, salads, snacks, and drinks.
-While kids are welcome to run around the sculpture park and touch pieces that don't indicate otherwise, they are asked to not run or climb on anything inside the museum.
-Dogs are welcome in sculpture park, but should be leashed and cleaned up after.
-The sculpture park and museum hours are as follows: Winter (Columbus Day through Memorial Day): Wednesday-Friday 10am-4pm; weekends 10am-5pm; Summer (Memorial Day through Columbus Day): Daily 10am-5pm
All photos courtesy of deCordova Sculpture Park and Museum