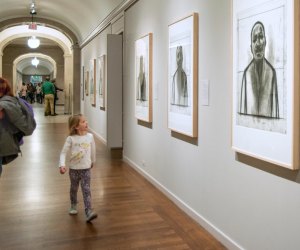 A Day at the MFA with Kids
Sometimes I get the impression that parents think the Museum of Fine Arts, Boston (MFA) is a little too highbrow for kids, or that children don't have long enough attention spans for a couple of hours at the museum. I disagree. In fact, I think visiting the MFA is a wonderful museum to visit as a family. I have found the place to be very family-friendly, especially if you take the time to do some planning. Read on for tips to help you get the most out of your visit.
There are a few things I recommend doing before, during, and after your visit to the Museum of Fine Arts to fully enjoy the experience with children:
Before You Go
Go to Visiting the MFA with Children on the museum's website. Read through the Family Visiting Guide online or pick up a print version when you get there. The guide has useful information (like where the nursing room is located) and tips for sharing art with your kids.
Take a look at the exhibition descriptions, and consider your child's interests. Select just a few exhibits to hit during your visit. Although there are types of art that may be universally interesting to children, you know your child best, so sometimes it's best to ignore the well-intentioned nudges the MFA gives you to visit specific galleries.
For example, we were steered in the direction of the Paper Zoo exhibit several times, but my kids (who aren't really into animals) weren't all that impressed. The Dancing with Renoir trio, however, kept them fascinated for quite some time. They played "I Spy" and compared the three paintings, pointing out nuances I hadn't even noticed.
Find out which family activities are happening during your planned visit on the Kids and Family Programs page. Even if there isn't a special activity for children on that day, if you have children ages 4 and up, you can always check out a Family Activity Tote at the visitor center. The totes contain activities and sketching supplies, and they have been a huge help to us – the kids have been so much more engaged when they have an activity and a tactile way to interact with the art.
While You're There
I recommend doing three things when you get to the museum: Check your big bags, go to the bathroom, and make a stop at the Sharf Visitor's Center. There you can find out what's going on for the day, pick up a map, get directions, check out a tote, select a couple of activity cards, and get a Passport, if you're planning to visit the Art of the Americas Wing.
If you didn't do any advance planning, this would be a good time to pick up a Family Visiting Guide along with a map, and decide which exhibits you want to see. Either way, I think the key is to take your list of must-see galleries, find them on the map, and then plan your day. Make sure you're somewhere near a dining establishment (either the nursing room in the Hemicycle or the cafeteria on the ground floor) when mealtimes are approaching, and add in a few retail-therapy sessions at one of the gift shops for a break.
If the weather is nice, I highly, highly, highly recommend letting the kids run free in the courtyard at least once during your visit. We had hit a wall, so to speak, when I took the kids outside for a snack and let them loose out in the courtyard for a good half hour. They were then ready to go to fully enjoy the art (and allow me to enjoy it as well).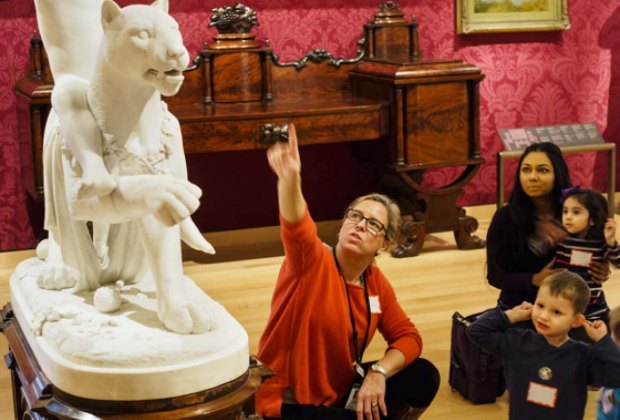 After Your Visit
Talk about what you saw and how it relates to something your child has been learning about. Find out what your kids liked most – this will help with planning future visits. (Hopefully they don't say they liked the gift shop best!) If your children didn't doing any sketching during their visit – or even if they did – give them a chance to create art inspired by what they saw that day at the museum.
For future visits, especially if your child is a budding artist, it's good to know about the MFA's many art-making opportunities for kids: You can sketch together on Wednesday nights or participate in drop-in art projects during school vacation weeks and open houses. MFA Playdates for toddlers include storytime, art-gazing, and an art-making activity. The museum also offers studio classes for kids to learn about the world through drawing, painting, sculpting, collaging and printing. If your child is wild about art, the MFA also has birthday party packages for the kids ages 4 and up. Visit the museum's Kids and Family Programs pages to find out when things are happening.
We have found that a little planning goes a long way toward making a day at the MFA relaxed, rewarding, and – I dare say – fun.
---
Museum of FIne Arts, Boston
Location:
465 Huntington Avenue, Boston, MA 02115. See
Getting Here
for directions.
Hours:
The MFA is open 7 days a week: Monday and Tuesday 10am–4:45pm; Wednesday–Friday 10am–9:45pm; Saturday and Sunday 10am–4:45pm. Closed New Year's Day, Patriots' Day (third Monday in April), Independence Day, Thanksgiving, and Christmas Day.
Want to visit the MFA and other Boston museums for free? Take a look at
this post
.
Photos courtesy of Museum of Fine Arts, Boston
Museum of Fine Arts, Boston
465 Huntington Avenue
Boston, MA 02115