Museum of Fine Arts Day Trip: Exploring the MFA with Kids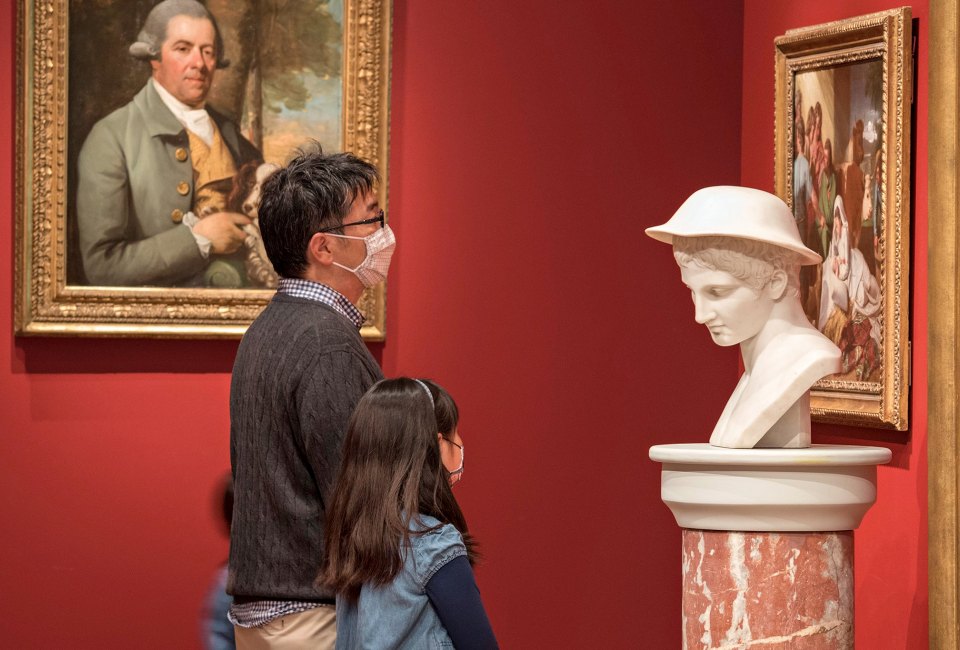 4/12/21
- By
Caitlin Dowling
While a visit to the Museum of Fine Arts, Boston may not scream family outing, it's actually a fantastic way to spend the day with little ones in tow. The MFA is very welcoming to budding young artists and offers tons of ways to get kids excited about visiting an art museum. Be on the lookout for "family labels" that give tips to help children connect with artwork, swing by the visitors center to pick up activity guides just for kids, and keep tabs on all of their family programming. Along with all the kid-friendly perks, the museum is also huge, offering up a great indoor adventure sure to tire out even the most active of kiddos.
And remember once you've visited the MFA, Boston is full of all kinds of museums to visit and explore! See our insider tips for Visiting the Isabella Stewart Gardner Museum in Boston with Kids: What You Need to Know Before You Go. For more events and activities in and around Boston, check our events calendar often—we're always adding more fun!
For Spring of 2021: The MFA has reopened, but some kids' and family programs are still temporarily on hold. All visitors must make a timed reservation in advance to visit. Connect with the MFA for updated information before visiting.
What to See at the MFA with Kids
Mummies Gallery
Teach your kids about Egypt while exploring this kid-favorite gallery featuring 5 actual mummies along with over one hundred other ancient artifacts. While you're visiting, play a game of "I Spy"—kids will have no idea just how closely they are observing the art.
Arts of the Americas
Did you know there's a ball game that's 1000 years old? You can check it out in this exhibit. For kiddos that love playing with boats, there's also a model ship gallery for little captains. Play "What's Different" and compare two ships to find what makes them unique.
Masterpieces of Egyptian Sculpture from the Pyramid Age
This brand new gallery takes you back to ancient Egypt to explore sculptures and busts of the human body. Take pictures of your favorites to try and recreate with clay or play-doh when you're back home.

Check out this room! Photo courtesy of Museum of Fine Arts, Boston
Jewelry Gallery
Do your kiddos love things that sparkle and shine? Maybe dream of being a princess with lots of beautiful gems? Then the jewelry gallery is a must! This gallery is shimmering with old and contemporary pieces ranging from crowns to brooches.
Musical Instruments
If your little artists love to keep a beat, dance on into the musical instrument gallery to check out instruments ranging from the 20th century all the way back to ancient times. If you time it right, there are opportunities to learn about some of the pieces through talks, live demonstrations, concerts, and recorded audio samples.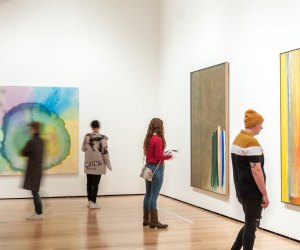 Checking out "Contemporary Art: Five Propositions". Photo courtesy of Museum of Fine Arts, Boston
Contemporary Art
After spending so much time checking out some really old stuff, pop into this gallery to see some more current artwork. From painting to statues and creative mediums, your little artists can get some ideas on how they can create their own masterpiece at home.
Calderwood Courtyard
This courtyard is your outdoor escape when your littles need a moment to run and be a bit louder. You can also BYO snacks and lunch and take a break outside to fuel up.

Is he looking at me? Photo courtesy of Museum of Fine Arts, Boston
Where to Eat
2021 Note: All restaurants are temporarily closed except for the New American Cafe which is offering pre-packaged grab-and-go items, including beverages. This information is for when restaurants are all open for indoor dining.
Garden Cafeteria
This is your easiest option for a quick meal at the museum. It's cafeteria-style, serving a variety of kid and adult-friendly options like pizza, sandwiches, hamburgers, snacks, and desserts. Grab a free table or take your meal outside when the weather is nice.
MFA Sidewalk Cafe
This seasonal pop-up cafe is right outside the Huntington Ave. entrance and offers a quick stop for snacks and drinks. There are tables and chairs set up so you can grab a seat and relax before or after your visit.
New American Cafe
Looking for more of a restaurant atmosphere? The New American Cafe is a casual seated restaurant located in the glass-enclosed Shapiro Family Courtyard—truly dining with a view. The restaurant serves both breakfast and lunch and offers a kids' menu for little museum-goers. They also have a selection of beer and wine for parents that deserve a little reward!
465 Bar and Restaurant
If you're looking for an upscale meal and your little ones have a more refined palette, splurge at the museum's newest addition to the food scene. During warmer months you can request to sit on the patio during the concert series. Plan ahead for this one, as reservations are often necessary.
What do you see? Photo by Tara D
Know Before You Go
Make sure to stop by the Sharif Visitors Center when you arrive and grab some self-guided Art Connection Activity Cards (you can also download them ahead of time at home). These cards are filled with fun facts and activities for kids about objects that are on display throughout the museum.
Check the calendar for studio art classes and workshops for kids and families.
If you're weighed down with coats—check them. Not only is it convenient but it's free!
Strollers are welcome in the museum, but large backpack-style child carriers are not.
Bring babies, too! There is a private nursing room off of the Hemicycle Gallery.
Youths 17 and under are free. (General admission is $25 per person.)
Visit after 3pm on Wednesdays and pay what you choose for admission, a minimum of $5.
The Museum of Fine Arts, Boston is located at 465 Huntington Avenue, Boston, MA 02115. It is open seven days a week year-round, except for New Year's Day, Patriots' Day, Independence Day, Thanksgiving, and Christmas. Check the museum's website for details on hours and admission.
Places featured in this article:
---
Museum of Fine Arts, Boston