Family-Friendly Bike Trails Around Boston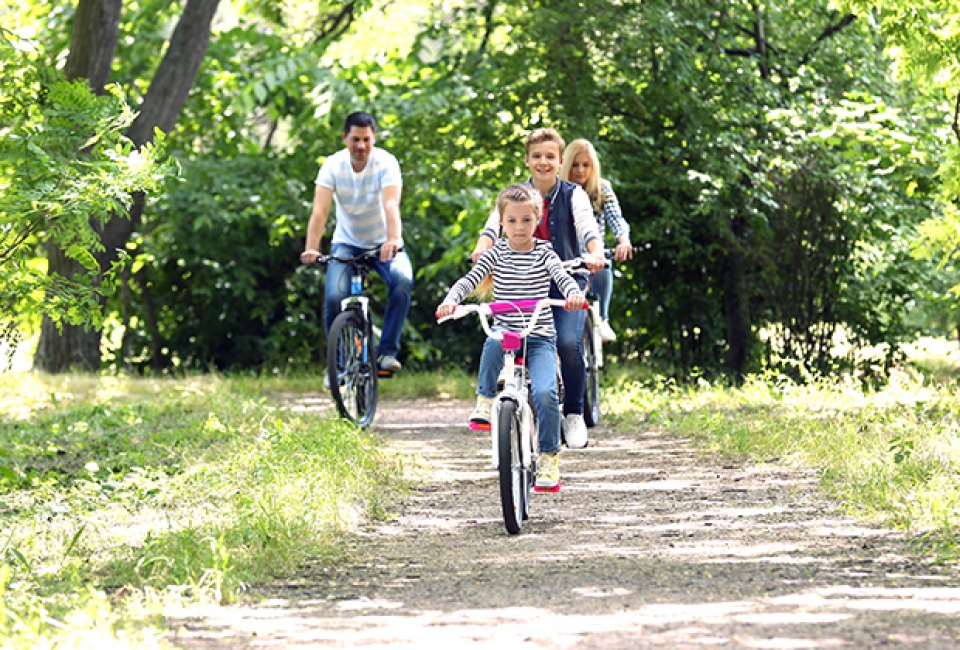 7/6/17
- By
Fiona Haley
Looking for more ways to get outside with kids this summer? Whether you're sporting two wheels or four, riding a bike is efficient, economical, healthy, environmentally friendly, and fun—and just about anyone can do it. One great thing about our area is just how bike-friendly it is, from city to suburbs.
As part of a plan to turn Boston into a world-class bicycling city, The Boston Bikes program is working to expand safe biking options for all riders. Boston Bikes helps to design streets for cycling (including bike lanes), provides free bikes to low-income residents, and offers a city bikeshare program. Don't forget that you can access many of these trails on the T, which allows bikes—or if you don't have your own bikes, you can use Boston's Hubway rental program. Beyond city limits, there are plenty of beautiful—and safe!—places where riders of various ages and abilities can bike together, ranging from flower-filled arboretums to waterfront pathways. Here are our picks for family-friendly bike trails around our town.
Downtown
The City of Boston has created an extensive network of 50 miles of dedicated bike lanes and paths and just last month installed "way finding" signs posted at busy intersections to point the way for cyclists to popular sites. While riding on city streets is obviously not appropriate for young children or beginners, you can guide older kids on short routes—perhaps from a playground to a pizza place—to help teach them appropriate riding and signaling in busy areas.
Back Bay-South End-Jamaica Plain
The Southwest Corridor runs for five miles through Back Bay and South End to Jamaica Plain. Started as the result of a protest against neighborhood destruction by highways, the Southwest Corridor and other parks were built with the proposed highway funds. The route is flat, paved, and great for kids.
Jamaica Plain-Roxbury-Dorchester
What could be more fun than riding your bike to the zoo? Franklin Park offers a variety of biking options accessible from Roxbury, Dorchester or Jamaica Plain. The Park offers bike paths of all description—flat, hilly, paved and unpaved. Visitors can ride to the Zoo, zoom around the golf course, or head to the basketball and tennis courts.
Jamaica Plain-Roslindale
​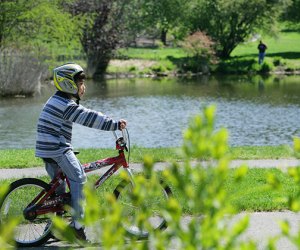 Photo courtesy of Arnold Arboretum of Harvard University
The Arnold Arboretum offers one of the most scenic rides in Boston, winding for nearly five miles through the 150-year-old Arboretum. In the southern end of the park, riders will encounter Peters Hill, with a stunning view of the city that makes the arduous uphill ride worthwhile.
Somerville
Starting at Alewife Station in Cambridge, the Alewife Linear Park path runs through Somerville and ends just past Davis Square. There are future plans to take the Somerville Community Path all the way to the Lechmere station. The existing path runs past the McCrehan swimming pool and across Mass. Ave. Should you decide to start at Davis, it's possible to connect to the Minuteman Bike Path at Alewife, giving you access to a much longer ride.
Cambridge
Memorial Drive from Eliot Bridge to Western Avenue in Cambridge is closed to vehicular traffic from the last Sunday in April through the second Sunday in November from 11am-7pm. Then, it is shared by cyclists, walkers, joggers, and roller bladers.
Cambridge-Arlington-Lexington-Bedford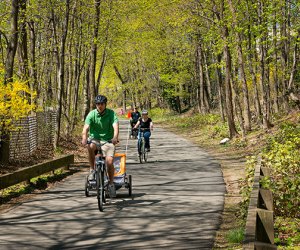 Photo by Stephan Miller
The Minuteman Bikeway is one of the more popular rail trails and can be accessed in Bedford, Lexington, Arlington and Cambridge. Parking is available near the bikeway in municipal lots in Lexington and Arlington centers, across from the bikeway in Bedford, and at the Alewife T Station in Cambridge.
North Shore-Metro West suburbs-South Shore
The Bay Circuit is a 180-mile trail that links parks and open spaces in nearly 60 Boston area communities, from Plum Island and Ipswich on the North Shore through Boston, and MetroWest to Duxbury and Kingston on the South Shore. See the website for trail descriptions and maps.
Columbia Point-Castle Island
Want some history with your city views? Ride from the John F. Kennedy Museum to Castle Island. Take off from the JFK Presidential Library on Columbia Point, and then follow the HarborWalk trail. At Castle Island, you can explore Fort Independence, the Island's granite fort, before hitting the small beach, and the rest of the 22-acre park.
Brookline
Kids will love the name (and views) of the Muddy River Bike Path. Maintained by the town of Brookline, the path runs from the northern end of the Muddy River (at Park Drive) almost to Brookline Avenue. A new red-brick crosswalk at Washington Street makes it easier for bikers to continue along the river toward Fenway.
Back Bay-Waltham-Newton
The Dr. Paul Dudley White Charles River Bike Path runs along the Charles River Esplanade from Boston to Waltham and Newton. The 18-mile loop runs from Science Park to Watertown Square, giving riders a chance to view the river's animal life in addition to the human activities along the river: rowing, sailing, kayaking, and more.
Wellesley-South Natick
At Elm Bank reservation just south of Wellesley College, a traffic-free, contained loop makes it easy to explore the grounds. Make sure to stop at Weezie's Garden, a fairytale-like area with whimsical sculptures and lots of beautiful flowers. Parking is free and plentiful.
For more ideas, see the MassBike's list of trails and maps from the North to the South Shore and everywhere in between. For more detailed info, including ratings of bike trails, check out TrailLink.
Top photo via Bigstock