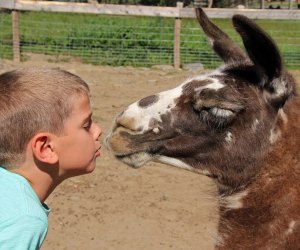 Animal Farms and Petting Zoos for Boston Kids
Your city slickers may not come across a lot farm animals on the daily, but that doesn't mean that they should miss out on some cute and cuddly barnyard fun. Whether you're city folk or farmers-in-training, these local farms and zoos are the perfect places for little ones to interact, feed, and play with some of their favorite furry creatures. Check out all the best places in Boston and the suburbs to meet cows, chickens, pigs, goats, sheep, and more below.
Chip-In Farm—Bedford
Bedford's Chip-In Farm is a family-run working farm that's most known for its super fresh eggs, which you can purchase in the country store alongside other local food products. Chip-In invites families to visit the petting zoo and feed the animals free vegetable scraps provided by the farm. There are goats, sheep, cows, bunnies, and chickens that you can visit all year (weather permitting). If your child is nuts for farm animals, consider booking a birthday party at Chip-In.
Connors Farm—Danvers
Connors Farm has a great area where your little ones can pet and feed barnyard friends along with a special spot designated just for farm babies. There's also the Kids R OK Coral play area, jumping pillows, hayrides, a train ride around the pond, and more. Along with all the farm fun, there are multiple food shacks around the property, including BBQ, pizza, and kettle corn, as well as a farm stand.
Davis Farmland—Sterling
You'll want to plan an entire day for your visit to Davis Farmland because this place is massive; for little animal lovers, there are multiple areas to interact with furry friends. There's a special pen to play with and hold baby goats (baby twin goats were welcomed in March!), a shed with kittens and bunnies—beware they are up for adoption and hard to resist—and a wide open grass area where little ones can feed goats, chicken, and other free roaming animals. While the animals are the main attraction, the farm also features seasonal u-picks, a splash pad, bounce pillow, multiple playgrounds, a tiny play town, and more.
Franklin Park Zoo—Boston
Experience farm life without ever leaving the city at Franklin Park Zoo. Open during the warmer months, Franklin Farm has a Contact Corral where kids can interact with friendly goats and visit other animals like cattle, donkeys, chickens, and a barn cat. And of course, Franklin Park Zoo houses many more animals that are available for looking, not touching, like giraffes, lions and kangaroos. Franklin Farm is included with zoo admission.
Great Brook Farm State Park—Carlisle
Most state parks offer hiking, a pond or lake, and a place to picnic. Great Brook Farm State Park in Carlisle has got all that and much more because it's also a working farm. Visit the Holstein cow barn before heading over to the petting zoo, where you'll find goats, sheep, pigs, chickens, and ducks. Round out the day by snagging a scoop of ice cream from the on-site shop. Parking at Great Brook is only $3 per day and animal feed can be purchased for 25 cents.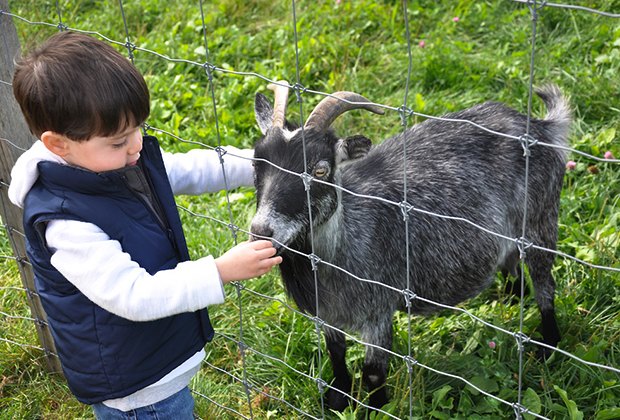 Lookout Farm has a train that takes you to a petting zoo.
Lookout Farm—Natick
Established in 1651, Lookout Farm in Natick is one of the oldest continuously operated farms in the country. The farm is primarily known for its u-pick fruit orchards, which include strawberries, peaches, nectarines, plums, and apples. There's a train that takes you through the orchards and to a children's play area that has a petting zoo with goats and sheep. Pony rides are available for an additional cost and there is an admission fee (varies by season).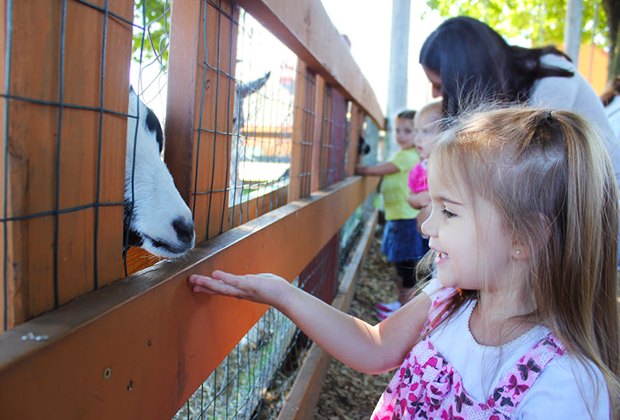 Annie's Animal Barn at Parlee Farms has 70 animals to meet.
Parlee Farms—Tyngsborough
Open seasonally, Parlee Farms in Tyngsborough is most known for its extensive u-pick operations. Throughout the summer and fall, Parlee has strawberries, cherries, blueberries, peaches, apples, pumpkins, and even flowers. The on-site Annie's Animal Barn has 70 animals, like goats, chickens, and bunnies, which are available for petting and feeding. Parlee Farms has no entrance fee.
Southwick Zoo—Mendon
Unique to Southwick Zoo, there is a 35-acre "Deer Forest" where you and your kiddies can roam the paths and get up close to feed the deer. The zoo also boasts a petting zoo area filled with energetic pygmy goats, a pot-bellied pig, and alpacas. And if you're looking for a a more exotic interaction, pop into Parakeet Landing to feed parakeets and cockatiels! The zoo has lots of other animal exhibits, including kangaroos, lions and giraffes, that are obviously hands-off, but worth visiting, as well as some fun carnival rides.
Stone Zoo—Stoneham
If you visit Stone Zoo in Stoneham when the weather is warm, make sure you make a stop at the Barnyard. This area has a petting zoo with sheep, goats, and more. There are lots of other animals at the zoo to see, like snow leopards, wolves, and bears, but only the animals in the petting zoo are available to touch and interact with.
Bonus: If your child is more into sea creatures than those that roam on land, take them to the New England Aquarium. There they can touch sea stars, urchins, and snails at the Edge of the Sea Touch Tank, which is included with aquarium admission.
---
All photos courtesy of the farms.