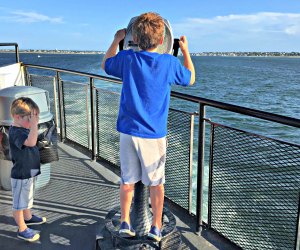 25 Summer Day Trips for Boston Kids and Families
Summer is short, but the days can often feel endless. Although there are plenty of free and easy things to do in and around Boston, a day trip to a cool locale in Massachusetts, New Hampshire, Maine, or Rhode Island can often be the perfect diversion to break up a long week, with minimal time (and financial) commitment. Here are 25, fun-packed towns Boston families can reach in under two hours from city limits—and return home in the evening to their own beds.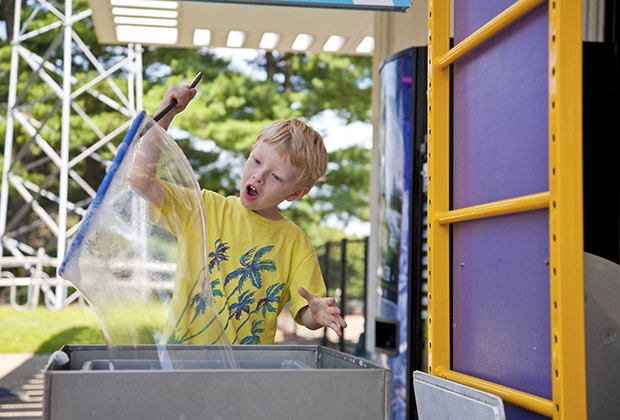 Bubbles are always a hit at the EcoTarium. Photo courtesy of the museum
1. Worcester, MA
The EcoTarium combines a hands-on children's museum, nature center, and hiking trails, all in one delightful package. Grab dinner after your big day of learning at Boynton's family restaurant.
2. Ipswich, MA
Explore miles of wide open shoreline at Crane Beach on the Crane Estate in Ipswich, pick fresh summer produce at Russell Orchards, and hit a clam shack on the way home.

You can split hiking time with beach fun at the Boston Harbor Islands. Photo by Tom Kates/courtesy of Boston Harbor Island Alliance
3. Boston Harbor Islands, MA
It feels like a world away, right in Boston Harbor, when you take the ferry to Georges and Spectacle Islands. Check the Mommy Poppins Boston Event Calendar for special kids' programs on the Harbor Islands throughout the summer.
4. Springfield, MA
Already home to stellar museums, a zoo, and the Basketball Hall of Fame, Springfield now boasts the Amazing World of Dr. Seuss. For thrills before or after, Six Flags New England is in nearby Agawam.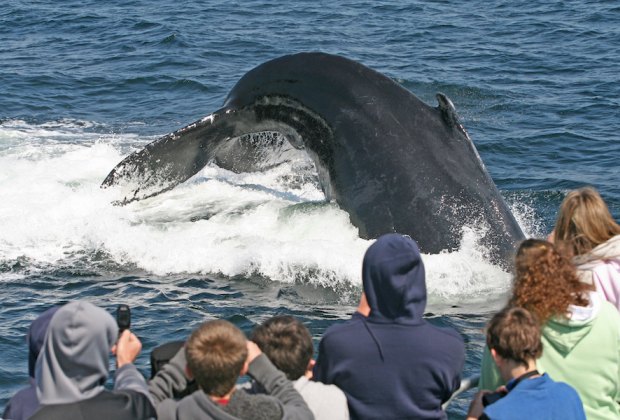 7 Seas Whale Watch is one company offering glimpses of the giant marine mammals throughout the summer. Photo courtesy of the Massachusetts Office of Tourism
5. Gloucester, MA
Time your visit with low tide at Wingaersheek Beach, and walk way out to the tide pools to see crabs and other critters. Before or after, catch a whale watching cruise from the harbor to the Stellwagen Bank National Marine Sanctuary.
6. Plimoth, MA
The historical village and costumed interpreters of Plimoth Plantation bring the stories of the Native Wampanoag people and Colonial English Pilgrims of the 17th-century Plimoth Colony to life.
7. Hull, MA
Across the street from Nantasket Beach in Hull, ride Paragon Carousel and visit the Paragon Park Museum to relive the amusement park's glory days as a playground for the rich and famous.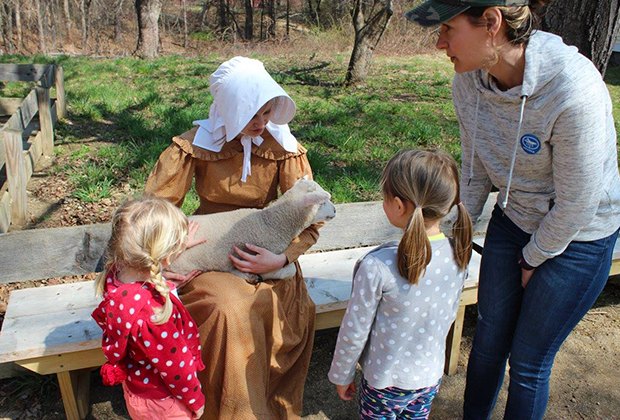 History is close to home at Old Sturbridge Village. Photo courtesy of the property
8. Sturbridge, MA
A living history museum, Old Sturbridge Village depicts early New England life from 1790 to 1840 with historians in costume, antique buildings, water-powered mills, and a working farm.
9. Provincetown, MA
The lively town on the farthest reaches of the Cape can actually be the quickest to get to—by taking the fast ferry from Boston rather than battling traffic on Route 6. Browse treat shops, build sandcastles at Race Point Beach, and have a lobster dinner before catching the 7:30 ferry back to the seaport.
10. Hingham, MA
​Hikers flock to World's End State Park, a trove of wooded and seaside natural beauty. Don't miss a visit to the waterfront, and burgers or lobster rolls at Stars on Hingham Harbor restaurant. Check out our list of other South Shore summer must-dos for more ideas in the area.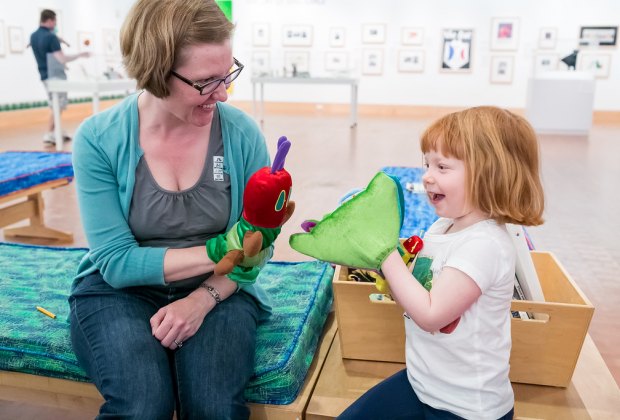 Classic storybooks are celebrated at the Eric Carle Museum. Photo by Seth Kaye courtesy of The Eric Carle Museum of Picture Book Art
11. Amherst, MA
The Eric Carle Museum of Picture Book Art is a bright and colorful museum that celebrates picture books and picture book illustrations from around the world. "The Carle" has a robust schedule of events and programs for families, including frequent opportunities for kids to meet their favorite authors. Bring a picnic lunch to enjoy on the lawn, or try one of the excellent restaurants in downtown Amherst.
12. Canton, MA
Did you know one of the best ropes courses in New England is about 30 minutes from Boston? Climb and zipline through Treetops Adventure Course until little arms are too sore to soar, and then get a pub meal at the next-door Irish Cultural Center.
13. Concord, MA
This quintessential New England town blends literary history and natural wonder. Hike around Walden Pond and then sunbathe and swim at the shoreline.
14. Salem, MA
Hop on a ferry and cruise on over to the North Shore for a visit. While Salem is known for it's Halloween festivities, this waterfront town has so much to do in the summer too! Play games and go on kiddies rides at Willows Park, an old school strip of waterfront arcades, treat your little ones to some sweets at America's oldest candy shop, and walk the piers to check out the boats.
15. Newburyport, MA
A quick 45 minutes on the commuter rail will bring you to this boating town. Walk the rail trail from the train station straight into town with a stop at Haley's Ice Cream for a cool treat along the way. Stroll the boardwalk and hop on a whale watch or boat tour and let the kids splash in the water fountains at Inn Street. If you decide to drive to Newburyport, hop in the car after visiting town to drive over the bridge to nearby Plum Island.
16. Martha's Vineyard, MA
One of the prettiest islands in the east can be reached in a 45-minute morning ferry ride from Woods Hole. Once there, kids love to ride the carousel and get ice cream in Oak Bluffs. Older kids can take bikes across on the ferry and make a three-mile ride to visit Vineyard Haven, where another ferry can take everyone home after dinner at the famous Black Dog Tavern.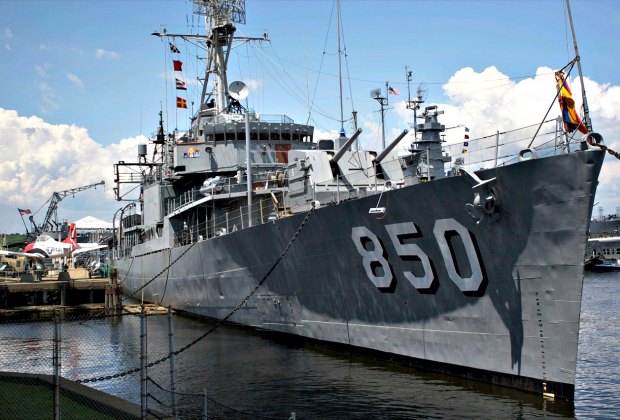 Kids' jaws usually drop at the site of the big battleships in Fall River. Photo by Jenn/CC BY 2.0
17. Fall River, RI
Explore a submarine, battleship, and destroyer at Battleship Cove; see the exhibits at the National PT Boat Museum or the National Destroyermen's Museum. Start your day at Alice's Diner for top-notch diner food, including some of the best gluten-free offerings around.
18. Providence, RI
Visit the Providence Children's Museum, Roger Williams Park, and much, much more. To see Providence's glowing gem, try to time your visit with Waterfire.
19. Warwick, RI
The second largest city in Rhode Island is a seaside alternative to Providence, featuring Goddard Memorial State Park for picnicking, golf and Oakland Beach, where sunbathers can get a bowl of chowder and donut holes at Iggy's before leaving town.

Don't forget your beach bag and good water or climbing shoes for a visit to ​Goose Rocks Beach.
20. Kennebunkport, ME
Ninety minutes from Boston, Kennebunkport is just as charming as you imagine with a cute downtown and pretty beaches. Collect some salt water taffy at Candy Man, visit the Seashore Trolley Museum, and pay a visit to Goose Rocks Beach, where kayaks and paddleboards can be rented by the day.
21. Portland, ME
Just up the coast and less than two hours from Boston, the foodie city of Portland is one of our favorite places for a daycation or weekend getaway. Portland Head Light is a highlight, especially for lighthouse lovers.
22. York, ME
A little over an hour from Boston will bring you just over the border of Maine to York. While the beaches are definitely worth a visit, there's so much else to do too. Take a kid-friendly hike up Mount Agamenticus and visit the learning center or dare to cross the pedestrian Wiggly Bridge while strolling through picturesque Steadman Woods. York Wild Kingdom is a must visit for kids too! This amusement park and zoo combo is filled with rides, wild animals, an interactive butterfly exhibit, and more!
23. Portsmouth, NH
Explore the gardens and see live entertainment in Prescott Park, whoosh and splash at Water Country, or spend the day on a historic adventure in Portsmouth, a seacoast town just on the other side of the New Hampshire border.
24. Salem, NH
Tour America's very own Stonehenge, a man-made astronomical calendar dating back over 4,000 years. While you're there, make sure to visit with the six friendly alpacas that call America's Stonehenge home. Before or after this educational visit, pop into Canobie Lake Park, a classic amusement park filled with more than 85 rides, carnival games, and a water park section to cool off in.
25. Westford, MA
Whether your kids appreciate butterflies, fairy gardens, or both, The Butterfly Place is a downright magical place to visit. Along with exotic butterfly species and flowers, there are koi fish and quail birds to observe, as well as cocoons and caterpillars that illustrate the winged beauties' fascinating life cycle. How about some of the state's best ice cream after? Kimball Farm has homemade ice cream as well as mini golf, bumper boats, and a zipline.
---
Originally published August 2012 by Audrey Trieschman: updated annually through 2019