Best Summer Day Trips from Boston: Fun for Kids and Families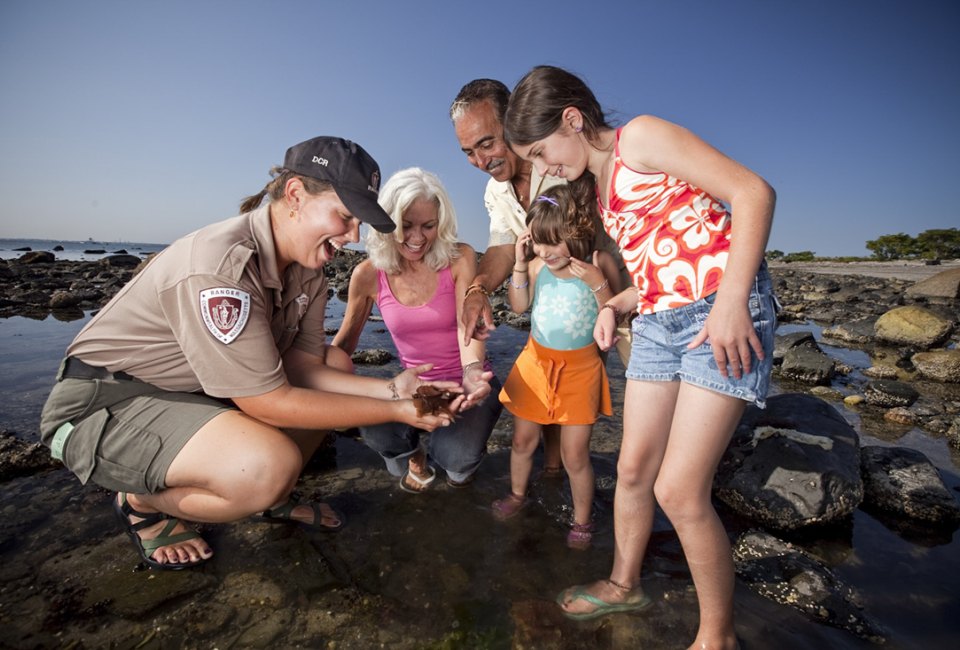 6/24/22
- By
Tara D
For families looking for a nice getaway, there are so many fantastic day trips near Boston. A visit to a cool locale in Massachusetts, New Hampshire, Rhode Island, or Maine can often be the perfect diversion to break up a long week, with minimal time (and financial) commitment. Here are 25 of the best summer day trips from Boston; families can get away in under two hours from city limits—and return home in the evening to their own beds.
Need more ideas for fun in the sun? Check out 50 Free Things to Do with Kids in Boston this Summer. And we've got you covered with the Best Beaches Near Boston that are Great for Family Day Trips. And don't forget to look through our Boston Summer Fun Guide for all kinds of family-friendly activities.
25 Best Summer Day Trips from Boston

Bubbles are always a hit at the EcoTarium. Photo courtesy of the museum
1. EcoTarium
The EcoTarium combines a hands-on children's museum, nature center, and hiking trails, all in one delightful package. Grab dinner after your big day of learning at Boynton's family restaurant.
2. Gunstock Mountain Resort
While families may think to visit this New Hampshire ski mountain when the snow is falling, heading here in the summer months is also a must. The mountain offers scenic chairlift rides, segway rides, ziplines, and even has outdoor mountain roller coasters.
3. Boston Harbor Islands, MA
It feels like a world away right in Boston Harbor, when you take the ferry to Georges and Spectacle Islands. Hike, comb the beaches, fly kites, and more in the wide-open expanse of nature on each island.
4. The Amazing World of Dr. Seuss Museum
Springfield is home to the Amazing World of Dr. Seuss, a museum filled with the magic that makes up the famous author's books. After exploring the museum, grab a bite and head outside to picnic with Horton and other Seuss characters in the outdoor sculpture garden.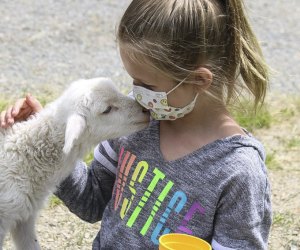 The best summer day trips from Boston create magical moments. Photo courtesy of Davis Farmland
5. Davis Farmland
Davis Farmland is a massive farm that is worthy of a day trip—the entire day! Hold baby goats, play with kittens, go for a pony ride, bounce on a giant pillow, and so much more. In the summer, the water turns on, and there's a huge splash pad and foam play area.
6. Plimoth-Patuxet Museums (formerly Plimoth Plantation)
The historical village and costumed interpreters of Plimoth-Patuxet Museums bring the stories of the Native Wampanoag people and Colonial English Pilgrims of the 17th-century Plimoth Colony to life.
7. Hull, MA
Across the street from Nantasket Beach in Hull, ride Paragon Carousel and visit the Paragon Park Museum to relive the amusement park's glory days as a playground for the rich and famous.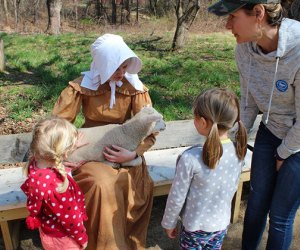 History is close to home at Old Sturbridge Village. Photo courtesy of the property
8. Old Sturbridge VIllage
A living history museum, Old Sturbridge Village depicts early New England life from 1790 to 1840 with historians in costume, antique buildings, water-powered mills, and a working farm.
9. Provincetown, MA
The lively town on the farthest reaches of the Cape can actually be the quickest to get to—by taking the fast ferry from Boston rather than battling traffic on Route 6. Browse treat shops, build sandcastles at Race Point Beach, and have a lobster dinner before catching the 7:30 ferry back to the seaport.
10. World's End Park
Hikers flock to World's End Park in Hingham, a trove of wooded and seaside natural beauty. Don't miss a visit to the waterfront, and burgers or lobster rolls at Stars on Hingham Harbor restaurant.
11. Royalston, MA
Visit the Commonwealth's waterfall country! From Doane's Falls to Royalston Falls, this region has plenty of big and trickling water to explore on short or long hikes. Hit Lee's Hot Dog Stand for dinner and ice cream on the way home.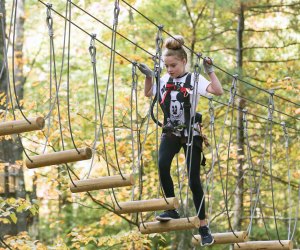 Find adventures in the treetops. Photo courtesy of Treetops Adventure Course
12. Treetops Adventure Course
Did you know one of the best ropes courses in New England is about 30 minutes from Boston? Climb and zipline through Treetops Adventure Course until little arms are too sore to soar, and then get a pub meal at the next-door Irish Cultural Center.

Martha's Vineyard has hosted generations of day-trippers. Photo by Ralph Mazit, via flickr CC BY-NC-ND 2.0
13. Martha's Vineyard, MA
One of the prettiest islands in the east can be reached in a 45-minute morning ferry ride from Woods Hole. Once there, kids love to ride the carousel and get ice cream in Oak Bluffs. Older kids can take bikes across on the ferry and make a three-mile ride to visit Vineyard Haven, where another ferry can take everyone home after dinner at the famous Black Dog Tavern.
14. Willows Park
Hop on a ferry and cruise on over to the North Shore for a visit to this old school strip of waterfront arcades. While Salem is known for its Halloween festivities, this waterfront town has so much to do in the summer, too!
15. Newburyport, MA
A quick 45 minutes on the commuter rail will bring you to this boating town. Walk the rail trail from the train station straight into town with a stop at Haley's Ice Cream for a cool treat along the way. Stroll the boardwalk and hop on a whale watch or boat tour and let the kids splash in the water fountains at Inn Street. If you decide to drive to Newburyport, hop in the car after visiting town to drive over the bridge to nearby Plum Island.
16. The Butterfly Place
The Butterfly Place
is a downright magical place to visit. Along with exotic butterfly species and flowers, there are
koi
fish and quail birds to observe, as well as cocoons and caterpillars that illustrate the winged beauties' fascinating life cycle. How about some of the state's best ice cream after?
Kimball Farm
has homemade ice cream as well as mini-golf, bumper boats, and a
zipline
.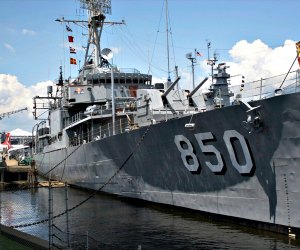 Kids' jaws usually drop at the site of the big battleships in Fall River. Photo by Jenn/CC BY 2.0
17. Battleship Cove
Head south to Fall River to explore a submarine, battleship, and destroyer at Battleship Cove. See the exhibits at the National PT Boat Museum or the National Destroyermen's Museum.
18. Portland, ME
Just up the coast and less than two hours from Boston, the foodie city of Portland is a perfect place for a day-cation or weekend getaway. Portland Head Light is a highlight, especially for lighthouse lovers.
19. Winnipesaukee Scenic Railroad
All aboard this scenic lakeside railroad. Pack a picnic or grab bites and treats like candy and ice cream aboard the train, and take a ride on the Winnipesaukee Scenic Railroad to marvel at beautiful vacation homes and gorgeous views.
20. Water Country
When the weather heats up, a water park is just the thing! Whoosh and splash at Water Country in the seacoast town of Portsmouth, just over the New Hampshire border. After getting your water fill, head to town for a bite before heading home. Want to keep splashing? Check out these water parks in the New England area
21. Canobie Lake Park
A quick half-hour car ride lands you at Canobie Lake Park, a classic amusement park filled with more than 85 rides, carnival games, and a water park section to cool off in. To continue the adventure, check out these amusement parks, too.

Run, don't walk, to Goose Rocks Beach in Kennebunkport, Maine. Photo by Peter Rintels CC BY 2.0
22. Kennebunkport, ME
Ninety minutes from Boston, Kennebunkport is so charming, with a cute downtown and pretty beaches. Grab some saltwater taffy at Candy Man, visit the Seashore Trolley Museum, and pay a visit to Goose Rocks Beach, where kayaks and paddleboards can be rented by the day.
23. Roger Williams Park
Plan out your day because Roger Williams Park is home to a zoo, natural history museum and planetarium, botanical gardens, year-round carousel, fully accessible playground, and the Temple to Music.
24. York's Wild Kingdom
York's Wild Kingdom is a must-visit for kids. This amusement park and zoo combo is filled with rides, wild animals, an interactive butterfly exhibit, and more! Wrap up the day with Maine lobster rolls on the beach.

Dig in at the Play Patio at the New Hampshire Children's Museum. Photo courtesy of the museum
25. New Hampshire Children's Museum
For families who love the Boston Children's Museum, why not hop over the border to check out the New Hampshire Children's Museum? Along with indoor interactive fun, this museum boasts a new outdoor exploratory area in addition to their already awesome playground.
Top Photo: Goose Rocks Beach in Kennebunkport, Maine. Photo by Peter Rintels/CC BY 2.0
Originally published August 2012 by Audrey Trieschman: updated annually through 2021
Click Here to Sign Up!