See Animals Up Close at Farms and Petting Zoos Around Boston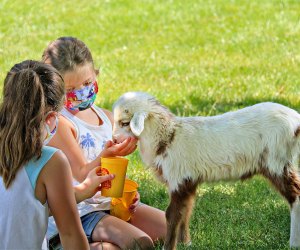 5/9/21
- By
Elyse Andrews
Most kids (and adults, too!) get super excited about seeing cute and cuddly animals up close. How can anyone resist? Luckily, there are some great local animal farms near Boston that are the perfect places for kids to visit, and in some cases, interact with some of their favorite furry creatures. Check out all the best petting zoos near Boston and the suburbs to meet llamas, cows, chickens, pigs, goats, sheep, and other gentle farm animals.
For more fun on Boston-area farms, don't miss our seasonal picks for farms to play, u-pick, grab an ice cream, and more!
Boston Area Petting Zoos and Farms
Connors Farm opens for the season on June 11. It's known for the great area where little ones can pet and feed barnyard friends along with a special spot designated just for farm babies. Please note that the farm stand and playground area are currently closed. Call ahead to find out if the pet and feed area is open. This is a wonderful place to experience season family fun.
Plan an entire day to visit to Davis Farmland because this place is massive. For little animal lovers, there are multiple areas to interact with furry friends. There's a special pen to play with and hold baby goats, a shed with kittens and bunnies—beware they are up for adoption and hard to resist. There's also a wide-open grass area where little ones can feed goats, chickens, and other free-roaming animals. While the animals are the main attraction, the farm also features a bounce pillow, multiple playgrounds, a tiny play town, seasonal u-picks, a splash pad in the summer, and the Davis Farm Mega Maze in the Fall. The farm is open Wednesdays through Sundays, and advanced online ticket purchases are required.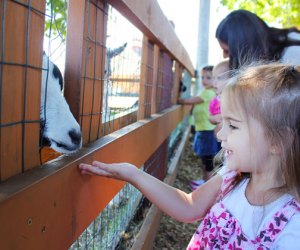 Annie's Animal Barn at Parlee Farms has 90 animals to meet. Photo courtesy of the farm
Open seasonally, this petting zoo near Boston is most known for its extensive u-pick operations. Throughout the summer and fall, Parlee has strawberries, cherries, blueberries, peaches, apples, pumpkins, and even flowers. The on-site Annie's Animal Barn has 90 animals, like goats, chickens, and bunnies, which are available for petting and feeding. The highlight is a "goat walk," aka "Annie's Goats in the Trees," where you can send goat food up a platform to feed the goats in the treetops! Animal food cups cost $1. Social distancing around the pens will be monitored.
Most state parks offer hiking, a pond or lake, and a place to picnic. Great Brook Farm State Park in Carlisle has all that and much more because it's also a working farm. Visit the Holstein cow barn and take. a tour to see a working dairy farm in action. Round out the day by snagging a scoop of ice cream from the on-site shop.
This wonderful, non-profit facility is dedicated to rescuing farm animals and educating the public, especially children, about their importance and care. It holds scheduled tours and meet-and-greets of various animals, including alpacas, cows, dogs, donkeys, goats, ponies, sheep, and more. The farm also holds a variety of programs throughout the year, like Storytime with Animals, in which kids can enjoy a story followed by a tour complete with various animal encounters. For people who cannot visit the farm, there are live cams of animals available on Unity Farm's website.
Another non-profit animal sanctuary, Winslow Farm welcomes visitors throughout the year to come say hello to its friendly array of rescued horses, donkeys, sheep, pigs, and more. Most years, there are also fun holiday events around Halloween and Christmas. This animal farm near Boston is open to visitors Fridays and Saturdays.
Unique to Southwick Zoo, there is a 35-acre "Deer Forest" where families can roam the paths and get up close to feed the deer. The zoo also boasts a petting zoo area filled with energetic pygmy goats, a pot-bellied pig, and alpacas. For a more exotic interaction, pop into Parakeet Landing to feed parakeets and cockatiels! Advance tickets must be purchased online.
This post was originally published on September 18, 2020.