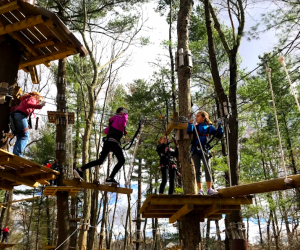 Climb and Zipline Through the Treetops in Canton
Obstacle courses are a hot trend right now, and I'm all for it: navigating ropes, walls, and mazes inspire kids to use their muscles and brains. While my boys love the indoor obstacle courses cropping up around Boston, the arrival of warm weather means they can visit outdoor obstacle courses, where nature provides additional beauty (and challenges).
While many ropes and zipline courses are far outside the city, especially by way of the Berkshires, we're lucky to have a great option just 30 minutes south of Boston. I recently took my kids and some friends to TreeTop Adventures, a obstacle course that's been carefully designed in the woods surrounding the Irish Cultural Centre in Canton, MA. We came home happy, tired, and armed with tips for families who want to tackle the treetops themselves.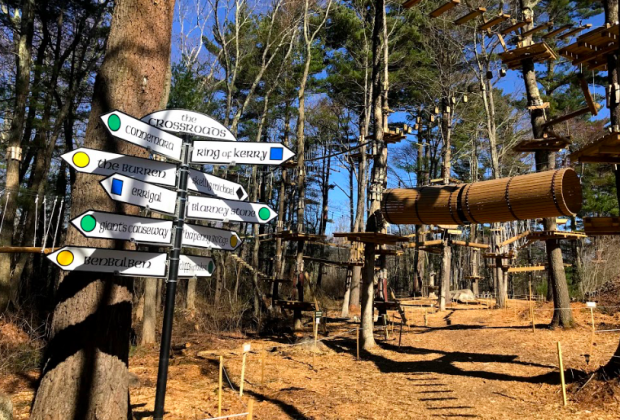 The course names are all inspired by Irish landmarks.
Know Before You Go...
First things first: To climb and zip, TreeTops requires that kids be at least 7 years old. This age minimum makes sense: The crossings and platforms between trees are quite high, and therefore climbers need to master a double carabiner system that attaches to a harness and protects them from falls. That doesn't mean that you aren't welcome to bring your preschooler or kindergartener to the course. As long as they're supervised by a grown-up on the ground, little ones will enjoy watching the climbers and playing close by in the surrounding, nicely maintained woodlands.
Reservations aren't required, but definitely advisable, especially on the weekends. General Admission tickets are $39 to 55, and valid for three hours – roughly 30 minutes of this will be used for your safety briefing and the remaining 2.5 hours for climbing. Adults and caregivers are encouraged to climb with kids, and are actually required to on trickier courses when children are under 13. Not a tree-climbing type? For $40 per hour (advanced reservations required), you can "rent a guide" who will accompany your child (or up to five children) through the courses. You can walk underneath the course and watch the climbers at all times, if you'd like: Spectating at TreeTops is free.
Be sure to sign your waivers in advance of your departure, since doing so at the entrance of the park will result in impatient and whiny kids (so I've heard). Wear athletic clothes that enable free movement, and sneakers. Driving is the best way to get there, as the course is pretty deep into the south 'burbs. Parking is free and is available in the first parking lot to the left once you pass under the archway of the Irish Cultural Centre. ​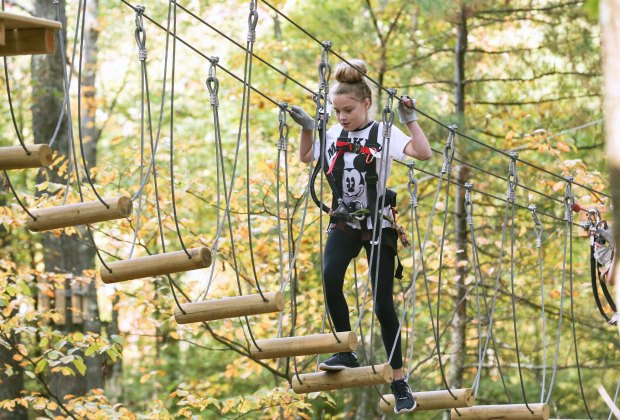 Hold steady: One of the most challenging aspects of TreeTops is navigating wobbly horizontal ladders.
What to Expect at the Course
After a walk from the parking lot, you'll check in at an open-air desk, before being greeted by a guide who will outfit climbers with a harness and lead them through a short training session. The training is performed on a low, short course in the front of the complex, and it's helpful for kids to get used to hooking and releasing their safety caribiners in a setting that mimics what they'll see at greater heights.
Then, it's free climb time. There are 10 interconnecting courses containing both vertical and horizontal ladders as well as zipline stretches, all marked with names inspired by Irish landmarks (the course is at the Irish Cultural Centre, after all). There are 3 beginner level courses (kids 7 and up can climb solo, supervised by an adult on the ground), four intermediate courses (kids 10 and up can climb solo and 7 -9-year-olds can climb with an adult); two advanced courses (kids 12 and up can climb solo and 10-11-year-olds can climb with an adult); and one expert course (only for kids ages 14 and older). In our group, all of our kids were easily able to navigate the beginner course. The intermediate courses were challenging, but mostly doable, for the third, fourth, and fifth graders. The advanced course was a thrill, but our fifth graders required some help from grown-ups to pull themselves up and across certain ladders, and some grown-ups had trouble finishing.
Afterwards, everyone—perhaps the adults most of all—were pleasantly tired and a little sore (even more so the next day). The obstacle course really does require you to use your upper body strength and balancing skills in ways that not many of us are used to from day to day. I've heard that visitors, both kids and adults alike, get a little more confident and competent with each return trip. I know all of us were excited to go back soon and try again.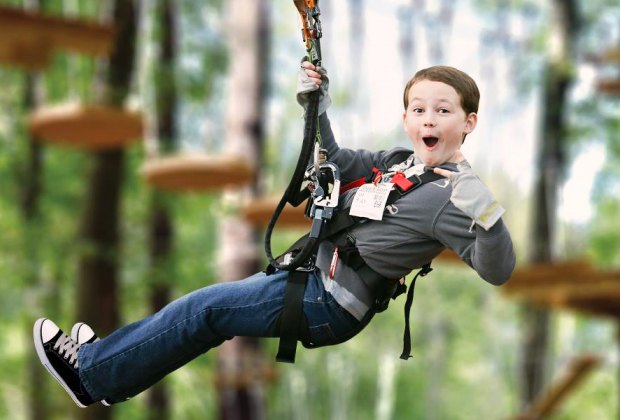 Zoom! There's at least one zipline stretch on each course.
Amenities, Extras, and More
Food: You are welcome to bring your own snacks and drinks, and there are a couple picnic tables where you can take a break and have something to eat in between climbing. TreeTop does sell some light snacks, like chips and energy bars, and drinks. If you come on a Friday or Saturday afternoon or evening, you can have dinner aferward at a pub on site at the Irish Cultural Centre.
Night lights: Discounted tickets for slightly shorter sessions (1.5-2 hours) are available 2.5 hours before the park closes each day. You might choose to do this on a Friday, Saturday, or Sunday evening, if you have older children who can stay up on the later side, since TreeTop stays open until 8 to 9:30 pm (see the calendar for details) and the course becomes aglow with hundreds of LED lights.
Special nights: There are monthly "Glow Nights" when the night lights at the park are paired with giveaway glow sticks, music, and more.
Birthdays: Wild about TreeTops? The facility hosts 3-hour birthday parties for 10 to 15 climbers ages 7 and older. Celebrate your new year with a challenge!
Photos courtesy of TreeTop Adventure