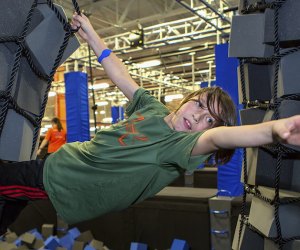 Little Ninja Warriors: Indoor Obstacle Courses in Boston
Building forts indoors and romping on playgrounds outdoors are classic ways to satisfy your child's need to play and explore. But if your kids want to turn your house into an obstacle course, you may need another outlet. That's where gyms that channel the TV show American Ninja Warrior come in.
For the uninitiated, American Ninja Warrior pits competitors against a series of increasingly difficult obstacle courses in a bid to make it to the finals and be crowned the American Ninja Warrior. The challenges are really tough and require skills like speed, stamina, agility, balance, and strength to complete.
If your kids are inspired by the show, or just need a productive way to channel their energy, there are five Boston-area gyms with obstacle courses perfect for aspiring ninja warriors.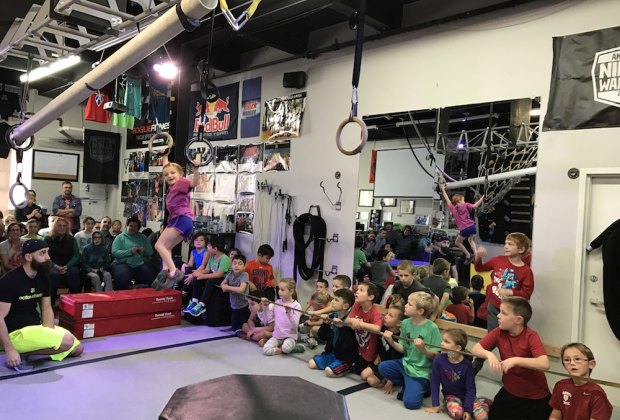 Boston is home to several gyms where kids can channel their inner ninja warrior. Courtesy of Action Athletics.
Action Athletics
217 California St., Newton 02458
Action Athletics in Newton houses more than 25 obstacles designed by actual American Ninja Warriors, so you know you're getting the real deal. The gym offers classes for kids ages six to 13 years old in two-month-long sessions. In the classes, little ninja warriors learn the ABCS of becoming a ninja: agility, balance, coordination, and swinging. Action Athletics also offers private training and open gym, so you can tailor your ninja's training to your schedule.
Gymja Warrior
150R Andover St., Danvers 01923
Two years ago, Gymja Warrior opened in the Danvers Indoor Sports complex and it has been a hit ever since. Gymja Warrior offers classes that focus on building strength through fun, challenging movement that combines techniques from gymnastics, Parkour, free running, and rock climbing. Gymja offers three levels of age-appropriate classes for kids ages three to 17 years old. In the classes, young ninjas are kept physically and mentally active while doing creative drills on Gymja's many obstacles.
Rock On Adventure
66 Pleasant St., Norwood 02062
The ninja experience at Rock On Adventure in Norwood is unique because it combines rock climbing with obstacle adventures. This family-friendly gym allows kids as young as three years old to come play on the climbing and obstacle equipment. If your children are interested in more formal instruction, Rock On has a Ninja Warrior Training program for those ages seven to 12. The classes combine rock climbing with obstacles to work on agility, balance, and upper body strength.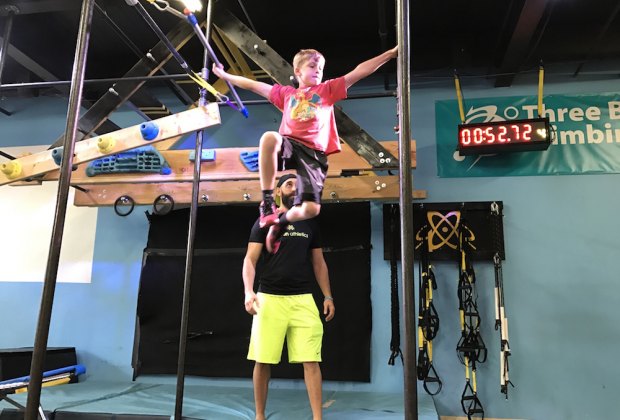 Little ninja warriors learn agility, strength and balance. Plus it's fun! Courtesy of Action Athletics.
Sky Zone
100 Independence Way, Danvers 01923
What could make New England's largest trampoline park even better? An obstacle course! The Warrior Course at Sky Zone is one of the most popular attractions, and it's easy to see why, with its three lanes of challenges ready to test your agility, stamina, strength, and speed. Kids ages five and up are welcome on the course, which is included in a jump ticket.
Team Awesome Fitness
54 Mathewson Drive, Weymouth 02189
With three appearances on American Ninja Warrior, you might say that the owners of Team Awesome Fitness are obstacle experts. They've used their experience to create a family-friendly gym with a fun and challenging adventure course. Kids ages five and up can experience it through classes that take on obstacles like monkey bars, rope climbs, and swinging obstacles. Team Awesome Fitness also runs a homeschool program, drop-in classes and open gym sessions.
---
Top image of a little ninja warrior playing on an obstacle course courtesy of Sky Zone.