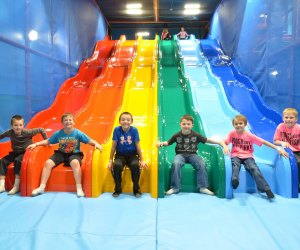 9 Drop-In Indoor Playgrounds Where Boston Kids Can Get Their Energy Out
As temperatures hover around freezing and even trusty toys are getting tiresome, every parent is looking for fun winter activities that can help kids expend energy and get their sillies out indoors. Just in time for February school vacation, we've rounded up 10 indoor play spaces where little and big kids can slide, climb, dodge, play pretend, and make friends—just as they might on their favorite outdoor playgrounds. Most are a drive outside city limits, but all have lots enough space and options for high-energy fun to make a day trip feel well worth it.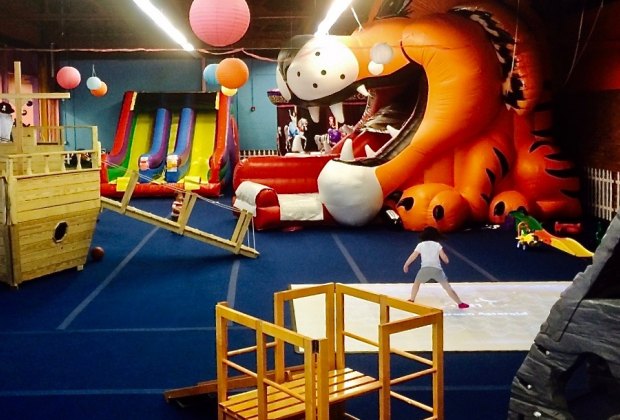 Inside Playground features an interactive floor on which kids can play "sports," solve puzzles, and more. Photo courtesy of Inside Playground
1. Inside Playground—Watertown
Watertown's Inside Playground is a giant space where preschoolers and younger grade schoolers can get plenty of run and climb time, with lots of inflatables (including a giant tiger), a pirate ship, and more. One of the more unique features is its "Beam," an interactive floor that reacts to kids' movements to allow them to play games and sports virtually. There's a separate room for quieter activities like reading, playing dress up or house, or building with Legos. You can bring your own food to Inside Playground (though you have to eat it outside the play space), and you can buy food there as well. There's WiFi for parents and free parking to boot.
2. Jump N' Slide—Newton
Though this big, relatively new facility in Newton, adjacent to the Newton Childcare Academy, is getting known for its birthday parties, kids and families can also drop in during regular weekend hours to have some fun in its Jump Hall (full of extra-large inflatables and slides for big kids), Toddler Area (with more toys for littles), and exciting arcade.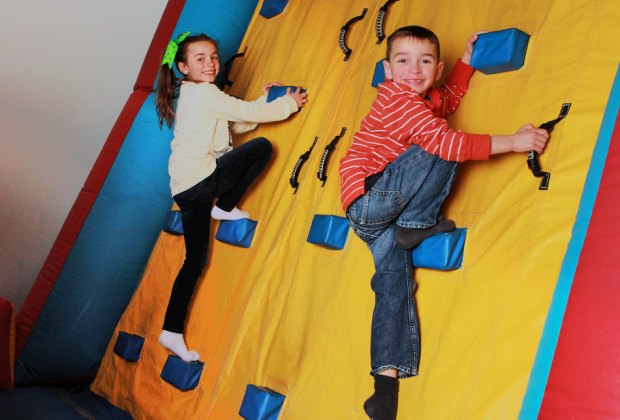 This just me be bouncy house, castle, and slide heaven. Photo courtesy of Jump on In
3. Jump On In—Boston and Woburn
Housed in an enormous warehouse space with multiple rooms, Jump On In is nothing but enormous inflatable slides and castles. It's very quiet on weekdays but pretty crazy on weekends and holiday weeks, with delighted children bouncing their heads off. That said, you can make a reservation in advance so you're sure to get in. With no time limits, it's a fantastic place to bring kids with energy to burn. There are special areas for smaller children, but be warned: larger children often jump their way in.
4. Monkey Joe's—Danvers and North Attleboro
At Monkey Joe's, kids get to monkey around (heh) on inflatable slides, jumps, and obstacle courses. They have designated play areas for kids 2-12 years old, featuring jumps, slides, climbing walls, and games. There is also a Mini Monkey Zone for kids 3 and under, featuring games, puzzles, and soft landing areas.

The climbing structure is just big enough to be a challenge for preschoolers. Photo courtesy of Imagine Playspace
5. Imagine Playspace Cambridge—Cambridge
Imagine Cambridge offers children endless options for play, with an indoor playground and an imaginative play town. For creative kids, there are opportunities for creative play with a play town that includes a library, restaurant, grocery, bakery and theater. Active kiddos will love the swings, bounce house, climbing, ball pit and ride-on toys—including the outdoor space. Imagine's website offers a "Busyometer" that tells you how many other people are there. In addition, Imagine provides bilingual song and dance classes in Spanish, as well as language clubs in French, Russian, Spanish, Italian, Mandarin, Portugese,
6. Playtown Express—Southborough
Parents, you'll love this one: This playspace not only has tons of fun activities for kids up to age 12, but even offers drop-off care for two to four hours per week (reservations are required and children must be potty-trained). Activities include a netted climber, a bouncy house, and play cars for younger children, while older kids can enjoy options such as slides, a slippery slope, and obstacle course. A separate play area for infants also is available.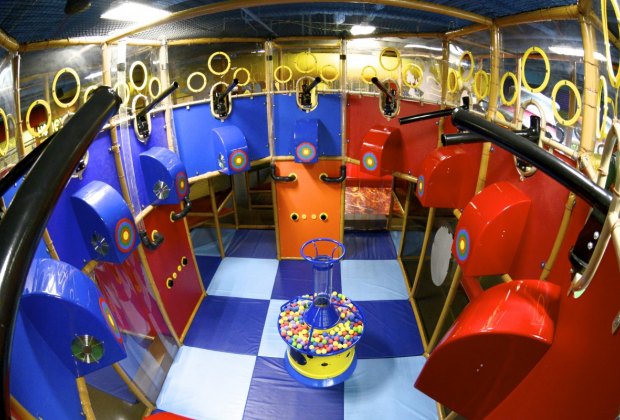 Target from the top or dodge from below in the ballistics arena. Photo courtesy of Billy Beez
7. Billy Beez—Kingston
Billy Beez is best known for its rainbow of side-by-side slides: children love racing their friends as they fly down the bright, plastic chutes. But there's much more to do on this South Shore-mall-based play mecca, including climbing through a giant, tunnel-packed jungle gym, playing hoops on the sports courts, and shooting balls in a "ballistics arena." There even a "tot town" for little ones. For readers who live in the far west suburbs, check out Billy Beez at the Holyoke Mall.
8. Cedarland aMAZEment Action Play Center—Haverhill
There is tons do here: a triple wave slide, sports court, multi-level tube slide, a giant sand room, treehouse, and arcade are just some of the activities you'll find at Cedarland (and that's not all of them, either). All that playing is sure to work up an appetite, so you can enjoy a bite to eat at the convenient on-site snack bar; options include kid-friendly favorites such as pizza, chicken nuggets, hot dogs, and juice. Parents admitted free.
9. BB Kidz Klub—Westford and Leominster
Kids up to age 12 can enjoy the inflatable slide, jumpy house, obstacle course, air hockey tables, arcade basketball games, plasma cars, and more (specific activities may vary by location). A separate are specially designed for infants and toddlers also is available. You are welcome to bring your own snacks, but keep in mind the facility is peanut free.
Originally published December 2016