Fishing Lakes Near Chicago and More Kid-Friendly Places To Go Fishing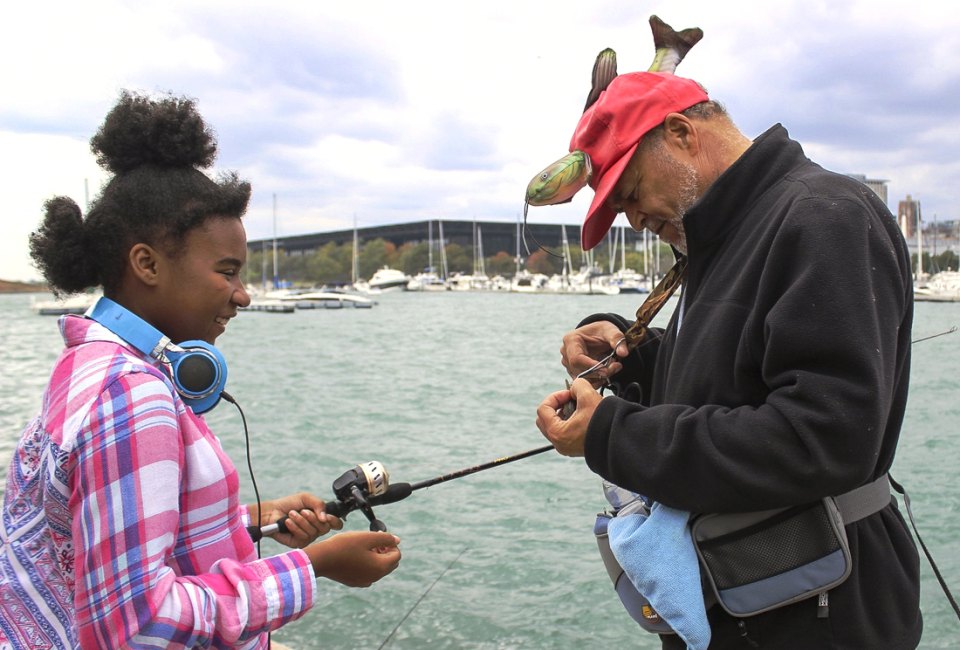 7/22/22
- By
Lauren LaRoche
If you're looking for places to go fishing with the kids, we've got you covered. These fishing lakes near Chicago are perfect for a day of family fun, right in the heart of Chicago's most historic neighborhoods. From the Chicago River to lagoons in Humboldt Park and Lincoln Park, there are plenty of cool fishing holes with a wide variety of fish and wildlife. Remember to check local fishing license requirements for adults and to keep life jackets on littles near the water. In Illinois, a fishing license is required for all bodies of water.
For more great family adventures, check out our 20 favorite day trips guide from Chicago.
Best Places To Go Fishing Near Chicago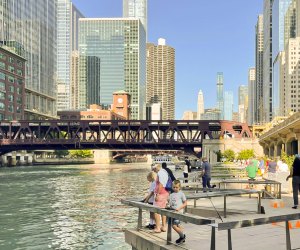 You can fish in the Chicago Riverwalk. Photo by Nancy Kalchbrenner
Chicago River Walk
Fishing in the Chicago harbor system can be a ton of fun for the entire family. Not only are you able to catch some great fish that call the harbors home, but you're also surrounded by Chicago's amazing skyline, restaurants, and bustling city scene. This makes for a unique fishing experience unlike any other.
Chicago River Park
On the north side of Chicago, two parts of the Chicago River come together. In 2019, a dam was removed which opened up the flow of the river. With the new and improved flow, you'll find carp, catfish, crappie, and bass. Enjoy the parks, playground, soccer fields surrounding the park for more hours of family fun.
Douglass Park
Douglas Park is one of the coolest green spaces in Chicago. Tucked away on Chicago's west side, you'll find wetlands and a lagoon full of fish. This lagoon is maintained and stocked by the Chicago Park District. Under the water, you'll find carp, panfish, bass, and catfish.

Fishing fun in Humboldt Park photo courtesy of the Chicago Park District
Humboldt Park
Humboldt Park provides the ultimate urban oasis. You'll find green space, a historic boat house, a beach, and a beautiful lagoon that's home to a wide variety of fish. Most commonly you'll find panfish, carp, and catfish. Don't forget about the alligator that was found calling the lagoon home in 2019.

Palmisano Park offers catch and release fishing near Chicago. Photo courtesy of the U.S. Fish and Wildlife Service
Palmisano Park
Palmisano Park is home to a catch and release pond that's made for fishing. Located in an old limestone quarry, this park was made into a nature park by the city in 2009. This tiny but might 26-acre gem is home to catfish, panfish, bass, and more. Just remember you need to release anything you catch here.
Lincoln Park Lagoon
In one of Chicago's most iconic neighborhoods, sits the artificial, Lincoln Park Lagoon. This lagoon sits right on the shores of Lake Michigan which is known for salmon in the fall, panfish, carp, and northern park. This is one of the only places in Chicago where you can fish for king salmon in the fall. Don't forget to check out the nearby Lincoln Park Zoo that is free and open year-round.
Navy Pier
In the winter months, Navy Pier becomes home to yellow perch that look for shallow water in Lake Michigan. The slips, harbor, and the pier itself at Navy Pier make for the perfect perch hideout during the colder months. Warm up after and play tourist and one of Chicago's most iconic destinations. Navy Pier is also home to the Chicago Children's Museum.
Click Here to Sign Up!
i