Restaurants Open on Thanksgiving in Chicago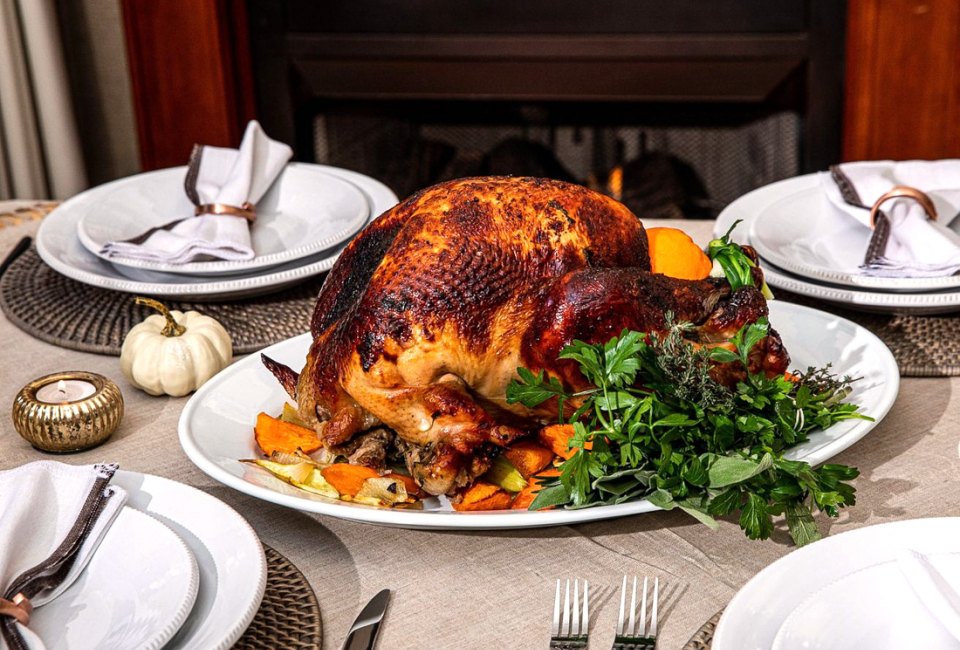 10/28/22
- By
Lauren LaRoche
Don't feel like cooking? Check out our list of restaurants open on Thanksgiving in Chicago.
If spending days and hours in the kitchen preparing for Thanksgiving isn't your thing, there are plenty of kid-friendly restaurants open on Thanksgiving in Chicago where you can dine-in or order a take-home meal. From traditional Thanksgiving menus to family-style brunch and more, we've rounded up some of the best restaurants open on Thanksgiving in Chicago. These are also kid-friendly with special kid's menus and pricing for all your little turkeys.
For year-round dining, check out our Kid-Friendly Chicago Restaurants Guide.

Photo courtesy of the Tortoise Supper Club
Kid-Friendly Restaurants Open on Thanksgiving in Chicago
11:00 – 4:30
The Godfrey Roofscape is offering a pre-fixed Thanksgiving meal for city families. Adult meals are priced at $59 and kid meals are available for $15 for children under 12. Their menu features turkey, prime rib, salmon, and all the traditional Thanksgiving sides and desserts with kid-friendly favorites.
11:45 – 8:15
Tortoise Supper Club is offering their Thanksgiving Grand Buffet all Thanksgiving Day through 8:15. For a $25 deposit per person, you'll find traditional menu items as well as some supper club staples and kid-friendly eats.
11:00 – 6:30
Prime and Provisions are offering a family-friendly Thanksgiving with something for everyone. Tickets are $85 per adult and $35 per child. With its convenient loop location, you can kick off the season with holiday window displays, lights, and decorations.
11:30 – 8:00
Thanksgiving at Joe's features a traditional Thanksgiving menu alongside delicious, signature Joe's seafood. In addition to Thanksgiving, guests can also enjoy all their favorite Joe's staples. Thanksgiving menus are $69.95 per adult and $34.95 for children ages 5-12. Kids under five eat for free. That's right, little ones at no charge.

Photo courtesy of Cottonbro Studio, courtesy of Pexels
1:00 – 8:00
The Langham Hotel's Travelle restaurant is featuring a beautiful Thanksgiving spread served family-style. In addition to the traditional Thanksgiving favorites, there will also be cheeses, seafood, and charcuterie. Adult pre-fix tickets are $225 and tickets for children age 5-12 are $60.
11:00 – 7:00 (Wheaton) 11:00 – 8:00 (Oakbrook)
Ditka's in Oakbrook and Wheaton has a Thanksgiving menu featuring slow-roasted turkey with all the classic fixings and sides. Their regular menu items will also be available including kid-friendly burgers, sandwiches, and mac and cheese.
11:00 - 9:00
Perry's Steakhouse & Grill is open in both Schaumburg and Wheaton on Thanksgiving Day. Their smoked turkey is the main staple, with sides including stuffing, soup, salad, homemade bread, and more. Thanksgiving dinner is a pre-fixed meal priced at $49 per person.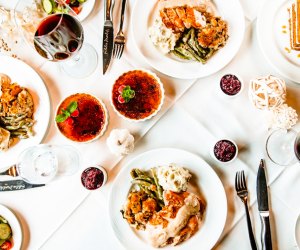 Photo courtesy of Eddie Merlot's
12:00 – 8:00
Eddie Merlot's in Burr Ridge, Lincolnshire, and Warrenville is serving up a traditional Thanksgiving meal for both kids and adults. Dinner with all the trimmings is priced at $49 per adult and $24 for each child.
11:00 – 8:00
Sullivan's Steakhouse in Naperville is serving a traditional Thanksgiving meal complete with three courses. Family favorites such as roasted turkey, stuffing, and casseroles, as well as carrot cake, and pumpkin spice crème brulee. Tickets are $49 for each adult and $24 per child.