Things to do with Kids in Chicago's West Loop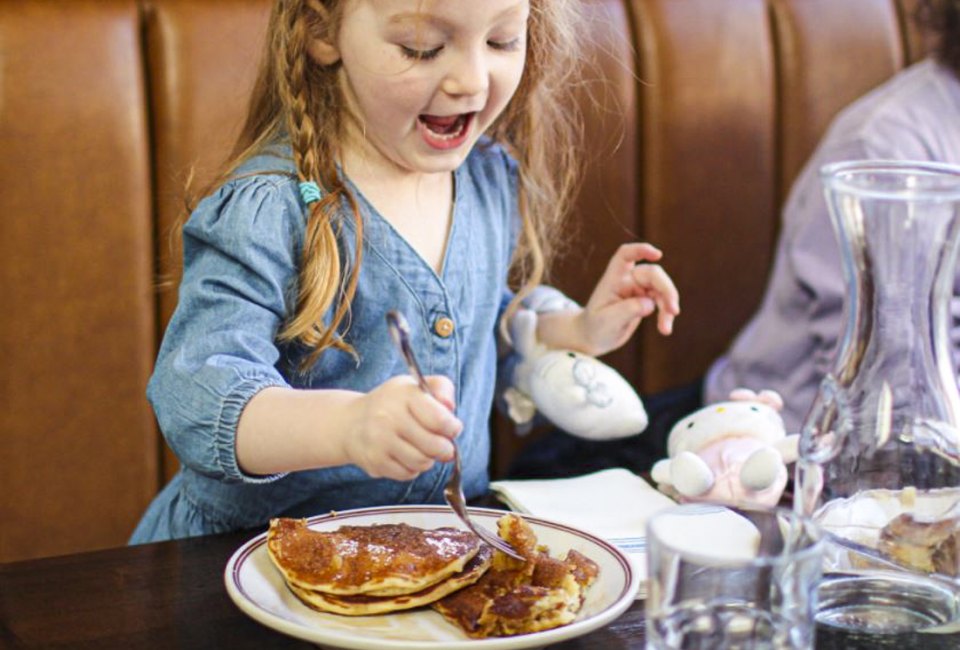 3/6/22
- By
Lauren LaRoche
In Chicago, the West Loop is known for its vibrant restaurant and nightlife scene. It's also home to the historic Greek Town neighborhood and where the Chicago Bulls and Blackhawks call home. So where do you go when you're venturing into the West Loop of Chicago with kids? We've got you covered. From traditional Greek food to amazing facilities for kids to climb, jump, and get their energy out, we've rounded up some of our favorite places to go in the West Loop with kids.
Check out our Chicago Visitor's Guide for more things to do with kids in Chicago's neighborhoods.

Photo courtesy of POW! Gym, Facebook
POW! Gym in the West Loop is the place to take your little ninja warrior. They offer classes, camps, birthday parties, and drop-in events for kids of all ages. Kids can learn kickboxing, traditional boxing training, tumbling, super-hero training, and more. This is a great spot for a class birthday party or a summer camp if you're looking for something different that's sure to work off some energy.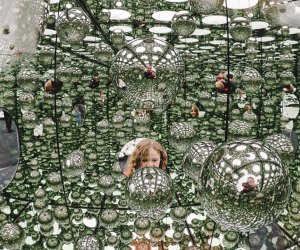 One of the Infinity Rooms at the WNDR Museum in Chicago's West Loop, photo courtesy of the museum
The WNDR Museum in the West Loop is an amazing space to take the family. This museum is full of non-traditional exhibits including immersive and interactive experiences. The exhibits are changed regularly to allow for new artists and new experiences. Kids will love the chance to explore, touch, and even play in many of the unique exhibits and installations. Please keep in mind that this is a high-sensory experience.

Mary Bartelme Park in West Loop, Chicago. Photo courtesy of landscapeperformance.org
Bartelme Park is known for its iconic skewed arches that seem to act as the gateway to the West Loop. These make for amazing family photos as the frames perfectly capture the skyline as you stand in front of them. This 1.4-acre park has lush green space for running around, a state-of-the-art dog park for your four-legged family members, an amazing play structure and park, a viewing hill, and mister on hot days when you need a little cooling off. This park is free to the public and open for year-round enjoyment.

Photo courtesy of Brooklyn Boulders
Brooklyn Boulders is a super cool rock-climbing facility with tons of kid-friendly options and play spaces. Adults and kids can try their hand at rock climbing, agility courses, and more. There are also fitness classes, co-working spaces for the adults, kids programs, as well as family memberships.
The United Center is home to the Chicago Blackhawks hockey team as well as the Chicago Bulls basketball team. During the season you can catch a game with the entire family for an amazing night of fun. During a non-game day, the United Center is also known for hosting concerts and other events. Rock out to your kid's favorite artist or catch a game where Michael Jordan himself once walked the court. Be sure to snap a photo with the legend outside by his statue.

Take the kiddos on a little shopping trip! Photo courtesy of The Fig Tree, Facebook
The Fig Tree has a ton of cool kids' gifts, toys, games, clothes, and puzzles. Take the kiddos on a little shopping trip to find a unique Chicago treasure or a gift for a friend or family member. Much of what you see in the store is handmade or made by a local Chicagoan.
Kid-Friendly Restaurants in the West Loop
While the West Loop is home to several Michelin Star restaurants and famous TV chefs, there are also some incredibly fun and delicious places to check out with your kids. One of the best parts about this neighborhood is the food scene. Even with all the accolades many of these restaurants receive, the atmosphere is very laid back, friendly, and overall Chicago-feeling.
Green Street Smoked Meats features delicious Texas-style BBQ and sides. With a warm and cool atmosphere, the entrance is located down a brick-paved alley. Their menu features award-winning BBQ and plenty of kid-friendly sides.

Breakfast served all day at the Little Goat Diner - photo courtesy of the Boka Restaurant Group
Chef Stephanie Izard (Winner of Top Chef Season 4) opened Little Goat Diner in 2012. With breakfast served all day, there's something for every picky eater on this menu. In addition to breakfast, you'll also find elevated diner staples including burgers, sandwiches, and amazing desserts.
The West Loop is also home to Chicago's Greek Town neighborhood. If you're looking to try an iconic, Chicago staple, Greek Islands is a great place for families. You'll find traditional Greek cuisine with a fun and friendly environment. Kids will love watching the flaming saganaki cheese set fire right at the table.

Photo courtesy of BomboBar
For a dessert-like no other, give BomboBar a try in the West Loop. You'll find towering sundaes, shakes, donuts, and more filled to the brim with unique and playful toppings. Menu options include a donut gelato sandwich, gelato sundaes, over the top hot chocolates, including boozy hot chocolates for the grown-ups