25 Things To Do in Newburyport and Plum Island with Kids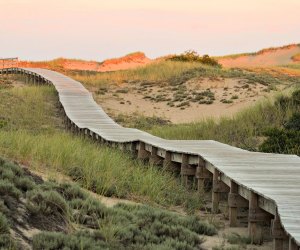 9/17/20
- By
Michelle Curran
History, culture, and miles of pristine coastline: Newburyport, Massachusetts, packs a lot of family fun opportunities in one charming package. Located just 45 minutes north of Boston, Newburyport is also a cinch to get to for those in the Northeast, and once there, kids and families can explore leafy hiking trails, uncrowded beaches, a bustling waterfront, and more. Toss in a visit to neighboring Plum Island, and a day trip or weekend trip to Newburyport feels like a true escape.
Read on for our 25 favorite things to do in Newburyport and Plum Island. While on the North Shore, check out these seafood restaurants, family-friendly beaches, or coastal winter fun ideas, depending on the season.
Find more great trips to take with the kids in our New England Family Travel Guide.
Top Things To Do in Newburyport, Massachusetts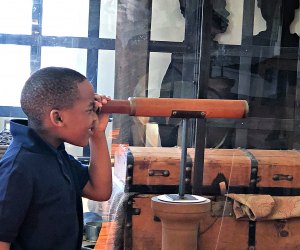 Ships ahoy at the Custom House Maritime Museum. Photo courtesy of Newburyport.com
1. Learn your maritime history at the Custom House Maritime Museum.
Discover Newburyport's seafaring heritage through this collection of maritime art, model ships, shipwreck artifacts, and more.
2. Take some time to browse the shops at the Tannery Marketplace.
Kids love to get cozy and check out the huge selection of books in the children's section at The Jabberwocky Bookshop, and then dart over to the adjoining Eureka toy store, filled with tons of cool finds.
3. Try a whoopie pie from Chococoa Baking Company.
You can't come to Newburyport without trying an artisanal, bite-sized whoopie pie from Chococoa, also in the Tannery. (The Pumpkin with Pumpkin Ginger Cream is to die for.) Take yours to go or stay for a cup of coffee while the kids draw on the chalkboard in the children's play area.
4. Enjoy the great outdoors at Maudslay State Park.
This 400-acre state park is filled with trails, stone bridges, and gardens. In winter, there is ample opportunity for snowshoeing, cross-country skiing, and sledding. Enjoy gorgeous views of the Merrimack River any time of year.
RELATED: 50 Things to Do in Newport, Rhode Island with Kids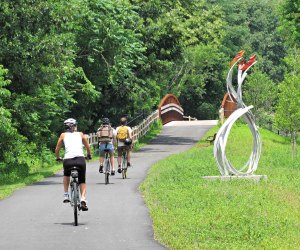 Bike the pretty Clipper City Rail Trail and you'll catch some art along the way. Photo courtesy of Coastal Trails Coalition
5. Ride along the Clipper City Rail Trail.
This 1.1-mile path runs between Newburyport's commuter rail station and downtown. Along the way, look for unique, installed artwork and stop by the model train, a popular spot for kids to engage in some pretend play.
6. Play pirates and sea captains at Cashman Park.
A super-fun playground for kids (think slides, swings, pirate ships, and climbable dolphins), the Park, located on the Rail Trail, is also a great place to play tennis and basketball, view local wildlife, and, if you time it right, to watch the Route 1 Bridge open to let boats by.
7. Grab a cone or dish at Haley's Ice Cream.
Haley's is a 1950s style ice cream shop and diner located near the end of the Rail Trail. Order a burger, dog or sandwich and then treat yourself to a huge selection of homemade ice cream.
8. Stroll along the boardwalk at Waterfront Park.
Enjoy people and boat watching and sweeping views (including lovely sunsets) over the Merrimack River. Stop by Port City Sandwich for lunch.
9. Enjoy four-seasons outdoor fun at Bartlet Mall.
Centered around a frog pond, the Bartlet Mall is perfect for pond hockey, skating, and sledding in winter, and watching the ducks and picnicking during the warmer months.
RELATED: 25 Fun Things to Do in Portland, Maine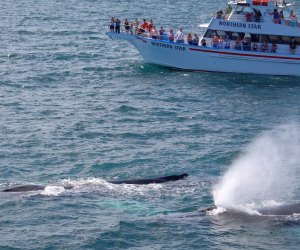 Seeing a whale from the deck of your boat tour may just become a cherished family memory. Photo courtesy of Newburyport Whale Watch
10. Spot some whales with Newburyport Whale Watch.
Minke whales, Fin whales, and Humpbacks are common sightings on a 4-hour excursion, leaving from the boardwalk.
11. Take a river cruise on the Yankee Clipper.
Explore the Merrimack on an Ecotour.
12. Or, paddle yourselves, courtesy of Plum Island Kayak.
Plum Island Kayak has day-long kayak rentals.
13. Enjoy some ice time at the Graf Rink.
From September through April, lace up your skates (or rent some from the rink) and practice your figure 8's during public skating times.
14. Reel in the big one.
Check out Captain's Fishing, Obsessed Charters, and Erica Lee II Charters for some deep sea fishing. Or, visit Surfland Bait and Tackle for everything you need to know about fishing Plum Island, the Merrimack River and Joppa Flats.
15. Brush up on local history at the Museum of Old Newbury.
Learn the stories of local people at this Newburyport museum housing documents, photographs and artifacts from the past 400 years. Don't miss visiting the restored 19th-century garden out back.
16. Spend an afternoon at Moseley Woods.
Known locally as the "Dinosaur Park," Moseley Woods consists of hiking trails, a covered picnic area overlooking the Merrimack and a playground built beneath towering pines. Swing, slide, and scale several challenging climbing structures, including a giant dinosaur, or check out the zip line.
17. Catch a show at the Firehouse Center for the Arts.
The website of this intimate 191-seat theater located on the water has information on upcoming shows and family programming.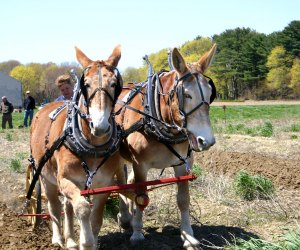 Visit the grounds of the Spencer Peirce Little Farm to see animals and learn about farm life. Photo courtesy of Massachusetts Office of Travel & Tourism
18. Stroll farmlands and visit some animals at Spence-Peirce-Little Farm.
Visit friendly sheep, goats, chickens, and a horse throughout the year, and learn about life on a farm over the centuries through hands-on activities.
19. Explore nature with Merrohawke Nature School.
Sign your kids up for one of the many nature-based programs offered by this extraordinary nonprofit dedicated to inspiring lifelong connections to land and sea.
Fun Things To Do on Plum Island with Kids
20. Gawk at the Pink House en route to the island.
Local lore has it that an acrimonious divorce led to the strange placement of this (abandoned) pink house, which is a cotton-candy-colored sight to behold from the road. Look for snowy owls that sometimes perch there.
21. Snap some pictures by the Plum Island Lighthouse.
The 13th lighthouse to be built in the U.S. was important for boaters and whalers to navigate the treacherous mouth of the Merrimack River into Newburyport. It's occasionally open for touring, but the grounds are open daily for nice photo ops against its classic white exterior.
22. Visit the Joppa Flats Education Center en route to the Parker River National Wildlife Refuge.
Bring a pair of binoculars, and learn why this region is tops in the Northeast for bird watching. The Hellcat Interpretive Trail is 3.5 miles south of the refuge entrance and is a delightful, easily navigable 1.4-mile route through freshwater and maritime woodland habitats. (Note: Buildings at most parks remain closed during COVID-19 but grounds are open to walk.)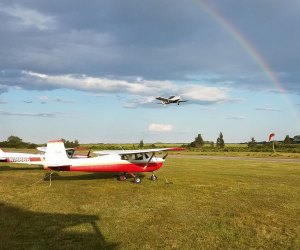 Check out the planes taking off at the Plum Island Airfield. Photo by Ethan Cohen of UAV Look
23. Watch the planes take off at the Plum Island Airfield.
Planes take off and land at this small, historic airport on Plum Island throughout the day.
24. Stop by Metzy's Taco Truck for lunch.
Often parked at the Plum Island Airfield, Metzy's serves up unbelievable Tex-Mex fare. My kids love the chicken tacos; I'm partial to the sweet potato and black bean burrito. Visit its Facebook page for daily location updates.
25. Search for seashell souvenirs to take home with you at Sandy Point State Reservation.
Located at the quiet tip of the Island, Sandy Point is a great place for collecting exotic shells and sand dollars.
A version of this article was first published in 2015, but it has since been updated.
Top photo by Christene S./CC BY 2.0
Click Here to Sign Up!