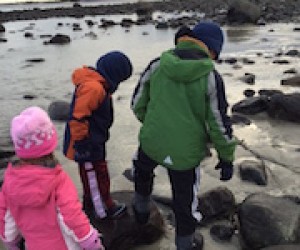 25 Things to Do With Kids In Newburyport
My family has lived in Newburyport for 12 years now, and the city's charm and character never get old. Located northeast of Boston, Newburyport is a vibrant coastal community rich in history, arts, and outdoor beauty. There is just so much to do here, both indoors and out, when it's cold and when it's hot.
Read on for 25 ways for families to enjoy all that Newburyport has to offer Boston families, from an insider's perspective.
---
1. Learn your maritime history at the Custom House Maritime Museum
Discover Newburyport's seafaring heritage through this collection of maritime art, model ships, shipwreck artifacts and more. Oh, and save a little time to climb the giant red and white buoys out in front of the Museum.
2. Take some time to browse the shops at the Tannery Marketplace
Kids love to get cozy and check out the huge selection of books in the children's section at The Jabberwocky Bookshop and then dart over to the train table at the adjoining Eureka Toy Store, filled with tons of cool finds.
3. Try a whoopie pie from Chococoa Baking Company
You can't come to Newburyport without trying an artisanal, bite-sized whoopie pie from Chococoa, also in the Tannery. (The Pumpkin with Pumpkin Ginger Cream is to die for.) Take yours to go or stay for a cup of coffee while the kids draw on the chalkboard in the children's play area.
4. Buy fresh and local at the Newburyport Farmers' Market
Check out fresh, local produce, meats, cheeses, baked goods, specialty items and more at the Newburyport Farmers' Market, open year-round (days vary) at The Tannery.
5. Enjoy the great outdoors at Maudslay State Park
This 400-acre state park is filled with trails, stone bridges, gardens and history. In winter, there is ample opportunity for snowshoeing, cross-country skiing and sledding. When it's warm, pick a trail and explore blooming gardens and pine groves, or check out an outdoor performance by Theater in the Open. Enjoy gorgeous views of the Merrimack River any time of year.
6. Dine at David's
No babysitter? No problem! Dine at David's Tavern on Brown Square, where babysitting services are offered onsite. Genius! Children enjoy kid-friendly meals, movies and games while parents indulge in a relaxing dining experience without dishing out tons of cash for childcare.
7. Ride along the Clipper City Rail Trail
My kids LOVE to ride their bikes (or rollerblade) along this 1.1-mile path that runs between Newburyport's commuter rail station and downtown. Along the way, look for unique, installed artwork and stop by the model train, a popular spot for kids to engage in some pretend play.
8. It's playtime at Cashman Park
A super fun playground for kids (think slides, swings, pirate ships and climbable dolphins), the Park, located on the Rail Trail, is also a great place to play tennis and basketball, view local wildlife, and, if you time it right, to watch the Route 1 Bridge open to let boats by.
9. Grab a cone or dish at Haley's Ice Cream
Haley's is a 1950's style ice cream shop and diner located near the end of the Rail Trail. Order a burger, dog or sandwich and then treat yourself to a huge selection of homemade ice cream.
10. Watch the planes take off at the Plum Island Airfield
Watch planes take off and land at this small, historic airport on Plum Island. Afterwards, visit the Burgess and Working Museums to view aviation memorabilia and renovated aircraft. Then scoot across the Plum Island Turnpike to have some fish n' chips at Bob Lobster.
11. Explore the natural beauty of Plum Island
To start, visit the Joppa Flats or Parker River National Wildlife Refuge visitors' center and learn what makes this area one of the best places for bird watching. Then walk the Hellcat Interpretive Trail, take a dip at the beach or visit Sandy Point State Reservation (pictured), located at the tip of the Island, a great place for collecting shells and sand dollars.
12. Stop by Metzy's Taco Truck for lunch
Often parked at the Plum Island Airfield, Metzy's serves up unbelievable Tex-Mex fare. My kids love the chicken tacos; I'm partial to the sweet potato and black bean burrito. Visit their Facebook page for daily location updates.
13. Take a walk on the boardwalk
Enjoy people and boat watching, sweeping views of the Merrimack River and Waterfront Park, where kids like to stop and run around in the sun. After, stop by Port City Sandwich for some awesome homemade sandwiches, soups and muffins.
14. Enjoy some outside time at the Bartlet Mall
Centered around a frog pond, the Bartlet Mall is perfect for pond hockey, skating and sledding in winter; watching the ducks and picnicking during the warmer months. Each summer, many of the city's Yankee Homecoming events take place here too.
15. Play nine holes at Evergreen Valley Course
Golf can be an expensive sport. For your budding golfer, tee off at this affordable 9-hole golf course located in a quiet residential neighborhood.
16. Get out on the water
Catch a glimpse of majestic marine mammals with Newburyport Whale Watch. Explore the Merrimack on an Ecotour aboard the Yankee Clipper. Take a sail on the Ninth Wave catamaran. Or, if you're really adventurous, rent some kayaks from Plum Island Kayak and let the kids do the paddling.
17. Enjoy some ice time at the Graf Rink
From September through April, lace up your skates (or rent some from the rink) and practice your figure 8's during public skating times.
18. Visit the Newburyport Art Association
Check out the work of local and regional artists, with periodic exhibits of work by young and budding artists in grades 1-12.
19. Reel in the big one
Check out Captain's Fishing, Obsessed Charters and Erica Lee II Charters for some deep sea fishing. Or, visit Surfland Bait and Tackle for everything you need to know about fishing Plum Island, the Merrimack River and Joppa Flats.
20. Climb the walls at MetroRock
Many kids are natural climbers, and at MetroRock, Newburyport's rock-climbing gym, they can overcome challenges, gain confidence and get some exercise.
21. Search for unique finds at Oldies Marketplace
Take the kids on a fun treasure hunt at Oldies Marketplace, where you can find…well, basically anything. Toys, antiques, furniture, jewelry, books, collectibles, odds and ends - you name it, Oldies has it.
22. Brush up on local history at the Museum of Old Newbury
Learn the stories of local people at this Newburyport museum housing documents, photographs and artifacts from the past 400 years. Don't forget to visit the restored 19th Century garden out back as well.
23. Spend an afternoon at Moseley Woods
Known locally as the "Dinosaur Park," Moseley Woods consists of hiking trails, a covered picnic area overlooking the Merrimack and a playground built beneath towering pines. Swing, slide, and scale several challenging climbing structures, including a giant dinosaur, or check out the zip line, a fan favorite.
24. Catch a show at the Firehouse Center for the Arts
Visit the website of this intimate 191-seat theater located on the water for information on upcoming shows and family programming.
25. Explore nature with Merrohawke Nature School
Sign your kids up for one of the many nature-based programs offered by this extraordinary nonprofit dedicated to inspiring lifelong connections to land and sea.
---