Best Things to Do With Kids at Boston Children's Museum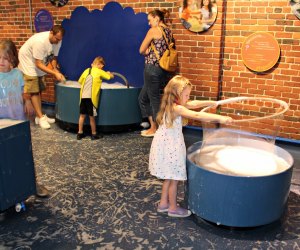 Our city is full of family-friendly museums, but only Boston Children's Museum is designed just for kids. Whether you're looking for a few hours to kill or somewhere to enjoy an entire day with your kids, there's no better destination in Boston. This three-story museum offers endless entertainment and discovery, including exhibits that focus on science, culture, social awareness, health and fitness, the arts, and more. While the museum may seem overwhelming, we've broken it down, level by level, so you can plan your visit and make sure you see all the best exhibits.
Make sure to save some extra time to head outside before or after your visit to play, slide, and explore at Martin's Park playground, and if you want to make a full day of it, explore all that the surrounding Seaport neighborhood has to offer!
Boston Children's Museum Highlights

Look for the Hood milk bottle—Boston Children's Museum is right there! Photo courtesy of the Massachusetts Office of Tourism
Level One
New Balance Climb: Boston Children's Museum has an open concept and the focal point is a climbing structure that stretches the full three floors—which is where your kiddos will beg to start. Kids start their daring climb on the first floor and wind their way up three stories, while parents can follow along via the stairs. But be warned—once your climbers are inside, there is only one emergency exit on the second floor manned by museum staff and all kids that climb up, must climb down, there is no exit at the top.
Science Playground: Once you've conquered climbing, a visit to the Science Playground is a must, where bubbles and balls are a huge hit. Blow, swirl, wave, and pop bubbles in a room literally filled with tables of bubble solution. Kids can experiment with different tools to see how big or small they can make their soapy masterpieces. Make sure to warn your excited bubblemasters to walk, not run in this room, because it gets super slippery. Next door, the Raceways is where you may spend most of your day if your littles have a passion for all things round. Golf balls are abundant in this room filled with hills, loops, tracks, and launches for kids to experiment with. The investigate area wraps up this section with various ways for budding scientists to use their senses to discover and learn. This ever-changing exhibit may offer a puzzle one week and natural objects to explore the next, making it a must-visit for even frequent museum-goers.

Pair up to produce some Kid Power!
Kid Power: If an endless amount of energy is your little one's strength, make sure to visit this area where kids can literally use their bodies as power! Ride bikes to create energy or jump on a seat to get the ball moving. This exhibit is all about healthy lifestyles, so your little athletes can also shoot some hoops and even get in some indoor rock climbing during their visit.
Kid Stage: Throughout the day, the museum offers short 15 to 20 minute shows in the theater. The museum will announce show beginnings over the loudspeaker so there is no need to plan in advance.

Kids use real (but safety checked) tools at Johnny's Workbench. Photo courtesy of Boston Children's Museum
Level Two
Johnny's Workbench: For any kid that is constantly asking to borrow your tools, this exhibit is the place to hit. Kids can throw on their work googles and actually turn a hand drill and operate a handsaw!
Arthur and Friends: This may be the favorite place for both first-time visitors and museum regulars. In this land of make-believe, straight from the beloved stories of Arthur and Friends, kids can take flight on an airplane, serve up a meal in the kitchen, play doctor, have a backyard sleepover, and much more.
Countdown to Kindergarten: Whether your kids are about to enter kindergarten or a few years out, this station will get your little students excited about school. Kids can take their first bus ride and practice skills like reading and writing at different stations. The museum also offers daily activities in this area.
The Common: This giant room is a gathering place for fun games and exploring as a group. Challenge your kiddos to a giant game of checkers, play musical chairs (with chairs that actually play and stop music), create color patterns on the wall, and more.
Peep's World: While this room has tons of fun ways to explore, the major attraction is the huge water table. Designed like a river, kids can open and close dams, send toy ships off waterfalls, and more. Make sure to throw your explorers into one of the waterproof aprons to save yourself from a soggy trip home. Along with the water table, kids can also conduct experiments to learn about shadows and play with giant blue building blocks.

This Bobcat certainly looks and feels real at the Construction Zone.
Level Three
Construction Zone: If your little ones go nuts when you pass a construction site, they're going to love this exhibit. Designed to look like an active building site, kids can operate cranes and drive trucks around a toy-sized construction site. Throw on your hard hats and protective glasses and climb aboard a real Bobcat, operate a jackhammer, and climb along a "steel walk".
Boston Black: This exhibit takes you through Boston neighborhoods. Go shopping at the Dominican store, learn about different hairstyles and ideas of beauty at John Smith's Barbershop, and dance to the Cape Verdean beat at Café Sodade. Kids learn about race, ethnicity, identity, community, and the city they are growing up in.
Explore-a-Saurus: From a life-sized animatronic dinosaur to three-dimensional bone puzzles to piece together your very own prehistoric reptile, this exhibit will wow all the dino lovers out there.
Special Events to Look Out For
STEAM Events: The museum offers hour-long family workshops that are hands-on/minds-on in STEAM (science, technology, engineering, art, and math). Special monthly programs, such as Kitchen Science and Critter Days with Live Animals, and annual events, including National Engineers Week and Chemistry Day, are also regularly offered.
Snowmazing: During the winter months, the museum gets into the holiday spirit with decorations and tons of fun events and activities, including a professional theatrical production of Curious George and the Golden Meatball, an indoor skating rink, and holiday concerts.
Things to Know Before You Go to Boston Children's Museum
Admission is $20/person; children under 12 months are free.
Plan on going more than a few times in a year? Family memberships will save you money if you plan on making this museum a regular stop.
While there are many restaurants in the area, the museum itself does not offer any food for purchase inside the levels, so plan ahead. Food and beverages are not allowed in the museum, but they do have a cafeteria-style room on the first floor to dine in. Nearby, we love to eat with kids at the Barking Crab or Legal Seafood Harborside, one of our favorite restaurants where kids can play while you eat.
If you're driving, the museum offers discounted parking rates with certain garages, make sure to validate your parking tickets before leaving.
The museum is currently working on their Play Space exhibit designed just for children 0 to 3 years old. While this exhibit is closed, there are pop-up play experiences throughout the museum designed just for the little visitors​.
Make sure to check the museum's calendar of events for special happenings and exhibits.
Photos by author, unless otherwise noted