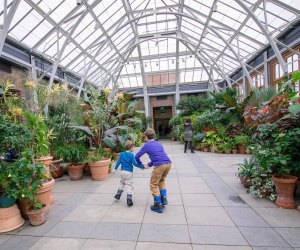 Indoor Gardens Where Boston Kids and Families Can Escape Winter
Could your family use an escape from the New England chill? A warm, green space is closer than you may think. Several fabulous indoor gardens around Boston keep their greenhouse and atrium doors open throughout the winter. With controlled balmy temperatures—be sure to bring a bag for stashing ski jackets!—these sunlit spaces feature exotic plants and animals as well as plenty of space for children for roam, discover, and daydream.
For more ideas for keeping kids busy on the coldest or wettest days, check out our indoor fun guide, follow our Facebook page, and subscribe to our weekly newsletter—it's free!
Isabella Stewart Gardener Museum—Boston
The main attraction of this art and gardening museum is the outdoor European courtyard, visible from many of the art galleries, but you can get your plant fix indoors here, too. The Dorothy McGee Greenhouse is filled with plant species both fragrant and exotic, like a night-blooming cactus. Don't miss the Chinese Loggia, filled with sunlight, plants, and historic Asian art and sculpture. Best of all: Children and teens under 18 are always admitted for free.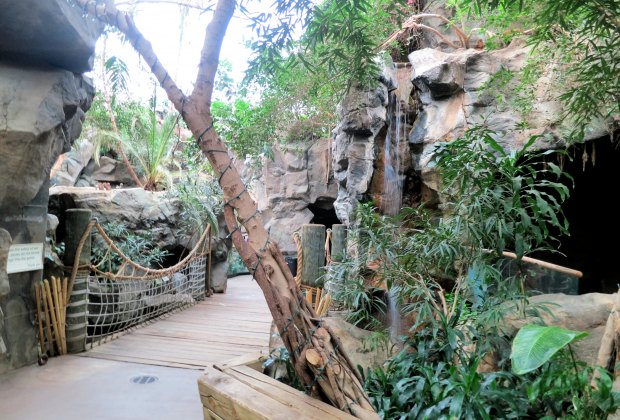 It's always unseasonably warm in the Tropical Forest at Franklin Park Zoo. Photo courtesy of Franklin Park Zoo
Tropical Forest and Bird World at Franklin Park Zoo—Boston
Set at a constant 72 degrees and plenty humid, Franklin Park Zoo's Tropical Forest features winding pathways surrounded by waterfalls, plants, and an array of rainforest-dwelling animals, including gorillas, anteaters, and several snake species. Park at the zoo's Gorilla entrance and stop by Bird World before or after your visit to the Tropical Forest. Kids love spotting birds in the trees and rafters, and imitating the coos and chirps that echo throughout the grand old building. You pay regular zoo admission to enter both attractions.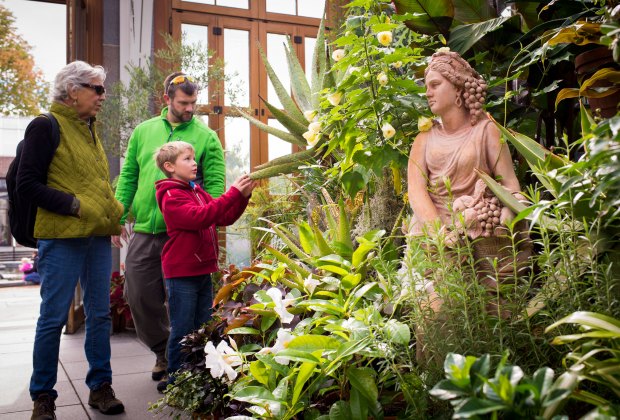 Children can get up close to interesting plants at the Tower Hill Botanic Garden. Photo by Troy Thompson
Tower Hill Botanic Garden—Boylston
Tower Hill Botanic Garden has plenty to offer visitors during winter months, even after its spectacular annual holiday light display is dismantled. You'll want to visit The Orangerie, an 18th-century-style greenhouse, and The Limonaia, which features winter blooming, temperate and subtropical plants from October through May. If you're up for an outdoor adventure: Visit the Winter Garden, a showcase for plants that are at their best during the winter months, anchored by twin bronze turtle fountains in the center of the courtyard. You can also strap on your snow shoes or skis and explore the Garden's trails. Admission is always free for children under age 6.
Lyman Estate Greenhouses—Waltham
Soak up history and horticulture at the Lyman Estate, home to some of the oldest greenhouses in the U.S. There are four greenhouses on the property, so a visit entails a good walk (perfect for getting energy out). Some highlights of the collection are rare orchids, camellias, grapes, and citrus plants. If you have a little green thumb on your hands, you can pick up gardening supplies in the "sales" greenhouse, including high-quality orchid growing kits. Admission is always free.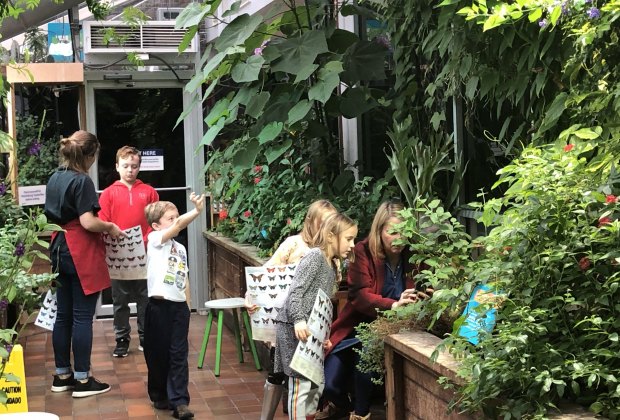 Butterfly Garden at the Museum of Science—Boston
Tucked away on the second floor of the Museum of Science, the butterfly garden requires timed entry tickets, which makes a visit feel like a quiet, even magical respite from the hustle and bustle. There are dozens of extraordinary butterfly species flying about the warm conservatory overlooking the Charles River, and a staffer is always on hand to answer children's questions about the winged creatures and their habits. If you're lucky, a butterfly might even land gently on your shoulder or hand while you visit. Equally fascinating to my kids are the exotic insects in tanks just outside the conservatory, from stick bugs to scorpions. An extra fee is required on top of general museum hall admission.
The Butterfly Place—Westford
Open from Valentine's Day through Columbus Day, The Butterfly Place is always kept around 85 degrees, so New England butterflies and tropical species from all over the world can flying freely in a natural habitat. You may also encounter koi fish and quail birds, and there is a staff member always available to answer questions at the "show and tell bench". There are also exhibits where you can see eggs, caterpillars, cocoons and chrysalides. Consider picking up a Butterfly Hatching Kit at the gift shop so you can create your own habitat at home—a fun activity to kick off springtime (it's coming soon—promise!)
Originally published February 2013