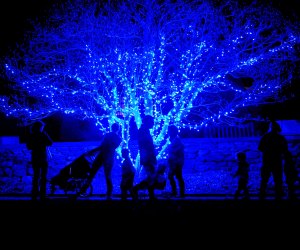 Where To See Holiday Lights In and Around Boston
Sure, not everyone goes in for all the traditions and tchotchkes that are associated with the holiday season. But we don't know anyone—young or old—who isn't delighted by winter wonderlands filled with lighted displays, twinkling trees, and sparkling scenes. We've rounded up some of the best light displays in or around Boston, from newer sensations like Blink!, downtown, to the storied La Salette Shrine, south of the city. Whether you venture out to a dazzling display or just drive around to these spectacularly decorated neighborhood homes, set aside an evening, bring a thermos of cocoa, and experience some magic as a family.
ZooLights at the Stone Zoo—Stone Zoo, Stoneham
Get into the holiday spirit by strolling along tree-lined paths lit by thousands of twinkling lights. Visit Yukon Creek with its bald eagles, a North American porcupine, a gray fox, and arctic foxes. Children meet Stone Zoo's reindeer up close during the nightly photo opportunities and can visit with Santa, who awaits their arrival in Santa's Castle.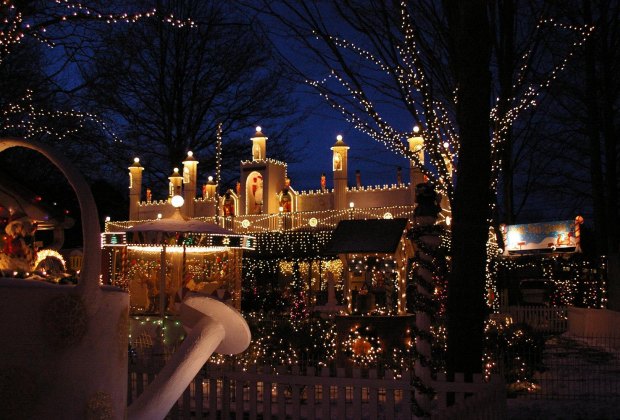 ZooLights at Stone Zoo is an annual favorite. Photo courtesy of Zoo New England
The Enchanted Village—Jordan's Furniture, Avon
This free holiday tradition lives on. Once called the Enchanted Village of St. Nicholas, the holiday display was created in 1958 for Jordan Marsh Downtown Crossing. It has passed through City Hall Plaza (late 90s) and the Hynes Convention Center (2006-2009), and now is at Jordan's Furniture, where it has been restored and on display. The surviving collection includes 59 mechanical figurines and 18 vignettes. FREE
LITE, the Laser Imagination Theater Experience: Commissioning the country's foremost experts in laser technology, Jordan's Furniture has developed an amazing, one-of-a-kind arrangement of high-powered, solid-state lasers and Hollywood-style special effects. Come sing along, tap your feet, and blow your mind with this energizing musical tribute to the season. ($ admission for LITE; only the Enchanted Village is free.)
Winter Reimagined—Boylston
Families can marvel at glittering light displays indoors and out at Tower Hill Botanic Garden, with fifteen miles of lights, decorated trees, fire-pits, thousands of handcrafted ornaments, children's activities, live music, and more. This year, tere are Day Light and Night Light experiences, both exploring the theme of patterns in nature.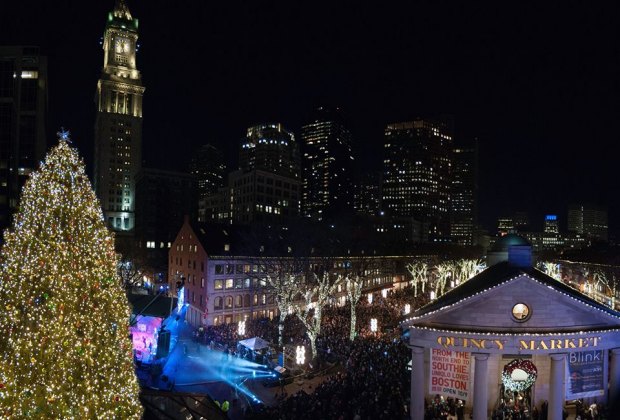 Blink! is a feast for the eyes and ears, downtown. Photo courtesy of Faneuil Hall Marketplace
Blink!—Faneuil Hall
Blink! is a free, state-of-the-art LED light and sound show in which over 350,000 LED lights are choreographed to the music of the Holiday Pops. The 85-foot fir tree in the middle of it all is the biggest in the Northeast. There are five shows each night; you can do some holiday shopping in the Marketplace before or after catching the light show.

La Salette Holiday Lights. Photo courtesy of Our Lady of La Salette
La Salette Shrine Lights—Attleboro
The La Salette Shrine lights have been shining each year at Christmastime since 1953. Visitors can see angels, snowflakes, the Three Kings, the Peaceable Kingdom and more lit up in over 300,000 lights (nearly a third of them are energy-efficient LEDs), free of charge. There is also the Outdoor Creche of Bethlehem with Clopper the Christmas Donkey and concerts with Father Pat and various artists.
lluminations Tour—Somerville
Somerville residents decorate their homes with festive strings of lights and collections of holiday figurines, transforming our cold winter nights with a blaze of light and beauty. In celebration of this community expression, the Somerville Arts Council conducts the Illuminations Tour, a 45-minute trolley ride featuring the city's brightest displays. Tours leave from Somerville City Hall where coffee, hot chocolate and cookies are served. There are also craft activities for children and live music. Tickets go on sale December 2, 2018 and sell out very quickly.
Expect Christmas train rides, Santa sightings, and millions of twinkling lights in Edaville.
Festival of Lights—Edaville, Carver
Edaville is transformed into a winter wonderland of holiday delights for the Christmas season. Passengers can relax comfortably in warm and dry coaches while riding through a spectacular holiday setting featuring an explosion of lights. Plus, enjoy an array of vintage amusement rides and a visit with Santa in one of the indoor play areas.
Winterlights—North Andover and Stockbridge
New this season, two Trustees properties featuring magnificent gardens will shimmer with thousands of holiday lights. Along with illuminated paths and treelines, the Stevens-Coolidge Place in North Andover and Naumkeag in Stockbridge will also feature weekend performances and family activities.
Post published Nov 2013; updated Nov 2014, 2015, 2016, 2017, 2018