Top 10 Things To Do at the EcoTarium, the Interactive Science Museum for Kids Near Boston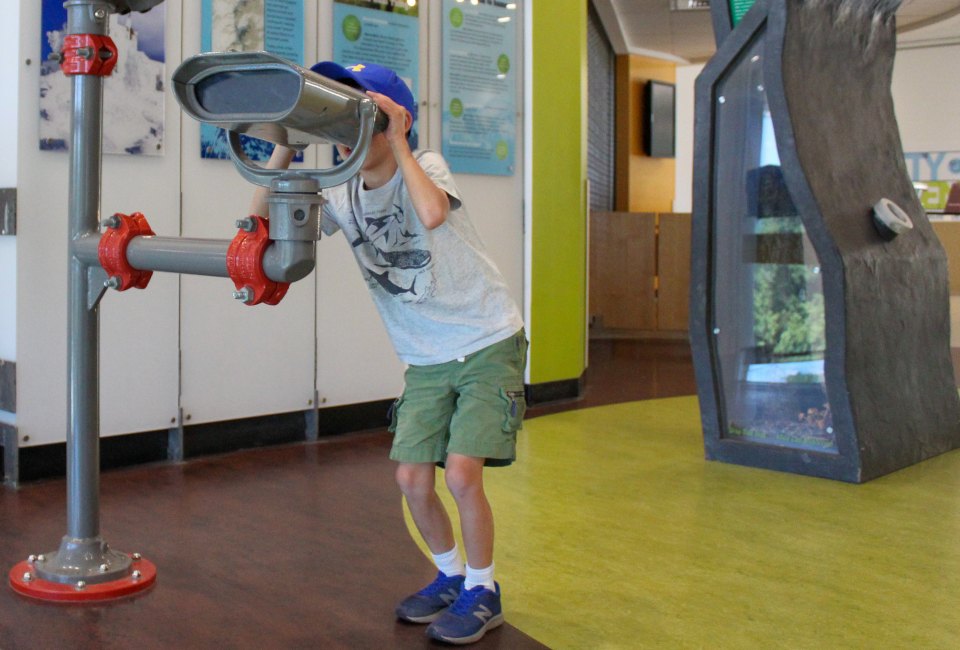 10/15/19
- By
Caitlin Dowling
Spoiled as we are by world-class museums in Boston, it can be easy to overlook smaller, suburban spots like the EcoTarium Museum of Science and Nature in Worcester, MA. But a recent visit to the EcoTarium proved that this unique science museum belongs on every Massachusetts parent's must-visit list. Just a short drive from Boston, the museum offers both indoor and outdoor activities, including interactive exhibits, live animal habitats, nature trails, and more. It's ideal for a day trip, but if you have limited time, we'd recommend hitting these 10 exhibits—plus one bonus seasonal activity (think: bubbles!)
Got super curious kids? Check out our guides to the Museum of Science, Boston Children's Museum, Discovery Museums of Acton, and more in our Boston Museums Guide.

Kids can explore "Mount Washington"—indoors! Photo courtesy of the author
Interactive Indoor Exhibits at the EcoTarium
1. Mount Washington and the Hurricane Simulator: Right at the museum entrance on the top floor, you'll encounter your first exhibit. Kids can "drive" up Mount Washington with a virtual screen, explore weather patterns, and attempt to climb an indoor rock climbing wall. But by far the biggest draw here is the Hurricane Simulator. Hop into what looks like a phone booth to feel hurricane-force winds—if you dare! Beware, the wind is legit, gradually building up to 75 mph, and younger kids may not like it, but you can hop out at any point.
2. City Science: After climbing up a mountain, it's time to climb down a flight of stairs—there are elevators if you're rolling with a stroller—to the middle level, featuring the 2,500 square foot exhibit, City Science. Inspired by the city of Worcester, this exhibit is super interactive, and if you've got a little one that likes to push buttons, this is where you will spend lots of your time. Kids can use materials to build bridges and test how they hold up by pushing buttons that simulate trains, cars, and trucks; or layout different sounds (honking horns, dogs barking, people talking, etc) on a touch screen timeline to create the noises of the city or country, control stoplights to test traffic patterns, or climb underground to check out city plumbing.
3. Alden Digital Planetarium: For an additional cost ($6 person) you can take a journey to outer space during your visit. The EcoTarium partners with National Geographic to offer an out-of-this-world experience, using images from NASA and the Hubble Space Telescope to create a 3-dimensional solar system. Showtimes vary so be sure to check the museum calendar the day you visit.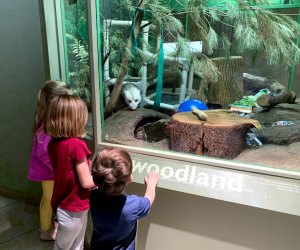 Get a glimpse of critters in their habitats in this indoor animal encouter area. Photo courtesy of the author
4. Animal Encounters and Live Programs: Also on the middle floor is a room where your animal lovers will have a chance to get up close to some of the museum's residents. Be sure to check the calendar, because sometimes, EcoTarium educators will bring out an animal for museum-goers to learn about and visit with up close.
5. Preschool Discovery Area: Down another flight of stairs, or quick elevator ride, to the lower level is an area designed for the littlest of explorers, ages 6 and under. Filled with pint-sized play structures to climb and slide on, an area to pretend to be a wildlife keeper, and a reading nook, this enclosed area is the perfect place to let your kids explore and play while you grab a seat and relax.
6. Water Planet: Finally, on the lower level is yet another exhibit jam packed with interactive elements to teach kids about all things water, from why some planets have water and others don't to how much water it takes to make things we consume to the different water habitats of animals. This area even has live animals! See the difference between turtles that live in ponds versus lakes, and try and spot the possum.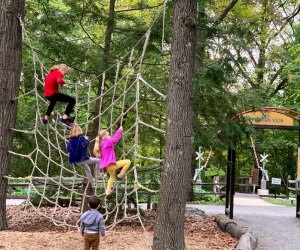 Kids can get their energy out before or after the museum visit. Photo courtesy of the author
Fun Things To Do Outdoors at the EcoTarium
7. Live Animals: Doors from the lower level will take you outside to continue your museum experience—and trust us—there's plenty more to see. While snapping a pic with Siegfried the giant Stegosaurus right outside the door is a must, the living animals that call the EcoTarium their home are the real draw outside. Visit with bald eagles, owls, a red fox, river otters, mountain lions, a porcupine, and flying squirrels.
8. Nature Explore Outdoor Exhibit: There is also a play area filled with playground equipment for big and little kids, a sandbox, water toys, and giant musical instruments. This a great spot to blow off any extra energy before you hop back in the car.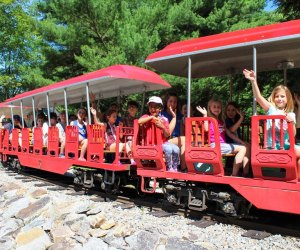 9. Explore Express Train: All aboard! For tiny train lovers, a ride around the EcoTarium grounds on their open-aired train is a must. The ride takes about 12 minutes and is an additional $3 per person—you do not need to purchase train tickets in advance, but simply pay where the train boards. The Explore Express Train runs daily, weather permitted (it will not run in the rain or when temperatures drop below freezing).
10. Scenic Paths and Trails: If you have time for some additional exploration, there are three trails your family can walk along—try spotting insects, birds, and other wildlife along the way!
11. Bubbles: This seasonal exhibit, open from May through September, is a bubble lover's dream! Create gigantic bubbles, stand inside a mega bubble, and create different shaped bubbles. Kids love this outdoor exploration of shapes.
Things to Know Before You Go to the EcoTarium
Admission is $19/adult; $14/child ages 2-18; children under 2 are free.
This museum is super stroller friendly and there are exhibits for all ages, so bring your big and little kids.
The EcoTarium is open Tuesday through Sunday from 10 am to 5 pm. The museum is closed on Mondays.
One weekend a month, visitors that show a Bank of America or Merrill Lynch Debit card get in for free.
There are ever-changing temporary exhibits so make sure to check the events calendar for special happenings and exhibits.
Places featured in this article:
Click Here to Sign Up!