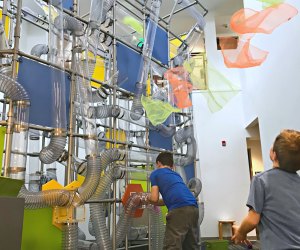 All-New Discovery Museum in Acton—Now Open!
We know how lucky we are in Boston to have the Science Museum, the Boston Children's Museum, and the EcoTarium to inspire and engage our kids in all things STEM. But with the brand-new renovation of the Acton-based Discovery Museum, re-opening this weekend after an eight-month-long hiatus with a free celebration for children, we can now boast of yet another world-class family museum within a short drive of the city. After a sneak-peek visit with my two sons, 9 and 6, I'll go even further to say that this might be the most uniquely engaging science outing my kiddos have ever experienced—and a must-do for Boston kids.
Two Museums in One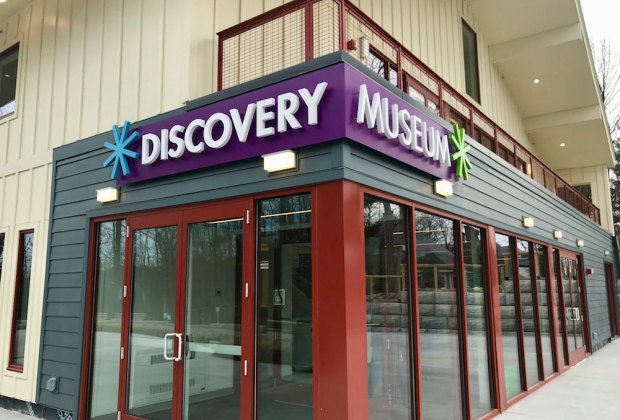 Local parents will recall the "old" Discovery Museums, which were split into two parts: a charming (but cramped) Victorian house that was best-suited for preschoolers, and a small science-based museum that was up the hill. When planners started conceiving of renovations in 2009, they decided that it would be best to combine the two facilities, but felt it was important to retain old favorites from the Victorian house. The new, two-story museum has an innovative first floor full of new features and a second story featuring a remodel of the much loved "Bessie's House" from the former building.
Best of all: The museum is completely interactive and ultra-accessible, so designed for kids of all ages and abilities in mind. There are few signs, so children are encouraged to test the water, sound, and other features using their own instincts and ingenuity. Ladders are swapped out for ramps, stairs, and elevators, so differently abled children are, for the most part, able to reach the features the same way as other kids.
First Floor: Color, Water, "AirMaze", and Building Blocks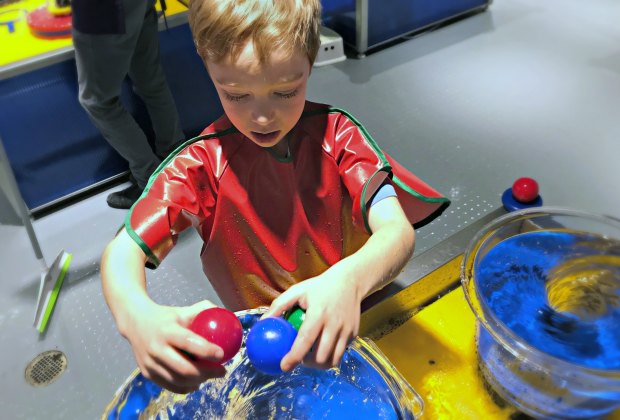 The first thing you notice about the place is how light-filled it is, which is refreshing for a museum. After we checked in, my kids immediately zoomed to a small nook attached to the lobby. It was the Light & Color room, featuring several small kiosks where children can explore prisms, shadows, and more. Next, my sons discovered the Water Room—and boy, was it hard to tear them away. There are a handful of carefully designed water tables that take hydro-play well beyond what you could do with spoons and ladles in your own home (and some other museums). There are containers with funnels in which balls get sucked into the middle, and a floor-to-ceiling spout that amazingly suspends balls in the air. Maybe most engaging of all was the slanted table with Legos that kids can manipulate to create dams.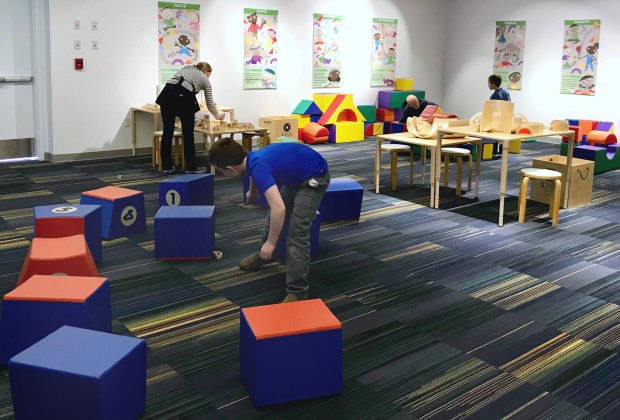 Farther down the hall, there was a Sound exhibit—wonderfully low-tech, with things like PVC pipes and flip-flops to encourage music-making—a heat-sensor screen that shows kids where their body heat is located, a huge Amethyst geode, and the 1,500-square-foot Changing Exhibits room. The current exhibit is, in my mind, a keeper: a space devoted to building and engineering, complete with large plastic and foam blocks, small manipulatives, and even thematic favorite books, like the Rosie Revere series.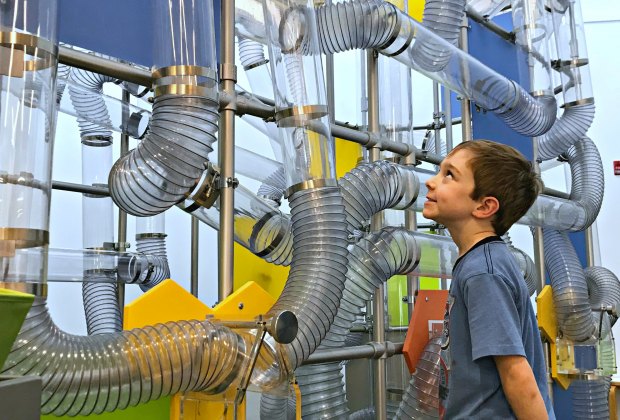 But my kids' number-one interest was with the jaw-dropping AirMaze, which sucks in lightweight objects (foam balls, scarves, etc.) and spits them out, to the delight of all viewers (adults included!) surrounding it. It's a blast to see how fast the objects are sucked through the maze and where they emerge.
Second Floor: Imaginative Play, Physics, and Art
After almost an hour of play on the first floor, my boys couldn't believe their luck when told there was an entire second floor—and part of a third. They had to bypass a centrally located, airy and bright Brain Building Together room designed for the under-3 set, and complete with a nursing room. But next to it was a reimagined "Bessie's House" from the old museum, consisting of a whimsical train station, diner, a spot for Teddy Bear tea, and, my kids' favorite, a cozy campfire space with a tent where you can make shadow puppets and even a mini-treehouse with a slide.

Beyond this imaginative play zone, there's a large section called DaVinci's Workshop, meant to inspire kids to combine art and engineering the way the old master did. There's a replica of his flying machine and a vertical wind table where kids can design and try their own. There's also a roomy space with loads of art materials where children can tinker around with other designs.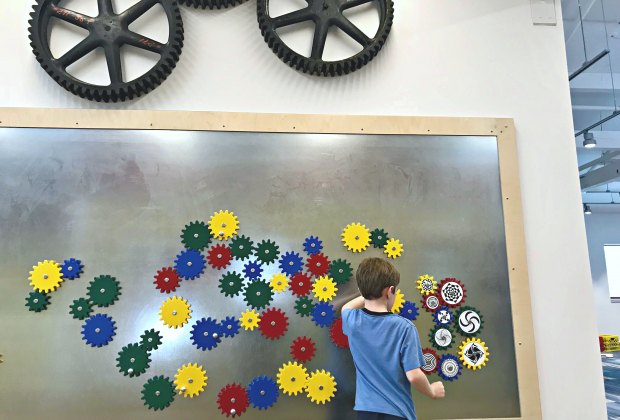 Rounding out the second floor are exhibits devoted to gears, sand play, magnetism, simple machines, math, and more.
Third Floor: The Big Ship is Back!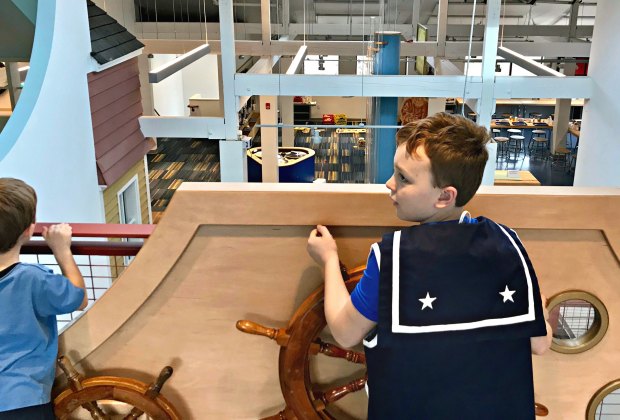 Just next to Bessie's is access to a tiny third floor that will really bring out nostalgia for all former Discovery Museum fans: The Ship Room. With a captain's wheel, costumes (including the cutest little mermaid tail you've ever seen), a rowboat, and even a secret portal revealing a spooky skeleton, this room totally entranced even my 9-year-old. You can also get a pretty sweet view of the entire museum from the ship's "helm."
Outside Fun: Discovery Woods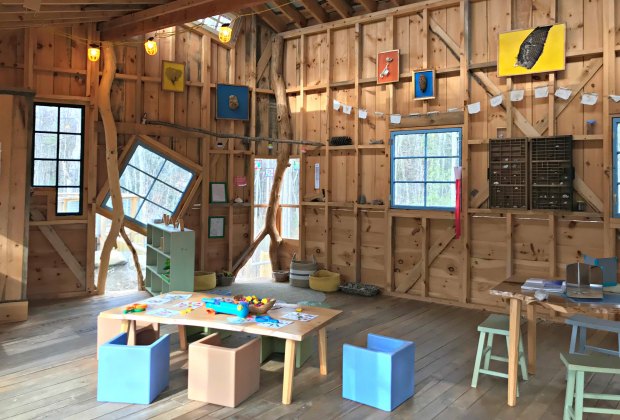 Still got energy? Located a stone's throw from the museum, Discovery Woods, which opened recently as the first phase of the Discovery Museum renovation, is an all-seasons, outdoor wooden wonderland for kids. Designed by TV's "Treehouse Guys," it features wheelchair accessible ramps throughout, a big swing, log teepees, rope ladders, a giant treehouse with craft materials, and more. My children explored every nook and cranny of this whimsical space before, reluctantly, climbing back in the car—brain- and body-tired—to head home.
What to Know Before You Go...
Hours: After the two-day opening celebration on March 3-4,from 9am to 4:30pm, the Discovery Museum and Woods will be open Tuesdays through Sundays from 9am to 4:30pm during the school year, and during the evenings until 8pm on the first Fridays of the month. During school summer vacation, the museum and woods will also be open on Mondays, and all summer Friday evenings are free. Planning to come at opening hours or later in the day is a smart idea to avoid crowds. There are also special extra hours for kids with certain differences, such as autism and hearing impairments.
Cost: Adults and children, $14.50 each; babies under 1 and teachers are always free. Everyone is also granted free entry on the first Fridays of the month from 4:30pm to 8pm.
Amenities: There are plenty of roomy bathroom spaces close by the exhibits, with changing tables. There is not a restaurant or cafe on the grounds, but the small gift shop sells drinks and snacks, which can be consumed (along with food from home) on colorful benches in the lobby or in the outdoor picnic area during nice weather.