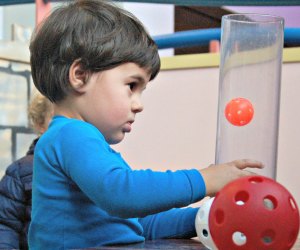 10 Must-See Exhibits at Boston's Museum of Science
The Museum of Science is a paradise for pretty much any curious kid, which is why, in a city packed with brainy attractions, the MOS is probably our crown jewel. Many of the exhibits are specifically aimed at children, with lots of opportunities for fun and hands-on learning, but parents are certain to learn something new when visiting the MOS. The catch: With 130,000 square feet of exhibit halls, it's nearly impossible to soak up every part of the museum, so it's best to go with a game plan in mind. While not every family is going to agree on their favorites, we're pretty certain you can't go wrong by hitting these highlights—none of which, by the way, require extra money beyond regular admission fees.
Level One
1. Got preschoolers? Consider starting your MOS journey on Level One, which is home to the Discovery Center, which opens at 10am and tends to reach fire code capacity by 10:15. (After that, you have to put your name in and wait for openings.) The Discovery Center advertises itself as a space for infants to eight year olds, but in my experience, it seems to be more popular with the younger half of that age set. The Discovery Center has a gated area specifically for non-walkers, live animal exhibits, animal skeletons to assemble, and several different experimental stations. My son's current favorite is the series of modular pipes that you can rearrange to suck ping pong balls up to be spat out somewhere else.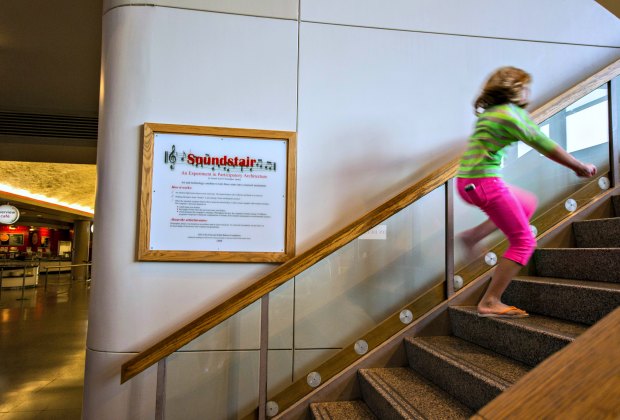 Make some music on the Soundstair exhibit. Photo by Kevin Jarrett/CC BY 2.0
2. Just outside the Discovery Center, you'll find a small feature of the museum that never fails to delight: the Soundstair. Kids of all ages will scamper up and down this musical staircase that uses photoelectric sensors to detect movement. As you go up and down the stairs, it plays musical notes.
3. While some of the more energetic tykes if your group can tire themselves out on the Soundstair, kids (and parents!) needing a breather can spend some time pondering the audiokinetic sculpture right next to it. Encourage your child to follow one ball through the entire circuit, as it slides, jumps, and rolls through a series of obstacles that are perfectly formed to use the power of gravity to keep traveling balls in motion.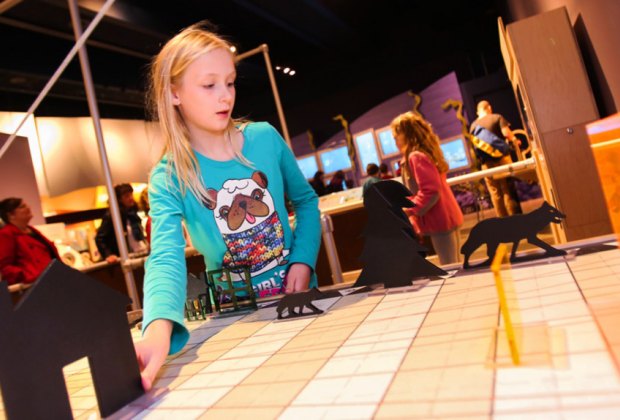 There are lots of puzzles to solve at the Math Moves exhibit. Photo by Nicolaus Czarnecki/Museum of Science, Boston
4. Some of the best exhibits are ones where kids and grown-ups can puzzle over problems together. At Math Moves, kids can use their bodies to explore mathematical concepts of ratio and proportion, and parents can brush up on some number concepts that you might not have pondered since middle school. With enormous chairs, shadow play, and blocks there are lots of fun ways to explore math.
5. You can imagine flying to the moon in a scale model of the Apollo Command Model in the To the Moon exhibit--crawl on in and watch footage of the moon landing.
6. Check the museum's daily schedule before you go, because as long as you have kids who aren't completely spooked by dim lights and loud noises, you'll also want to get a chance to see real lightning. In the Theater of Electricity, which has timed shows throughout the day, families can watch museum staff sit in a metal cage as it is repeatedly struck by lightning.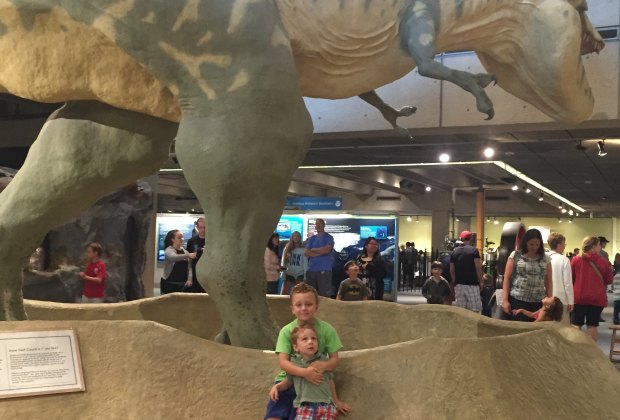 Gaze up at the life-size T Rex model in the dinosaur exhibit.
Lower Level
7. While the bright colors of Level Two will beckon after you finish the first floor, don't skip a stop on the Lower Level, where transportation-obsessed children can look at models of cars and trains throughout history in the Machines and Transportation exhibit. I never knew there were steam powered cars! The models are neat, and the placards attached to them are interesting, but note there are no hands-on activities in this section.
8. Across the way from the transportation exhibit is the Dinosaurs: Modeling the Mesozoic exhibit. I have yet to meet a kid who doesn't love dinosaurs. The Museum of Science has a Triceratops skeleton and a full-size model of a Tyrannosaurus Rex to wow small children with their enormous size, plus a number of smaller model skeletons along with comparisons to modern birds and reptiles.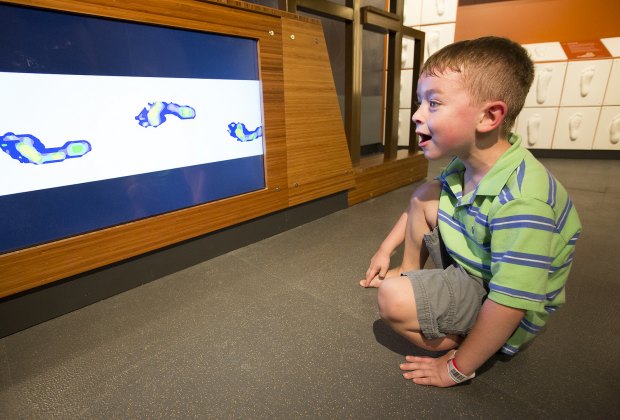 A young visitor delights in seeing the heat map of his foot in the Hall of Human Life. Photo by Michael Malyszko/Museum of Science, Boston
Level Two
9. Level 2 is home to a really fantastic, new-ish exhibit: The Hall of Human Life, where you can see a replica of a Homo erectus fossil, consider controversial questions of human biology and genetics (Should you have your baby's DNA sequenced?), and learn about your body and health. This is probably the most interactive of the museum's exhibits, with more than 70 ways to participate in generating knowledge. When you enter the exhibit you can get a wrist band with a bar code on it. Scanning that barcode allows you to measure things like the efficiency of your walk (I apparently burn 104 calories walking, which more efficient than I expected given that I am 8 months pregnant), the size of your instep, and more.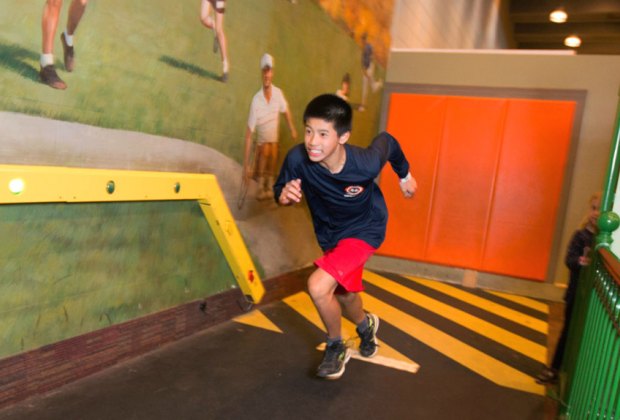 The Science in the Park exhibit will test your endurance. Photo by Nicolaus Czarnecki/Museum of Science, Boston
10. Science in the Park is a great exhibit for kids with a lot of energy to burn. Located on Level 2, the exhibit is essentially an educational playground. Kids can learn about balance, speed, and leverage while running down a lit up track, swinging on the swings, or balancing with a friend on a teeter totter. Or you can skip the lesson and just let them run off their energy before returning to other, less active, areas of the museum.
In addition, the museum has live presentations on a range of topics including live animals, new scientific breakthroughs, and science as magic. For preschool children, there is even a live animal story time. Throughout the museum are drop-in activities about engineering, investigation, and laboratory science. There's also an IMAX theater and the Charles Hayden Planetarium, for shows that require additional fees. Be sure to check out the museum's schedule for information on when these presentations and activities occur.
Tips for your visit:
Lockers are available for $1.50. The lockers only take quarters but there is a change machine by the lockers.
You can bring strollers into the museum, but not into the Discovery Center. There is stroller parking outside the Discovery Center. A small, folding stroller is probably best.
The cafe is not the greatest and the prices are, like most museum cafe prices, higher than you would pay for the same food elsewhere. They have a pizza and pasta shop, a burger and sandwich shop, and a taco shop. The museum doesn't seem to mind if you bring your own food though, so that maybe a better option if you want to save some money or just eat better food. The Cambridgeside Galleria Mall is also just an 8 minute walk away; their food court may have more appealing options.
You can nurse anywhere in the museum. If you want somewhere a little quieter you may want to sit in the areas used for presentations if it is during a gap in the presentation schedule.
The museum is located right by the Science Park station on the Green Line and is also a short walk from the Community College Station on the Orange Line. Be aware though that the walk involves going over a long, windy bridge which can be rough in cold weather.
The museum does have a parking garage, but it often fills to capacity at peak hours. The museum recommends arriving early if you want to have parking.
Your local library may have passes for free or discounted admission to the Museum of Science.
Museum Hours: January 1 – July 4 and September 2 – December 31 Saturday – Thursday, 9:00 am – 5:00 pm Friday, 9:00 am – 9:00 pm
Summer Hours: July 5 – Labor Day, September 1 Saturday – Thursday, 9:00 am – 7:00 pm Friday, 9:00 am – 9:00 pm