Fun Things to Do on Boston's Rose Kennedy Greenway with Kids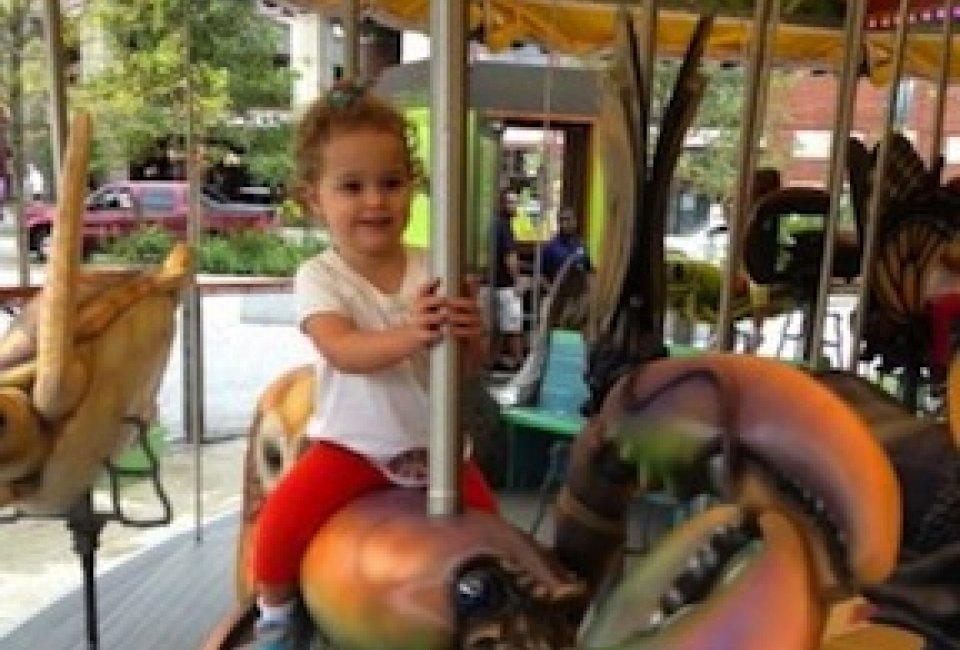 9/10/18
- By
Kristin Quinn
Most likely you've heard of – or even lived through – one of the largest, most complex highway projects ever built in the United States. The Big Dig sent our noisy, polluted highways underground so that the lovely Rose Kennedy Greenway could emerge. It sure took awhile, but boy, am I glad they figured it out! Today, the Greenway stretches the length of the central artery and is nestled in between popular Boston tourist sites like the New England Aquarium and Faneuil Hall. It features gardens, plazas, and tree-lined promenades. Now, as of late August, it boasts a brand new carousel.
We set out on a sunny day for a ride on the new merry-go-round. Along the way, we found plenty of kid-friendly stops to recommend. Here they are, along with highlights from the carousel and a few bonus insider tips.
Kid-friendly stops we recommend:
FEEL LIKE AN ANT... under the Boston Harbor Hotel archway. A massive flags hangs down from the highest peak of the arch; kids love to stand underneath it, or better yet, jump up to try and grab it! Walk a couple feet to the water's edge and check out John Henry's (Owner of the Boston Red Sox) epic yacht.
GET SURPRISED... by the Harbor Fog. This "Steam Machine" is made up of seawall stones placed in the shape of a boat let out billows of fog and lights. The motion of your child's scampering feet activates the fun.
WATCH THE WATER DANCE...with our own little Bellagio. The Rings Fountain provides endless entertainment for all. Now through the end of October bring a bathing suit and race through it at the risk of getting wet!
BE A FOOD TRUCK CONNOISSEUR. My own personal dream (did I mention I'm 9 months pregnant?), choose from a large array of delicious offerings like Baja Taco, Beantown Franks & Spuds, Bon Me Vietnamese (Winner's of Boston's Food Truck Challenge), Cookie Monstah, Roxy's Grilled Cheese, and many, many more.
FOOD TRUCKS NOT YOUR THING? Check out the Granary Tavern directly across from the Rings Fountain. They hand out personal Etch-A-Sketches to keep little hands occupied.
We finally reached the beautiful new carousel, located between Surface Road and Christopher Columbus Park at the end of the Greenway. Don't expect your traditional cast of characters here. Instead, it features creatures from land, air, and sea like grasshoppers, falcons, and even cod. My personal favorite was a giant turtle swimming on its side. My daughter chose the lobster three times in a row, and on the fourth time (yes, I said fourth! ) she opted for the bench featuring a harbor seal. The music was a lot of fun, mixing children's songs with adult-friendly artists like Paul Simon, The Beatles, and even Joni Mitchell's very fitting, "Circle Game."
We went back again the next day, this time with Daddy in tow. It's one of life's small but beautiful pleasures to stand and watch your child wave happily every time she passes you on a merry go round. It just never gets old.
Some Insider Tips:
The bunny with the carrot is the only character that does not go up and down.
Don't try to take your child's picture standing backwards on the moving ride. You will get dizzy.
Apparently it's a big no-no to place your bag on the ride's floor. (No sympathy for a pregnant mama!)
Greenway events for families and kids are all on a handy calendar.
---
Greenway Carousel, located on the Rose Kennedy Greenway, across from Faneuil Hall Marketplace on the Surface Road side and Christopher Columbus Park on the Atlantic Street side. Open Fri-Sun through April 15, when it opens seven days a week for the season. Hours: 11am - 7pm, weather permitting, through Columbus Day.
Places featured in this article:
---
Greenway Caraousel at the Tiffany & Co. Foundation Grove