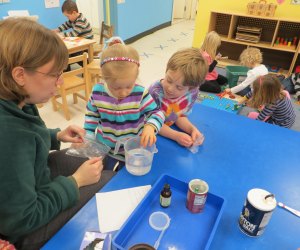 25 Things To Do with Kids on Boston's South Shore in Winter
When I moved to the South Shore from downtown Boston, I was pleasantly surprised by how much there is to do with kids. I figured the list would dwindle significantly once the weather turned cold, but alas, it seemed to actually grow the more I investigated!
Here are my top 25 choices for things to do with kids in the South Shore during the winter, from indoor play spaces and classes for young children to our favorite family-friendly restaurants. No matter where you are around greater Boston, you'll find fun ways to spend a cold day in our Winter Fun Guide.
For more ideas to keep kids busy, check out our winter fun guide, like our Facebook page, and subscribe to our email newsletter.
1. Rock out to a MamaSteph music class—throughout the South Shore
It seems like everyone in this area knows (and loves) local celebrity, MamaSteph. An accomplished musician, singer, songwriter, and entertainer, kids and parents alike are in awe of this one-woman act. Catch free shows at most South Shore town libraries or hire her for birthday party and events.
2. Spend a morning at the South Shore Children's Museum—Kingston
With a new location, the South Shore Children's Museum offers hours of hands-on play while providing a rich American history primer. They are open Monday through Friday 10am to 5pm and Saturday and Sunday 10am to 6pm.
3. Learn at Little Seeds—Plainville​
The whole family will love this open playspace with the coffee and tea bar, extensive play and class offerings, boutique shopping and friendly staff. Drop in for a visit and check out a full review here: Little Seeds.
4. Read, play and shop at the Barnes & Noble—Hingham
Not only do they offer a variety of story times throughout the week, there is a play table in the middle of the toy section and a stage in the children's book section. Plan on spending at least an hour here.
5. Visit the nearby Hingham Shipyard—Hingham
Don't miss the waterfront and even take a ferry! Grab lunch at the famous Wahlburgers, enjoy walking along the docks, seeing the boats, and learning the story of this historic shipyard.
6. Eat at the posh but super kid-friendly CornerStop Eatery—Cohasset
Kids get to use crayons to check off what they want on their own clipboard complete with a container of crayons and drawing book. Pick a protein, veggie, and dessert!
7. Run, Jump and climb at a Gym Dandy class—Cohasset
Gymnastics equipment, bouncy castles, and plenty of toys keep kids of all ages occupied for an hour (drop-in, cash only).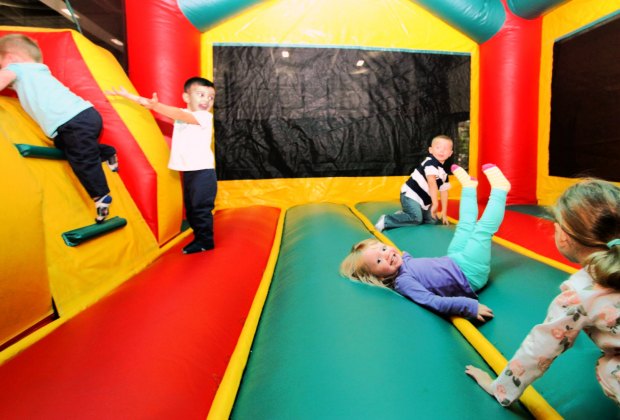 Tots are VIPs at this enormous indoor playground in Quincy. Photo courtesy of Toddler Town
8. Play at The Bay—Quincy
Toddler Town is one of the largest indoor playgrounds South of Boston.
9. Run wild at a recreation center—Hingham
Winter indoor playground is a popular program with ride-on toys, climbing structures and tumbling mats provide energy-burning fun for babies and toddlers. Offered Friday afternoons and Saturday mornings, the cost is $8 per child and there is no preregistration necessary.
10. Check out Kidzone—Norwell
Open play is available at specific times, or host your kid's next birthday party there.
11. Launch at an indoor trampoline park—Norwood
With over 15,000 square feet of connected trampolines forming one giant jumping surface, and angled trampoline walls to bounce off of, Launch will get your whole family off the couch and in the air.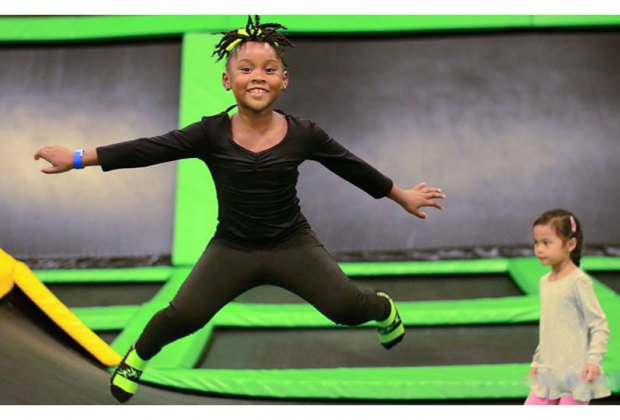 Photo courtesy of Launch Trampoline Park
12. Be part of a New England holiday tradition at Edaville—Carver
If you missed Edaville's Festival of Lights and The Polar Express, join them again when they re-open the park in April.
13. Visit the Pembroke Library—Pembroke
They offer story times, yoga, Frozen sing-a-longs, and even a therapy dog reading program to help children build literary skills and confidence.
14. Take a gymnastics class—Norwell and Rockland
Head Over Heels and South Shore Gymnastics Academy offer exceptional programs for South Shore kids.
15. Learn to roller skate—Whitman
Every Thursday from 10-11:30am, the Carousel Family Fun Center offers roller skating lessons and fun for little ones.
16. Check out open gym time—Plainville
All Around Gymnastics provides a monthly calendar of events. Little ones can mix with older kids at open gym times, and everyone can be use the "in-ground" trampolines, balance beams sized for kids, and ball pits.
17. Listen and play at Music Together classes—throughout the South Shore
This music program offers a large variety of class times and locations. Check out the early childhood offerings.
18. Explore the South Shore Natural Science Center—Norwell
The EcoZone museum is a multidimensional, interactive exhibit area that focuses on the ecosystems of Southern Massachusetts. Vacation week programs are offered.

Kids can make keepsakes and gifts in Braintree. Photo courtesy of Plaster Fun Time
19. Make a work of art (or fabulous mess) at Plaster Fun Time—Braintree
Put on a smock, grab a paint brush, and have some fun!
20. Go indoor rock climbing at Challenge Rocks—Hingham
Open gym time is offered six days a week for kids ages 4 and up—no prior climbing experience required.
21. Play laser tag at Stronghold Ops—Abington
Gather up the crew for a friendly game of laser tag at this 3,000-square-foot, space-themed facility. Children must be at least 7 years old to participate.
22. Make a visit to the Hull LIfesaving Museum—Hull
Explore maritime history at this hidden gem, where a children's loft is full of hands-on activities. Be sure to check out the spectacular view of the Boston Light lighthouse from the cupola.
23. Burn some energy at Altitude-—North Attleboro
Families love Altitude Trampoline Park where kids can jump the day away. Birthday parties can also be booked here for little ones.
24. Hit the lanes at Boston Bowl—Hanover
Who doesn't love a friendly game of bowling? The on-site pub offers a menu full of family favorites. Make sure to stop at the arcade before you leave.
25. Enjoy a game of indoor mini golf at Putt N' Blast—Kingston
No need to wait for warm weather to enjoy this summer favorite. The facility offers an 18-hole, glow-in-the-dark course. Children must be at least 5 years old to play.
Originally published December 2014. Additional reporting by Lauren Saunders, 2020.