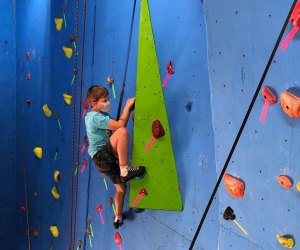 20 Things To Do with Kids on Boston's South Shore in Winter
When I moved to the South Shore from downtown Boston, I was pleasantly surprised by how much there is to do with kids. I figured the list would dwindle significantly once the weather turned cold, but alas, it seemed to actually grow the more I investigated!
Here are my top 20 choices for things to do with kids in the South Shore during the winter, from indoor play spaces and classes for young children to our favorite family-friendly restaurants. No matter where you are around Greater Boston, you'll find fun ways to spend a cold day in our Winter Fun Guide.
For more ideas to keep kids busy, check out our winter fun guide, like our Facebook page, and subscribe to our email newsletter.
1. Hit the slopes for some downhill fun at Blue Hill Ski Resort—Canton
With 12 trails and 4 lifts, this is a great mountain to teach younger skiers some moves. For some extra fun, head to the mountain after dark for some night skiing under the lights!
The South Shore Children's Museum offers hours of hands-on play while providing a rich American history primer. And great news for days when school is off or lets out early: It's open every day.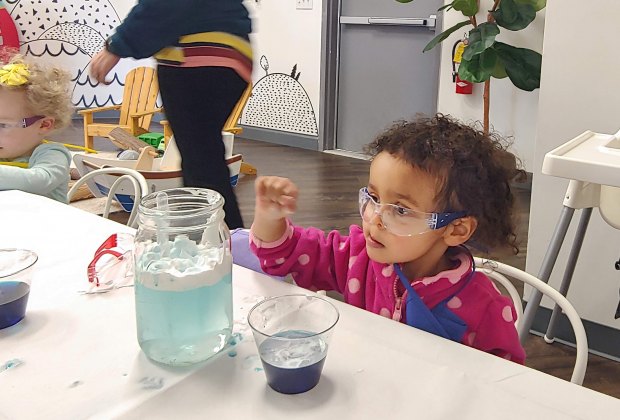 Little Seeds Play Space has hands-on learning fun. Photo by Lauren Saunders
The whole family will love this open playspace with the coffee and tea bar, extensive play and class offerings, boutique shopping and friendly staff. The playspace is open for drop in with a reservation and available to book for private play. Check out a full review here: Little Seeds.
4. Read, play and shop at the Barnes & Noble—Hingham
Not only does this location offer variety of story times throughout the week, but there is also a play table in the middle of the toy section and a stage in the children's book section. Plan on spending at least an hour here.
Don't miss the waterfront and even take a ferry! Grab lunch at the famous Wahlburgers and then enjoy walking along the docks, seeing the boats, and learning the story of this historic shipyard.
6. Eat at the posh but super-kid-friendly CornerStop Eatery—Cohasset
Kids get to check off what they want on their own clipboard complete with a container of crayons and drawing book. Pick a protein, veggie, and dessert!
7. Get wild with a visit to the Buttonwood Park Zoo—New Bedford
2021 update: While the indoor exhibits are closed at press time, you can still bundle up and stroll the zoo ground to visit with the animals. You might even catch a glimpse of the zoo's Asian elephant! Advanced reservations are required.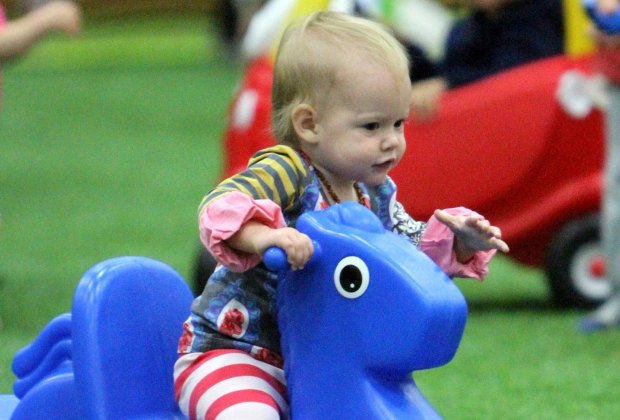 Tots are VIPs at this enormous indoor playground in Quincy. Photo courtesy of Toddler Town
8. Make some barnyard friends at Weirs Farm—Hingham
Book a private visit with some furry residents that call the farm home. While you're there challenge kids to one of the five "reindeer quests" on the grounds.
The Museum has three floors of interactive hands-on exhibits. Blast off into space, discover in the S.T.E.A.M. Lab, create in the MakerSpace and more.
Engage in nature play and search for animal tracks, birds and seals while exploring this riverside area. The Mass Audubon also offers programs for kids over school breaks here.
11. Explore the area's beautiful beaches—Cohasset, Hull, Duxbury, Scituate, Hingham, Quincy
Who says you can't enjoy the beach in the winter? Put on your winter gear and enjoy a much less crowded experience off season. Bring beach toys to play in the sand and collect shells!
2021 update: The museum is open for private tours only right now. You can book your timeslot right online.
Explore maritime history at this hidden gem, where a children's loft is full of hands-on activities. Be sure to check out the spectacular view of the Boston Light lighthouse from the cupola.
13. Hit the lanes at Boston Bowl—Hanover
Who doesn't love a friendly game of bowling? The on-site pub offers a menu full of family favorites. Make sure to stop at the arcade before you leave.
14. Take a gymnastics class—Norwell and Rockland
Head Over Heels and South Shore Gymnastics Academy offer exceptional tumbling programs for South Shore kids.

Kids can make keepsakes and gifts in Braintree. Photo courtesy of Plaster Fun Time
15. Make a work of art (or fabulous mess) at Plaster Fun Time—Braintree
Put on a smock, grab a paintbrush, and have some fun!
16. Check out open gym time—Plainville
All Around Gymnastics provides a monthly calendar of events. Little ones can mix with older kids at open gym times, and everyone can use the "in-ground" trampolines, balance beams sized for kids, and ball pits.
17. Listen and play at Music Together classes—throughout the South Shore
2021 update: Classes are taking place virtually online.
This music program offers a large variety of class times and locations. Check out the early childhood offerings.
18. Go indoor rock climbing at Challenge Rocks—Hingham
Open gym time is offered six days a week for kids ages 4 and up—no prior climbing experience required. It also offers school vacation programs to keep your kids active.
19. Lace up your skates and go for a spin at an indoor ice skating rink—multiple locations
When the weather feels too cold to play outside, grab your skates and head indoors to cut some ice in a slightly warmer environment. Call ahead for open skate times.
This place has it all—rock climbing, arcades, bouncy fun, go karts, mini golf, and more. Spend the day playing at this huge complex.
This post originally published in December 2014. Additional reporting was done by Lauren Saunders, 2020, and Caitlin Dowling, 2021.