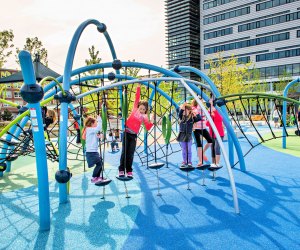 20 Things To Do In Charlestown with Boston Kids
Located on the banks of Boston Harbor, historic Charlestown has become an increasingly popular neighborhood for young families due to its proximity to the city and neighborhood feel. Made famous by several touristy landmarks like the Bunker Hill Monument and Old Ironsides, Charlestown offers plenty to do for kids in all seasons. It's hard to believe this 'hood is only one square mile!
You could spend a whole day exploring Charlestown, but if you want to branch out to the nearby neighborhoods, check out our picks for family-friendly activities in Boston's North End and Seaport/Fort Channel areas, too.
1. Visit the world famous USS Constitution Museum, which is open year round. Make sure to check the website for special events and don't miss the museum shop on your way out. You can climb aboard Old Ironsides, the naval frigate docked nearby, for free.
2. "Don't fire until you see the whites of their eyes!" The Battle of Bunker Hill is in every history book, so join a tour or go on your own. Bring a picnic blanket and enjoy the gorgeous grounds. If you want to climb to the top, make sure to get a pass first at the museum.
3. Sip some brews while the kids play around at The Anchor, Charlestown's new open-air beer garden and public gathering space, open spring, summer, and fall.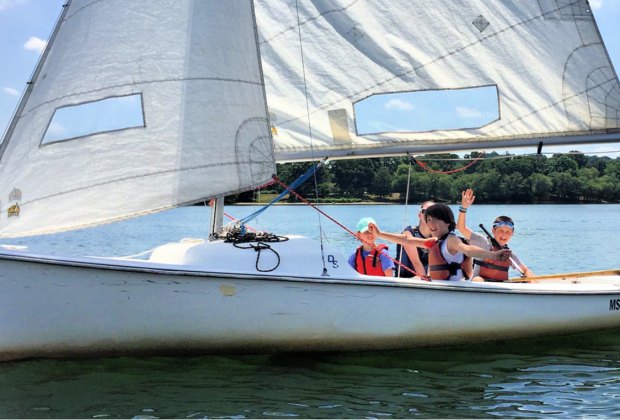 Set sail out of Charlestown. Photo courtesy of Courageous Sailing
4. The Courageous Sailing Club located in the Navy Yard offers instructional classes for kids, or book your own boat and brave the harbor as a family.
5. Pop into the trendy Mockingbird to shop for all things kids! This store carries clothing, toys, and great gifts for new mamas and babies.
6. Throw a line and have an expert teach your kids proper fishing technique with Fishing Frenzy Charters.
7. Grab a snack at a local favorite, Zume's Coffee House. There's a reading nook just for kids, and fun and healthy treats to choose from.
8. Eat lunch at the most historic tavern in America (and Paul Revere's favorite), the Warren Tavern. It was erected in 1780!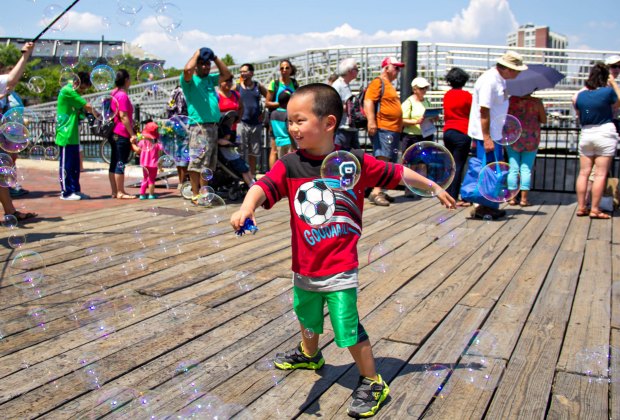 Bubbles blow in the breeze at Harborwalk. Photo courtesy of Boston Harbor Now
9. Stroll the Charlestown Harborwalk, which offers a range of historic, recreational, and natural attractions with beautiful views across the water.
10. Choose from a plethora of playgrounds in the one square mile, including the inclusive playground at Thomas Merino Park.
11. Strap on your baby carrier and work up a sweat at a Mom and Baby Barre class at Asana.
12. Read books in the children's section of the Charlestown Branch of the Boston Public Library. Toddler story hour and events are offered at various times throughout the year.
13. Indulge in some sweet treats at Sorelle Bakery. Along with delicious cookies and cupcakes, this bakery also serves up great breakfast and lunch options.
14. Get to know the Charlestown Mother's Association. They plan amazing events like "Touch a Truck Day," an annual Easter Egg Hunt complete with food and activities, and an epic Halloween celebration.
15. Take a swim class or enjoy family swim time at the Charlestown YMCA.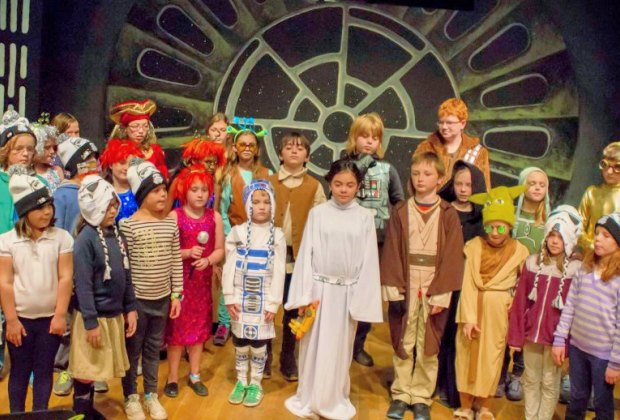 Enjoy a show or theater class in Charlestown. Photo courtesy of Charlestown Working Theater
16. Check out the Charlestown Working Theater. They provide high-quality theater and art classes to youth free of charge.
17. Sing and shake your sillies out at a Little Groove Music & Art class.
18. Don't forget that kids eat free at the Nighty-Nine when the Boston Red Sox win.
19. Visit the Sullivan Square Community Garden, a peaceful buffer between Main Street and Bunker Hill street. Visitors are welcome to explore it through meandering paths.
20. Spend the day playing at Allo, an indoor playground complete with a water playroom and rotating installments for frequent visitors.