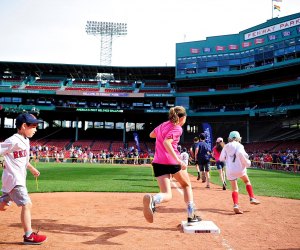 16 Touristy Things Even Boston Kids Love to Do
When out-of-towners visit Boston, they have many boxes to check off their must-see list. But kids are notoriously reluctant tourists, and may not have the stamina to do every stop on the Freedom Trail or spend hours inside a museum. Here's our carefully curated list of specific, unique-to-Boston activities that even local kids love to do again and again.
1. Picnic in the Public Garden. Boston Common and the adjacent Public Garden are both iconic, but for a one-time visit on a nice day, we prefer the charm of the Garden, the first of its kind in America. Take a 10-minute swan boat ride, snap a photo at the Make Way for Ducklings sculpture, buy a balloon animal, and let kids play hide in seek among the willows. Pack some snacks or enjoy provisions pre-ordered from the "Picnic in the Park" menu from Beacon Hill Bistro, just steps from the garden.
2. Run the bases at Fenway. Children enjoy a lot of perks at Red Sox games, but the highlight is a handful of times through the year when ticket holders under 14 (with an accompanying grown-up) can run the bases at Fenway at the end of the game. Even cheap seats during these particular games will be a thrill for kids if they can hit the field afterward.

Tour the harbor, dump "tea," and enjoy a hands-on history lesson at the Boston Tea Party Ships and Museum. Photo by Michael Blanchard Photography​
3. Dump tea into Boston Harbor. At the Boston Tea Party Ships and Museum on Fort Point Channel in the heart of the downtown waterfront area, guests are led on a tour to learn all about the event that changed the course of American history. Kids can feel like they're back in 1773 and even try dumping tea into the harbor just like the patriots did over two centuries ago. Welcome perk: Kids under 5 get in free.
RELATED: 25 Things to Do on the Boston Seaport and Fort Point Channel with Kids

4. See (and taste) "Boston's Little Italy" at a North End Feast. These street fests attract just as many locals as they do tourists on weekends throughout the summer. While each feast varies in size and attractions, they all include food vendors of all kinds, and a parade-like procession through the streets of the North End with marching bands and decorated saint statues leading the way.

5. See all of Boston's major attractions—made of Lego. While there are Legolands all over the world, one thing that makes our local Lego Discovery Museum so special is the wonderfully detailed recreation of the city of Boston, made up of 1.5 million bricks. Kids and parents alike can marvel up close at everything from Gillette Stadium to the Cheers Bar in miniaturized form, and then build, play, take a ride, and see a 4-D original Lego movie inside the colorful facility.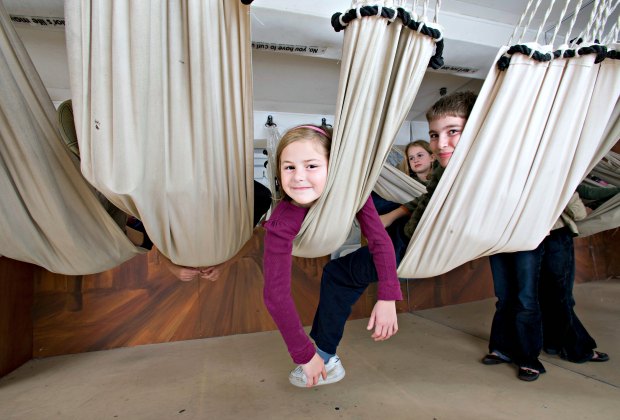 Test out the sleeping hammocks at the USS Constitution Museum. Photo by Greg Cooper
6. Swing in a hammock at the USS Constitution Museum. Kids can take in some history and learn what life was like as a sailor (some of them kids themselves) in 1812. Admission is donation based so it's easier on the wallet than other Boston museums as well.
7. Take a ferry to Spectacle Island. While a whale watching cruise might seem like the thing to do in New England, it can be a long (and pricey) trip. From Long Wharf, families can hop on a 30-minute, ultra-pleasant ferry to Spectacle Island, where a short hike to the harbor's highest point yields some of the best views of the city skyline around. Bonus: Buy a ticket for a sunset clambake and take care of dinner, too.
8. See the seals do tricks at the Aquarium. The New England Aquarium is a kid-favorite destination all the time, but a special highlight is when the harbor seals take to the stage. Multiple times a day, trainers interact with the resident harbor seals and visitors can watch as they dive, catch fish, and play in the water. For an added fee, families with children ages 7 and older can sign up for a session to Meet and Greet the Harbor Seals and join the trainers on deck during the session.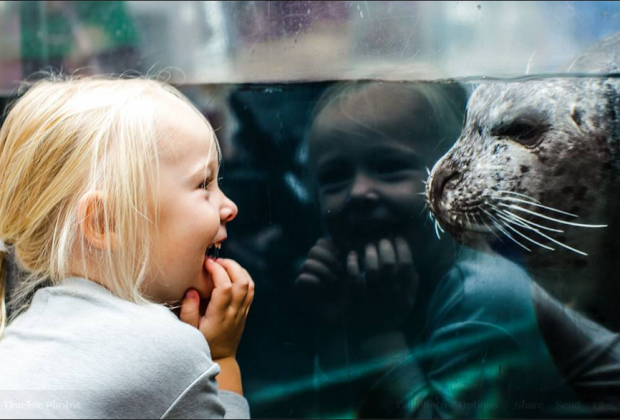 Say hello to the harbor seals at the New England Aquarium. Photo by Bill Woods
9. Get spooked on a Ghosts and Gravestones Tour. Big kids only! Leading brave visitors (over age 6) through underground tunnels, past unmarked graves, and more, this popular evening tour (from March through mid-November) highlights some of Boston's oldest and creepiest history.
10. Climb the Bunker Hill Monument. Kids can challenge themselves (and wear themselves out!) hiking up the 294 steps of one of Boston's most iconic monuments, and parents can enjoy the view from the top.
RELATED: Coolest Spots for Kids on Boston's Freedom Trail
11. Go for a spin on a carousel. With two great merry-go-rounds to choose from, Beantown kids can twirl themselves silly at the Frog Pond and Rose Kennedy Greenway. Both carousels offer a discount for frequent riders, so buy your tickets in bulk! If your little one really loves spinning, you can even throw their birthday bash at the Greenway Carousel.
12. Dare to cruise the harbor on the Codzilla! If your kids have a need for speed this boat ride will not disappoint. Codzilla rips through the harbor at 40 mph, blasting music. Beware: You will get wet! If that sounds a tad intimidating, consider hitting the water on another kid-friendly boat excursion—Boston has plenty to choose from.
13. Get wild at the Franklin Park Zoo. Visiting this zoo, located right in the city, is a must for many tourists and locals alike. While seeing the giraffes, monkeys, and more never gets old, the Franklin Park Zoo also has tons of daily programs and camps for budding zoologists and animal lovers that will have your kids asking to go back again and again. Families can buy a yearly membership that gains them entrance to Stone Zoo too.
RELATED: A Guide to Our Favorite Boston-Area Zoos
14. Explore the Museum of Science. Filled with exhibits for kids of all ages to explore, The Museum of Science also has plenty of hands-on stations and rotating exhibits that make repeat visits a must. Make sure to check out the daily schedule of current IMAX movies, 4-D experiences, and Planetarium shows.
15. Go for a swing at The Lawn on D. Spend the day at this Seaport park swinging on giant O-shaped swings and playing lawn games. There are always events happening and live entertainment, plus there's an outdoor bar where parents can grab a drink while the kids play!
16. Go to story time at the world's only Curious George store. Kids love to wander around this famous store centered around the beloved monkey George and his crazy adventures. Plan your visit around story time and then explore Harvard Square afterward.
Craving more? Check out our list of 100 Things to do in Boston with kids.