Where to Eat With Kids Near Boston Common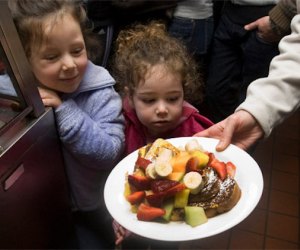 There are few more iconic places in our city to take kids than the Boston Common. It's steeped in history and the perfect place to run around in the grass right downtown. In the summer, families flock to the Frog Pond to cool down after playing on the nearby Tadpole Playground. And in the winter, the pond becomes the site of one of Boston's most festive outdoor skating rinks. Surrounding the Common are some of Boston's most beautiful buildings and the city's theater district.
Whether it's playtime or a stage performance that brings you near the Common, there's likely going to come a time when you want to grab a bite to eat close by. That's why we've put together this list of 10 kid-friendly restaurants right in the neighborhood.
Beantown Pub
This Boston staple can be found about two blocks from the Common on Tremont Street right across from the Granary Burying Ground. Beantown Pub is technically a bar, but it's also a restaurant serving kid-friendly food in a casual atmosphere. With menu items like chicken tenders, mozzarella wedges, and mac 'n' cheese, you'll be able to please even the pickiest palate.
Black Seed Cafe
Located right across from the Common on Tremont, Black Seed Cafe is a great neighborhood grab-and-go spot. We particularly like to pop in here in the mornings for an egg sandwich, pancakes, or waffles. For snacks, we're partial to the fruit smoothies for a healthy treat. We recommend bringing your meal out to the Common for a picnic.
City Place
Two blocks south of the Common, you'll find the City Place Food Court with plenty of options for dining with kids. You can grab a pie at Blaze Pizza, sit down for Chinese food at P.F. Chang's, snag a burrito from Chipotle, or nosh on a soup and sandwich combo at Panera. With so many options to choose from, you'll never get bored eating at City Place. It's also a great escape from the elements when you need to regroup inside.
Legal Crossing
Tucked just a few streets away from the Common, Legal Crossing is a great place to dine with kids in the neighborhood if you're looking for a sit-down meal. All Legal Seafoods restaurants have kids' menus, so you'll always be able to find something for your little ones to eat, whether they like seafood or not. And of course, there's plenty for adults to love on any Legal menu. Bonus tip: Legal does a great job of catering to people with gluten sensitivities if that's a concern for your family.
The Paramount
Head north from the Common up Charles Street and you'll find the beloved Paramount, which also appeared in my best family-friendly Boston breakfasts post. This Beacon Hill eatery is a popular brunch spot, but it also serves lunch and dinner, so you can eat there any time of day. The Paramount is super kid-friendly and has a special menu tailor made for the smallest diners.
Parish Cafe
Parish Cafe has been serving hungry Bostonians for 25 years, so you know they're doing something right. You'll find Parish on the other side of the Public Garden on Boylston Street. We're partial to this spot because it's casual enough for kids and has a patio that's open in warmer months. With a menu full of sandwiches both simple and innovative, there's truly something for everyone.
Sal's Pizza
You don't have to roam far to find Sal's Pizza, which has a restaurant right on Tremont Street across from the Common. Pizza is a classic kid (and adult) food, so it shouldn't be hard to find something everyone likes on the menu. It's the perfect place to pop into for a slice or a whole pie that you can eat in the shop or take to the Common for an easy picnic.
Tatte Bakery & Cafe
Tatte Bakery & Cafe has appeared in both my Cambridge breakfasts and Boston breakfasts posts because I love it so much. It's unlike anywhere else in Boston and is super family-friendly. The cafe, located on Charles Street just north of the Common, serves breakfast, lunch and dinner. Plus, you can't leave without picking out a treat from the super tempting pastry case.
Thinking Cup
There are few places to eat closer to the Common than the Thinking Cup on Tremont Street. This coffee shop and cafe recently made my list of the best family-friendly breakfasts in Boston, so you know it's great for kids. Beyond the morning meal, Thinking Cup has lots of lunchtime favorites (including a great grilled cheese) that kids will love. Eat in the restaurant or bring your meal to the Common for a picnic.
Upper Crust
Not far from Tatte and The Paramount on Charles Street, you'll find an Upper Crust location slinging delicious pizzas. As with Sal's, there's much to love when dining at Upper Crust with kids. You can get a slice or a whole pie to eat in the restaurant or take away if you're in a hurry. Upper Crust even has gluten-free crust available for all of its pizzas.
---
Top image of the patio at Parish Cafe courtesy of the restaurant.