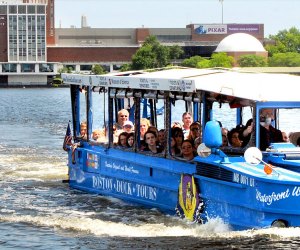 Boston Boat Rides that Kids Love—Codzilla, Duck Boats, Whale Watches, and More
With summer in full swing and Boston Harbor within reach, what better way to spend quality family time than to take to the seas? Our city, after all, has a deep and exciting nautical history, and while docked ships like the Tea Party Museum and USS Constitution are fun to climb aboard and poke around, kids really go crazy for the action of a venture offshore. Boston Harbor has whale watches, speedboats, schooners, and even a ship shaped like a duck—enough seafaring options to satisfy every member of the family.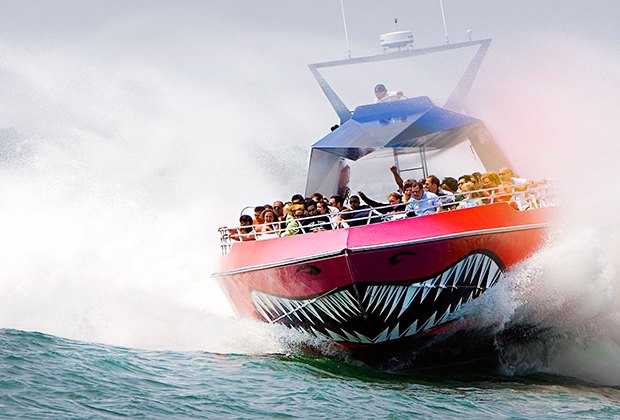 Take a ride on the wild side on Codzilla.
Not for the faint of heart, Codzilla is Boston's most famous harbor cruise for youngsters. A 70-foot speedboat with 2,800 horsepower, Codzilla runs riot through Boston Harbor at up to 40 MPH, whipping around turns and blasting music. Should you take a ride on Codzilla, be aware that you'll probably get wet, but free ponchos and waterproof bags are available aboard the boat. While there are no age or height restrictions, the speeds and spray might be a little much for very young children.
Cost: Tickets are $29 per adult and $25 per child ages 3 to 11, but if you buy the tickets in conjunction with tickets to the New England Aquarium, discounts are available.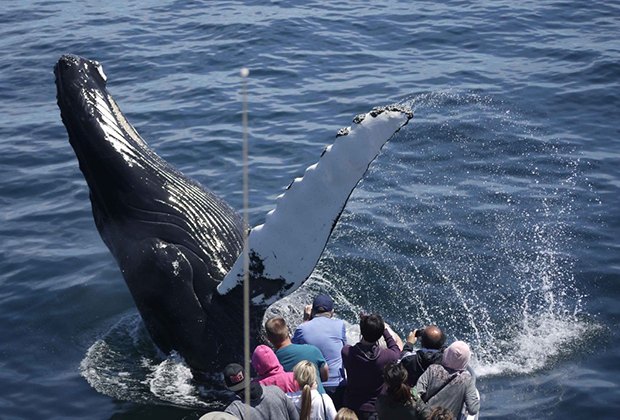 Get close up to whales and more on Boston Harbor Cruise's Whale Watch Tours.
Boston Harbor Cruises runs Codzilla but also offers a number of harbor cruises for families desiring a little less excitement. The Historic Sightseeing Cruise is a 90-minute tour of Boston's history, from the Revolutionary War to the harbor's recent cleanup. History buffs will love the 45-minute tour USS Constitution Tour of Old Ironsides, which allows the opportunity to disembark at the Charlestown Navy Yard to visit the ship and the accompanying museum. For slightly more money, families can take one of Boston Harbor Cruises' whale watch tours, where visitors can see a variety of whales, along with dolphins and other sea creatures.
Cost: Historic Sightseeing Cruise is $29 per adult and $25 per child; USS Constitution tour is $23 per adult and $19 per child; whale watch is $53 per adult and $33 per child (there are discounts included with Aquarium tickets).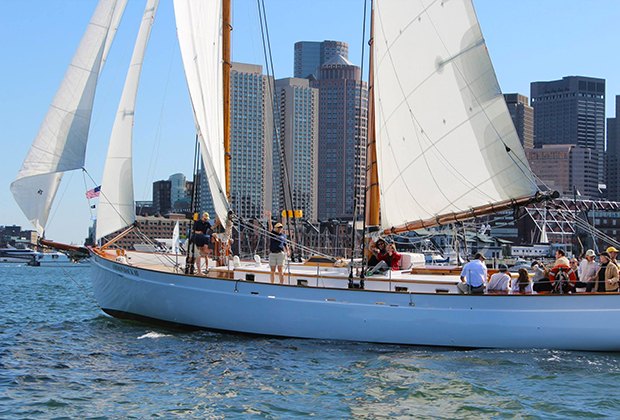 Enjoy a leisurely sail around the Boston Harbor on the Adirondack III.
Classic Harbor Line offers a variety of options for families looking to hit the high seas. If you'd like to show kids what sailing is all about, you can book an afternoon or 90-minute sail on the Adirondack III, an 80-foot schooner touring Boston harbor. For a bit less, you can cruise to the Boston Harbor Islands in Northern Lights, a classic style yacht that's especially inviting during the sunset hours. Classic Harbor Line also does specialty trips like a USS Constitution Turnaround Sail, Labor Day Sails and Fireworks Cruises, Fall Foliage Cruises and Holiday Cruises.
Cost: Sails on the Adirondack III are $40-$45 per person; Northern Lights boat rides are $38 per person.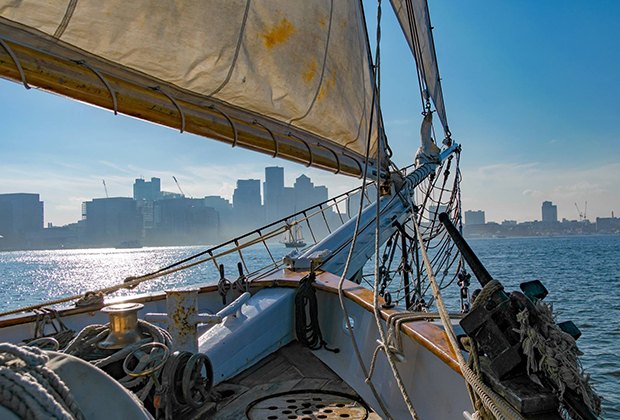 Kids can help hoist the sails on Liberty Fleet of Tall Ships' schooners.
Liberty Fleet of Tall Ships have been sailing Boston Harbor since 1993 with different sailing options. The fleet's two ships, the Liberty Clipper and the Liberty Star, depart six times daily for the day sails, and at 6pm and 6:30pm for sunset sails. Really adventurous sailors can even spend the night on the ship overnight. which include a sail in the direction of the best wind, and the chance to take the helm and hoist the sails, should you be so inclined.
Cost: Day sails are $35 per adult and $24 per child.
And, last but not least, you gotta consider a Duck Boat ride, which is a top Boston tourist attraction for good reason. This World War II-style watercraft is amphibious—so it begins along the city streets marking the Freedom Trail and then splashes down into the Charles River for a cruise highlighted by skyline views of Boston and Cambridge. Charismatic tour operators relate historic tidbits along the way, which is pretty Conveniently, tours begin and end at other family-friendly hot spots, like the Museum of Science and New England Aquarium, so you can begin or end your ride with a science adventure as well.
Cost: $43 per adult, $29 per child, $11 for children under 3