13 Top Boston Playgrounds To Visit for Brain-Boosting Fun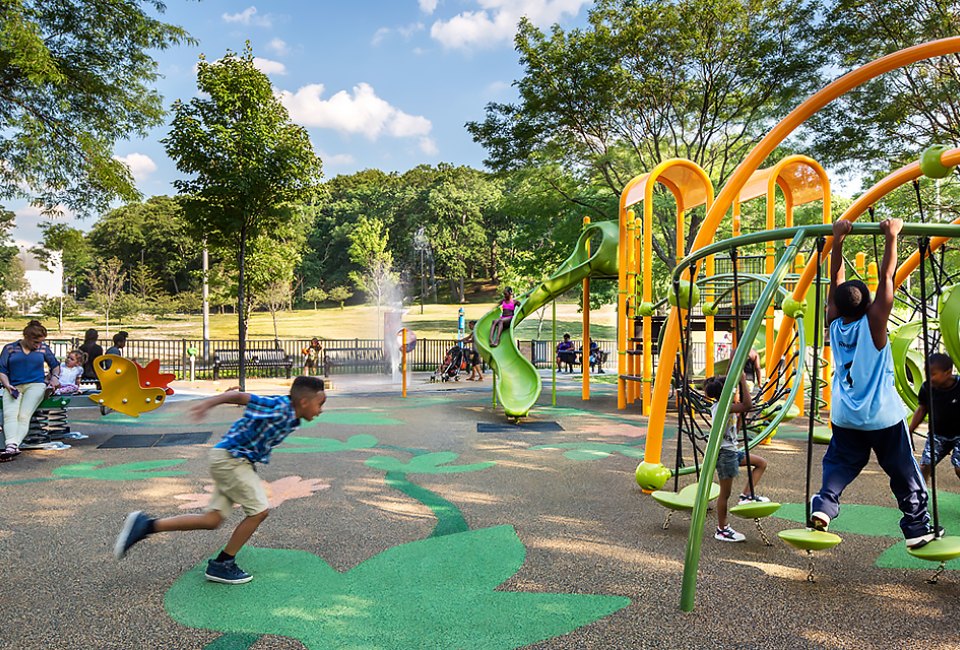 4/18/21
- By
Fiona Haley
Boston kids are ready to get outside and play! Even if you live outside the city, consider a day trip to one of these innovative Boston-area playgrounds, which feature nature-inspired layouts, brain-boosting equipment, and wheelchair-accessible structures that promote inclusivity. These new-school playgrounds—two of which are also on our "destination playgrounds" list—are beautiful, safe spaces for kids of all ages and abilities to entertain and challenge themselves, so parents can watch from a distance as kids do what they were born to do: play.
If it's an especially warm day, consider a day trip to one of these Massachusetts spraygrounds and splash pads, too.
Best Brain-Boosting Boston Playgrounds
1. Mayor Thomas M. Menino Park—Charlestown
Thomas M. Menino Park is right next to the Spaulding Rehabilitation Hospital in the Navy Yard, with an exciting view of Boston's waterfront. The playground was designed in the wake of the Marathon bombings and is another inclusive playground. The park has a wheelchair-accessible merry-go-round, a ramped play structure, and embankment slides and climbers. Also notable: access to the hospital's bathrooms, which is always important.
2. Uncle Frank and Auntie Kay Chin Park—Boston
Along with its lovely River Stream Fountain for cooling off tired toes in the summertime, the focus of the newly renamed Chinatown park is its PlayCubes, which originally came to the park as a temporary exhibit and have stayed put due to overwhelming popularity. Kids love figuring their way into and out of these shapes—dodecahedrons, to be specific—and playing peekaboo with pals.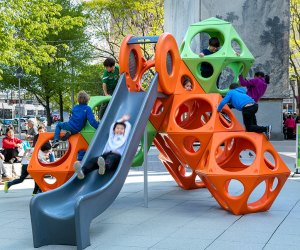 Can you say, "dodecahedron?" After a visit to Uncle Frank and Auntie Kay Chin Park, your kids will! Photo courtesy of Playworld
3. Jackson Square Park—Jamaica Plain
Jackson Square Park is just behind the Jackson Square T station on the Orange Line. Its focus is a 16-foot-tall "Wall-holla," which is an enormous orange kid-sized climbing structure. The inclusive playground also offers zip lines, balance-based toys, and structures that provide access to kids with limited mobility. If the playground isn't exciting enough, there are also basketball courts and swings.
4. Martin's Park—Seaport
Located right next to the Boston Children's Museum, this inclusive playground was built in loving memory of Martin Richard, the youngest victim of the Boston Marathon bombing. Designed to mimic nature, the playground features structures like a log maze climber and realistic climbing rocks. But the big draw here is definitely the giant marooned ship kids can climb aboard for some serious imagination play. Martin's Park was designed to be inclusive with multiple access to climbing structures so kids of all abilities can meet at the top together.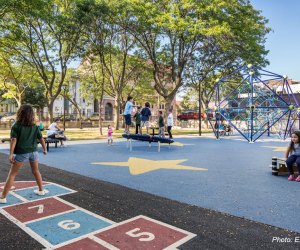 Paris Street Park has solar system-inspired structures. Photo by Ed Wonsek for CBA Architects
5. Paris Street Park—East Boston
Paris Street Park is a newly designed playground created to replace its heavily used predecessor. Located between a public pool and a community center, the park gets lots of use, and its redesign focused on safety and sustainability. With a solar system theme, the playground has a splash pad, a climbing structure, and an enormous hopscotch board. It also has a basketball court and a painted maze for kids to explore. Also noteworthy: the benches are USB solar-powered, for days when your phone needs a little juice.
6. Esplanade Playground—Boston
The Esplanade Playground is located along the Charles River. Its central climbing structure looks like an enormous spider web, with a blue slide leading down from the top. Kids will also enjoy the other features, like climbing structures, zip lines, and swings. There are also two disc rides: a merry-go-round and a disc swing.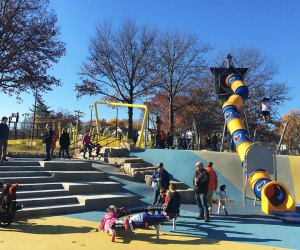 Fallon Field's amazing slide will thrill the kids! Photo courtesy of Roslindale Playgrounds
7. Fallon Field—Roslindale
Fallon Field is famous for its slide, which is said to be the biggest in Boston. To reach it, kids scale a pyramid rope to the top, where a cage-like area is perched, leading to an enormous blue and yellow tunnel slide. For the intimidated, the park offers a smaller embankment slide, as well as two basketball courts, a baseball field, and swings.
8. Hunt Almont Playground—Mattapan
United by a colorful web of nets and climbers and unusual-looking play structures that draw curious kids, the recently renovated Hunt Playground and its adjacent tot lot encourage lots of open-ended play. There's a splash pad for summertime cool-offs, too.

The half-acre Sweeney Playground features a unique ropes course. Photo courtesy of Stoss Landscape Urbanism
9. Sweeney Playground—South Boston
Southie's Sweeney Playground has a stunning ropes course that distinguishes it from other Boston playgrounds, winding throughout the playground in different configurations. The half-acre park has a bright synthetic surface that rolls across hills and valleys. Kids can hop on and off the yellow blocks or splash in the water feature in the summer. For older kids, there are also basketball courts.
10. Little Scobie Park—Roxbury
Broken into two different areas, Dudley Square's Little Scobie Park has something for everyone. Split into a toddler space and an area for older kids, Little Scobie has a skateboard park and basketball for older kids, as well as a dome-shaped rope climbing structure, an embankment slide, disc swings, and a dinosaur-shaped climbing spot. With plenty of shade, it's a great spot to hang out.

Experience the pirate ship at Alexander W. Kemp Playground. Photo courtesy of the playground
Favorite Brain-Boosting Playgrounds near Boston
11. Alexander W. Kemp Playground—Cambridge
Headed to Harvard Square? Don't miss my kids' favorite playground, at the far end of Cambridge Common. The playground has a variety of activities for kids of various ages, including hills and valleys, with embankment slides, swings, a crank-powered water feature, and a ground-level merry-go-round designed to provide wheelchair access. Due to its woodland adventure theme, much of the playground is made of beautifully carved wood, so there are many wide benches for parents. The ground is made of sand, so be aware going in that you might have some sandy kids at the end of the day.
12. Chuckie Harris Park—Somerville
Chuckie Harris is yet another inclusive playground designed to bring joy to kids of all ages. Its signature feature is a giant pipe that looks like a football goalpost that rains water down on sweaty kids and doubles as a movie screen. Two slides are built into the hills at the park, designed to be handicapped-accessible. The slides have two sizes—one medium and one wide so that multiple kids can ride down the larger one together. There are four swings, with two set higher than usual for teenagers or adults to use. The toddler area has a smaller slide with bouncy cars and a shelter, and the park is surrounded by more than 70 trees to offer shade on those scorching summer days.
13. Hoyt-Sullivan Playground—Somerville
This playground was designed to bring natural play space to the urban area with play structures that look like logs and trees kids can climb on. The main attraction here is the multiple log jammers of varying sizes climbers can attempt to scale—the tallest being seven feet high! Multiple levels and slides make up the rest of the playground with an accessible tower for kids of all abilities.
Click Here to Sign Up!
i