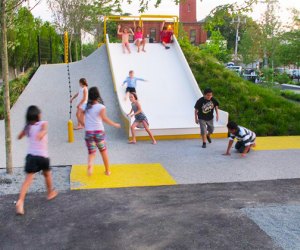 10 Awesome Boston-Area Playgrounds Worthy of Getting in the Car
Having a playground in your neighborhood is ideal. It's a nice break from playing in your own yard and a great place to meet up for playdates. But going to the same playground over and over can get tiresome. Luckily there are several really special playgrounds near Boston that are worth packing up the snacks and strollers and driving to. Here are 10 of the best that are ready to host your kids' summer adventures.
Note that playgrounds are in various stages of preparation to open their gates to the public as part of the state's Phase 2 reopening in 2020. Consider checking in with the Boston Parks Department, Cambridge Parks Department, or Somerville Parks and Recreation Department before heading out to make sure your destination playground is accessible.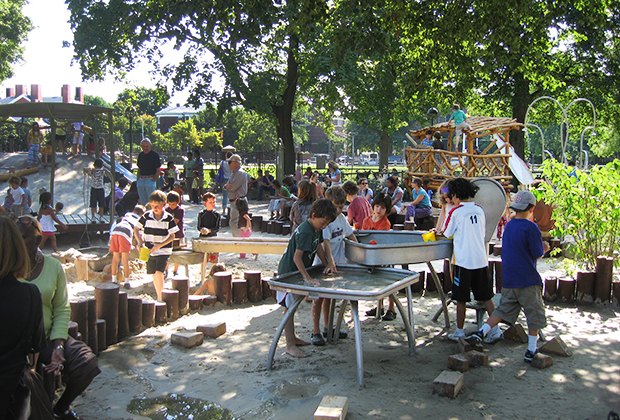 The Alexander W. Kemp Playground is built around a natural landscape. Photo courtesy of City of Cambridge
Alexander W. Kemp Playground, Cambridge
It's not hard to see why this renovated space has been named one of the best playgrounds by the Huffington Post and the Early Childhood Education Zone. Alexander W. Kemp Playground at Cambridge Common is built around a landscape of hills and valleys to allow children to learn and grow through play and fun. There's even a multi-directional swing and a merry-go-round that's at ground level so it's accessible for everyone.
Arsenal Park, Watertown
Tucked away behind a shopping center in Watertown you'll find Arsenal Park, a beautiful green space right on the Charles River. This park has separate playground areas and swings for big and little kids and water features for cooling down on hot summer days. Arsenal Park also has ample picnicking space, a path for walking or biking, and several ball fields.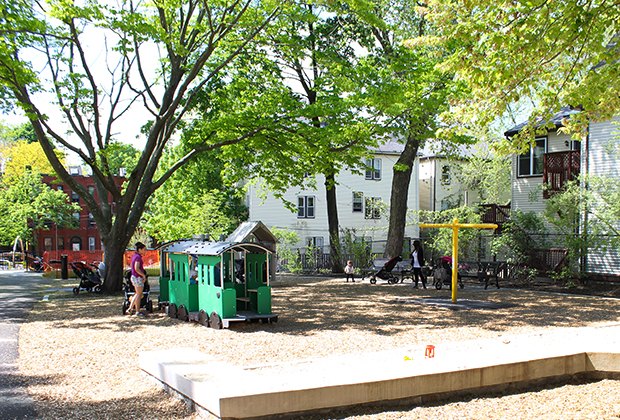 All aboard! The little kids' section of Billy Ward has a train for pretend play. Photo courtesy of City of Brookline
Billy Ward Playground, Brookline
The Billy Ward Playground in Brookline is the place to go for one-stop kid fun. There are two main play areas, one for bigger children and one for little kids. Plus, Billy Ward has a big sandbox, water features and a ton of shade. That's a huge plus on a steamy summer days.
Brewer-Burroughs Playground, Jamaica Plain
If you have kids between the ages of two and six, then you must visit the Brewer-Burroughs Playground. This tot lot is designed specifically with younger children in mind, so it's perfect for little-kid playtime. The play area is also full of donated toys, like play kitchens, tiny basketball hoops, and cars for cruising.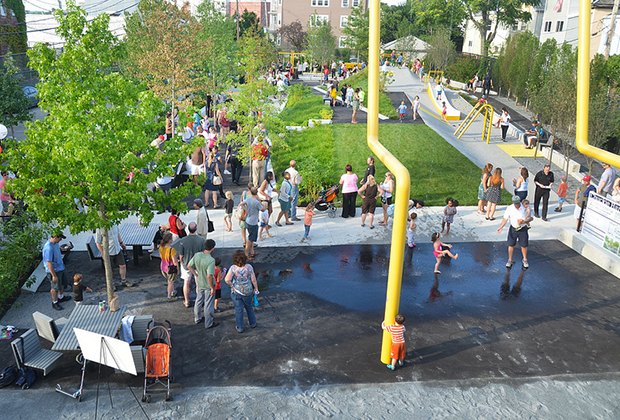 Kids cool off at Chuckie Harris. Photo courtesy City of Somerville
Chuckie Harris Park, Somerville
This totally custom playground in East Somerville is unlike any other. It features a huge slide that multiple kids (or kids and adults) can enjoy at the same time, a large water structure that turns into a movie screen, and innovative climbing areas. In addition to being a fun place to spend an afternoon, Chuckie Harris hosts a lot of special events like puppet shows and block parties, especially in the summer.
Columbus Park, Medford
Head to Medford to play at the extensive Columbus Park. There are actually two playgrounds at this park, one for little kids and one for big kids, so it's a great place to take siblings of different ages. The park also has grassy areas, baseball fields, and basketball courts.
Larz Anderson Park, Brookline
This Brookline playground is part of the large Larz Anderson Park, a 64-acre expanse of land that also has picnic areas, a dog park, and trails for walking. The playground itself is largely shaded, a huge bonus on steamy summer days. And it boasts several play structures for a variety of age groups that are great for climbing and sliding. After you've had your fill at the playground, climb the park's big hill for spectacular views of Boston.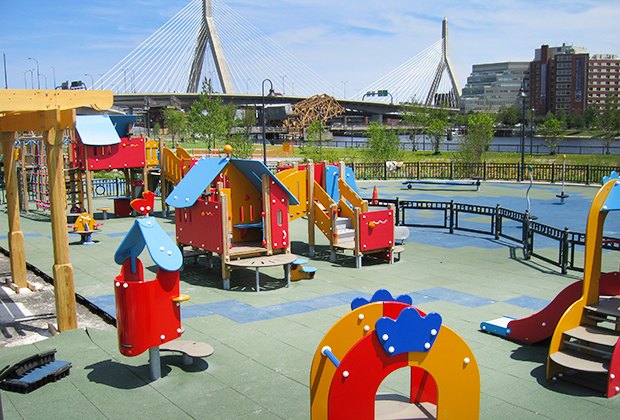 Relatively new, North Point Park has a splash deck and great views. Photo courtesy of City of Cambridge
North Point Park, Cambridge
One of the newer playgrounds can be found at North Point Park, which is tucked away on the Charles River right across from the Museum of Science. The playground boasts structures for various ages, picnic tables, and a beautiful view of the Zakim Bridge. In the summer, kids can cool off on the splash deck.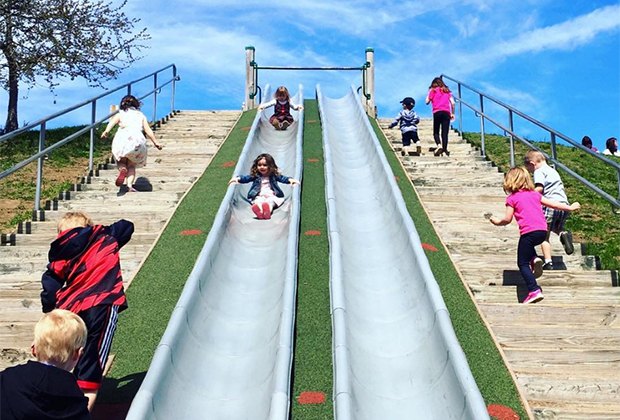 Robbins Farm Park's side-by-side slides are a major draw. Photo by duchessbennett via Instagram
Robbins Farm Park, Arlington
Sometimes referred to as Skyline Park because of its breathtaking views of Boston, Robbins Farm Park in Arlington is a huge play area that just can't be missed. One major highlight is the set of super long slides built into the side of a hill. The playground has separate structures for toddlers and older kids as well as a tire swing and playhouse. It's also a terrific place to fly kites and watch the Boston fireworks.
Winthrop Square/Minot Rose Garden, Brookline
The shady playground at Winthrop Square/Minot Rose Garden in Brookline is just one reason to visit this peaceful park. Multiple play structures for different age groups of kids make it a great playground for siblings, the water fountains double as a splash area to cool off on hot days, and there are plenty of swings. Plus there's a beautiful rose garden and grassy area for lounging.
---
Top photo: The giant slide at Chuckie Harris Park in Somerville. Photo courtesy of City of Somerville