Patriots, Pirates, Castles: Theme Playgrounds Spark Imaginative Play around Boston
Do you have a child who dreams about being a pro sports star, a pirate, or a princess? A handful of forward-thinking playgrounds in Massachusetts really take imaginative play to the next level. From a pair of Patriots-themed parks sure to thrill G.O.A.T. and Gronk fans to a castle-shaped playground fit for wannabe royals, these outdoor play areas—all within an hour of Boston and free and open to the public year-round—are perfect for kids who love to play pretend. For more parks that justify a trip beyond your own 'hood, check out our recent roundups of our favorite destination playgrounds and brain-boosting playgrounds.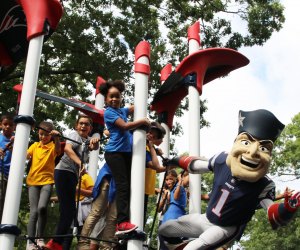 Pat Patriot greeted newcomers to the Fall River playground in the fall. Photo courtesy of the New England Patriots
Patriots Park—Fall River and Taunton
The Patriots sure know how to give back to their littlest fans: In 2018, shiny new red, navy, and white playgrounds opened in Maplewood Park in Fall River and Weir Riverfront in Taunton (there's also one, built last year, in Brockton). Along with Pats logos to climb over and around—including a giant, iconic "Flying Elvis"—there's plenty of tricky ladders and walls to scale, so kids can work on their strength and agility just like Brady and their other football heroes do.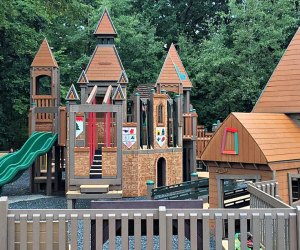 House and hide-and-seek are two favorite imaginary games of kids who visit Castle in the Trees. Photo courtesy of Littleton Children's Fund, Inc.
Castle in the Trees—Littleton
There's plenty of room to roam and play king or queen of the castle in this unique play area in the far northwest 'burbs. Separate structures for big kids and little ones (there's a well-designed tot lot) make it a place where siblings or family-friends of various ages can be happy. Best of all are the little corners and caverns amid the turrets where epic games of hide and seek or "house" can keep children busy for hours. Portable potties are a bonus not often found in suburban play areas.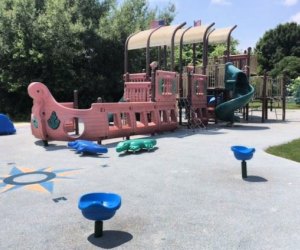 This ship is across the street from a great North Shore beach. Photo courtesy of the Town of Ipswich
Pirate Park—Ipswich
What sort of play structure befits a spot with gorgeous ocean views? A majestic pirate ship, of course! Across the street from a public beach, this playspace in Great Neck Park underwent a renovation in 2009 in honor of young mom Naoko O'Flynn, who passed away from cancer, and is now anchored by a giant pirate ship with slides, tiered decks, and soft rubber matting for safety. There's also a spider web and tetherball pole to interest 'tweens while little brothers and sisters quarrel over who gets to be Blackbeard on board.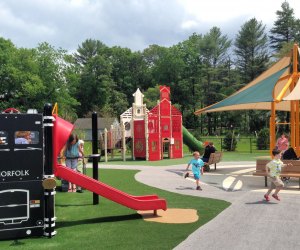 Norfolk's town center is rescaled to child-size in this innovative playground. Photo courtesy of Annie Stow from Stowed Stuff Daily Vlogs/Stowed Stuff

Kids' Place—Norfolk
Got a little mayor on your hands? This adorable Metrowest playground is a mini-me version of Norfolk center, with play structures replicating the local train, schoolhouse, and even the historic Grange hall church. Like all respectable towns, this one has restrooms (portable potties, but we'll take 'em).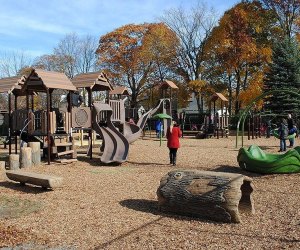 Hollowed-out logs and climbing stumps are among the woodland-themed structures at Greene's Field. Photo courtesy of Kaboom
Greene's Field—Needham
Carefully designed to replicate a woodland forest, this large playground, refabbed in 2013, is a local fave. Kids can scramble across "rocks" and "tree limbs"," swing around green "vines," and even come face-to-face with a little replica raccoon in one of the structures' nooks and crannies. Unlike many nature-themed playgrounds, the faux-wood surfaces are quite realistic, and a welcome scene in the middle of a busy town block.