50 Things to Do on a Martha's Vineyard Summer Family Vacation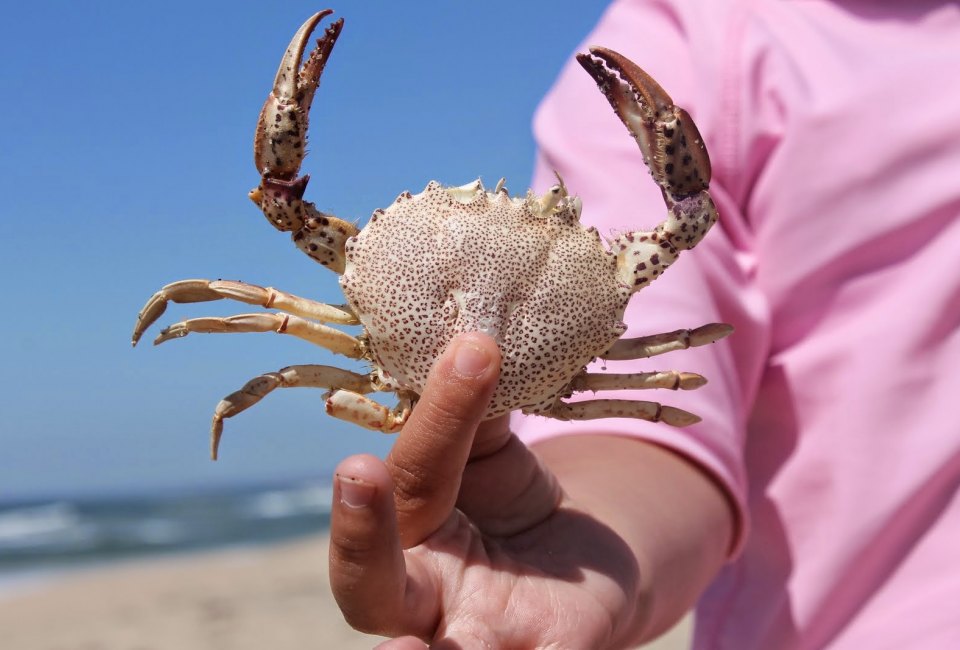 6/29/17
- By
Bess
Martha's Vineyard is a place out of time. Celebrities and presidents vacation alongside ordinary folks who populate the island year-round. Elegant boutiques share sidewalks with rusty bait shacks. You won't find water parks or go-karts, but there's still plenty to do with kids on this island off the coast of Cape Cod. Many of the highlights of your stay will be local fairs, parades, and even ball games that tend to bring the community together. Or you may just choose to lounge on the magnificent beaches and sample cold treats from the local ice cream stand. Every family will soak up the island culture in its own way, but here are 50 ways we're pretty sure you can't go wrong when vacationing on the Vineyard.
Oak Bluffs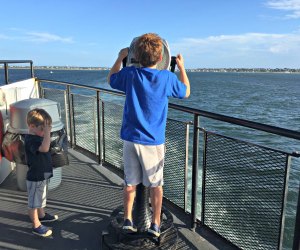 Catch a glimpse of the island on the inbound ferry from Woods Hole. Photo courtesy of editor
1. Put some quarters in the coin-operated binoculars on the boat ride over to build excitement. Ferries from the Cape come in and out of Oak Bluffs as well as Vineyard Haven several times a day.
2. Bike or drive to Joseph Sylvia State Beach (on Beach Road between Edgartown and Oak Bluffs) and grab a snack from the snack trucks (parked there most days).
3. Take a spin on the historic Flying Horses Carousel. Try to grab a brass ring!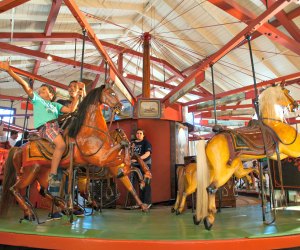 The Flying Horses Carousel is the oldest operating platform carousel in the U.S. Photo courtesy of Massachusetts Office of Travel & Tourism
4. Stroll around the The Campground, a neighborhood of elaborately decorated gingerbread houses and the impressive iron Tabernacle, where musicians and speakers perform throughout the summer.
5. Festoon the kids in patriotic garb and join the July 4th kids parade. It starts outside the Tabernacle and is followed by an ice cream social.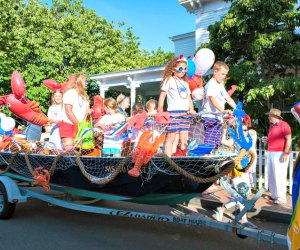 Kids get into the Independence Day spirit. Photo courtesy of Massachusetts Office of Travel & Tourism
​6. Celebrate the Annual Grand Illumination Night in mid-August at The Campground.
7. Swim in the pool or take classes at the YMCA, which is located across the street from the island's high school.
8. Treat a child to an art class one day (or more) at Featherstone.
9. Visit the furry, adorable alpacas at Island Alpaca.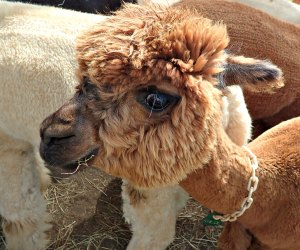 There are plenty of cute animals to see at the Alpaca Company of Martha's Vineyard. Photo by Kowarski/CC BY 2.0
10. Dig into family fare and Linda Jean's restaurant, which has an excellent kids' menu.
11. Chow on Mexican food at Sharky's in Oak Bluffs or Edgartown.
12. Enjoy a collegiate league baseball game after dinner one night. The Vineyard is home to a summer team, the Sharks, where many rising stars play during school break. All games are at the high school at 7pm.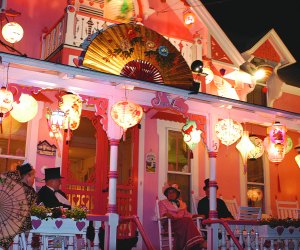 The gingerbread houses of Oak Bluffs glow on Grand Illumination Night. Photo courtesy of Massachusetts Office of Travel & Tourism
Edgartown
​13. Rent bikes at Anderson's Bike Rentals, which has been getting families on the Vineyard trails since 1971.
14. Take a leisurely ride on Beach Road between Oak Bluffs and Edgartown. With the sound on one side and Sengekontacket Pond on the other, it's a beautiful (and flat) journey.
15. Participate in family nature programs at the Felix Neck Wildlife Sanctuary.
16. Compete in the Annual Edgartown Sand Sculpture Contest in early August, or just check out the impressive creations.
17. Play golf with frisbees—yes, it's a thing—at the woodsy Riverhead Disc Golf Course. It's a great spot to perfect your tosses or just hike alongside the players.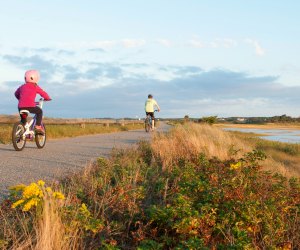 The path near Sengekontacket Pond is perfect for family rides. Photo courtesy of Massachusetts Office of Travel & Tourism
18. Learn about the island's rich nautical and Native American history at the Martha's Vineyard Museum.
19. Treat yourself and the kids to a cone or some old-fashioned penny candy at the Ice Cream and Candy Bazaar. Enjoy your treats on a bench overlooking the boats of Edgartown harbor.
Chappaquiddick
20. Take your car or just some bikes on the short ride from Edgartown to Chappaquiddick Island on the Chappy Ferry. The quiet (and quite famous) little island is a treasure trove of spacious beaches and beautiful homes.
21. Stroll through Mytoi, a serene Japanese Garden on Chappaquiddick.
Katama
22. Take a wagon ride across the fields and pastures at the Farm Institute.
23. Watch small planes take off and land from the Katama Airfield while dining on the deck of the Right Fork Diner.
24. Pick up a kite at the Katama General Store and take it to Katama (South) Beach, where there tends to be plenty of wind (and real estate) to get flying.
West Tisbury
25. Take a guided nature walk at the Long Point Wildlife Refuge.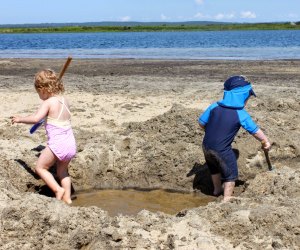 Kids love to play in the sand that bridges ocean and pond on Long Point Beach. Photo courtesy of editor
26. Set up camp on the stretch of sand between the ocean and pond at Long Point. Kids love to bounce back and forth between the big waves and still water throughout the day.
27. See what's fresh for dinner at the West Tisbury farmers market on Saturdays—it's right next to a fantastic playground.
28. Stock up on provisions, including local cheeses, meats, produce, and baked goods, at Morning Glory Farm. The helpful green-thumbs who work in the adjacent greenhouse and fields are happy to tell kids all about the island's unique growing conditions.
29. Pet the animals and take a spin on a ride or two at the Agricultural Society Livestock Show and Fair in late August.
30. Take a week of riding lessons at Pond View Farm, or just visit the gentle horses while on a walk on the short loop around the property.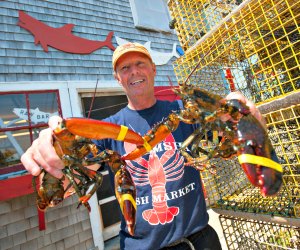 The catch is fresh and the service is friendly at Menemsha Fish Market. Photo courtesy of Massachusetts Office of Travel & Tourism
Chilmark
31. Go berry picking at Mermaid Farm and Dairy on Middle Road.
32. Browse the tables at the Chilmark Flea Market on Wednesdays and Saturdays.
33. Hit the Cinema Circus at the Chilmark Community Center in August. Hosted by the Martha's Vineyard Film Festival, the free fun includes short movies, filmmaking activities, circus performances, face-painting, and more.
34. If you have speedsters in your crew, register for the Chilmark 5K Road Race in mid-August. There's an 8-and-under division, and lots of kids of all ages and abilities join in the fun.
35. Sign up for a kids' dance workshop at The Yard.
Photo courtesy of Massachusetts Office of Travel & Tourism
Menemsha​
36. Stop by the super-quaint Menemsha Galley for soft serve or a lobster roll.
37. Pick out your own live lobsters—and get tips on cooking them for dinner—at the Menemsha Fish Market. They'll even steam them for you there.
38. Pack a picnic dinner and catch a sunset over the water at Menemsha Beach.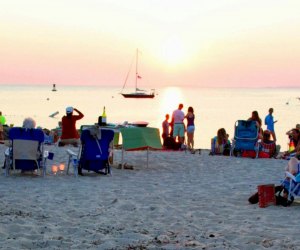 Families gather to watch the sunset at Menemsha Beach; Photo courtesy of Massachusetts Office of Travel & Tourism
Aquinnah
39. Ogle at the spectacular clay cliffs at Gay Head in Aquinnah. You can't climb on the cliffs themselves—it's a protected landmark—but you can take a 10-minute hike down to Aquinnah (Moshup) Public Beach, a popular, cliff-side surfing spot.
40. Learn about the native Wampanoag tribe at the Aquinnah Cultural Center.
41. Enjoy pancakes and the spectacular view at the Aquinnah Shop.
42. Stop by the public pizza party outside the Orange Peel Bakery in Aquinnah on Wednesday nights in August.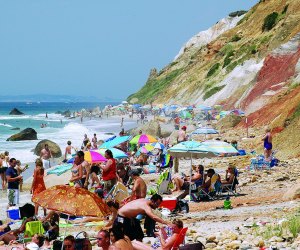 Swimmers and sunbathers enjoy a dramatic backdrop in Aquinnah. Photo courtesy of Massachusetts Office of Travel & Tourism
Vineyard Haven
43. On a rainy day, splurge on a day pass to swim at the Mansion House indoor pool in Vineyard Haven.
44. Play putt-putt at Island Cove Adventures mini golf. There's a climbing wall and homemade ice cream to enjoy after a round.
45. Pick up a kid-sized, sherbet-colored T-shirt from the original Black Dog Tavern on the harbor. The shirts make for a cute top as well as a great souvenir.
46. Pitch a tent overnight at the Martha's Vineyard Family Campground, and stargaze before bedtime.
47. Enjoy delicious fruity treats at annual strawberry, blueberry or peach festivals at the First Congregational Church.
Across the Island
48. Take advantage of free storytimes, kids' films, music, and science exploration at one or several of the island's many quaint public libraries.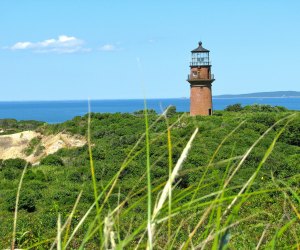 Gay Head Light in Aquinnah is one of the island's five lighthouses. Photo by Anthony Arrigo/CC BY 2.0
49. Go lighthouse hopping. The Vineyard is home to five, all on the island's north end. (Our favorite for photo ops: The Edgartown Lighthouse.)
50. Sample the flavor of the week, from blueberry to butterfinger, at Mad Martha's Ice Cream in Edgartown, Oak Bluffs, or its newest location, Vineyard Haven, before—sniff, sniff!—the ferry ride home.​ (Though for lobster ice cream—you heard that right—you'll have to head to Ben and Bill's in Oak Bluffs.)
Want more information about the Vineyard or its nearest neighbors? Take a look at our guide to Cape Cod and the Islands with Kids for more things to do while on Martha's Vineyard, Nantucket, or the Cape.
Top photo courtesy of editor
Click Here to Sign Up!