Cabo with Kids! All Inclusive Decadence at Mexico's Grand Velas Resort Los Cabos
6/16/18
- By
Roberta B
Sometimes as parents we're happy to plan the family vacation around theme parks and cartoon characters; other times we want to be pampered like a real princess, not a Disney princess. A vacation that provides grown-up decadence and luxury with fun and entertainment for kids (including time supervised by someone else)—that is the ultimate family getaway. And that is what we found in Los Cabos at Grand Velas' new seaside resort.

The magic of a luxury all-inclusive resort? Your teen is willing to hang out with you!
The invitation to visit Grand Velas Los Cabos was a double treat for me: I had never tried an all inclusive resort, and—unlike most of my friends—I had never been to Cabo. I learned that Cabo is in fact two towns: the famous Cabo San Lucas, and its neighbor San Jose del Cabo. The whole area is known as Los Cabos, and most of the resort hotels are somewhere along the breathtaking coastal road that connects the two towns. Grand Velas is at the halfway mark, so a visit to either town is a short taxi ride away. But you might just find that you never want to leave Grand Velas. Ever.
It took no time at all for me to be sold on the all-inclusive model; a relaxing and beautiful place becomes even more relaxing when real life stresses are removed from the day's decisions: where should we have dinner? Can we fill up enough on the breakfast buffet to skip lunch? Did my little darling seriously raid the mini bar while I was in the shower? When all that and more is included, I get to turn off the bossy voice in my head for a while and just be a person on vacation.
RELATED: Family-Friendly Resorts & Hotels Guide

The best use of cucumbers and mangos...
Grand Velas spoiled us rotten. All inclusive means constant minibar refills, 24-hour room service, breakfast on our own balcony, lunch in the pool, and cocktails anywhere we perch—without spending an extra peso. The friendly bilingual concierge team appeared around every corner, trying to think of more things we might need. There's no question of feeling too polite to ask, when the wait staff stop by the pool to ask if there's anything we wish there were more of back in the mini bar. The kids can yell Snickers without us even having to take the complimentary cucumbers off our eyelids.

A Governor's Suite has 2 huge rooms, 2 bathrooms, a jaccuzzi, and a plunge pool on the balcony.
Kids & Teens Clubs
Kids of all ages are catered to, both with and without their parents. A supervised Kids' Club is available for drop-off anytime, from early in the morning util 11pm each night. In addition to the games, crafts, and activities at the indoor playspace, there is a beautifully landscaped splash pad and wading pool just outside, as well as a covered playground. Staff happily order in food or take kids to one of the restaurants when they get hungry, so parents can indulge in spa treatments for as long as they like without a care in the world.
A separate Teen Room offers bigger kid amusements, including foozball, a pool table, karaoke, a non-alcoholic bar, several video game cubbies, and movies—as many screens as an adolescent could want.
Spa
Speaking of spa treatments, book one. The 50-minute Blue Agave Candle Massage I enjoyed stretched out to more than two hours of enoying the spa facilities, with bubbly soothing time in the beautiful Sensation Pool beforehand and time to lounge with healing teas afterward. Spa staff made sure to select my favorite scents for the massage, but apart from that I was given the kind of peace and quiet that only a mom can truly appreciate.
Pools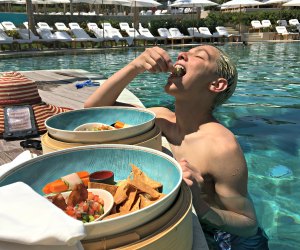 Don't tell Grandma, but we broke the 30 minute rule!
The primary focus of the day's activity is the central pool area, which is comprised of three infinity pools, each seemingly blending directly into the turquoise ocean just out of reach. Each pool has loads of space for swimming as well as one or two jacuzzis. The top pool is the activity pool, with equipment for water games, some organized activities, and a family-friendly swim-up bar for enjoying yummy frozen juice cocktails and grilled cheese sandwiches by the dozen.
The middle pool has a covered jaccuzzi and a large island of lounge chairs to sun upon, as well as a glass wall for fun underwater photo ops. Underwater seating surrounds in-water tables, for enjoying all that guacamole you'll want to keep ordering—because it's insanely good.
The third pool is for adults only; it's the closest to the beach, and delightful for taking in the sunset with Mai Tai in hand, ordered from yet another swim-up bar.

The pool seems to blend straight into the breaking waves.
The beach at Grand Velas, like many of Los Cabos' beaches, is beautiful to look at but not safe for swimming. El Chileno beach is a short taxi ride away (about $15 each way) and has swimming and snorkling opportunities around a coral reef. But the truth is that we were so enthralled with our two days in the warm infinity pools, watching the waves only appear to break on us while friendly waiters plied us with juices and snacks, that we didn't venture off in search of anything else. For a weekend, the resort had plenty to keep us happy.
If we had stayed longer, we would have gone off exploring the towns, perhaps enjoyed a snorkeling adventure, or taken a boat ride to one of the beaches not accessible by land. Some local boat tours visit the sea lion communities and even lure the friendly water mammals on board for treats and photo ops. Any of these kid-pleasing excursions can be arranged through the concierge, of course. The one thing to know is that every trip off property involves either a taxi or a car ordered a day in advance; local laws support taxi drivers and don't allow hotels to provide shuttles.
Restaurants
It would be hard to exaggerate the decadence of the food options at Grand Velas. Our days started with a breakfast table loaded with whatever we wanted wheeled onto our ocean view balcony (did I mention every room has an ocean view balcony?). There is a buffet downstairs, but when you can have breakfast wheeled in like in a Bond movie, then walk away while someone else cleans up like it never happened, why do anything else?

Breakfast is served—on our balcony next to our private plunge pool...
Room service is available all day and night, so I'm sure some families indulge in burgers delivered while they watch movies on their big screen TVs. Us, we couldn't resist trying as many of the gourmet restuarants as we could make room for in our grateful bellies. We enjoyed meals prepared by Michelin rated chefs in a decadent manner that exceeds description, with live music and ocean views. Dining options include Mexican, French, Italian, Seafood, and Cocina de Autor, where a meal of a dozen or so courses comes in the form of unbelievably delicious, gorgeously presented bites, accompanied by a description that's half the fun. I am blessed with an adventurous eater in my son, so we thoroughly enjoyed all of the unexpected flavors and presentations—including the most memorable chicken mole of my life!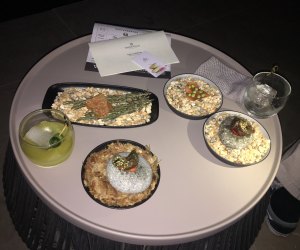 Kicking off our Michelin star dinner at Cocina de Autor...
Eco-friendly
The surprising final cap on all of this luxury is that Grand Velas makes a big effort to have a small impact on the environment. The resort transplanted several hundred native trees and cacti that were on the property to use them in the landscaping, and created a reverse-osmosis desalting plant to support its water needs. Thirty percent of the water used on property is recycled for ground water. The pool water also makes use of this reverse-osmosis system, providing a swimming experience in water that doesn't have the slightest hint of chlorine aroma or stinging on the eyes. To find out more about Grand Velas' eco-friendly efforts, check out our review of the company's resort in Puerta Vallarta.
Safety
Finally, because so many of my friends have asked me, a word about safety: We hear many stories about travel in Mexico being sketchy in recent years, but there is nothing remotely sketchy about Los Cabos. We spent our entire time at the resort, where I was probably safer than in my own neighborhood at home, but even in San Lucas and San Jose, everyone I spoke to felt completely safe; in fact our driver to the airport told me that he had moved from Las Vegas to Los Cabos to raise his kids in a safer environment.
Grand Velas Los Cabos all-inclusive resort is just a two-hour plane ride from Los Angeles, and hotel packages including airfare are often a better deal. Admittedly, the all-inclusive model is not the cheapest way to get away, but currently the resort has an offer that includes kids ages 12 and under for free. And when you consider all of the extras that require no thought, personal concierges making dinner reservations, the bottomless tequila tasting bar, and free childcare, it starts to sound less pricey. Oh, and mom getting a few days off from being entertainment director? That's priceless.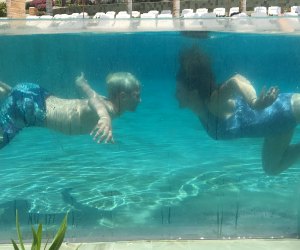 Photos by Mommy Poppins unless otherwise noted