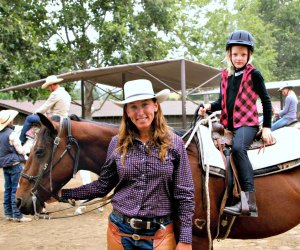 Alisal Guest Ranch: Wild West Meets Wine Country at this California Resort
Alisal Guest Ranch and Resort is just a two-and-a-half hour drive from the hustle and bustle of Los Angeles, but it feels like vacationing in another world. While it's possible to go horseback riding around Los Angeles, this quiet escape in the heart of Santa Barbara wine country takes that a step further on a 10,000-acre ranch boasting 50 miles of riding trails, a 100-acre lake, two 18-hole championship golf courses, tennis courts, and a heated pool and spa.
During a recent weekend getaway to Alisal, my family never once ran out of things to do. We signed up for a few activities ahead of time, but the offerings change daily, so we made a lot of decisions spur of the moment, too. Thankfully, the resort staff is so well organized we never once had a problem trying to squeeze into a group class or lesson.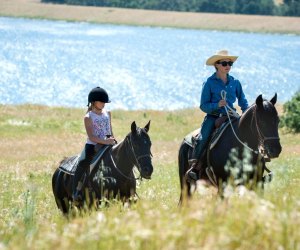 OUR LATEST VIDEOS
What's included: While Alisal is not all-inclusive, you can sign up for a variety of stay-and-play packages to keep costs down. We did the Round-Up Vacation Package, which included a full breakfast and dinner daily, wine tastings, golfing, horseback riding, tennis, and fishing.
Get on the horse: My kids had a blast during their private horseback riding lessons at the barn, which culminated in the resort's signature breakfast ride on Saturday morning. My seven-year-old and I signed up for a two-hour ride through giant sycamore trees and rolling hills, where we enjoyed breathtaking views of the sprawling ranch. After the hour-long ride, we met my husband and four-year-old daughter (who arrived by hay wagon) at the historic Adobe Camp where we were greeted by real cowboys playing guitar and serving up an elaborate spread of buttermilk pancakes, biscuits and gravy, bacon, sausage, home fries, and fresh fruit.
RELATED: 20 Things To Do in Ojai with Kids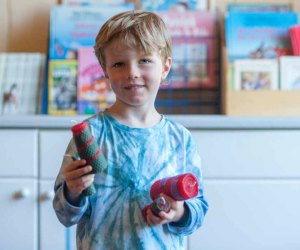 Check the daily schedule: My husband and daughter enjoyed a visit to the Critter Cart, an adorable barnyard activity that included plenty of photo ops with Alisal's birds and reptiles. There's even a talking parakeet and a lizard. The kids also enjoyed visiting the well stocked arts and crafts room, where they made velvet art paintings, Boondoggle bracelets, and Play-Doh sculptures. Other offerings we missed including tie-dyeing T-shirts, Family Bingo, Capture the Flag, and Country Dancing. There's even a Kids' Night Out if you want to venture out for a romantic dinner or wine tasting alone during your stay. Just be sure to sign up early to reserve a spot for your children.
Get a lay of the land-: Grab your hiking boots—there are lots of hidden trails and spots to play throughout the resort. You can also try your hand at horseshoes, Bocce ball, or croquet if you feel so inclined. Every morning, my kids woke up to meet friends outside our Wild West-themed bungalows and run around our "yard" playing catch. There was no TV or phone in our room, but they never once complained about being bored.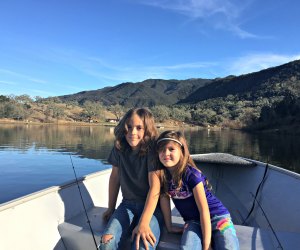 Nothing says vacation like going fishing. Photo by author
Splurge on the spa: While my husband rented a motorboat and took the kids fishing on Alisal Lake, I hit the spa. Although the spa was small, I had a great therapist who gave me a relaxing massage on par with bigger spas I've visited at home in Orange County. I also enjoyed a steam shower after my treatment. If I'd had more time, I would have loved to check out the adjacent gym, but instead I showered, had a cup of hot tea, and took a leisurely walk back to our cottage.
RELATED: 25 Top Resorts and Things To Do in Palm Springs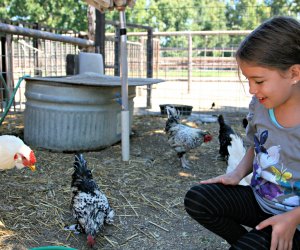 Visit the barnyard: One spot not to miss is The Barn. Alisal is a real working ranch, which means there are plenty of animals on site at the property. During our visit, we all enjoyed visiting pigs, chickens, goats, and bunnies. My kids especially loved feeding the bunnies and guinea pigs, who were eager to crawl into their laps to munch on lettuce and carrots. There were also giant pigs and tortoises to play with and a big bowl of brushes to assist young visitors in befriending goats, ponies, and pigs.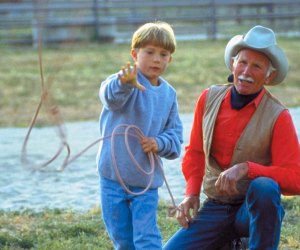 Ready, aim, fire: Are your kids aspiring cowboys? Don't hesitate to enroll them in the cowboy-themed classes. There are age limits for some classes, but both my kids had a blast during archery. The staff is incredibly patient and attentive, so there's no need to worry about safety, though parents have the option to stay and watch the lesson if they prefer.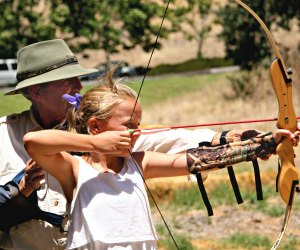 Plan ahead: There was so much to do at the ranch, we couldn't possibly squeeze it all into one weekend. Although we were sad to leave, we're already planning next year's vacation. The ranch does book up fast—we made reservations six months ago—so be sure to reserve a room early. Check the Alisal website for special packages.
Photos courtesy of The Alisal Guest Ranch & Resort unless otherwise noted