20 Things To Do with Kids on an Ojai Weekend or Day Trip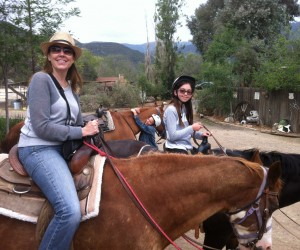 I'm going to confess—and date myself—right up front: I grew up on The Six Million Dollar Man and The Bionic Woman (how she resisted him was beyond me), and that inspired a fascination with Ojai, CA, birthplace of the super-70s superheroes. And while there isn't really a sign welcoming visitors to the "home of astronaut Steve Austin" as TV once led me to believe, everything else this charming town had going for it 40 years ago still holds true today, from irresistible cafés to horseback rides in the hills. Ojai is SoCal at its best; it's where vegans and cowboys make a chillaxing home together.
We were invited recently to spend a weekend at the Casa Ojai Inn, allowing my family the chance to enjoy Ojai at the slow, ambling sort of pace a great small town deserves. There were bikes available for us when we didn't fancy the car, and nothing was far enough away to be a source of stress anyway. Casa Ojai is the kind of hotel where the desk clerk bakes gluten-free cookies for the guests all afternoon (not that I've ever stayed at any other hotel that did that); though thanks to the salt water pool and jacuzzi, the kids didn't petition to spend the entire weekend in the lobby waiting for the next batch.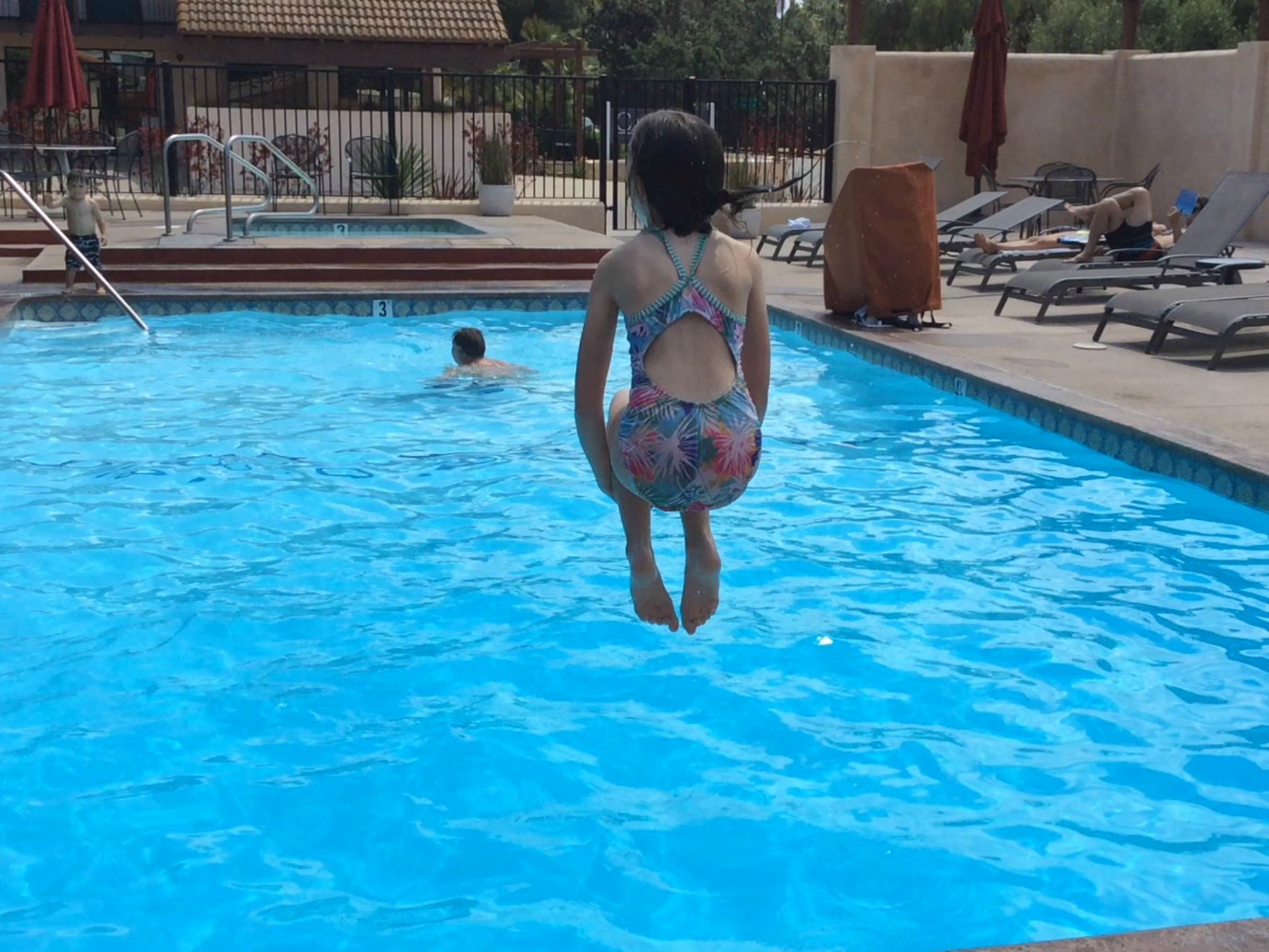 Jumping in the salt water pool
Over the course of our two relaxing days, we managed to indulge in tapas at the decadent and delightful restaurant Azu (reservations recommended!), a wine tasting at the family-friendly Ojai Beverage Company (wine store and restaurant all rolled into one), and a very affordable and tasty Mexican meal at the family-friendly, tequila-friendly Los Caporales. In between rounds of yummy libation, we went on a tour of an olive ranch, learning more about—and tasting more—olive oil than we'd ever contemplated, and, the across-the-board favorite activity of the weekend, a horseback ride through the local hills, where the theme from Bonanza seems to hum on the breeze.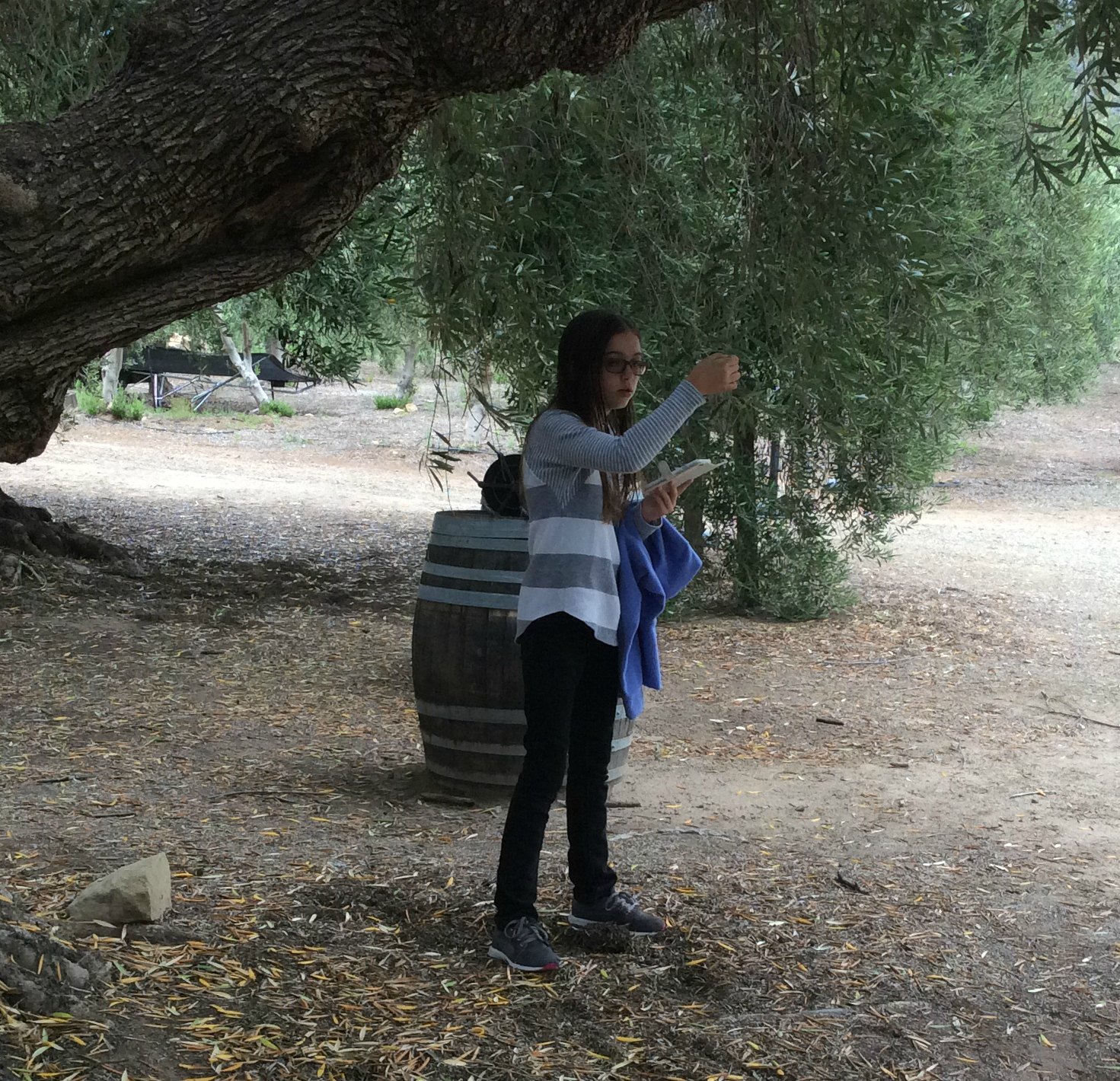 Examining the early olive fruit
We returned refreshed and happy (and so enthralled with riding that we're contemplating driving back up there for a day of horsey summer camp at Oso Ranch), without having driven particularly far to do it. Ojai feels a whole lot farther from LA than it is—and that, in case it isn't obvious, is a compliment.
Wondering what else a person could do with 48 hours in Ojai? Here's a list of things folks in Ojai do for fun:
Enjoy kid friendly wine tastings.
Ride bikes through town.
Ride a horse through town (there are hitching posts).
Go on a bird walk (you might spot a condor).
Bring your boards to Ojai Skate Park.
Browse Bart's Books - the world's largest outdoor book shop.
Take a hike in Los Padres National Forest.
Romp in the Libbey Park Playground, or play tennis on the park's courts.
Catch a show at the Ojai Arts Center.
Tour California's oldest olive oil ranch.
Give in and visit Ojai's nostalgic, old-fashioned candy store.
Wander Sunday's Farmers' Market.
Explore the Nature Center at the Ojai Ranger Station.
Cool off at Lake Casitas Water Adventure (in season).
Indulge at one of Ojai's many spas.
Check out the Ojai Valley Museum.
Take a deep breath at the Lavender Festival in June.
Spin tales at the Storytelling Festival (early May).
Catch a concert (many free!) at the Ojai Music Festival in June.
Bring the whole family to the Ojai Wine Festival on the shore of Lake Casitas.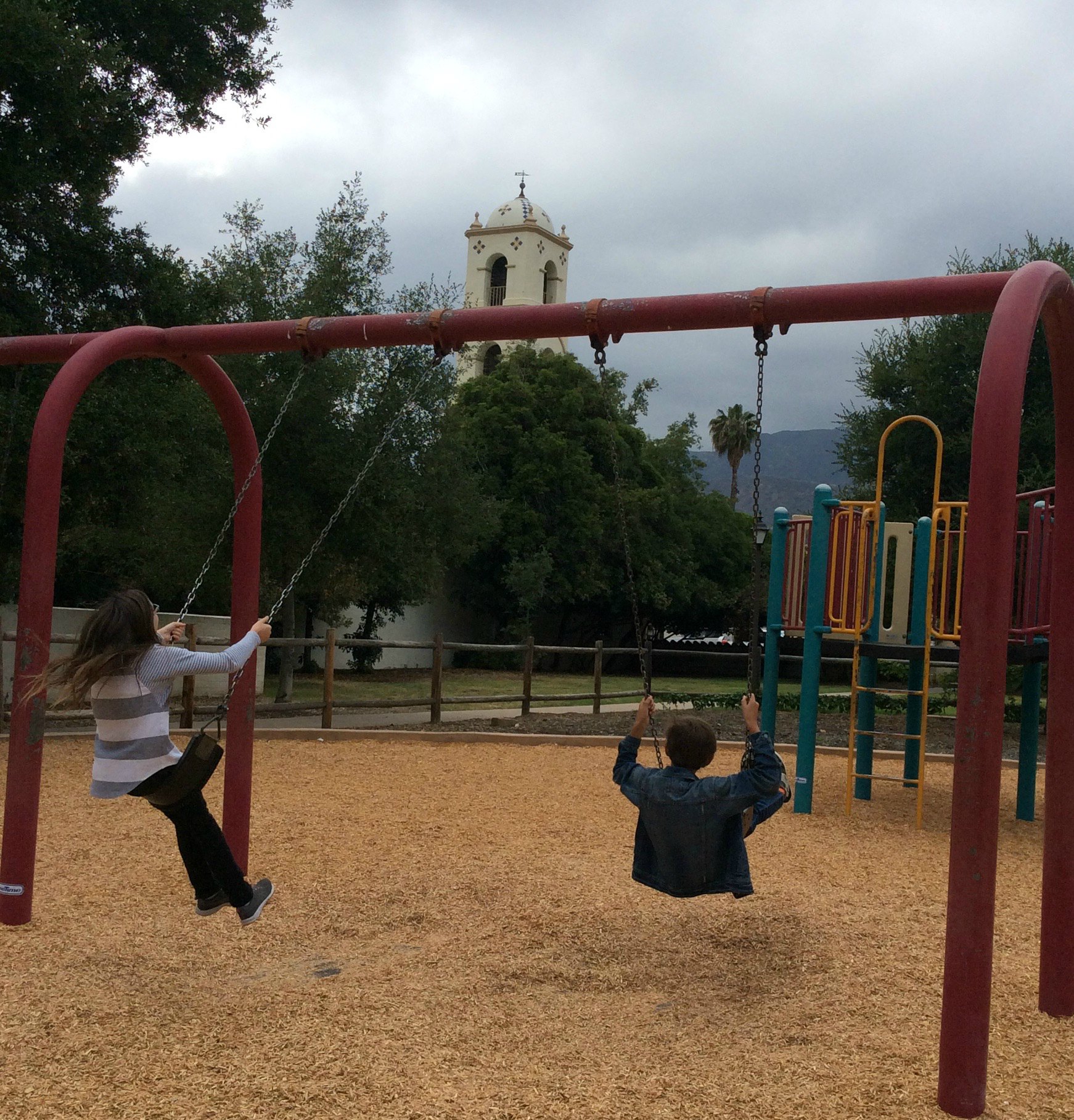 The swings at Libbey Park
Leave some room in the trunk for some gourmet olive oils, some local wines, and a six-pack of Ojai's own organic lavender lemonade. You can play classic car games on the drive home, or, if you hit traffic, just jump off the 101 to enjoy one of our suggestions for Things To Do in Thousand Oaks!