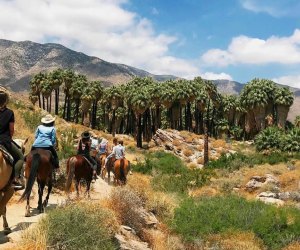 25 Top Palm Springs Resorts, Attractions, & Things To Do for Families
No matter the season, you can always count on Palm Springs and the surrounding Coachella Valley for balmy weather and lots of fun in the sun. In fact, this glamorous resort area, only a two-hour drive from Los Angeles, is blessed with an average of 350 days of sunshine each year and is the ideal playground for countless family activities. Use it for a base for Joshua Tree National Park, or just lounge by the pool. Here are a few ideas on how to make the most of a vacation in the desert.
1. Splashtopia
Omnia Rancho Las Palmas Resort & Spa
41000 Bob Hope Drive
Rancho Mirage, CA 92270
760.568.2727
A resort with a two-acre water park is every parent and kid's dream, and Splashtopia, rightly named so, is the ultimate wonderland. Here, registered guests can enjoy three pools, two 100-foot slides, a 450-foot lazy river, water play zones with fountains and sprinklers, a cliff-side Jacuzzi, and a sandy beach. Everybody wins: Kids can play for hours while mom and dad can relax and order poolside food and libations from the on-site Splash Grill.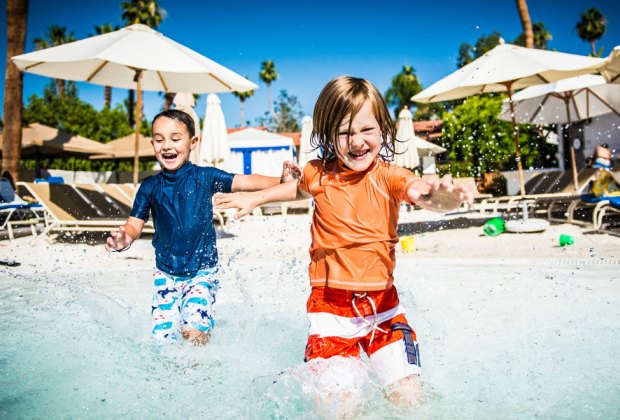 This is what vacation looks like. Photo courtesy of Splashtopia
2. Wet 'n' Wild Palm Springs
1500 S. Gene Autry Trail
Palm Springs, CA 92264
760.327.0499
If you want to make a bigger splash, head to Wet 'n' Wild and ride down the water park's 14 different slides. Float on the 600-foot lazy river, raft ride on a funnel, or catch a wave on the Flow Rider—a simulated surfing machine. Plan your visit between March and October and make sure to rent a cabana, which includes private food service, to top off your experience.
RELATED: Visit the Old West Like the Brady Bunch at this Hollywood Style Western Town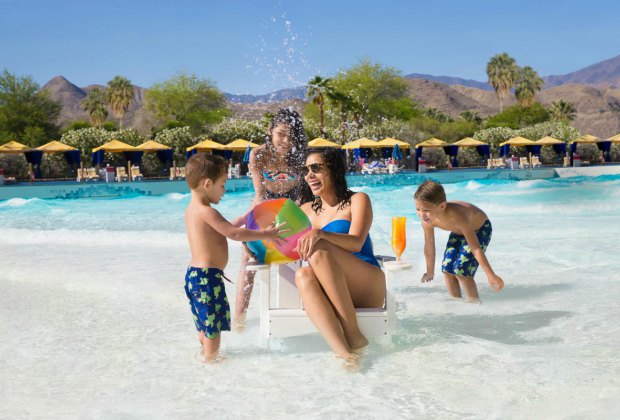 Everyone loves splashing around at Wet 'n' Wild. Photo courtesy of VisitPalmSprings.com
3. Parker Palm Springs
4200 E. Palm Canyon Drive
Palm Springs, CA 92264
760.770.5000
If you're not staying at the Parker, a visit to this stylish resort is de rigueur. This former estate is surrounded by a 13-acre lush garden that includes family-friendly amenities such as croquet, pétanque, a giant chess board, and a lemonade stand. If you decide to dine at one of the two on-site restaurants and have room for some dessert, make sure to order some s'mores at the front desk to roast at the fire pit under the stars.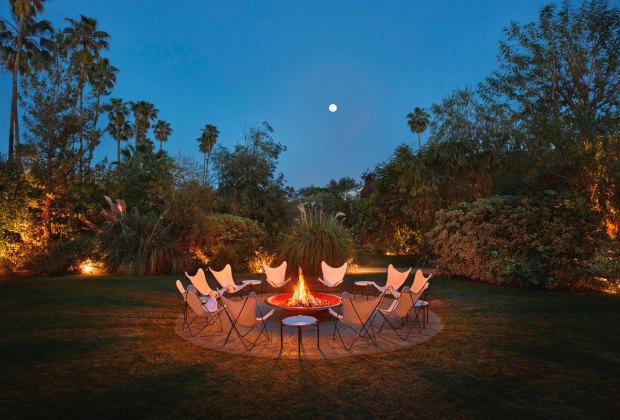 Ready for s'mores? Photo courtesy of The Parker Palm Springs
4. Fisherman's Market & Grill
235 South Indian Canyon Drive
Palm Springs, CA 92262
760.327.1766
While there are many kid-friendly restaurants and cafés in Palm Springs, only one is guaranteed to wow your children: Fisherman's Market & Grill. Featuring different indoor and outdoor dining areas decorated with nautical props, this one-of-a-kind eatery extends into a cozy wharf-like village dotted with huge barrels and round tables. You'll feel as if you stepped onto the set of Pirates of the Caribbean.
5. Shields Date Garden
80225 Highway 111
Indio, CA 92201
760.347.0996
A trip to the desert is not complete without tasting its bountiful superfruit: the date. Stop at Shields Date Garden to tour its 17-acre farm and learn how dates grow, then top off the visit with a delicious date shake and homemade bread and date butter at the on-site café. Hint: The Shields store carries a variety of dates and nuts, but also a fun selection of vintage toys.
6. Cabazon Dinosaurs
50770 Seminole Drive
Cabazon, CA 92230
951.922.8700
It's not Jurassic Park, but it's the only place where you and your kids can get a close encounter with some dinos and snap some Instagram-worthy pictures. No worries: these giant dinosaurs are pretty harmless and always photogenic from every angle. Kids can even climb into a T-Rex's mouth and ride a mechanical Brontosaurus. The store is filled with dinosaur themed gadgets and souvenirs. If you need more retail therapy, head to the nearby Cabazon Outlets, where you can score monster deals.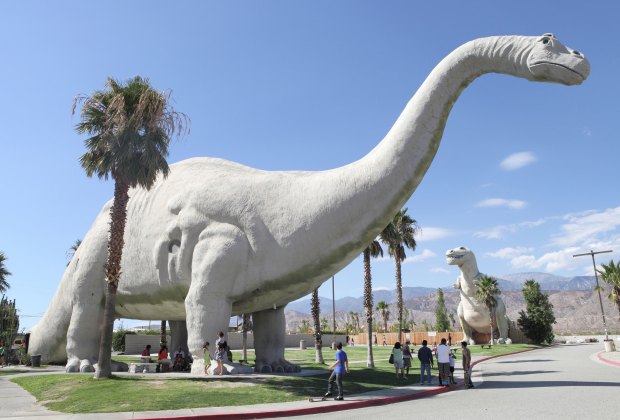 Roam with dinosaurs at Cabezon Dinosaurs. Photo by Sam Howzit/CC BY 2.0
7. VillageFest​
401 S. Pavilion Way
Palm Springs, CA 92262
760.320.3781
Every Thursday night from 6pm-11pm, downtown Palm Springs bustles with a street fair featuring arts, crafts, food, and entertainment. There are horse-drawn carriages, candies, and live music. During VillageFest the admission to the Palm Springs Art Museum is free, and local eateries and boutiques stay open until late.
8. Children's Discovery Museum of the Desert
71701 Gerald Ford Drive
Rancho Mirage, CA 92270
760.321.0602
With more than 80 hands-on activities to keep a family entertained for hours, the Children's Discovery Museum of the Desert is the place to learn in the most interesting way. Here, children can explore arts, crafts, science, and cooking in an environment that encourages their natural curiosity and imagination.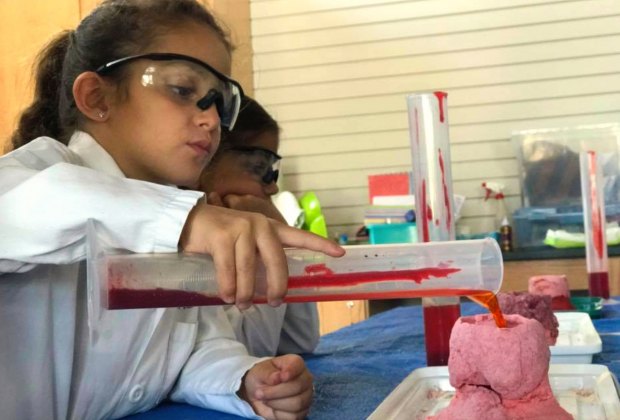 Photo courtesy of The Children's Discovery Museum of the Desert
9. The Living Desert Zoo and Gardens
47900 Portola Ave.
Palm Desert, CA 92260
760.820.2710
Get up close and personal with bighorn sheep, mountain lions, desert tortoises, and countless other animals at The Living Desert. Explore the flora and fauna of the North American and African deserts through a self-guided, behind-the-scenes, or private group tour. Feed the giraffes, ride a camel, or take in an educational show.
10. Sunnylands Center & Gardens
37977 Bob Hope Drive
Rancho Mirage, CA 92270
760.202.2222
Walk 1.25 miles of paths through beautiful landscaped gardens, home to more than 70 drought tolerant plant species. Rancho Mirage's crown jewel, Sunnylands Center & Gardens, hosts special events and other activities for all ages throughout the year, including free guided tours. No reservation or ticket is needed.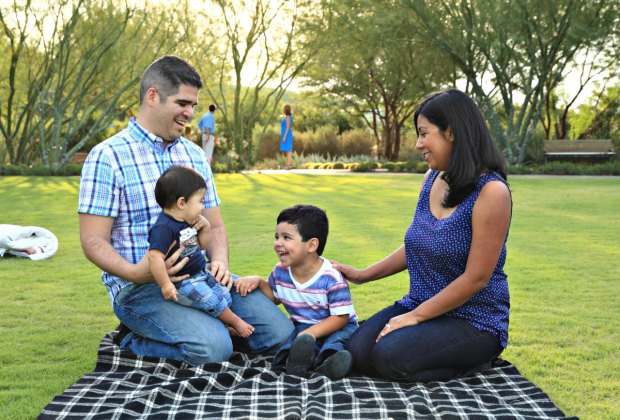 Enjoy the Great Lawn at Sunnylands Center & Gardens. Photo by Phil Channing courtesy of The Annenberg Foundation Trust at Sunnylands
11. Tahquitz Canyon
500 W. Mesquite Ave.
Palm Springs, CA 92262
760.416.7044
If your family is a nature-loving one and enjoys hiking, you should explore Tahquitz Canyon, home of the Cahuilla Indians for thousands of years. Discover the native artifacts along the rugged two-mile trail loop and relax at the 60-foot-tall Tahquitz Falls, a place that, according to legend, rejuvenates and energizes.
12. Indian Canyons
38500 S. Palm Canyon Drive
Palm Springs, CA 92262
760.323.6018
The Indian Canyons collectively offer 60 miles of hiking and walking trails. Pack a picnic and make a day of exploring jagged cliffs, waterfalls, and mountain springs. See the biggest collection of Washingtonia filifera palm trees in the world along the Palm Canyon Trail; follow the Murray Canyon path to the seasonal stream of the Seven Sisters Waterfall; or walk on the Andreas Canyon Trail to see different rock formations.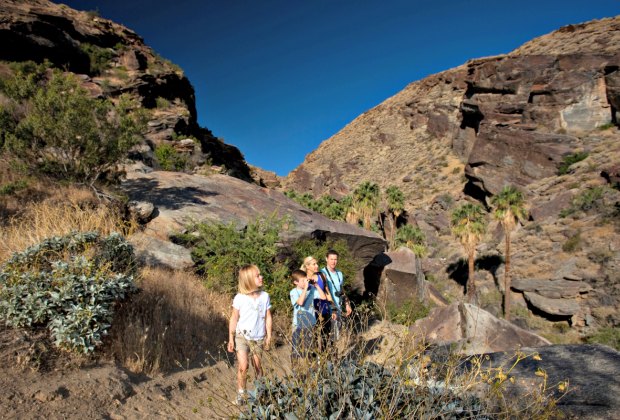 Hiking the Indian Canyons is a treat. Photo courtesy of VisitPalmSprings.com
13. Smoke Tree Stables
2500 S. Toledo Ave.
Palm Springs, CA 92264
760.327.1372
For a family that loves horsing around, Palm Springs is the right place. There are plenty of sun drenched canyons and beautiful palm oases along breathtaking trail rides you and your kids can experience on a four-legged tour guide. Smoke Tree Stables offers one-hour rides or custom-designed group packages that can include western cookouts. Yeehaw!
14. Desert Adventures
74794 Lennon Place, Suite B
Palm Desert, CA 92260
760.324.5337
Exploring the desert's wonders on a Jeep? You can't get more Indiana Jones than that. Desert Adventures offers off-the-beaten-path tours to the San Andreas Fault, Painted Canyons, and Indian Canyons. Some packages include breakfast, lunch or dinner at Metate Ranch, Desert Adventures' private 800-acre preserve, featuring dramatic hills, a palm oasis, and a replica of an Indian village.
15. Palm Springs Air Museum
745 North Gene Autry Trail
Palm Springs, CA 92262
760.778.6262
Displaying one of the nation's largest collections of operable WWII aircrafts, the Palm Springs Air Museum is the perfect place to learn about airplane trivia and WWII history. Kids can climb inside and explore an operational Boeing B-17 Flying Fortress. The museum also has vintage cars, flight simulators, documentary screenings, and an on-site café.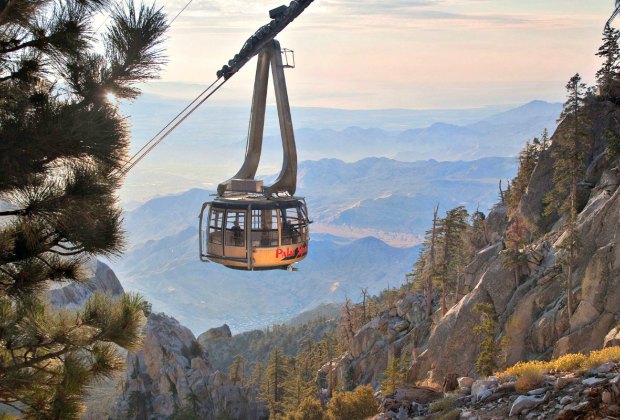 Go from cactus to clouds through 12 climate zones on the Palm Springs Aerial Tramway. Photo by Chris Miller courtesy of visitgreaterpalmsprings.com
16. Palm Springs Aerial Tramway
1 Tram Way
Palm Springs, CA 92262
888.515.8726
See the desert from new heights: board the Palm Springs Aerial Tramway's rotating car and ascend 2.5 miles in 10 minutes. Once you get to the top of the tram (8,516 feet), take in the breathtaking vistas while dining at Peaks Restaurant and lead your brood to Mount San Jacinto's surrounding wooded hiking trails. Here, temps are often 30 degrees cooler, so don't forget to bring your scarves and mittens in the winter; you might end up in a snowball fight.
17. Palm Springs Windmill Tours
62950 20th Ave.
Palm Springs, CA 92262
800.531.5834
Get a crash course in the renewable energy industry: learn about the history and the latest technology in wind power generation, but also in solar generation and natural gas power plants, during this two-hour bus tour. Summon your inner Don Quixote and venture near the historical windmills sitting at ground level. Take a close look at the newer machines to see how fast they go.
18. Desert Rocks
19160 McLane St.
Palm Springs, CA 92258
760.671.1101
Kids are natural climbers, so why not take them to a rock climbing class? Desert Rocks, an indoor climbing gym, offers youth classes designed to build technique, strength, and flexibility through fun, games, and social play. At the end of the class, kids will learn proper harness use and how to tie in using the Figure 8 follow-through knot.
19. Get Air Trampoline Park
34450 Gateway Drive
Palm Desert, CA 92211
760.206.7211
If jumping in the pool is not enough, kids can get some air jumping action at Get Air, an indoor park with wall-to-wall trampolines, dunk lanes, foam pits, and a ninja course. There's a kiddie court for kids under 46 inches tall, as well as special times (Toddler Time) when the facility opens to the little ones only.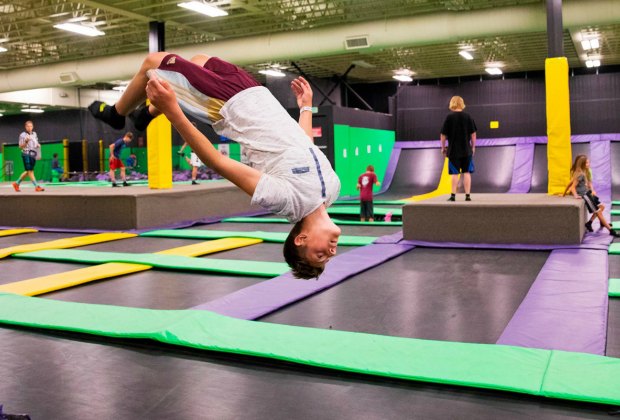 Photo courtesy of Get Air Trampoline Park
20. Robin Hood Archery
45435 Van Buren St. #7
Indio, CA 92201
760.347.8828
Want your kids to be merry men? Look no further than Robin Hood Archery, where anyone can improve hand-eye coordination by booking a private or group class. The on-site store has a variety of equipment to meet your target.
21. Desert Ice Castle
68600 Perez Road
Cathedral City, CA 92234
760.324.0400
No, it's not a mirage. An ice skating rink in the middle of the desert is a real thing, and Desert Ice Castle is there to prove it. Take a break from the heat to enjoy ice skating or pick-up hockey. A large group can try "Broomball," a less competitive version of hockey played with broom ball sticks.
22. Palm Springs Skate Park
405 S. Pavilion Way
Palm Springs, CA 92262
760.656.0024
Sticking with the skating theme: Considered one of the best skate parks in California, the Palm Springs Skate Park boasts 30,000 square feet of concrete skating surface for both in-line skaters and skate boarders. There is a street skating area ideal for beginners, the Combi-Bowl (encircled with steel grind rails) for intermediate skaters, and the Nude Bowl (a replica of a kidney-shaped pool) for advanced skateboarders.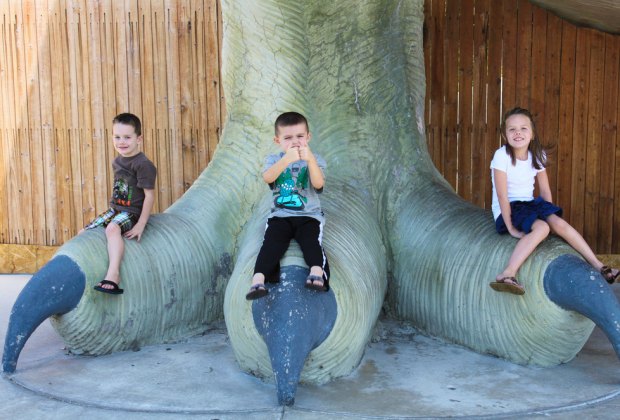 Tickling the toes of the Cabazon Dinosaurs... Photo by Clintus/Flickr
23. Boomers! Palm Springs
67700 E. Palm Canyon Drive
Cathedral City, CA 92234
760.770.7522
Miniature golf, go-karts, bumper boats, a 32-foot climb wall, and a batting cage are the outdoor attractions to choose from at Boomers. Unleash your inner gamer indoors at the arcade, where kids can partake in redemption games, win tickets, and claim instant prizes.
24. Big League Dreams Sports Park
33700 Date Palm Drive
Cathedral City, CA 92234
760.324.5600
Live out your Major League dreams at this park's three scaled-down replica baseball fields, representing Fenway Park, Yankee Stadium, and Wrigley Field. Kids can practice their swing at the park's four slow pitch and four batting cages, catch an indoor soccer game, or try kickball. For little ones, there's a playground located next to the Stadium Club Restaurant.
25. Palm Springs Power Baseball
1901 E. Baristo Road
Palm Springs, CA 92262
760.778.4487
Shout out for Power, a team made of elite collegiate players from around the country and part of Southern California's Collegiate Baseball League, during June and July. Learn how to hit, pitch, catch, and base run with a professional coach any time of the year at the historic Palm Springs Stadium.