Palm Springs with Kids: 31 Best Things To Do in Palm Springs, California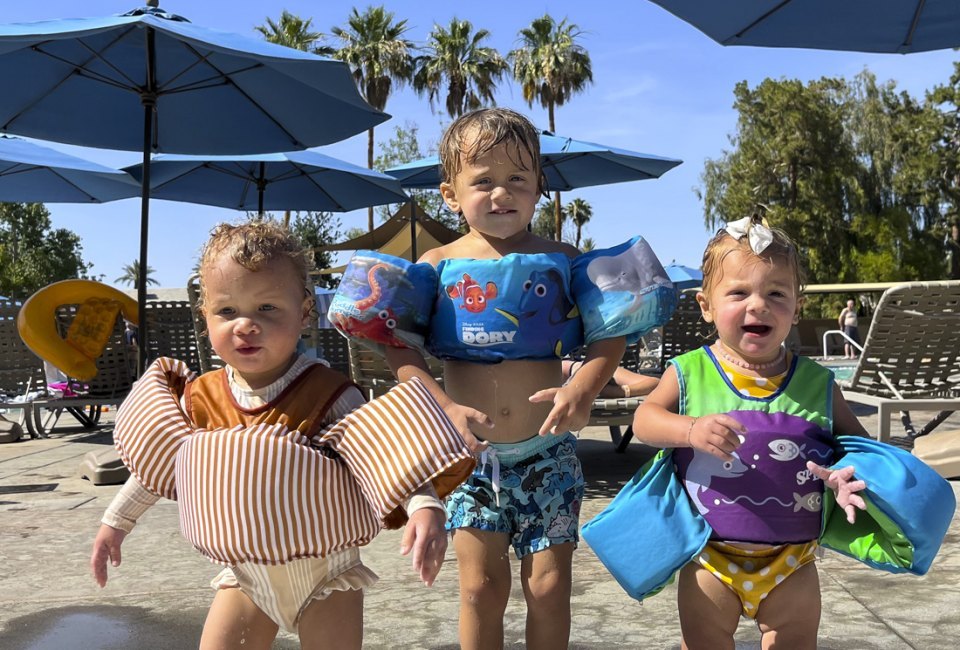 6/30/22
- By
Kylie Williams
Every year, my family takes a two-hour drive east of LA, past the windmills and a couple of giant neon dinosaurs, to spend a blissful weekend tackling all the things to do in Palm Springs with kids. Several bathroom breaks and a date shake or three later, we arrive and there's a whole vibe change. Palm Springs is a land of purple mountains, bougainvillea, succulents, rolling green golf courses, and desert air. It smells like vacation. The water parks at resorts that await us certainly add to that vacation feel, as does the anticipation rolling off my kids. We come back year after year (in the 100-degree summer heat) because this oasis gives us everything we need in a family vacation, without having to hop on an airplane.
For more SoCal family vacations, check out our list of best family road trips from Los Angeles, California family vacation ideas kids love, and more in our Weekend Getaway and Day Trips from Los Angeles Guide.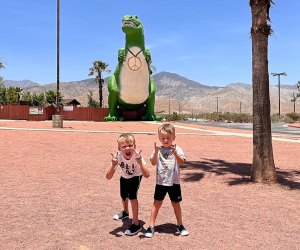 Roar at the Cabazon dinosaurs. Photo by the author
The Best Things to Do with Kids in Palm Springs, California
Once crowned "the largest dinosaurs in the world," Mr. Rex and Dinny are a classic roadside attraction featured in several movies (Mr. Bean and The Wizard, to name a couple.) These guys are located about 25 minutes outside of Palm Springs, but they're worth the drive (or better yet, stop on the way in or out of the city.) The dinos recently got a paint job, and now promote love and peace. Photo ops are free, as well as a visit to the gift shop inside Dinny the Brontosaurus. To visit the dinosaur museum, participate in a fossil dig, or ascend the steps to Mr. Rex's mouth, you'll have to pay for admission.
For a day of air-conditioned, educational fun, look no further than the CDMD. The museum is currently being refurbished and is slated to open back up again in December of 2022. There are more than 80 interactive STEM exhibits including a toddler town, a build-your-own-race-car station and track, and a trike trail.
Get a bird's eye view of the desert and check an item off your bucket list at Fantasy Balloon Flights. The Palm Springs location takes 2-10 guests at a time up into the sky for a 60-90 minute trip around the Coachella Valley. Get an aerial view of majestic golf courses, gorgeous resorts, date palm groves, citrus groves, celebrity homes, the San Andreas fault line, the windmill farm, and the Salton Sea. The all-inclusive rate is $210 per guest, but there are discounts for seniors, families, and children. Try to book about one week in advance to guarantee a spot.
RELATED: 25 Road Trips From Los Angeles for a Weekend Family Getaway

Make an early visit to the zoo, before the animals nap in the shade. Photo courtesy of the author
If you and your kiddos love animals, this spot is a must on your Palm Springs vacation. The first time we visited, I had low expectations, and the gorgeous landscaping, wide array of animals, and fun, interactive exhibits blew me away. Now, it's a must every time we're in the area. The zoo opens at 7am. We try to get there early, just as the animals are waking up and before it gets too hot. There are jaguars, rhinos, giraffes (that you can feed for an extra few bucks), cheetahs, and an Australian exhibit with roaming wallabies.
Palm Canyon Drive is the downtown strip with some of the best shops and restaurants in Palm Springs. It is fun any night of the week, but on Thursdays, the city takes it up a notch with arts and crafts vendors, food, and live entertainment.
RELATED: Things To Do In Joshua Tree: 12 Things Not To Miss with Kids

If you feel the need, the need for speed, you can play Maverick at the museum! Photo courtesy of the Palm Springs Air Museum
If you have an airplane enthusiast kiddo like I do, or if you recently watched Top Gun: Maverick and just want to be Tom Cruise, the Palm Springs Air Museum has planes on display from WWII, the Korean War, the Vietnam War, and more. Most of the fighter crafts are still in flying condition, and children are allowed to climb in a few of them. Also, for rates starting at $125, you can book a flight over the Coachella Valley in a WWII fighter plane and really live out those fighter pilot dreams. Passengers must be at least 13 years old. Flights take off from 8am- 11am in the summer due to the heat, so plan for an early morning.
Considered the #1 activity in Palm Springs on TripAdvisor, Red Jeep tours provide an adventurous way for visitors of all ages to experience the gorgeous desert landscapes surrounding Palm Springs. Red Jeep Tours offers excursions to San Andreas Fault, Joshua Tree, and Indian Canyon. Tours last between two and six hours, depending on your destination, and prices vary.
RELATED: AutoCamp Joshua Tree: Hip Glamping in the Desert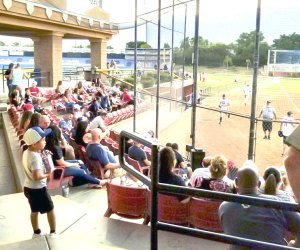 Live out those baseball fantasies. Photo courtesy of Big League Dreams in Cathedral City
Go for a home run (and a hot dog!) at Big League Dreams in Cathedral City. Kids can enjoy the play space, or check out the scaled-down replicas of Yankee Stadium, Fenway Park, and Wrigley Field and pretend that they are one of the big leaguers. Big League Dreams also has an onsite restaurant and a slow-pitch softball area where kids can take a crack at hitting a homer.
Dad gets to do a lot of golfing in Palm Springs, and my boys tend to feel a bit left out. Thankfully, Boomer's provides some good old-fashioned mini golf and go-kart fun that leaves them feeling like they got the better end of the deal. Boomer's is your classic family fun center with an arcade, 18 holes of wacky mini golf, go-kart tracks, bumper boats, and batting cages.
Palm Springs can get hot in the middle of the day, and when we're not at the pool, we're looking for air-conditioned activities. The Get Air trampoline park is the perfect spot to let kids get some serious cardio without risking heatstroke. It has wall-to-wall trampolines, a dodgeball zone, foam pits, ninja courses, slamball courts, and even a row of massage chairs for tired moms and dads. Now you know where to find me.
RELATED: Visit the Old West like the Brady Bunch at this Hollywood Style Western Town

Go for a ride in the desert; it's easier than a hot hike, and so stunning. Photo courtesy of Smoke Tree Stables
One of the greatest ways to see the desert landscapes surrounding Palm Springs is by horseback. Smoke Tree Stables is situated near more than 150 miles of riding trails that snake through Indian Canyon. You can book horseback tours spanning from one-hour to an entire day. Some of the packages even include a picnic lunch, Western cookout, or entertainment.
According to serious skaters, one of the best parks in Southern California is the Palm Springs Skate Park. It's huge, with 30,000 feet of skating surface and plenty of bowls, rails, and unique features to welcome newbie skaters and challenge experienced ones.
Growing up, I would beg my parents to take us to Wet 'n' Wild, the biggest water park in Palm Springs. This decades-old attraction is getting a full-on makeover and will re-emerge on the scene soon with a 1950's California surf-culture theme. One of the biggest additions to the water park will be a state-of-the-art wave pool where surfers of all ages and levels can shred some gnar. The opening date for the new park is TBA.
Swimming pools at the bottom of the mountain, snow at the top! Photo courtesy of Palm Springs Aerial Tramway
Hiking Near Palm Springs/Palm Desert for Families
Ascend two and a half miles along Chino Canyon into the sky on the aerial tramway to discover an entirely new topography in Palm Springs. The climb takes about 10 minutes in a gondola with a panoramic view. Once you reach the summit, take a stroll through the natural history museum, watch a documentary in one of the theaters, check out the gift shop, or set out on a hike on one of the trails (there are over 50 miles worth of paths to choose from!) Depending on what time of the year you take the trip, you may even get to see some snow. If you're here in the winter, dress accordingly and bring a sled!
Explore an oasis full of palm trees, wildlife, desert plants, ancient irrigation systems, rock art, and even a 60-foot waterfall in gorgeous Tahquitz Canyon. Before you hit the trails, check out the Tahquitz Canyon Visitor Center and learn more about the Agua Caliente Indian Reservation at their educational exhibits. The center has a small theater that shows a short documentary on the Legend of Tahquitz Canyon and has an observation deck perfect for family photos. There is an admission price per hiker. Guided tours are available through the visitor center.
Indian Canyons is made up of three separate canyons: Palm Canyon, Andreas Canyon, and Murray Canyon. All three areas have easy walking trails perfect for a family hike and picnic. Visit the Indian Canyons website to download and print a kids' hiking guide with word searches, mazes, plant and wildlife guides, and more.
Joshua Tree isn't in Palm Springs, but this beautiful national park is less than an hour away. It is a stunning desertscape with hiking and walking trails, stargazing, birding, biking, rock climbing, horseback riding, and more. Stay the night at the gorgeous AutoCamp Joshua Tree.

One of the homemade pop tarts from Wilma & Frieda's. Photo courtesy of the restaurant
Palm Springs Restaurants: Kid-Friendly and Delicious!
Wilma & Frieda's is first on the list because it is a *must* if you are ever in the area. It is hands down my favorite brunch spot in California … and I've been to a lot of brunch spots. The restaurant is kid-friendly and serves unique comfort food classics like eggs benedict, biscuits and gravy, scrambles, omelets, and churro waffles. (You must order the churro waffles.) It also offers an amazing lunch menu and the pastry selection is out of this world: homemade blueberry lemon pop tarts to go, please! Wilma & Frieda's is located in a beautiful Palm Desert shopping center with plenty of space for kids to run around while waiting for a table. The restaurant doesn't take reservations, so I recommend going on the early side. There is also a location in Palm Springs.
Cool off with a delicious treat at Palm Springs' best ice cream shop. With two locations in Palm Desert and one in downtown Palm Springs, Lappert's is a city mainstay. I personally love a scoop of the coconut macadamia nut, but there is something for everyone, including a variety of Dole Whip flavors and a mean date shake.
Voted Best of the Valley by Desert Magazine for 2020-2021, the Fisherman's Market & Grill makes you feel like you stepped into a delightful little sea shanty. The menu includes a wide variety of seafood tacos, fish bowls, entree salads, and a "landlubbers" section for those who aren't too fond of eating things that swim. There is an awesome kids' menu, as well. There are locations in Palm Springs, Palm Desert, and La Quinta.
Grill-a-Burger is known for giant, juicy burgers and was featured on the Food Network show Diners, Drive-ins and Dives. The casual diner-style atmosphere makes it an easy place to take kids, and the parmesan fries are to die for. You'll have your pick from practically every burger imaginable on the expansive menu, (I recommend the Parisian Bistro Burger) along with a wide variety of hot dogs and fries.
As a kid, I always looked forward to a mountain of German pancakes at Elmer's diner. This happy little spot is open for breakfast, lunch, and dinner and uses a pancake recipe that has been in the Elmer family for more than 80 years.
If you're into artisan ice cream, Shoppe is the cutest little parlor on the boulevard in Downtown Palm Springs. Try the delicious Coachella Valley Date flavor or one of the rotating unique flavors such as lavender, birthday cake, pomegranate chip, or cappuccino crunch. The ice cream parlor doubles as a darling gift shop with lots of trendy Palm Springs souvenirs.
Sherman's is a Palm Springs classic with locations in both Palm Springs and Palm Desert. Best known for the kosher pastrami sandwiches, this New York Style deli has something for everyone. Also, the pie and pastry case is the most tantalizing thing. You'll be drooling when you pick out a whipped cream-covered creation for dessert.
The Shields Date Garden is a dining experience and activity all in one. For $5 (kids 12 and under are free) take a walk in the date garden to see where these delicious little fruits grow. Then, head to The Cafe at Shields for a delicious meal. Make sure to grab a date shake for dessert and pick up a souvenir or box of dates at the gift shop on the way out.
RELATED: 14 Family-Friendly Spa Resorts Near Los Angeles

No matter the weather, the first thing all kids want is to find a pool. Photo courtesy of the author
Palm Springs Hotels: Where to Stay in Palm Springs with Kids
If you want to visit a water park while in Palm Springs, I suggest you book a room at the beautiful Omni Resort. Their on-property waterpark features a 450-foot lazy river, splash pads, water features, a cliffside hot tub, and two giant waterslides. In addition, the resort has a schedule of daily kids' activities, including craft times, cookie decorating, snow cones, and visits with Gilly the Gecko (the hotel mascot).
My family's go-to hotel in Palm Desert is the J.W. Marriott. The hotel is stunning, but Marriott also has vacation villas that line the scenic golf course. The villas have a full kitchen, a living room, and two bedrooms (perfect for a family). If you stay at the Desert Springs Villas, you have access to the hotel pool and amenities. The villas also have their own sparkling pools with a poolside bar and grill. We always take a walk from our villa to the hotel to say hi to some feathered friends and enjoy a quick ride on the small ferry that takes passengers for a cruise around the hotel lagoon. My kids also love watching the live flamingos at the entrance and visiting the parrots in the lobby.
I'm dying to hit this hotel up again, mostly because of the brand new HyTides water park onsite. HyTides has the tallest water slides in the desert, a 450-foot lazy river, and a splash pad with dumping buckets, water cannons, and more. It also has expansive pools, gorgeous rooms, on-site dining, and bikes and scooters available to rent.

Desert nights are amazing; it's cool enough for a fire pit, yet warm enough to sit outside. Photo courtesy of the Parker Palm Springs
The Parker is in Palm Springs, but you may forget where you are and think you wound up in the French Riviera. This pretty hotel is so colorful and creative. It has three pools, gardens, croquet, bike rentals, tennis courts, petanque (a game similar to bocce ball), a giant chess set, table tennis, and more. Make sure to ask the concierge for a s'mores kit and roast your marshmallows under the stars at one of the outdoor fire pits.
This is our other favorite place to stay in the area. Shadow Ridge has a sparkling beach entry pool right next to the kids' splash pad. The other pool has a splash pad with water cannons, dumping buckets, and a large water slide. Most days, the resort staff bring out a snow cone cart or an ice cream sundae bar that kids can enjoy (for a fee, of course). The pool also features a giant screen TV where the resort hosts dive-in movies almost every night. Other resort features include a small mini golf course, a poolside bar and grill, and stylish one- or two-bedroom villas with full kitchens.
We stayed here once and my boys have been begging to go back so they could play on the resort's mini golf course. The Westin also had a gorgeous and spacious pool area with a large water slide that my kiddos rode over and over again. The sunset views from this resort are spectacular, and there are spacious rooms on the golf course with full kitchens, living rooms, and multiple bedrooms. The Westin has some of the best hotel deals in the area, so it's always worth checking the current specials.
Click Here to Sign Up!
i