14 Family-Friendly Spa Resorts Near Los Angeles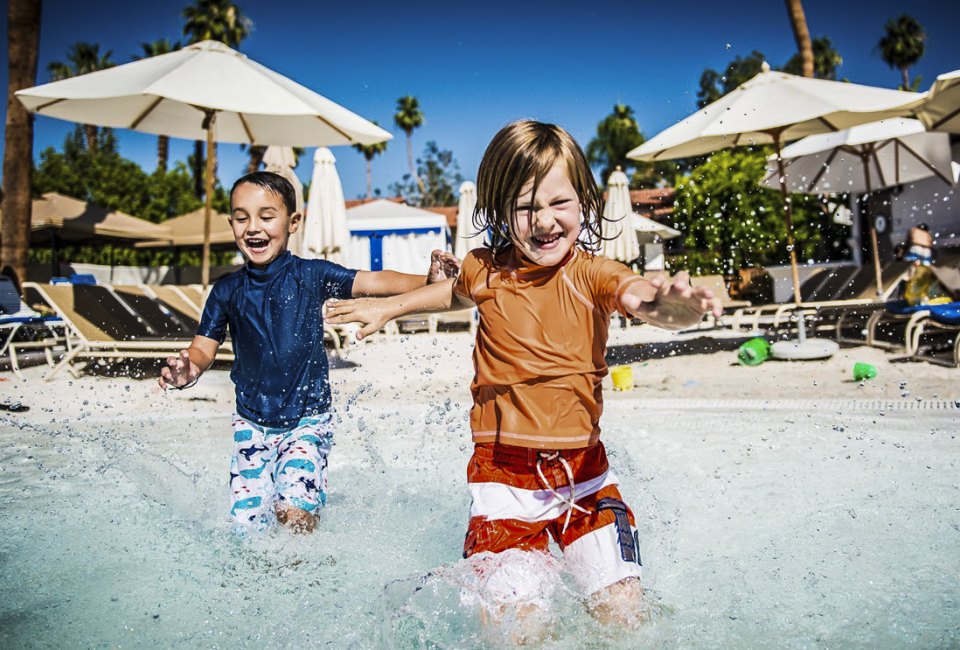 4/10/22
- By
Matt Matasci
Since Los Angeles is a vacation destination, the city doesn't lack great hotels for families. But sometimes you want a hotel with a little extra for everyone: you want a spa resort where parents can relax, get a massage, and maybe golf, yet where kids will be completely entertained and welcomed. From mountain spa resorts surrounded by pine groves to beachside retreats to desert paradises, there are spa resorts near Los Angeles for every type of family vacation and they all include kid-friendly activities, attractions, and of course, lots of mind-blowingly fun swimming pools.
Here are 14 of our favorite family-friendly spa resorts near Los Angeles for a spectacular vacation or staycation. If you're looking for other family-friendly sleeping options near Los Angeles, we've got the Coolest California Vacation Rentals for Families, the Best Hotels in Los Angeles for a Family Vacation, and more in our Los Angeles Weekend Getaway Guide.
Desert Spa Resorts Near Los Angeles

There are five, count 'em, five pools plus putt-putt golf! Photo courtesy of JW Marriott Desert Springs Resort & Spa
This sprawling desert resort just outside of Palm Springs offers an array of activities for every member of the family. While mom and dad relax at the spa, hit the links, and play some tennis, kids can enjoy the five massive outdoor swimming pools, play at the new 12,000 square foot JW Entertainment Zone, and play putt-putt golf. The hotel is surrounded by a beautiful lake filled with Koi fish and black swans—and you can book a boat trip on the waterways!
Located just down the street from the legendary Indian Wells Tennis Garden, the Hyatt Regency's biggest draw for families is its new water park. In addition to the swimming pools, the park features dueling water slides, a lazy river, and a splash pad! And if for some reason you feel the need to leave this all-encompassing resort, The Living Desert Zoo and Gardens is just a few miles away.

Time for s'mores after a busy day. Photo courtesy of the Omni Rancho Las Palmas
The Omni Rancho Las Palmas is located on its own golf course, so that will certainly be on the schedule. But there's plenty more to do at this resort with family activities that include arts and crafts and movie nights. The resort is within close proximity to all of the best attractions in Palm Springs, too.
You'll have a hard time dragging your kids away from the twisting 159-foot water slide at The Westin Desert Willow Villas in Palm Desert. This resort features the Mirage Pool deck that has an upper and lower area plus three pools including one family-friendly main pool and a sports pool. The Palo Verde Park and Pool is a heated swimming pool with a spa, cabanas, a kiddie pool, plus a food and beverage outlet.
Beachside Spa Resorts Near Los Angeles
As the name suggests, this resort is a hop, skip, and a jump across the PCH from the beach. The hotel rooms are located in twin towers that surround the Driftwood Beach Club, which has two water slides and private fire pits. The pits are located on a faux beach right next to the pool with a glass wall that provides views of the ocean; it's almost like you're at the beach without even having to cross the street!
If you're looking to get out of the city, the Hilton Santa Barbara Beachfront Resort is the perfect getaway. Located just south of Santa Barbara's Mission-style downtown, this coastal resort is relaxing and family-friendly. There's plenty to do at the resort, but we don't blame you if you want to cross Cabrillo Ave. and visit the beach or walk about a mile west to the bustling Funk District. If either excursion sounds tempting, the resort offers bike rentals to get the family there!

No need to fly to Italy when you can drive to Newport Beach. Photo courtesy of the Resort at Pelican Hill
The Resort at Pelican Hill is nestled in the foothills along the southern Orange County coast. The Tuscan-themed resort boasts a unique and very on-theme circular swimming pool that's inspired by ancient Roman architecture. The resort is right next to a beautiful hillside golf course and includes a relaxing spa. Just down the hill is one of Southern California's best beaches, Crystal Cove. It's also a great place to explore tide pools!

There are a million things to love about Terranea, but the view tops them all. Photo courtesy of Terranea
8. Terranea — Palos Verdes
We've extolled the virtues of Terranea before, and it's just so great we had to include it here as well. While most of these resorts are a bit of a drive from the center of Los Angeles, Terranea is right in our backyard. It's located on the lush and luxurious Palos Verdes Peninsula, overlooking the Pacific Ocean. As every parent knows, parental relaxation is only possible when the kiddos are entertained. This resort has kid-friendly activities in spades, like hiking down to the water for beach-combing, four swimming pools, an archery range, kayaks and paddleboards, and—this is a bit out there—a falconry expert!
Other Favorite Spa Resorts Near Los Angeles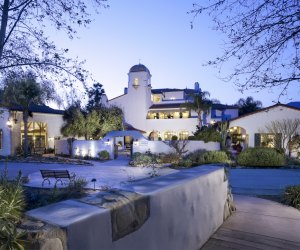 This might be the best spa resort in California. Photo courtesy of the Ojai Valley Inn
The Ojai Valley Inn is a chance for families to get out of the city and enjoy the natural beauty of this sleepy little Shangri-La. While the inn's location feels remote, it's only a few miles away from Ojai's quaint, walkable downtown. But when you come to the Inn, you really don't have to ever leave the property. In 2022, Ojai Valley Inn's kids' club reopens with brand-new programming for kids including arts and crafts, science experiments, scavenger hunts throughout the resort grounds, and more. Plus, the pools, golf courses, bikes, parrots, herb gardens, s'mores fire pits, incredible Sunday brunch, hiking trails, and perhaps the most beautiful spa in all of Southern California make this one of the most relaxing and gorgeous family spas around.
Head up to the mountains for some rest and relaxation at the Lake Arrowhead Resort and Spa. One of the biggest benefits of this resort is that you'll have access to the lake, which is normally restricted to homeowners and guests. There are s'mores three times a week, movie nights every Saturday, and fishing off of the resort's private dock. For the parents, it's hard to say no to bottomless brunch with all-you-can-drink mimosas and bloody Marys on Sundays. While there's really no reason to leave the resort, if you do there are tons of activities in the area like Heaps Peak Arboretum, the SkyPark Bike Park, Snow Valley Resort, and Wildhaven Ranch.

Stay near Legoland and enjoy every second you're not in the park. Photo courtesy of the Sheraton Carlsbad Resort & Spa
The Sheraton Carlsbad Resort & Spa is a new luxury spa and resort just steps away from Legoland (and is one of several hotels that enjoys a private entrance to the park). While easy access to the theme park is one reason to stay at this resort, kids also love poolside dining and the waterslide. Parents, meanwhile, love the beach trolley to Tamarack Beach for a little Legoland break. You can also access gorgeous hiking, running, and biking trails right from the resort, and the whole family can use the resort's bikes, too. Parents can sneak away for a massage or treatment at the spa or a workout in the spa gym.
The Grand Pacific Palisades is also right next to Legoland, so it's no surprise that it offers a family-friendly resort experience. The pool area has cabanas and fire pits along with a stunning view of the ocean. The resort is just down the hill from The Flower Fields, a must-see attraction in Carlsbad. Other amenities include a basketball court, playground, and a second pool area! Some of the rooms are condo-style, meaning they're equipped with a full kitchen for longer stays.
The Omni is a bit further from Legoland than the Grand Pacific Palisades, but there's so much to do you may not even want to leave the grounds anyway. The pool area includes splash landing pools with waterslides, garden pools, a villa pool (and hot tub), the spa courtyard pool, and an edge adult pool exclusively for those 21 and older. The resort has its own golf course and tennis courts along with weekly activities like Zumba and yoga. The Kidtopia Kids Club also gives parents a bit of a rest, with a nursery that can watch kids six months to three years old for two hours at a time during the day. A night camp program is for kids over three years old that are potty trained.

Disneyland plus spa equals spectacular vacation. Photo courtesy of Grand Californian Hotel & Spa at Disneyland
Disney is renowned for its resorts, and one of the newest is the Grand Californian, sandwiched between Downtown Disney and California Adventure. Because it's literally within the Disneyland Park, you know it's going to be extremely kid-friendly. Besides three themed pools and a waterslide, there are great dining options for kids, including the beloved Character Dining and Disney Princess Breakfast Adventures. For parents, one of the most amazing aspects of this spa resort is, in fact, the spa: the Teyana Stone Spa opened to guests in late 2021. Designed by Disney Imagineers, the spa is grown-up Disneyland, inspired by the spirit of nature and the indigenous cultures of California and overflowing with relaxing treatments. And of course, if you're staying at the Grand Californian one of the biggest draws is close proximity to both theme parks!
Sign up for the Mommy Poppins Newsletter today!
i