Terranea Resort: Escape to the Mediterranean without Leaving Los Angeles County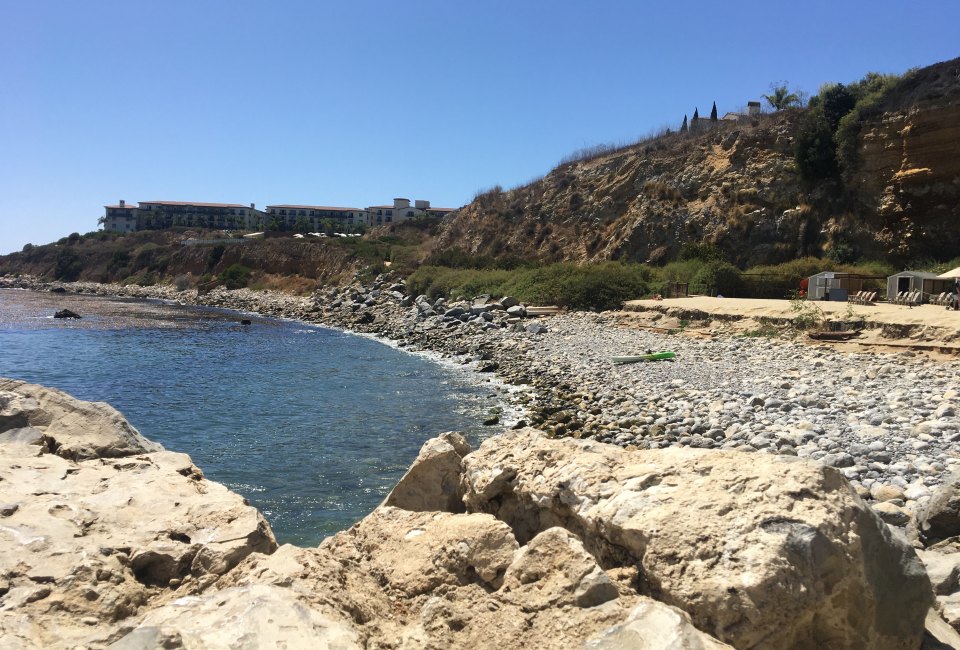 8/11/20
- By
Roberta B
If ever there was a time that needed an exit off the 110 freeway that leads straight to the Mediterranean, now is that time. Like so many SoCal families, my son and I have been desperate for a local getaway—something that feels a whole lot farther away than it is—and I was thrilled to discover that an exit off the Harbor Freeway could drop me straight into what feels like the South of Spain. Our destination was Terranea, a family-friendly resort on the Palos Verdes peninsula. It's a stone's throw from Long Beach and San Pedro, right here in Los Angeles County, and yet seemingly a continent away.
Our socially-distanced one-night vacation allowed us to escape 2020 reality and enjoy rocky beaches with critter-filled tide pools, a sandy cove with a rock-climbing-friendly sea cave, lush green cliffs hopping with bunnies, ocean breezes over moonlit water, and rolling waves lulling us to sleep through our open balcony. Anyone else need that?
Of course, we found plenty of kid-pleasing activities as well, without leaving the grounds of Terranea; read on for all the details of the relaxing, entertaining, socially distanced getaway that can be reached in less time than a typical Los Angeles morning commute.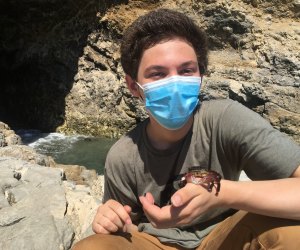 Behind the mask, someone might be singing that crab song from Moana...
What Is There for Kids To Do at Terranea Resort?
What an adult enjoys at a resort presumably goes without saying; most of us have no trouble imagining the joys of a luxurious hotel room, breakfast on a balcony with ocean view, cocktails in a bathing suit, and having all of our needs catered to. But what about kids? Parental relaxation only works when kids are having fun, and Terranea offers plenty of that.
Beach
Starting with the obvious, Terranea is all about beach. Most of the shore is rocky, which makes for great beach-combing, as well as tidepool exploring at low tide. There is a trail down to the secluded, sandy Terranea Cove (featured in our Hidden Gem Beaches post) where guests can make use of the resort's lounge chairs, or rent kayaks and SUPs, and climb the rocks around the enticing sea cave. Pirates of the Caribbean filmed a scene or two on this beach, which is a great excuse for vacation snapshots, too.
Archery
An unexpectedly fun activity that makes an excellent pairing with reenacting Pirates of the Caribbean is the archery experience that is offered in Terranea Cove. This is no three-arrows-for-a-buck at the county fair experience; we were treated to a proper hour-long archery lesson with professional coaching and multiple targets to work on. But if that sounds too serious, don't worry—we still got to shoot an apple off the head of a zombie.

Brave meets Pirates of the Caribbean.
Kayaks and Paddle Boards
The resort also offers guided kayak trips and SUP/paddleboard excursions on the open sea. These can be arranged through the concierge, and they leave from Terranea Cove—offering some great sea cave photo ops. Paddleboarding trips are mostly scheduled in the early morning, when the water is calmest; kayaking trips can be either early morning or midday. All of the above are subject to weather; we had arranged a paddleboard outing that was unfortunately canceled for rough water. However, the rentals are not restricted to hotel guests; with Terranea so close by, we hope to return this summer just to enjoy a round of SUP or kayaking.
Swimming Pools
Terranea has four swimming pools, which for many kids is all they need to hear. Although the waterslide in the family pool is closed for summer 2020, each of the pools is appealing in its own way, from the family activity pool to the quieter salt water pool for older kids and teens. The swimming pool areas have fire pits that keep them entertaining into the evening hours as well.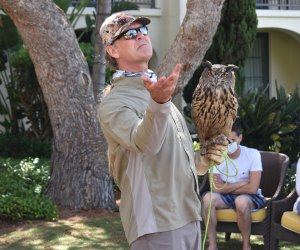 Listening to the falconer tell tales of his owl is a treat.
Falconry
This one may seem somewhat out of left field, but boy was it a highlight of our trip! Terranea has a resident falconer, who brings out a collection of birds of prey twice a week for a fascinating educational talk and raptor meet-and-greet. Not just a naturalist but also an entertaining and inspiring raconteur, the falconer is a real treat. Chairs are spaced out on the lawn, and everyone's questions about owls, hawks, eagles, etc get answered.
Trails
Terranea has several trails, paved and unpaved, winding throughout the property and along the cliffs. Families bike the paved trails throughout the day, and by late afternoon and into the evening the trails and grassy areas atop the cliffs become the domain of bunnies so cute that even a teen is not immune to their charms.
Speaking of bikes, I noticed that many families wisely bring them along. The paved path around the perimeter of the resort has cycling kids all day: little ones just learning on the protected path, more confident kids who looked thrilled with the freedom to ride lap after lap unrestricted, and teens popping wheelies as the sun sets.
Bigger kids (16 and up) might enjoy an electric bike rental, which the resort also offers as an add-on.

All trails lead to the rocks and the sea!
Tennis
Free access to nearby tennis courts is one of the perks of a stay at Terranea. Bring racquets and balls to enjoy tennis with a view at Peninsula Racquet Club. The tennis club is off property (5 minutes away) but it's a great chance to play a family sport that doesn't involve getting close to anyone else.
Golf
Another sport great for keeping one's distance is golf, and Terranea is famous for it. The resort's award-winning nine-hole course must be reserved in advance, and currently equipment rental is not allowed, so golfing does require a little planning ahead.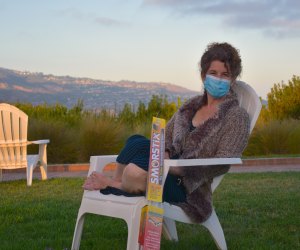 Nothing says vacation better than s'mores at sunset.
Campfire and S'mores
You can pick up a handy dandy s'mores kit at the sweet shop and settle in at any one of the many fires that are lit around the property in the evenings—the perfect ending to any day.
Horseback Riding
The concierge is happy to make arrangements for trail rides at a nearby stable, if you'd like to branch out beyond the resort. The cliffs would certainly be a beautiful place to be on horseback.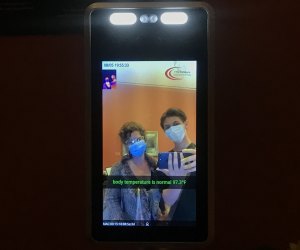 The selfie that says, "You're healthy!"
How Is this Hotel Handling Social Distancing?
For starters Terranea is currently operating at a significantly lower capacity than usual. It's quite easy to avoid mingling if that's your goal, with the whole resort being fairly sparsely populated. The restaurants are currently offering outdoor dining only, which is very well spread out at the four on-site restaurants. Guest rooms are left empty for at least 24 hours between visitors, and housekeeping leaves fresh supplies as needed at your door rather than coming into your space.
Naturally masks are required in all common areas, and hand sanitizer stations are positioned in convenient locations throughout the hotel. Upon arrival each guest is given a gift pack with mask, sanitizer, and surgical gloves, all of which are replenished upon request. And temperature taking stations are positioned throughout the resort in strategic spots like lobby and restaurant entrances. In the current climate, I found having my temperature checked helped me to relax, by inspiring confidence in my surroundings and the other people in the space.
We saw plenty of guests having a great time at the swimming pools, and many sources agree that a chlorinated pool is a very low risk for spreading COVID. That said, we played it extra safe by sticking with activities that steered clear of any crowds at all, and it was refreshingly easy to do. There are more tidepools than people; the trails are plentiful, and activities like kayaking or archery are great activities for maintaining personal space.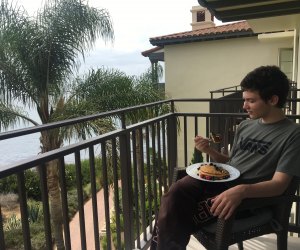 Breakfast on our balcony: it's the simple pleasures.
Meals at Terranea
There are currently five different on-site restaurants operating with outdoor dining rooms and distinctly different menus. All of the menus are available by scanning a QR code, so no need to handle paper menus, and the seating areas are spacious and beautiful with plenty of fresh air and ocean view.
We enjoyed appetizers and sandwiches at Nelson's overlooking the water, and some wonderful flavors of European style favorites at the Catalina Kitchen. Bashi has a more Asian angle, Mar'Sel a more adult, upmarket menu, and The Grill offers poolside treats. We also had a wonderful breakfast on our own balcony, far from other people—just us, blueberry pancakes, and the morning waves.
With limitations of the 2020 season, the menus at all of these restaurants are smaller than usual, so if you have special dietary needs (vegetarian, gluten-free, etc) it's a good idea to call ahead to be sure that the menu item you're counting on will be available before deciding on your restaurant for the evening.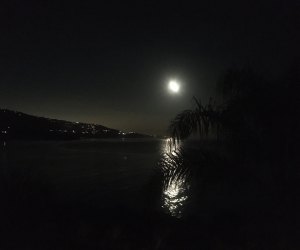 The moonlit view from our room was so beautiful I didn't want to go to sleep!
Where Is Terranea Resort?
There really couldn't be an easier, more convenient getaway from Los Angeles: Perched at the southernmost tip of the Palos Verdes peninsula, Terranea is no more than 45 minutes away from most parts of the LA area. If you're arriving from outside the LA area, Terranea is just 30 minutes away from either Los Angeles International Airport (LAX) or Long Beach Airport.
The resort is on Palos Verdes Drive, exactly between the Point Vicente Interpretive Center (one of the area's most popular spots for watching Pacific Grey whales) and Abalone Cove (one of the area's most popular spots of tidepooling).
If you plan to visit Terranea Resort, be sure to check the hotel's current offers.
All photos by the author
Places featured in this article:
Sign up for the Mommy Poppins Newsletter today!