Hidden Gem Beaches: LA's Secret Seaside Spots that Only Locals Know
6/17/21
- By
Roberta B
SoCal has no shortage of beaches, including plenty of classic, family-friendly beaches right here in Los Angeles. The only problem is all those other people who seem to know about them, too. As locals, we deserve a few beaches that only we know about, where we can enjoy the Pacific Ocean in our backyard without running into all the tourists who are just as happy at Santa Monica Pier anyway. Read on to discover the beautiful hidden beaches that even some Angelenos have never visited.
One thing that allows us all to spread out a bit more on the shore is a state law that allows for public use of all beaches below the high tide line; this means that any beach you can get to, you are allowed to enjoy as long as you stay near the water. Many private beaches have public easements that reach well up into the dry sand as well, allowing people who walk the shore to settle down and enjoy whatever beach they can reach. Some of the beaches below look private and feel private, but are accessible by a public path.
LA's Best Hidden Beaches from Malibu to Ventura
This is one of those beaches in Malibu that is quiet because people assume it's private. While many expensive homes do indeed back directly onto this beach (locals call it Billionaires Beach), everything below the high tide line is public, as well as the areas near the public accessways to the beach, and several easements up the beach. There is no parking lot, so using this beach means finding parking on PCH, which can be quite a lesson in looking both ways before crossing the street.
Also, always remember when visiting a beach of this type that there are no lifeguards, no restrooms, and no public trash cans. Once you've navigated these mild inconveniences, Carbon Beach can give you a delightful day on the sand and swimming in the waves.
Access: There are two public access paths to Carbon Beach: one across from Malibu Aquarium Shop at 22455 Pacific Coast Highway, and another across from Malibu Paragliding and Paramotor School at 22125 Pacific Coast Highway.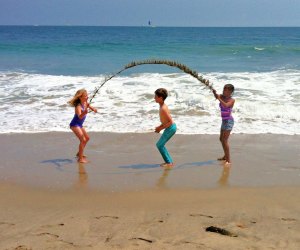 The seaweed is long enough for jump rope at Carbon Beach. Photo by the author
Could there be a more hidden beach than "escondido"? Like Carbon Beach, this is another secluded Malibu beach behind expensive homes, and one which tourists drive right by without even realizing it's there. The beach here is slightly narrower than at Carbon, meaning that it's a good idea to check tides in advance as high tide leaves little space to put a blanket down. On the other hand, the walking is great, and the walk from Escondido Beach west to the pricey Paradise Cove beach is popular with locals. There is no parking lot—just public parking along PCH.
Access: There are two public access points to Escondido Beach: one is at the bridge over Escondido Creek, next to 27148 Pacific Coast Highway (one on the sand, head to the right), and the other is just west of Geoffrey's restaurant, next to 27420 Pacific Coast Highway. (Note that Escondido Creek is the same one you cross if you take the popular waterfall hike on the inland side of PCH!)

There's a beautiful reward for taking the trail down to El Pescador. Photo by Loreth_ni_Balor/CC BY 2.0
Part of a set of three Malibu beach gems which together make up Robert Meyer Memorial State Beach (El Matador and La Piedra complete the set), El Pescador has it all: sand, tidepools, bathrooms, and even an extra hidden cove that visitors to this already hidden beach often miss. Each of the three beaches in the set is clearly marked with its own sign and a dedicated (pay) parking lot, just south of the more famous Leo Carillo. El Pescador Beach is the westernmost of the three.
Access: From the parking lot at 32900 Pacific Coast Highway there is a short hike down a steepish trail required to reach the beach, which is a sandy cove surrounded by tide pools. Walking west around the rocks leads to the even-more-secret county beach El Sol, which has no other access. Beach parking lots are open from 8am to sunset and accept payment by automated pay machines or the pay by phone app.
If a little more of a drive works for you, keep driving beyond Malibu, beyond Ventura, until you're almost to the Santa Barbara County line. The beach at Rincon is so classic it made a Beach Boys song (this is where they're rockin' the O!) and so obscure that hardly anyone knows where it is. The county beach is adjacent to a gated community that mostly has this beach gem to itself; the beach is quiet and perfect for swimming, collecting shells, and watching the sunset without interruption. Walk around the point, and you reach the spot the surfers sing about (where the current allows them to "rock the O" in a never-ending surfer's paradise). There are no lifeguards, and you should pack out any garbage, but there is a small parking lot with a short picturesque trail that leads down to the beach. There are also public restrooms, on the trail heading down to the beach.
Access: Rincon is reached by taking the Bates Road exit off the 101 and heading for the water. Beach parking should be visible to the right.
LA's Best Hidden Beaches from Palos Verdes to OC
Not everyone realizes that the secluded little cove behind Terranea Resort is in fact open to the public as well. The beach is small and accessed from a trail along the bluffs, but since the resort has chairs out one could arrive with nothing and still be very comfortable. The biggest draw is the sea cave, which would be tricky to attempt to reach with small children but a fun clamber over rocks at low tide for bigger kids.
Access: Parking for the general public is provided in a signed pay lot located at the first left on Terranea Way. From there it's an easy walk down to Terranea Cove.
Perhaps the best hidden gem in Orange County, this beach not only has a sandy cove with breathtaking views, crystal clear water, and tidepools; it's even got a pirate tower. This is not a beach for packing all the gear to bring along—since there is a bit of walking involved as well as a memorably steep staircase and no restrooms—but the eccentric hundred-year-old tower makes it worth the effort and a SoCal must. There is also a pool near the tower that fills with ocean water every few waves. Parking can be tricky to find, especially on weekends, as it's all street parking in the surrounding neighborhood; but the whole experience is worth the effort for sure. Pay attention to the tides, as one can get stuck at the tower when the tide is at its highest.
Access: Park on PCH if you can and head for the staircase down Victoria Drive. Another option is the Laguna Beach Free Trolley, which runs year-round and even has a trolley-tracking app.
Although a bit of a trek down a staircase of 150+ steps, this hidden beach is worth the extra effort to access the secluded sand, enticing tide pools, and multiple sea caves that make locals love it. It might be tough to bring very small children down to the shore, but kids old enough to be fans of tide pools, caves, and scampering across slippery rocks will be in ocean heaven. Located in South Laguna, Table Rock is off Pacific Coast Highway, with public access from Table Rock Drive. At low tide, visitors can also walk to the even-more-secret neighboring Totuava Beach through an arch on the beach.
Access: Parking can be challenging—mostly metered along PCH, where traffic whips by at a pace, so be careful.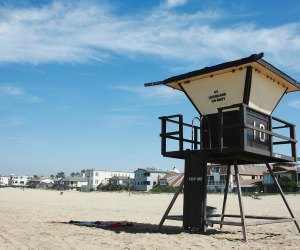 Lifeguard station #10 at Sunset Beach. Photo by Regular Daddy via CC BY-SA 3.0
This low-key beach is a local favorite, thanks to easy access, free street parking, and picturesque views that could rival any postcard. That said, its out-of-the-way location in front of a private gated community keeps the crowds at bay, making for an unusually quiet beach day compared to nearby beaches. Sunset Beach has restrooms and lifeguards, but no snacks beyond what's in your own cooler. The nearest town is Huntington Beach, but Sunset Beach is its own unincorporated community in OC.
Access: The beach is west of Pacific Avenue, between Anderson Street and Warner Avenue.
The top image is by Carl Glover/CC BY 2.0
Sign up for the Mommy Poppins Newsletter today!
i