The Best Tide Pools for Kids To Explore in and around LA and OC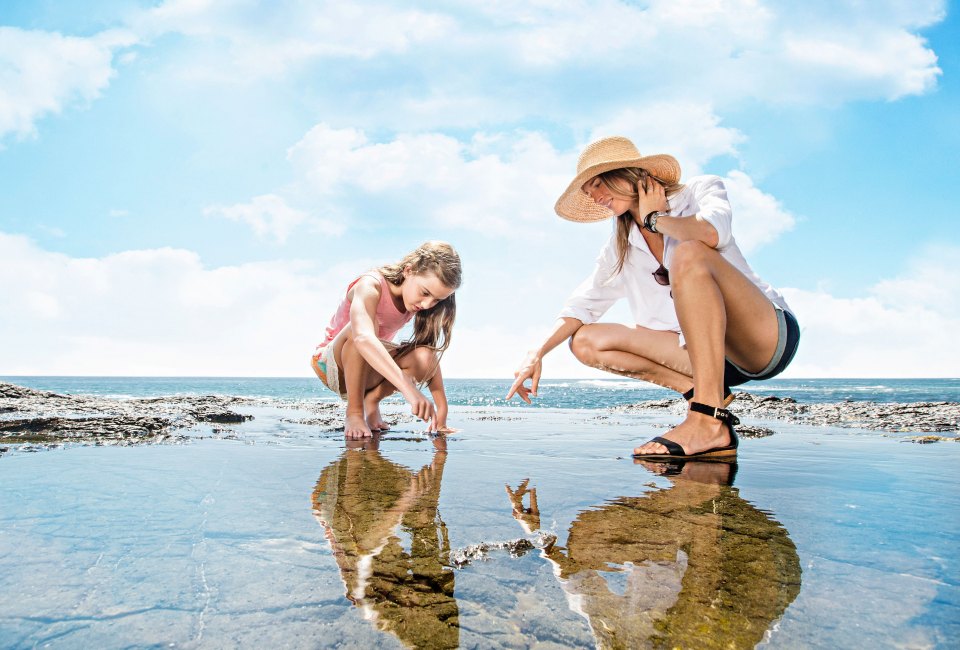 2/8/21
- By
Meghan Rose
Beach walks and beach playgrounds are fun year round, and on the stray warm winter weekend families can even hit the surf at a favorite beach. But there's one beach activity that's even better in the winter—tidepooling. On rocky beaches, where little pools of water stay in the rocks when the tide goes out, kids can uncover whole underwater worlds. Crabs, mussels, starfish, snails, sea urchins, minnows, and more can be found by little explorers. Tidepooling in LA is best in the winter because the tides are the lowest, and the beaches the least crowded.
Put those rainboots to good use, grab a pail (and your camera, because kids look extra cute peering into puddles), and see what lives under the sea.
The best spots to go tidepooling are in areas where there terrain is rocky, so water can pool when the tide goes out, and these tiny ecosystems can develop. That's why these areas tend to cluster together (near Malibu, Palos Verdes, and by Laguna Beach). Here we've listed our favorite tidepooling beaches and coves in each spot; if one is crowded, simply drive on to the next.
Masks must currently be worn and social distancing observed on all public beaches in California.

Not only can you find sea creatures, you can see surfers, too. Photo by Mommy Poppins
Where To Go Tidepooling near Malibu
Leo Carrillo is one of the Southland's most beloved family beach spots, and it's also my favorite place to find tide pools. Here there is easy parking, a tunnel that walks you under the PCH to the beach (that alone can be exciting for kids), and plenty of tide pools, rocks, and caves once you get there. Don't forget to take pictures; shots of kids cavorting in the caves are priceless (especially if you happen to be here near sunset). The parking lot here is not free, and payment is by automated pay machines or pay-by-phone app (no cash). When you've worked up an appetite, Neptune's Net has great seafood (and kid favorites) to go, a few minutes north up the PCH.
This secluded, hidden gem (which is a public beach) near El Matador Beach is hard to find, but that means it can be a quiet retreat with tide pools and the space to go for long walks without bumping into people. This beach has an accessible entrance off of Broad Beach Road and Bunnie Lane. Access to Lechuza Beach is available through a residential neighborhood with on-street parking, so just park your car, walk down one of the two paths, and head to the beach. But be warned: secluded also means no restrooms!
If you couldn't find Lechuza, nearby El Matador is a perfect alternative. While it's a steep path from the street parking above (leave the stroller at home), the monoliths (rock formations) make for amazing views and house plenty of marine life at low tide. Pay parking is self service (and monitored, so don't be tempted to skip paying) and there are portable restrooms in the parking lot.
See what critters climb out of the pools...
Where to Find Tide Pools in and around Rancho Palos Verdes
Easiest to access on the peninsula is Cabrillo Beach. Located right by the Cabrillo Marine Aquarium (currently closed), this beach is more than just sand and swimming. From the beach parking lot, head to the right side of the beach where there is an elevated platform that leads to the tide pools. With easy parking and a not-too-steep walk, this is perfect for even the youngest explorers.
Terranea Resort is a wonderful staycation getaway, but if all you have the time for is a half-day adventure, it's perfect for that, as well. This is another of our less-rugged options, as it begins and ends at a seaside resort. Park at Terranea Resort, and follow the path down to the enjoy rocky beaches with critter-filled tide pools and a sandy cove with a rock-climbing-friendly sea cave. (Kids can play pirate here as well; Pirates of the Carribean filmed a few scenes on this beach.) When kids have had their fill of sea creatures beach combing, head back up to the resort for lunch or a snack while the sun sets. The resort opened to outdoor dining on February 4, so enjoy an outdoor meal at Nelson's, a family favorite directly overlooking the cove.
This beach is fabulous, but (disclaimer) it involves a lengthy walk down a trail to get there. If your little troopers can keep their eye on the prize, rewarded they will be. There are bountiful tide pools (with plenty of star fish), plus more trails to explore if you arrive before the tide is low. From the beach, take Sea Dahlia Trail to the tide pools. Grassy lawns and picnic tables abound near the parking lot for a picnic. Portions of the beach and tide pool area at Portuguese Point are currently closed, but there are still plenty of tide pools to explore.


Crab attack! Photo by Josephine Bredehoft/Unsplash
The Best Tide Pool Spots in and near Laguna Beach
Hands down, this is one of the better beaches to hit with kids in tow for any reason. Park for free in the nearby neighborhood, take a short walk down a ramp, and you arrive at a little oasis where the tide is gentle and hermit crabs shuffle through the tide pools. This beach is also great for parents, because it's one of the few in the area that don't have steps to the beach, making it easy to bring along a stroller or beach cart. There are snorkeling sites on either side of the beach, and it can be fun for kids to watch snorkelers and divers, too.
And here's where the stairs are! While it is a trek down a staircase of 150+ steps, this hidden beach is worth the extra effort to access the enticing tide pools and multiple sea caves that make locals love it. It might be tough to bring very small children down to the shore, but kids old enough to be fans of tide pools, caves, and clambering across slippery rocks will be in ocean heaven. Table Rock is off Pacific Coast Highway, with public access from Table Rock Drive.
Crystal Cove State Park includes several tide pool areas, and Pelican Point is a great place to start. Use the entrance across from where Newport Coast Drive hits the PCH, and park in one of the bluff top lots for easy access to the beach. Want help identifying the sea creatures you see? While public activities are currently on hold, when things open up again, check the park calendar for volunteer-led tide pool walks. Take note: parking is $15/day.
Now, these tide pool walks are currently happening! Visit the Ocean Institute for a two-hour naturalist led tide pool hike. This outing takes masked and socially-distancing families into the Marine Conservation Area behind the Ocean Institute to search for snails, crabs, sea stars, and other animals. Walks take places at low tide on the weekends; if those times aren't convenient for your family, explore the tide pools at any time. The tide pool area here starts just north of the small beach by the Ocean Institute, by the large boulders and rocks.
Sign up for the Mommy Poppins Newsletter today!
i