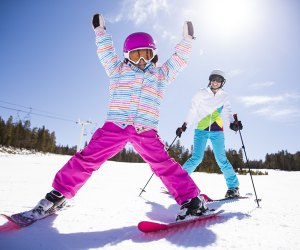 Skiing and Snowboarding with Los Angeles Kids: Ski Day Trips!
LA skiing is the best. Sure, Colorado and Tahoe have some bragging rights, but you can't hit the beach and the ski slopes on the same day in Aspen, can you? Only Southern California ski slopes let families pair snowboarding with surfing in one weekend. Los Angeles living offers easy access to ski resorts that are sunny, budget-friendly, and lead us back home in time for bed. For parents who crave a little me-time ski-time, there are great options for finding someone else to teach your kids to snowboard or ski.
So if you're dying to get out of the house this winter and the kids are ready for something more adventurous than sledding and tubing, check out this list of area slopes and snow schools. Plan carefully and kids can have skis on their feet two hours after packing the car—because the mountains are even closer than they look.
At press time, Southern California ski resorts are open for the 2020/2021 ski season. However, most have reduced capacity and require advance purchase of tickets. We've included every spot's safety measures and anything else you should know before you go.
The National Ski Association has published the Ski Well Be Well guide to set industry standards for all resorts and as a handy reference for what families can expect on the slopes this year.
24510 State Highway 2
Wrightwood, CA 92397
888.754.7878
Heralded as LA's closest ski resort with no mountain driving, Mountain High is a sure bet for family skiing—especially since kids 4 and under ski free with a paid adult. Check out the Children's Sports Center (and our review of it), where "fun is a priority" for kids ages 1-12. The resort offers both half and full day group lessons as well as private lessons, all at reduced capacity this year (in fact, lessons for kids ages 4-6 this year are all private). Mountain High is one of the few destinations that offers lessons for toddlers, too. Children ages 1-3 learn safely through Mountain High's simulation training in the Virtual Snow class. Adult lessons are also offered. Before booking any lessons this year, think about your child's skill and comfort level; lessons are more hands-off, and instructors can't help students up, hold hands, or ride with them on the chairs.
COVID-19 safety measures: Mountain High requires that face coverings be worn any time guests may encounter other people. Tickets are only available for purchase online in advance, to reduce attendance levels. Social distancing is required, and hand sanitizer is readily available. For details, check the website.
8401 Mt. Baldy Road
Mt. Baldy, CA 91759
909.982.0800
Only 50 miles from downtown LA, Mt. Baldy is just around the corner and so might make for the simplest ski outing. Prices are usually reasonable, and the Mount Baldy Chamber of Commerce sometimes offers deals. Equipment rentals are not included.

Variable snowfall levels and limited snow-making capabilities mean conditions are less reliable at Mt. Baldy than at some other resorts. In fact, in 2020, the mild weather has pushed the opening for the season until Christmas Day. But when conditions are right, locals claim that Mt. Baldy has the steepest vertical drop in Southern California, the shortest lines, and a favorable old-fashioned charm. While convenient and cost-effective, Mt. Baldy might not be the best choice for the littlest first-time skiers, since a steep, gusty ski lift must be braved before touching snow.

Trivia buffs might be interested to know that Mt. Baldy is merely a nickname. The mountain's real name is Mt. San Antonio, and it's the highest peak in the San Bernardino Range.
COVID-19 safety measures: Mt. Baldy Resort requires that face coverings be worn in all facilities. Designated line markers and rope barriers have been set up in order to keep people moving in the same direction and maintain a distance of at least 10 feet. Call before you go if you have any questions (or have promotional passes) as there are no on-site guest services. For details, check the website.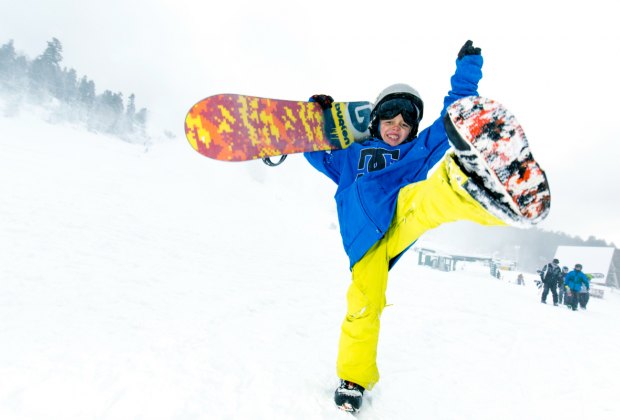 Snowboard show off! Photo courtesy of Big Bear Mountain Resort
A mere 100 or so miles from Los Angeles, Big Bear Mountain Resorts is a hugely popular skiing destination. Choose from two distinct ski areas within two miles of each other: Snow Summit offers "a traditional alpine atmosphere," while Bear Mountain boasts a more youthful, snowboard-friendly environment. Both offer ski and snowboard classes.
Snow Summit
880 Summit Blvd
Big Bear Lake, CA 92315
909.866.5766
If your kids are new to skiing, Snow Summit might be your place. Choose from a variety of lesson options and packages for both kids and adults. This mountain offers a great variety of beginner and intermediate slopes where a family can enjoy a long, quiet, mellow ski without being knocked down by non-stop thrill-seekers.
Bear Mountain
43101 Goldmine Drive
Big Bear Lake, CA 92315
909.866.5766
Nearby Bear Mountain claims to provide "the largest beginner area and the most innovative and most progressive terrain parks in Southern California." Now there's something to consider! Lesson packages and prices are the same as those at Snow Summit.
For 2020, group lessons are only available Friday-Sunday, and group lessons for 4-year-olds have been suspended (private lessons are still available).
COVID-19 safety measures: Big Bear Mountain Resorts mandates that face coverings & social distancing are required in all public areas. All guests must have a valid lift ticket, season pass, or reservation to gain access to the Bear Mountain or Snow Summit base areas this winter. At this time, advance reservations are not required. For details, check the website.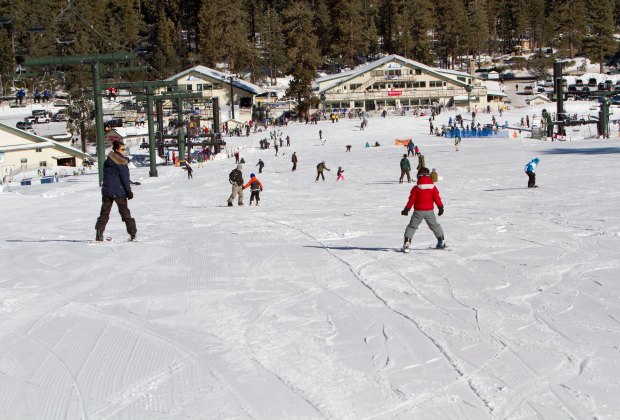 Snow Valley has great beginner terrain. Photo courtesy of Snow Valley
35100 State Highway 18
Running Springs, CA 92382
909.867.2751
Less than 100 miles from downtown LA, Snow Valley is doable as a day trip ski and snowboard destination. The resort's Children's Learning Center treats young skiers and riders to small class sizes that emphasize fun. For 2020, classes are offered for half-day sessions in either the morning or afternoon. Only children 7-12 years old can participate in group lessons this year. Private lessons are available for kids ages 4 and up. Equipment rental is just $10 with class registration.

Learn to Ski or Snowboard packages are also available for skiers and snowboarders ages 13 and up. Packages include rental equipment, a 1.5-hour beginner group lesson, and a lower mountain lift ticket. Skiers and riders ages 13 and up who are ready for a greater challenge can opt for the Lift 'n' Lesson Package.
COVID-19 safety measures: Face coverings are required, social distancing is requested, and there is reduced capacity for all ticket sales and lessons. Enhanced, frequent sanitizing protocols are in place and all dining is offered via pick-up and to go only.
Remember that weather and road conditions may change daily, especially as you drive to higher elevations. Always check before you go, to make sure roads are passable and to determine if you need chains. Also, most ski resorts increase their rates during peak weekends and holidays; make note of these special times to avoid unexpected rate hikes.
Find more places to ski or snowboard in our Skiing, Snowboarding, and Snow Sports Guide.
Originally published January 6, 2012